Close your eyes and picture this - you've developed this obsession with winning for years. Nothing but finishing first matters.
That mindset, obsession, and hunger brings you into contact with other people who only accept first place. You join forces and find yourself fully surrounded by peers, coaches, sponsors, fans, doctors, and mechanics all obsessed with winning - as an individual, as a team - so much that nothing else matters.
Now that you've got the smell of winning in your nostrils - your pupils are dilated, and you're ready to give every ounce of your soul for optimal performance - imagine what it takes to change that mentality. Imagine what it takes to come to the conclusion that being first at everything may not be the only way to be satisfied?
It's not exactly the narrative that Lee Craigie puts forward in her book Other Ways to Win - she doesn't seem as obsessively focused on victory as portrayed. But, winning is ever-present in competition, which Craigie does touch on.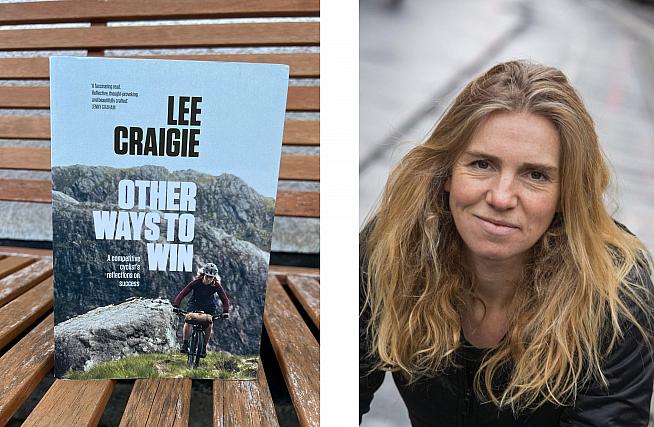 Craigie would know as she was a professional athlete competing at very high levels. She performed and was expected to perform.
But her newly released book is called "Other" Ways to Win? That is right, it is.
This is not a book about self, and it's not about self-indulgence. It's not filled with the usual trappings of self-belief and self-indulgence - the expensive cars and buying a Richard Mille watch following a win because she deserved a £200k watch.
It has been a hell of a journey for Craigie to think and meditate on these themes of winning, sacrifice, family, community, others, and satisfaction to find her own balance. The book is an exploration of other aspects of self-fulfilment beyond a top podium place. It's thoughtful. It is meditative. And Craigie shares stories about a community - seeing others achieve balance and being a part of a balanced community is a big part of her story.
This is a great read for what Lee Craigie does on the bike and, almost more importantly, what she has accomplished off the bike. Her off-bike palmares will astound:
2009 - founded Cycletherapy
2012 - Co-founded VeloCity in Inverness 
2016 - founded The Adventure Syndicate 
2018-2022 - Scotland's Active Nation Commissioner
2020 - Co-founded Cargo Bike Movement in Edinburgh
All of these things she's involved with are focused on uplifting other people, whether it's marginalisation, gender, or poverty. In Scotland, Craigie has had a hand in removing these barriers for so many people, helping them win - whatever their definition of winning is.
There's a lot more to these 173 pages than just riding bikes. There are elements of who Craigie is - her early formative years as a girl who refused to conform to gender stereotypes by growing long hair through to the dissolution of a long-term relationship and the questions that always lead to.
Wherever you are in your life and whatever challenges or choices you may be facing, Lee Craigie's Other Ways to Win will have something in its pages that is relatable, helping you decide what winning really means for you - wherever you are in life and whatever you're facing.
Other Ways to Win is published by Vertebrate Publishing - £14.95 at www.adventurebooks.com.
0 Comments