Hot off the heels of the Dales Divide - an early season bikepacking tour around the Yorkshire Dales and Moors - I have to put down a few words of thanks to BBB.
I had two concerns going into the event - cold/wet temperatures, and punctures! At 600km in length, the ride is a great leg burner for testing kit and setting weather and kit concerns to bed.
And, as usual, I was underprepared for the ride. Two days before the ride, I found out it was coast to coast! But, for all my negligence and lack of preparation, BBB gear distributed by Windwave in the UK came through, helping me to alleviate the pain I would have faced without proper cold-weather equipment.
BBB
BBB are a Dutch cycling brand founded in 1998. The company was founded by Chris Koppert and Frank Moons, cyclists racing at a high level. Their years of competition gave them an edge when they jumped from shouldering their way through the bunch to designing products for the bunch - they understand what cyclists need.
Twenty-five years into the journey, BBB have spread their wings. They now have gear for every cycling discipline - climbing, gravel riding, racing, touring, mountain biking, and getting around town.
They've also hit other milestones. The brand distributes its roughly 1,500 unique products to over 40 different countries. The UK distributor of BBB equipment is Windwave.
Windwave was formed in 1987 as a manufacturer of sailing and windsurfing products. In the early 90s, they switched to distributing cycling equipment, picking up many prestigious brands. Today Windwave offers some of the best products on the market in all cycling areas, from road, MTB, cyclocross, gravel, and urban.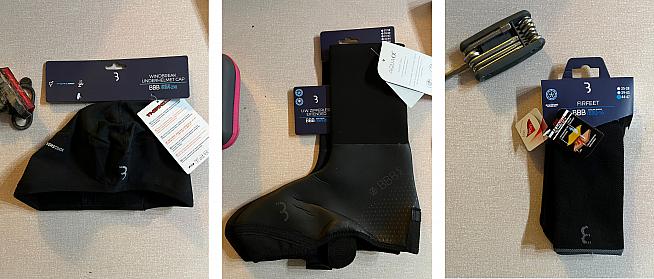 We got in touch with the team at Windwave, and they were kind enough to send out a bundle of BBB kit which landed on my doorstep the day I set off for the start of the Dales Divide. Talk about perfect timing!
Here's a look at some of the kit, and how it fared on the four day ride.
The WindBreak Winder Under-Helmet Hat is a one-size-fits-all that comes in black and is worn under the helmet. It has flatlock stitched seams for longer life and greater comfort.
The hat is made of a blend of polyester and elastane and thermo material on top for extra breathability. There is a front panel to cover ears and forehead from the wind and cold weather.
The Under-Helmet Hat has a longer back end with a small insert for longer hair.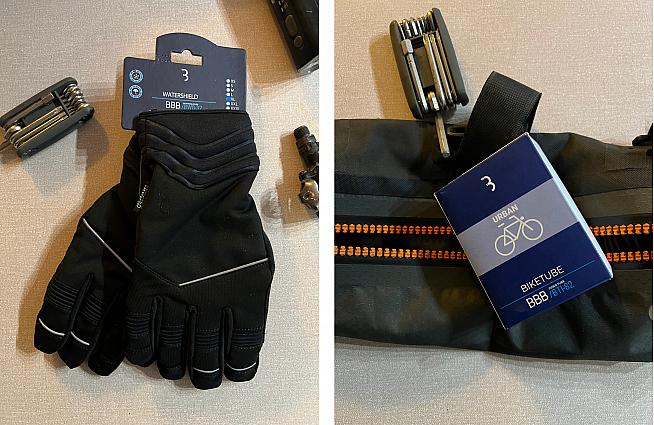 BBB's thermal socks feature Far Infra-red (FIR) technology.
The socks blend cotton, polyamide, polyester, elastane, and ceramic powder. The sock's clever design features extra warm fabric on the sole for extra insulation and an open structure on the sock's top to allow excessive moisture to evaporate quickly.
These socks come in sizes ranging from 35-47 European and in two colour combinations: black/ grey and black/ red.
BBB has designed their waterproof UltraWear Zipperless Shoe Covers for extremely cold and wet days.
They are slip-on and made of 3mm thick neoprene with a Neoskin layer protecting against wetness in all its forms. Rather than leaky old stitching - flat locked or otherwise - the shoe covers' seams are glued for even more protection against the wet elements. And they have a cuff closure system.
The shoe covers go higher up the leg than regular shoe covers - an intentional design feature to ensure the wearer really does stay dry and comfortable when cycling.
Shoe construction also includes reinforced heels and noses, giving them extra life. Speaking of extra life, the covers also have Reflective print elements on the shoe cover, giving the wearer extra life when riding where automobiles travel!
BBB innertubes are made of durable, long-lasting butyl rubber compound. The wall thickness is 0.87mm, which is thick enough for extra puncture resistance but not too heavy.
The tubes are seamless to prevent leaking air and maintain air pressure for a long time.
They feature either Presta valves, Schrader valves, or Dunlop valves - all valves in various sizes and the same with innertubes.
Tested in the Dales: 
BBB vs the DD
A friend and I rode the Dales Divide. Awesome ride. Just enough distance that you know you've done something, but not too much to take the ride too seriously. Who needs planning? I certainly thought planning superfluous - I still hadn't looked at the map when we hit the start zone.
The 2023 edition of the Divide saw a lovely condition and environment mix. We had skin-reddening sunshine, nearly zero overnight temps and frosty mornings, and scatterings and smatterings of hail and rain!
The ride traverses lovely roads through eye-wateringly gorgeous (and expensive) villages, towns, and cities. Leaving behind the sprawling conurbation that is Cumbria and Yorkshire (this is sarcasm - there wasn't a soul for miles and hours in some cases), riders bimbled over bridleways, through tractor tyre ruts, over varying gradients of gravely/ rocky stuff, and on the moors and dales.
This was the ideal ride for testing the new gear from BBB - its durability and effectiveness at keeping riders comfortable in different cycling conditions!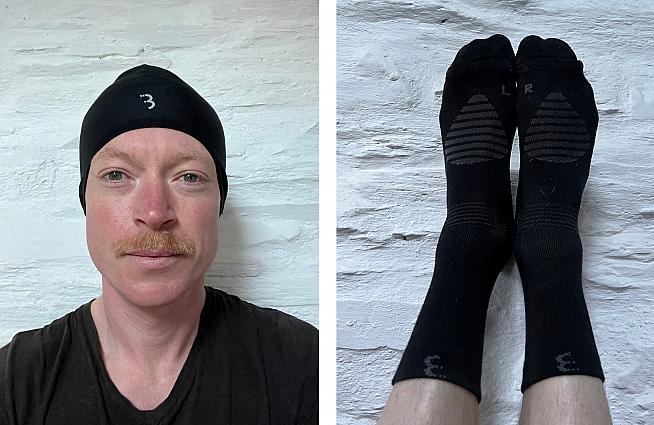 Before we'd even reached the event's start zone, I was sending praises to BBB. We parked up a 20-minute spin from the start zone at about 7:30. And it.was.cold. Like, really cold. All the gear went on from head to toe.
Usually, I don't like wearing gloves or hats while riding - call me a naturalist if you will. But this ride necessitated gloves, at the very least. Having an aversion to layers, I was surprised to find how comfortable the hat was under my helmet and how little it seemed to interfere.
It was heaven-sent when cold, and I never ran too hot while wearing it during the sunny parts of the day. The hat didn't irritate my head or make the helmet on top of it fit wonky. I never felt it too cold to have the ear flaps over my ears. I find listening to other riders while riding difficult with all the other noises (namely wind), and the hat's ear flaps did muffle noises. So, I just folded them up to let the sounds in. But, again, no discomfort from the effectively doubled-up material after the ear flaps were folded back up.
The gloves were superb. Before the ride, I got a coupla comments, "They're quite heavy duty" and "They seem a bit thick".
A few miles later the wind chill kicked in... Who's a bit thick now? Those comments stopped dead in their tracks when thinly covered hands met wind-chilled environments.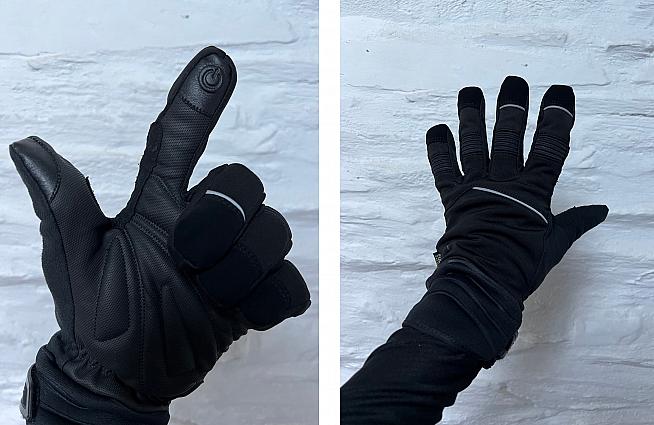 A good pair of thick gloves were indispensable on this ride. And, again, I don't normally like riding with gloves at all. But, with the gloves from BBB, I still felt totally in control of the bike and connected to it. Just with warm and cosy hands! The windchill didn't penetrate. The dampness, moisture, and rain were denied entry by the pair of Big Burly Bouncers on my hands. And, wearing the gloves for hours while cycling, they also didn't seem to get wet inside from sweat.
It's that last thing that is a downfall for a lot of waterproof gear. It does wonders for keeping outside elements outside, but it is rubbish for allowing sweat to move away from the skin surface, eventually making the material soggy inside, and everything gets cold. On the late night/ early morning hours-long return to Arnside, I figured out what form of precipitation was falling by looking at my handlebar bag - if it ran off the bag, it was rain. If it bounced, it was hail. All hail the gloves 'cause my hands were saved!
The other element of wearing gloves is being able to use devices. I found using navigation devices and my phone while wearing gloves, even in the rain, wasn't an issue.
Dry feet are happy feet
Everyone's feet got wet. There was no way around it. We had to ford rivers, for Pete's sake!
But, the shoe covers came into their own on those treacherous bogs and tractor tyre trails. Both accumulate water at alarming rates. And feet would be either splashed through them or drenched because it was impossible to judge their depth! That's the fun of it all. And shaking it off with the 3mm neoprene and staying dry and insulated added to the event's enjoyment. Icy feet are straight-up horrible. C'mon, everyone knows that!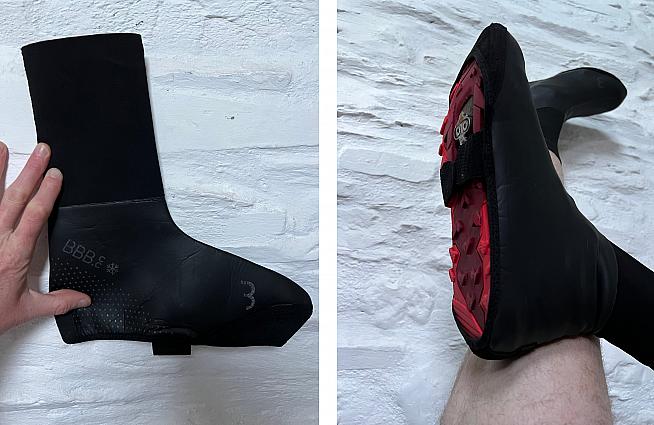 When not riding with the BBB gear, it lived in my saddlebag. It never looked like it acquired too much dirt, so it didn't give generously to other pieces sharing the bag. And it never really held water, either, so the kit didn't become a soggy mush in the bags. There's little worse than being in a bind, reaching into the bags to grab whatever to put on to protect against cold or wet, and it's sitting wet and useless in the bag.
And, the final one - tubes. After reading the 'Test conditions' section above, many would have thought the Dales Divide was a tubeless ride. Let me remind you. I didn't prepare! And, as the adage goes, "Fail to prepare, yada, yada, yada".
I would agree. Tubeless would have been the bee's knees. But, I don't have bee's knees or sense. So, tubes it was. Thankfully, over 600km, I only had two punctures! Both during the day when it was warm, dry, and on the road - I don't know how I managed such luck.
The tubes from BBB were super handy. Very easy to chuck into the tyres. No problems with valves, inflating, or anything. These tubes would go the distance for lighter gravel rides to road riding. But tubeless would have been the choice for a ride of this level - next time.
Coming back off the ride and going through the arduous process of demucking me, the bike, and the equipment was easy. The gear from BBB cleans very easily - of course, use a bit of sense and follow the cleaning instructions. But, giving all the equipment a thorough look over once cleaned, dried, and ready to be packed away, there was no evidence of the ride the gear had just endured. Those hours, weeks, and months BBB claim to put into the design process has put together some great gear that looks like it will last.
And, for the first time in... ever, I'm lamenting the loss of cold! The new gear from BBB will have to wait some months again until I can pull it out again.
To sum up
After riding in the Dales Divide, each piece from BBB gives me the impression that year on year, when it's cold and wet, I'll still be reaching for the same stuff I wore on my first Dales Divide. It works, and it lasts.
Discover the BBB cycling range at windwave.co.uk.
0 Comments