When offered the chance to try out Velobici's new Hugo Thermal bib shorts and jersey, I wondered if I would find enough to say about yet more new products in an already packed market.
I needn't have worried. Velobici's premium "England Made" cycle apparel is chock-full of design and innovative features. Once kitted out from neck to toe, it was soon apparent that there would be much to talk about.
So here goes...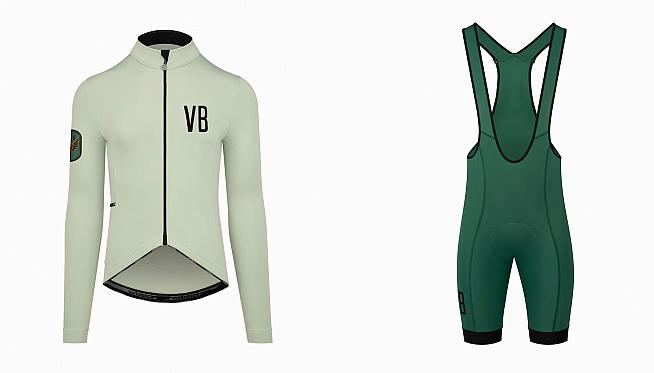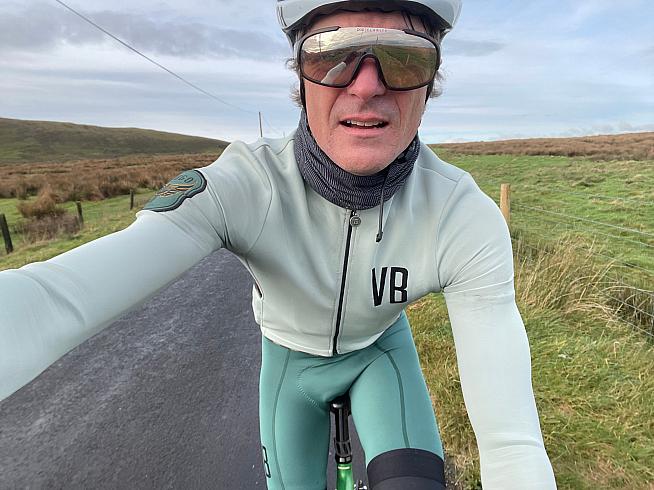 Once unwrapped from its exquisite packaging - credit to Velobici, their unboxing experience is a real pleasure - the initial thing that struck me about this jersey was the unusual nature of the fabric.
Not only does it feel a bit "rubbery", but it also has the look of an old-school scuba jacket (think Jacques Cousteau, or Steve Zissou if you prefer). At the same time, however, despite how it appears, it is undeniably soft and stretchy.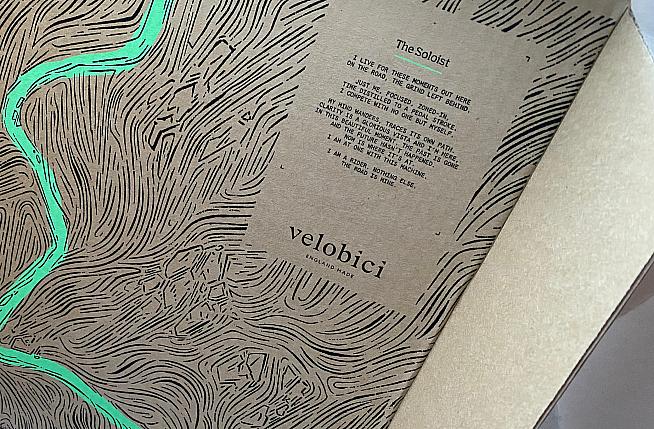 The other odd thing is that, for a thermal fabric, it feels rather cold against the skin going on, but then it warms up almost immediately.
The fabric is made up of two knitted layers that are claimed to adapt to a wide temperature range. My first outing in this jersey was an 80km gravel ride in November, so a perfect opportunity to test its thermal properties, you would think.
Wrong! With the temperature an unusually balmy 13°C, I soon found myself overheating on punchy climbs and efforts. Although, with numerous puncture stops en route, I did end up being quite thankful for its warmth off the bike.
My second outing took me down to 3°C and the jersey, layered with a short sleeved base layer and gilet, worked well for the duration of 30km ridden at tempo.
My next outing was a 160km ride, with plenty of climbs, descents, and some exposed coastal roads, at around 7°C. This turns out to be the territory that the jersey thrives in. It kept me comfortable all day: not only while riding but also on coffee or photo stops.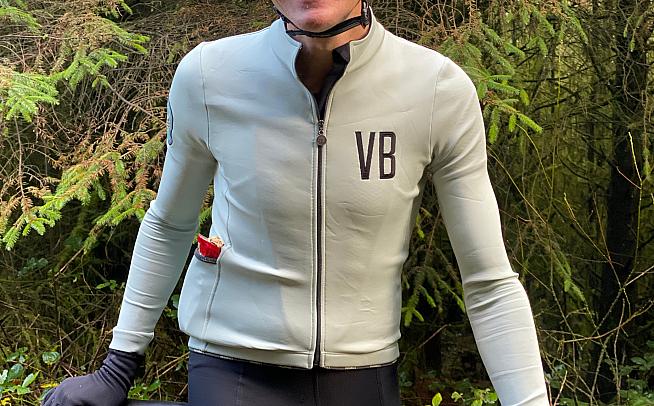 The soft, stretchy fabric gives the jersey a nice snug fit all round but without being at all constrictive. There are no folds to flap in the wind and no cold spots when you change position.
The Sage Green colour is rather tasteful and the retro appearance is nicely complemented by the simple embroidered VB logos on the chest and rear pocket.
Further embellishment comes in the shape of a woven "Winged Wheel" badge on the right sleeve. Sportive editor Oisin is a fan of this although personally, I can't shake the feeling it's something you might find on a kids' jersey.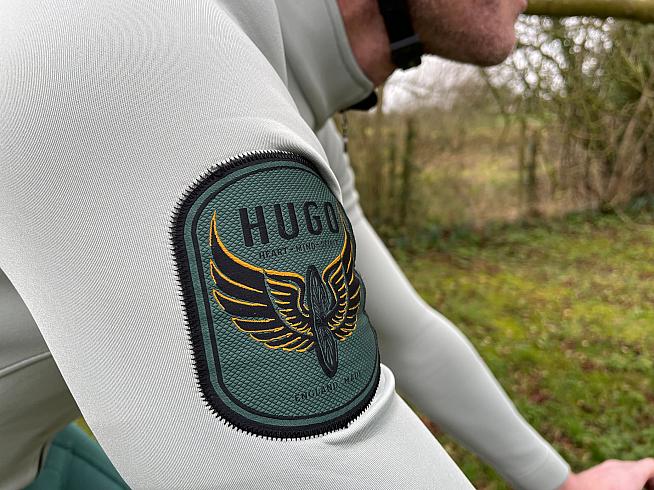 The full length front zip allows for easy one-handed temperature regulation on the hoof, with tactile metal zip pulls adding to the overall premium feel of the jersey.
Stow your stash
There are three generous open pockets on the rear of the jersey. Or rather, I should say there are two on the rear and one on the right flank.
In a further departure from the standard layout, the two rear pockets are cut with a slope so that they seem to be designed to be accessed from the right. Let's just say you're not going to find this jersey for sale in Ned Flanders' Leftorium.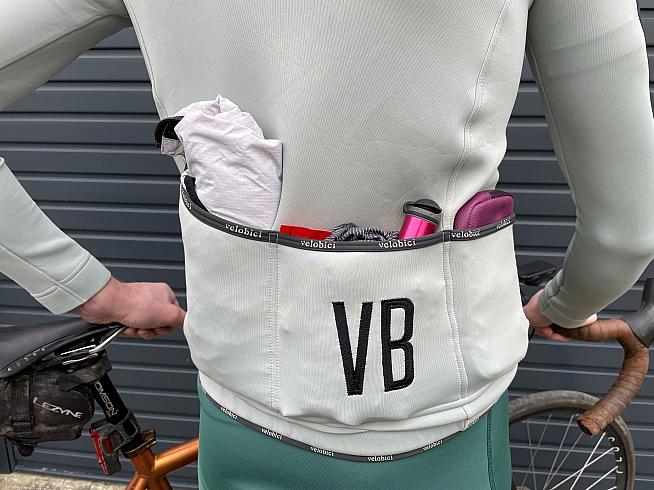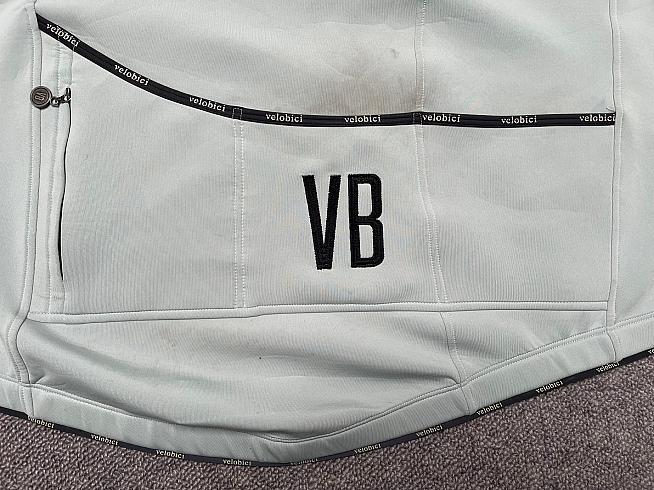 Even as a right-handed person I find this arrangement a little hard to get used to: nothing is in the place I expect it to be. With the two rear pockets taking up the same width as three "normal" pockets, the storage is generous, as I say, but not particularly well-structured.
In addition to the open pockets there is a zipped waterproof pocket on the left, which is large enough to fit a small phone, but not one that is already in a pouch.
These shorts come in a Forest Green colour, which I have to say is my first departure from classic black since owning a pair of denim effect Carrera shorts, as worn by Marco Pantani, in the mid-1990s. (Google them if you don't know what I'm talking about.)
Anyway, I digress... Yes, coloured shorts are all the rage these days and while these may not be to everyone's taste they do, in my opinion, go very well with the sage green jersey. They are made of the same two-layer thermal fabric, with all the characteristics noted above.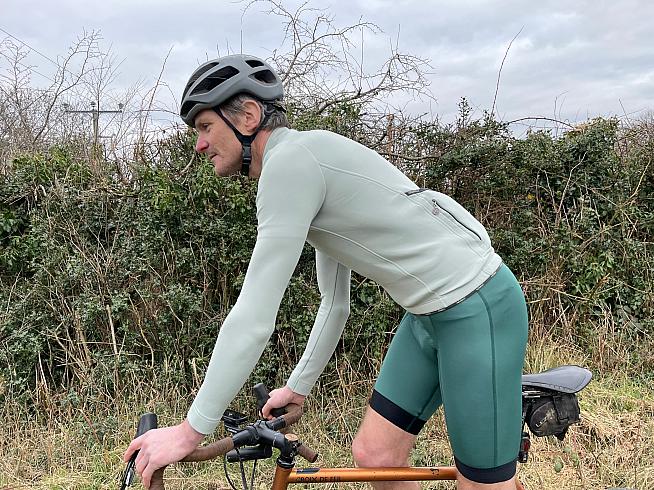 The chamois pad has proved itself a worthy ally for 6+hrs in the saddle and there is no questioning the overall comfort of these shorts. However, it is possible that the fabric is too soft, because after three rides I was already seeing very noticeable wear in the contact areas.
Full disclosure: this is something I have been experiencing with other shorts, but none so pronounced as these. (I have since gotten to the bottom of it so to speak - the source of abrasion that is - which turned out to be rough edges on the tape of my saddle rails.)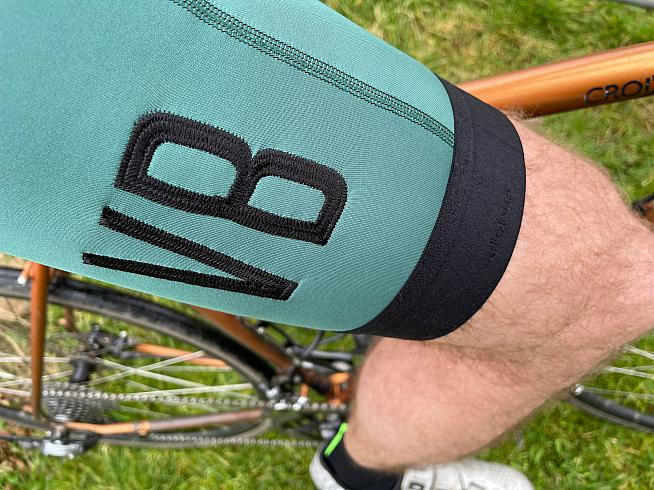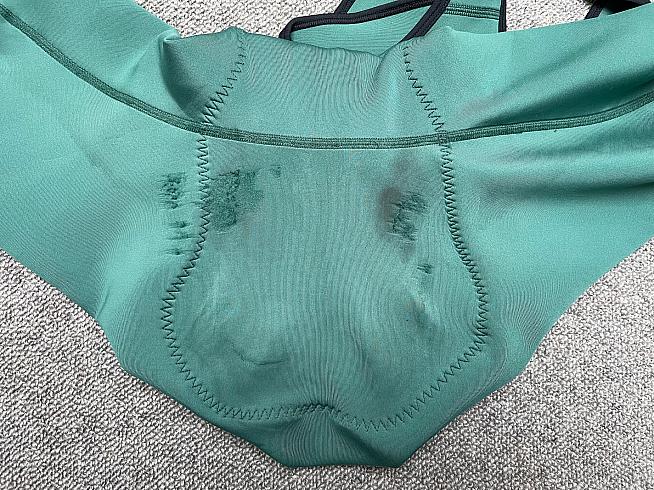 The other unfortunate thing I have noticed is that sweat patches can show on the green fabric, an issue that doesn't raise its ugly head with black shorts. The fabric apparently has a DWR treatment to repel water, but in my experience of wet rides, this hasn't really made itself apparent.
The fit of the shorts, as with the jersey, is impressive. Even though they are possibly a size too big for my scrawny legs the fabric is very forgiving, and the leg grippers work well with either bare legs or knee warmers.
Continuing the rubbery theme, these Premgripp socks have performance-enhancing silicone dots on the soles. But not just on the outside: on the inside too.
When wearing them this design feature gives the slightly strange sensation that the silicone goes right through the fabric. On closer inspection I concluded that this is not the case. However, it certainly does give the feeling of a direct connection between the soles of your feet and the soles of your shoes.
Aside from the extra grip, Velobici also claims that the dots enhance blood circulation and help alleviate numbness. I can believe this, as numbness is something that I experience on longer rides and I have felt a noticeable benefit when wearing these socks.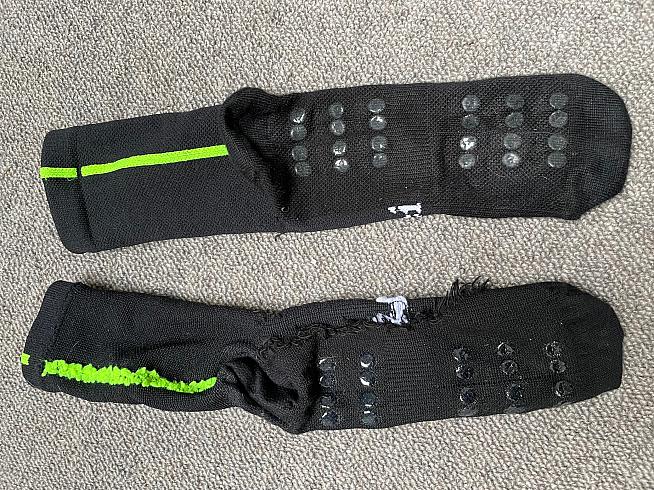 Not so sure about their "lightweight" tag. While they aren't particularly thick, they do provide considerable warmth. My circulation is not particularly robust, but I found them to be perfectly suitable for mild Irish winter days. To be honest I haven't worn them yet in the warm conditions that they claim to suit.
The quality of fabric and fitting is again excellent - snug but not too tight. They will stay in place and not wrinkle or bunch. The appearance is sharp - black with a snazzy lime green line down the back.
Verdict
There is no doubting the quality of these Velobici products, and their quest to do something a bit different. However, in terms of value for money, the end results are not always as successful as the high asking price demands.
The colour and soft fabric of the shorts in particular, while looking fantastic out of the box, have not stood up well to the harsh demands of longer winter rides. That's unfortunate as the fit and comfort is top notch.
The stylish thermal jersey has fared better, and the two-layer construction offers a genuinely novel alternative to the other winter jerseys in my wardrobe. It's perhaps not the toughest kit out there, but take good care of it and it should look after you on colder rides for many winters to come.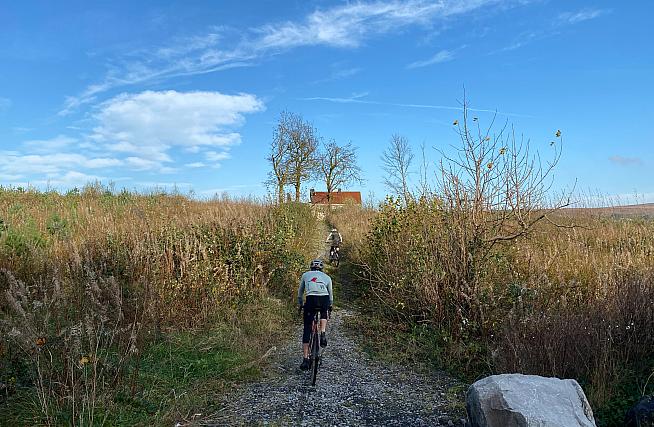 0 Comments