Howies may not be on the radar of most cyclists, but the Welsh active clothing brand enjoys a cult following among outdoors types. And, after trying out their merino wool base layers, I've been raving about their kit to all my cycling buddies.
Started in 1995, it's fair to say Howies were ahead of their time as an independent, employee-run enterprise striving towards ethical, environmentally responsible production.
Those core values have aged well - like one of their own organic cotton T-shirts, you could say - and today Howies attracts a loyal fanbase of customers who like to vote with their wallets on matters of principle.
Having recently moved to Wales I started investigating local brands and needed little persuasion to try out Howies' range of merino base layers.
The T-shirt, base-layer, and undies reviewed here are all made using merino wool. Merino wool probably needs little introduction at this point; it originates from merino sheep, which live high in the mountains where temperatures go up and down to an extreme level.
Hence, these sheeps are not your average sheeps: they have evolved a wool allowing them to regulate their body temperatures in icy cold winters and bloody hot summers.
The merino wool fibres are so fine that they capture tiny air pockets for a balanced temperature and move heat and sweat away from the body. Merino wool is also anti-bacterial, anti-microbial, and stink-free.
It's a magical combo, which explains why so many cycling brands are using merino blends in their kit.
Now, apart from knowing a thing or two about sheep, Wales is a terrific place for cycling, running, and relaxing. It has some of the UK's finest off-road and mountain biking. It has great roads to explore, including the world's steepest hill. It's also home to the Pembrokeshire Coast walking path, Snowdonia, and the Brecon Beacons.
So, I put the kit to the test by doing all the above.
I eased the kit in gently with a social visit to see some friends.
Putting the t-shirt on, it feels like a quality garment. I also noticed the subtly embroidered 'Howies' logo on the t-shirt's arm, which was a nice touch.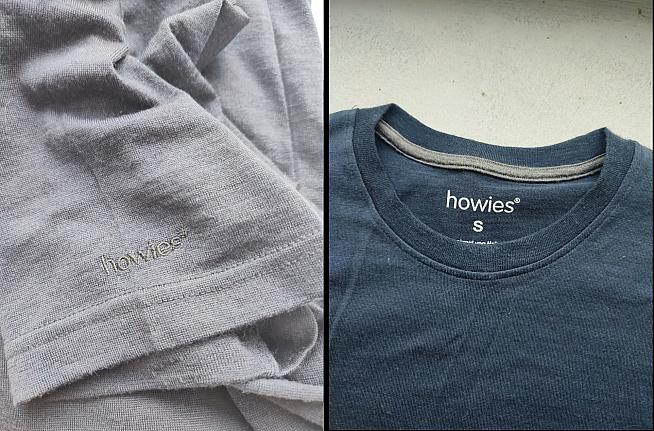 Howies is known in west Wales, so its reputation proceeded itself. Nevertheless, people noted the t-shirt. It was a comfortable fit. The merino wool has a very nice quality to it. The material is thick and it feels substantial to put on.
The t-shirt is designed to be comfortable and performance-oriented when running and cycling and a comfy t-shirt when throwing on a pair of jeans to meet the lads down the pub. I would say Howies have hit the mark.
The T-shirt is available in all the standard sizes and two colours, India Ink and Bone White.
Merino short-sleeve t-shirt, £55 from howies.co.uk
With some luck, temperatures across the UK plummeted after a spell of unseasonable heat that had everyone texting their friends, 'I am so red!'
With the cold and frost and snow, I was able to test Howies' claims about their merino wool base layer.
Howies' merino base layer is a slim-fitting top with flat-locked seams and shaped armholes designed for a better, more comfortable fit.
The garment's fabrics, threads, trims, and dye are all OEKO - TEX 100 certified. The certification by OEKO-TEX Association confirms the human-ecological safety of goods from all stages of production, from raw materials to end-of-life. (I didn't know this. I looked it up. And then plagiarised it.)
And so, next up for me was a coastal hike overlooking the bracing and beautiful Irish Sea. The combination of sea, salt, and wind is as abrasive as anything else that is that abrasive. And cold to boot. Especially when a breeze gets in under the back of your coat, brrr.
Well, cold winds and abrasive sea spray be damned. This base layer is the answer. Its fitted design fit very snuggly and is made from a thick material - almost a thin jumper sort of thing.
But, over and above its great fit, I noticed and appreciated its ability to keep me from getting cold.
On another walk, I threw a light jumper over top of the base layer. The two layers worked in perfect harmony, I was able to walk around with my puffer jacked unzipped and I didn't overheat.
On the bike, the base layer was ideal to go under some warmer winter layers. I felt no bunching in all the obvious spots - the sleeves and shoulders were fine.
And, there was no discomfort in the back with two layers and no riding up at the waist. Win.
Merino Long-Sleeve Base Layer, £59 from howies.co.uk
Don't worry, the unmentionables get a mention too. The boxers fit great. And, as mentioned, are itch-free - you can scratch any ideas of your itchy, woolly long johns from childhood (and, yes, that pun was intended).
For long activities, like walking for half a day or more, these boxers are really a go-to piece of kit.
They fit well under trousers or shorts. And, let's be honest, if you're on an hours-long activity, you're gonna get sweaty. The merino wool boxers will draw the sweat away from the body, prevent discomfort and help to minimise odours.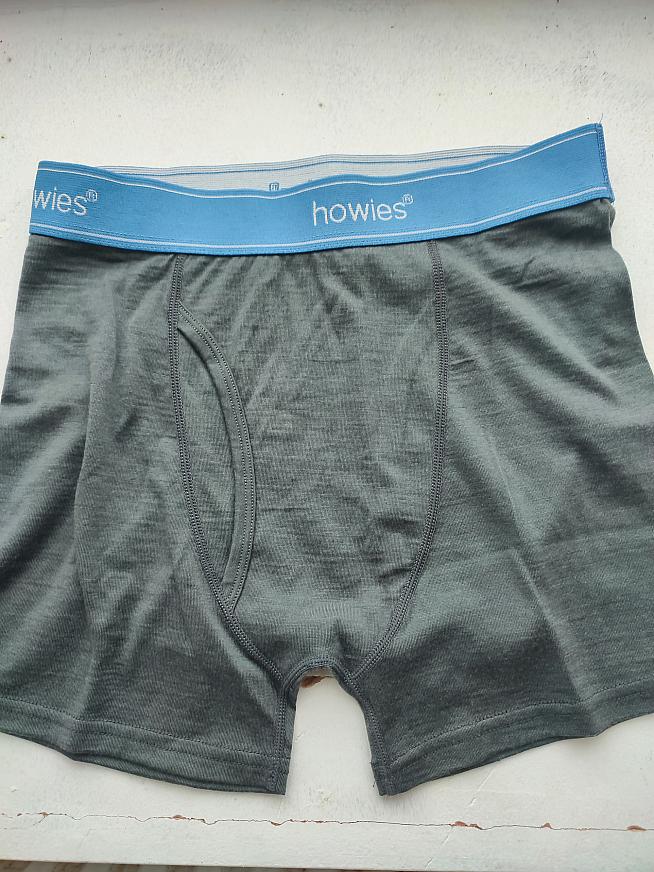 Speaking of odours, there's the final part of kit reviews, which is cleaning! All garments we've been talking about here are wool-based. So, they do have special washing instructions. But, follow them and all should be fine!
With the merino wool, Howies recommends a cold wash and laying flat to dry. The being flat to dry part is to help the garments retain their shape.
Through the various activities of cycling, walking, and relaxing I ran the clothes through the wash a few times. I had no issues and each time the garments came out fitting just as they had when they went in.
Merino boxers, £29 from howies.co.uk
FInal thoughts
If Howies wasn't on your wish list before, it's with a huge amount of encouragement I would recommend you put them on there.
This kit will make you feel good. It'll make you feel good about where you spend your money and also when getting ready to bear the elements - whether purely sporting or purely social, no one is judging.
These pieces are well constructed and perform well.
And finally, Howies offer a multi-buy discount of between 10% - 20% when you purchase more than one item, so I'd recommend stocking up. After all, you're gonna need more than one pair of pants. (You just are. I hope that's not a revelation to anyone.)
Going the multi-buy route saves you money, and also reduces the amount of packaging Howies needs to use to send you more boxers after you realise their strengths. So go forth and multi-buy.
Discover the full Howies range at howies.co.uk.
0 Comments