The Cycle Show returned to London last month, offering the public a chance to get a close-up look at some of the latest shiny bikes and kit.
The show has a new venue at Alexandra Palace - an upgrade on its previous residence at the Excel Centre. I have happy memories of a Pixies gig at the Palace, and it also served as the start for a memorable London-Brighton night ride many moons ago.
But enough of my geriatric reminiscences - what have the bright young inventors of the bike biz been up to during the Covid years?
I headed up on the show's opening day to find out.
LiteLok
LiteLok founder Neil Barron dreams of creating the unbreakable bike lock - and, according to Hannah on the stand, they feel they're getting close.
In the meantime, LiteLok offer a range of Silver, Gold and Diamond Sold Secure rated locks designed to deter all but the most determined and tooled up thieves.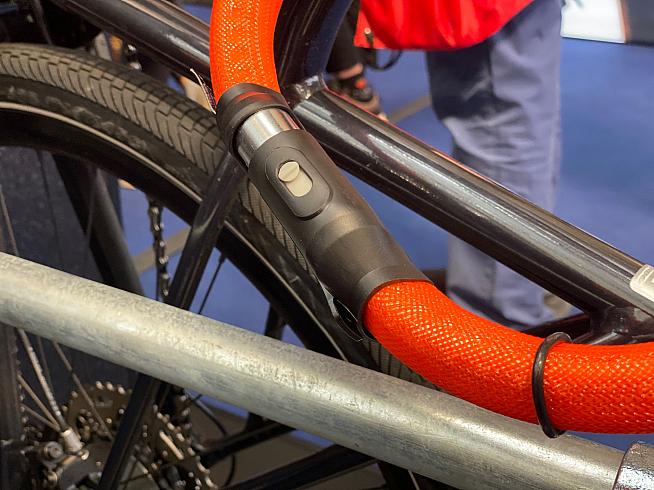 The locks themselves feature steel cables encased in a protective (and colourful) coating, and are shaped to allow the user to wear them like a belt between stops. LiteLok claim they come in at around half the weight of a traditional D or U shaped lock.
They're good looking locks, and picked up a Reddot Design Award in 2018.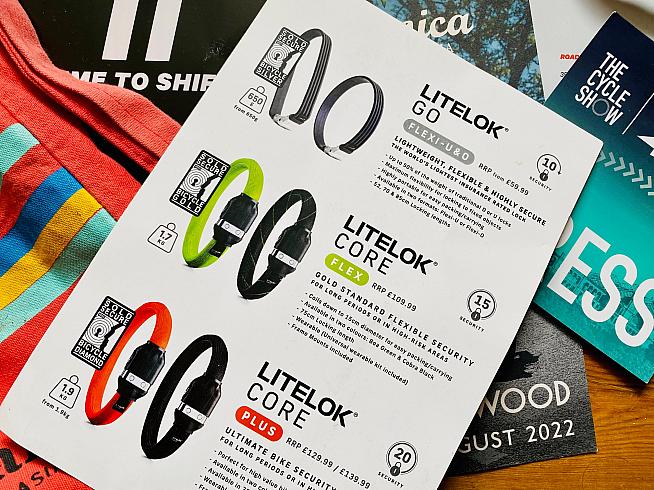 All LiteLok's range is produced from the Swansea HQ. The company managed to keep the working through the pandemic, Hannah says, investing in their own nitrogen machine when supplies were disrupted.
Prices start at £59.99 for the Silver-rated LiteLok Go.
Find out more about the LiteLok range at www.litelok.com/collections/bike-locks.
Wera
Speaking of tooled up, German nuts and bolts specialists Wera have their eye on the cycling dollar. A visit to their stand revealed a fettler's paradise of rainbow coloured allen keys, wrenches, spanners and sockets.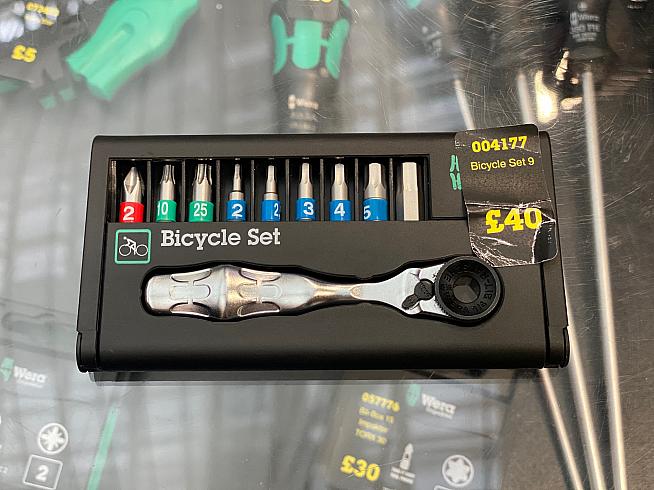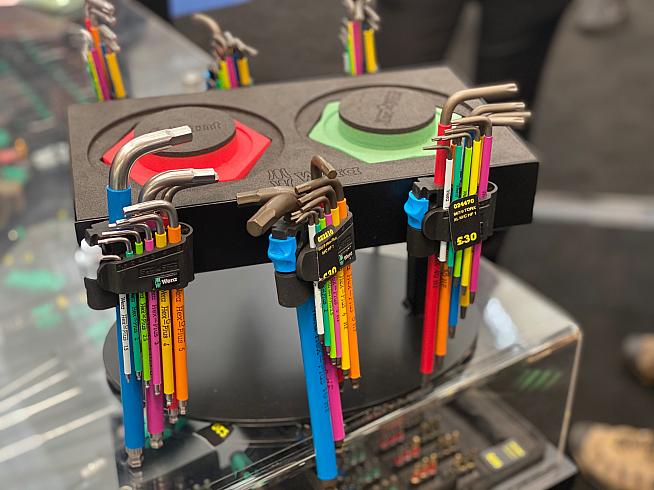 I liked their pistol grip torque wrench with a 4 to 8.8 nm range,
The stubby shape might be awkward to poke into some of the harder to reach parts of your bike's anatomy, but Wera offer a range of adapters for every occasion.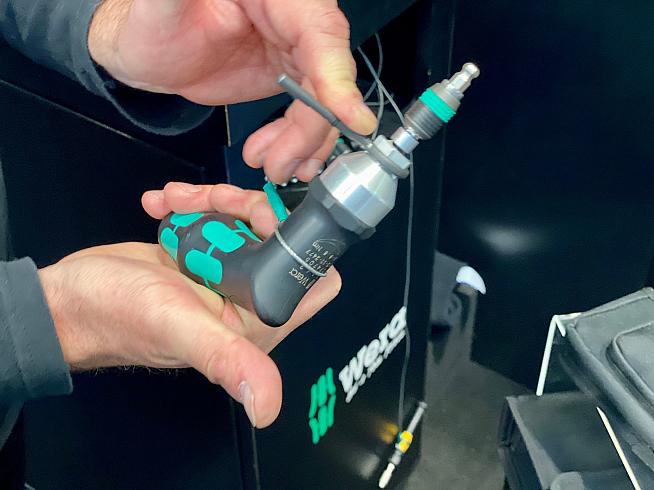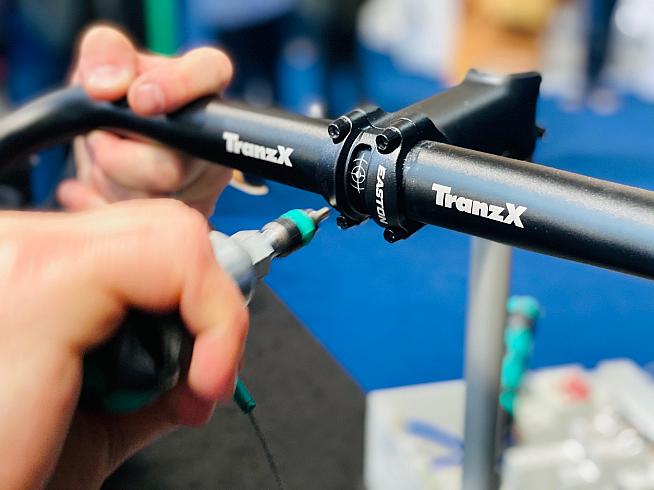 It's not cheap kit - their bicycle torque wrench set comes in at over £240 - but decent hardware pays for itself over a long enough timeframe. So I keep telling myself.
Thank you, by the way, to the two ladies who volunteered with surprising enthusiasm to hold some tools for a photo: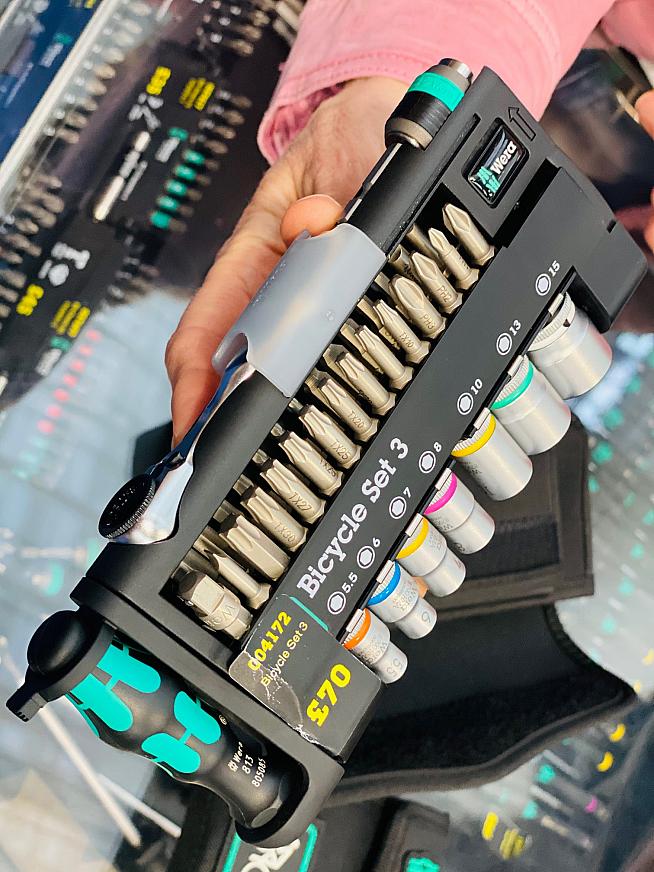 Check out the full Wera range in all its glory at uk.rs-online.com.
Eroica Britannia
"There's always someone from Worthing," a cycling acquaintance - herself from Worthing - observed when we met recently a long, long way from Sussex.
A little closer to home, Mark at the Eroica Britannia stall is also a Worthing resident.
Eroica is of course the vintage cycling festival and sportive, and the UK edition has a new home this year at the Goodwood Estate in West Sussex.
Mark talked me through what promises to be a fantastic weekend of retro-themed cycling.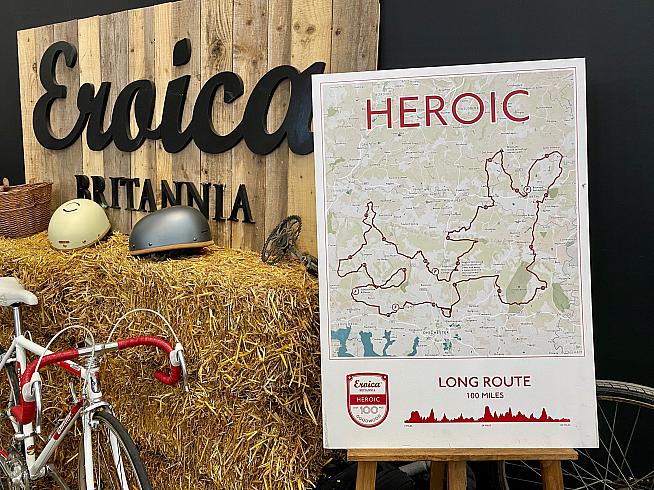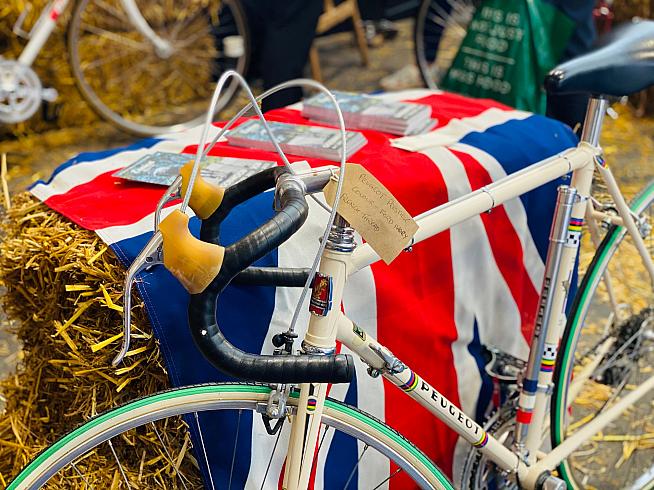 I never got the chance to ride Eroica in its previous incarnations up north, and so hadn't quite realised the emphasis placed on stuffing riders to the gills with gourmet treats.
With lavish feed stops at spectacular historic settings, it seems Eroica is a far cry from the "trestle of gels in a layby" approach of your typical sportive.
I realised 30 seconds into Mark's patter that I should 100% be filming this, but he was (understandably) coy about repeating it all on video. So take my word for it - Eroica will be an absolute treat of a day out.
Here are some pics of the route maps and you'll find more details on the Eroica website.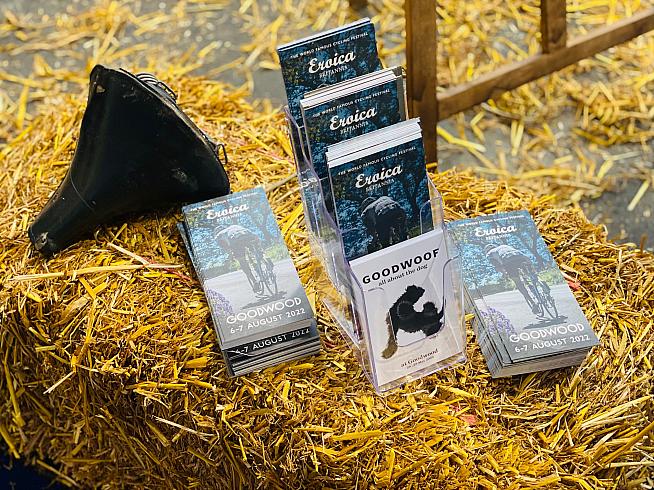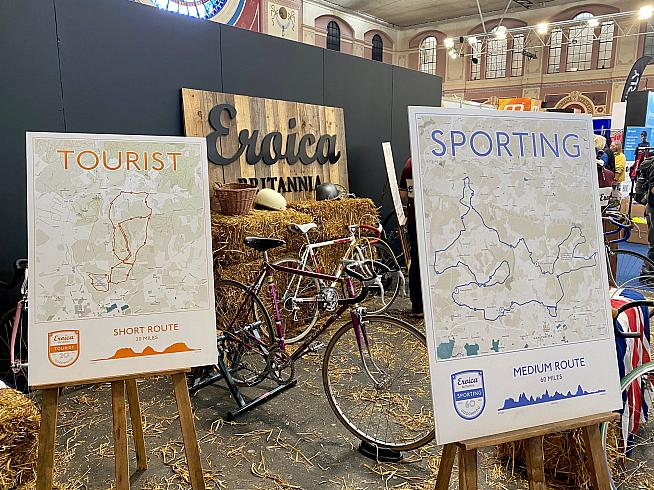 Eroica Britannia takes place 6-7 August 2022. Put that date in your diary!
Info and tickets at www.goodwood.com/cycling/eroica-britannia.
Ortlieb
Trusted by cycle tourists for years - their Back Rollers are a classic pannier design - Ortlieb HQ must have raised a sceptical eyebrow when the current bikepacking boom took hold.
"Kein Gepäckträger? Was für ein Quatsch!"
But credit to them, Ortlieb have moved with the rack-free times. Their latest range includes some on-trend saddle and bar bags with typically fastidious attention to detail and engineering.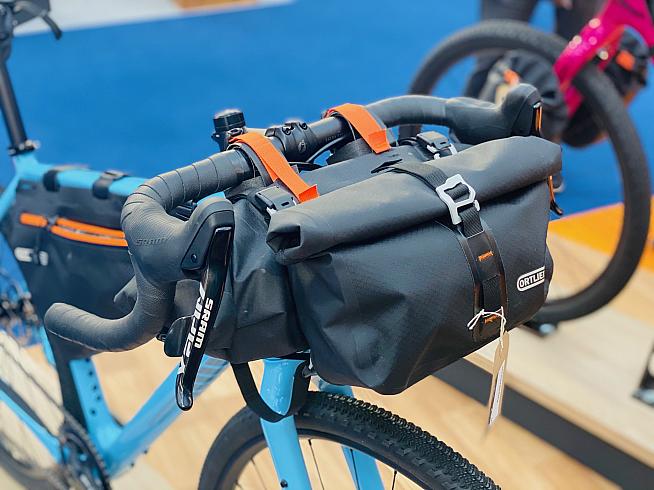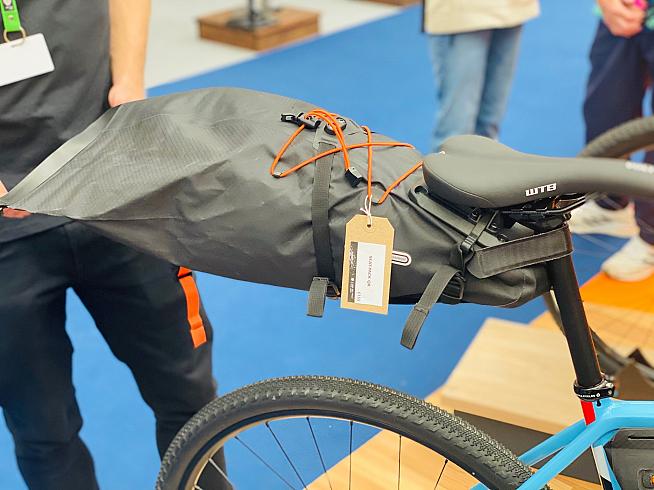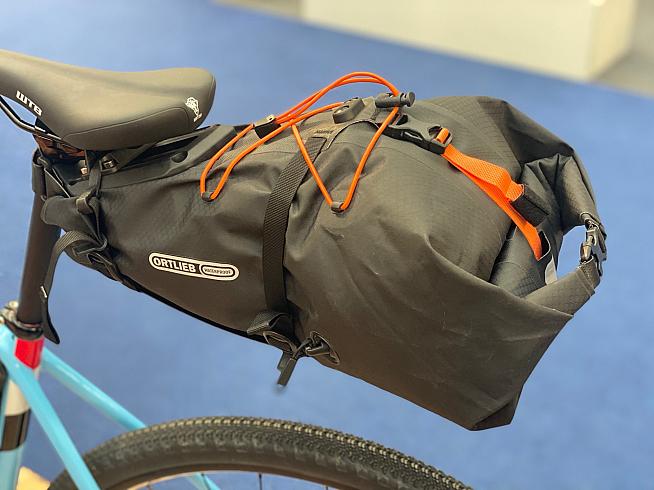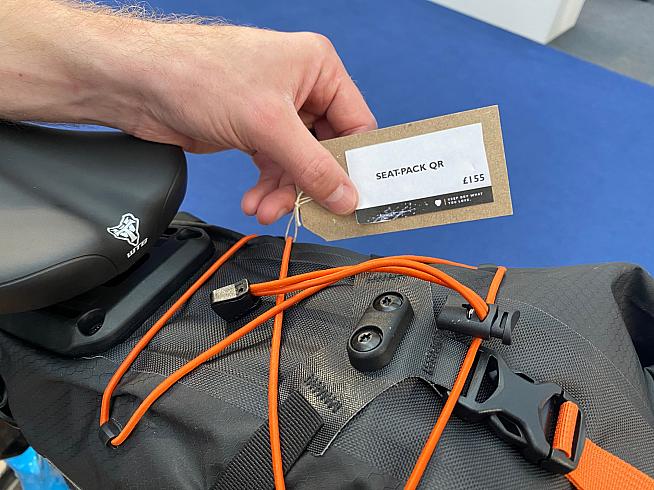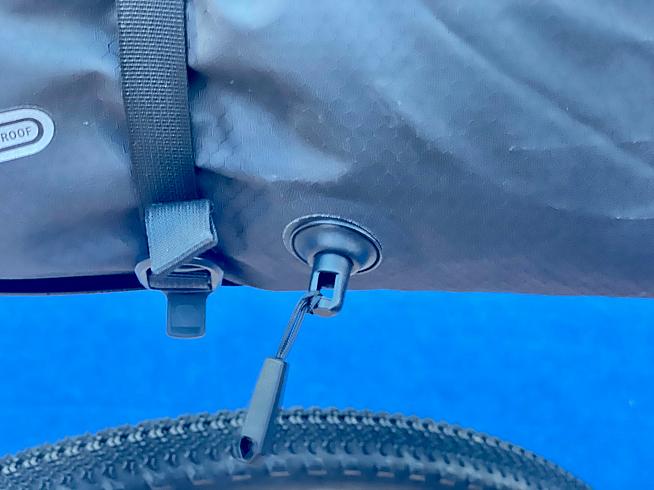 Quick-release fastenings mean the packs can be swiftly uncoupled from bike for evening or shop stops.
Other little touches - like an air-release valve to enable easy rolling up of the saddle bag - bear witness to Ortlieb's many years of experience in this game.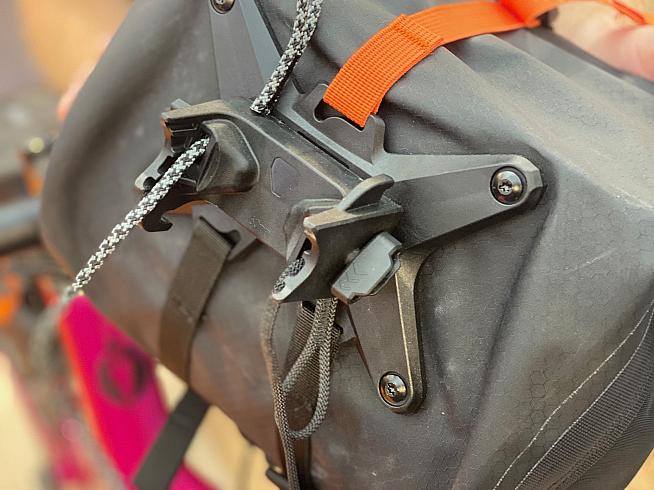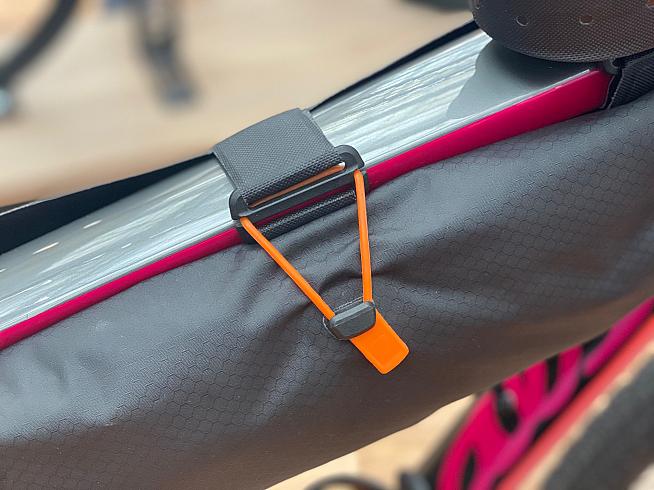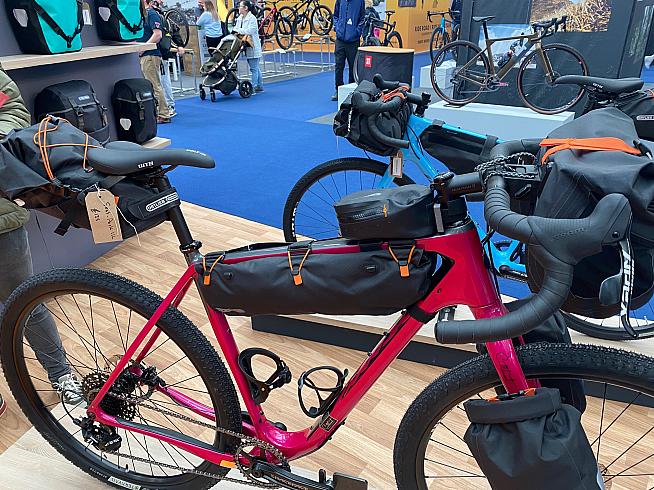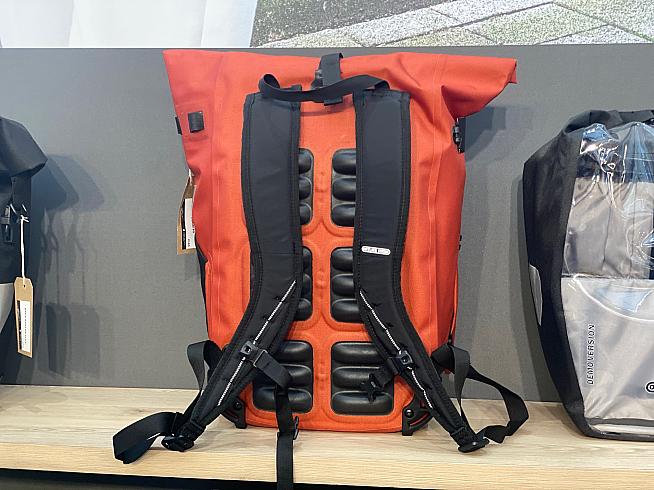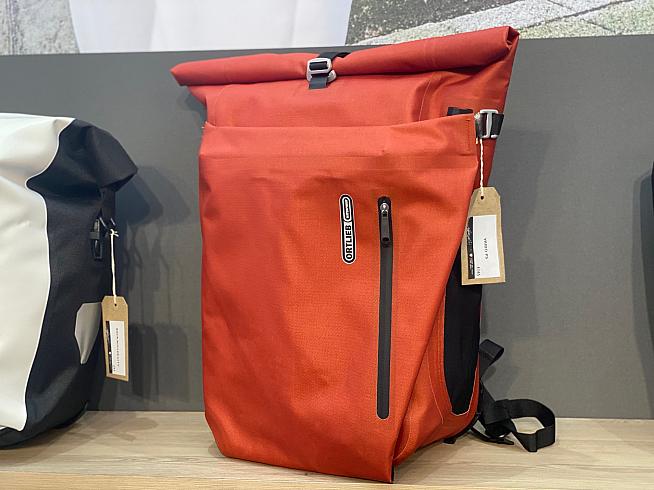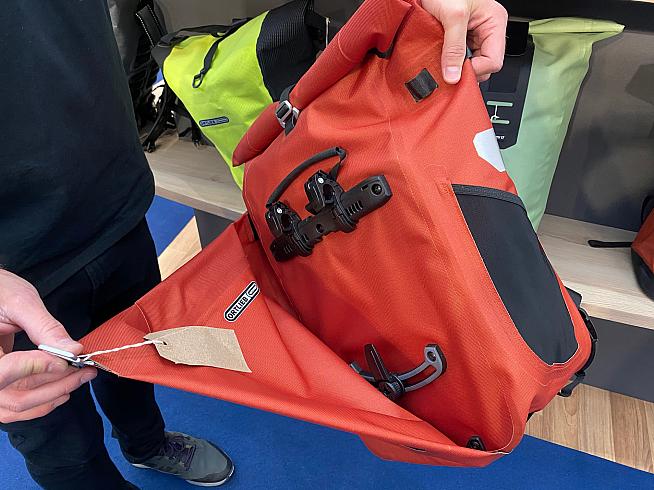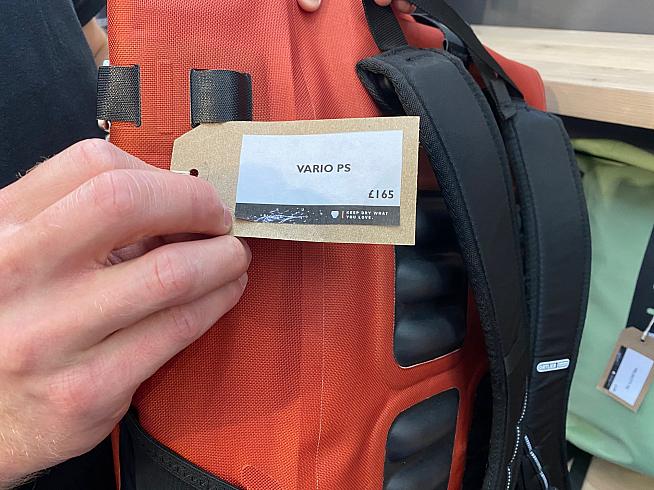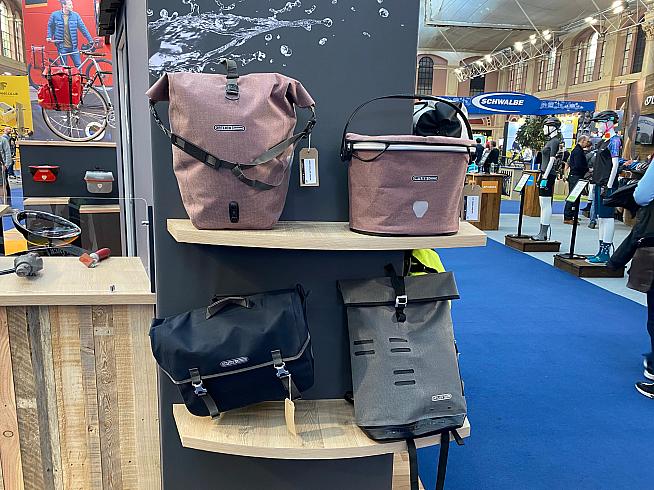 Throw in robust construction with light-weight waterproof materials, and it adds up to a range you'd be happy to trust on the most epic bikepacking adventure - let alone rainy commute.
Check out the range here: www.ortlieb.com.
Paradigm Bikes & Velo Elite Wheels
I can't walk past a titanium bike, and Paradigm had on display a couple of nice examples - unusually for titanium, with paint on.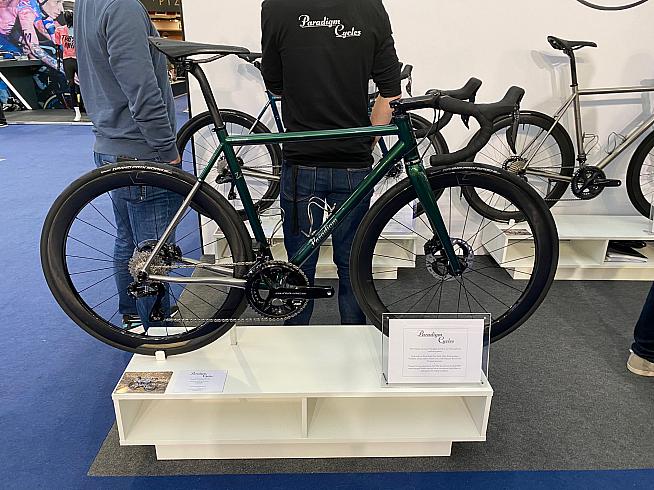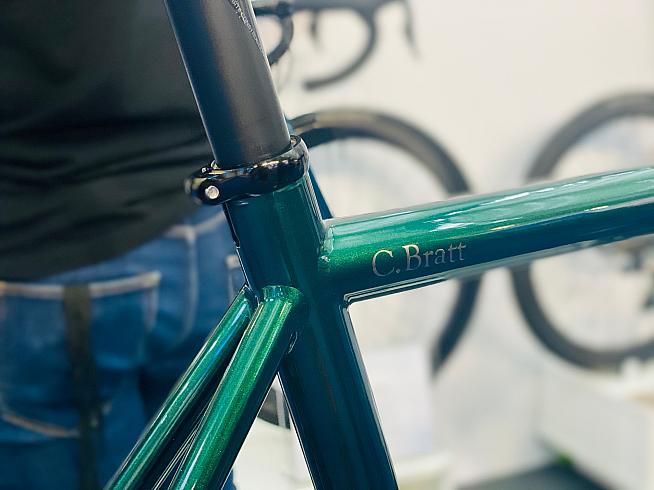 Paradigm provide a bespoke titanium bike building service, including custom paint, with the bikes on display belonging to Paradigm founder Charlie Bratt and other members of the small team.
The bespoke frames are built in the Far East to the customer's specification, while painting and final assembly takes place in the UK.
Paradigm use Ooey custom paint in the UK, an expensive option at £600-£700 but the results are impressive.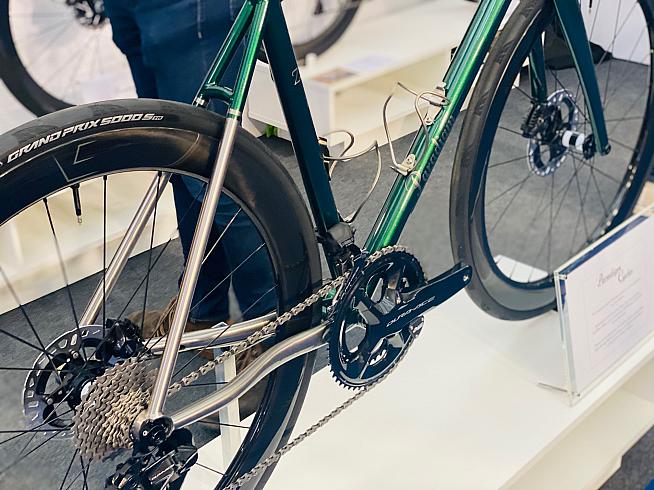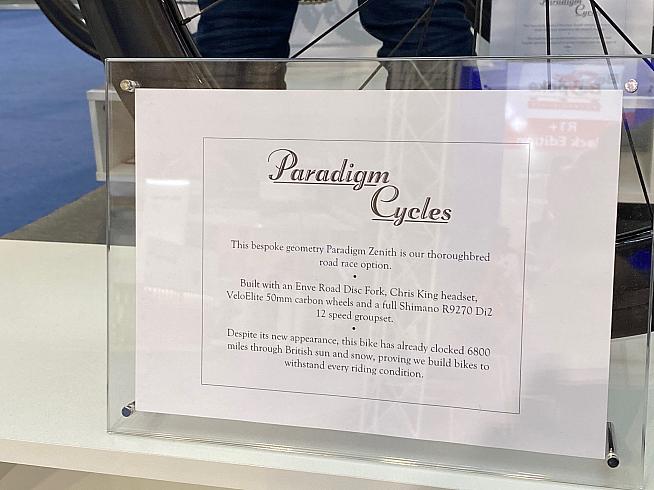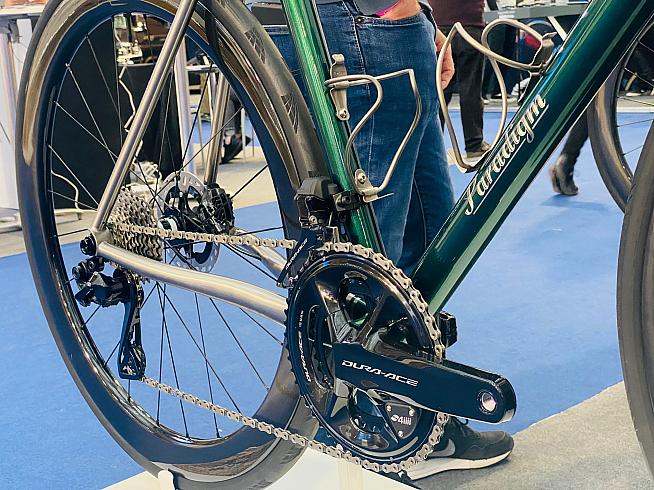 Premium finishing kit options include Enve carbon forks and Chris King headsets, and Paradigm have partnered with VeloElite to supply carbon wheels.
VeloElite bossman Tom was on the stand. Coming from a wheel-building background, he explained that he'd initially specced his wheels with DT Swiss hubs before moving to an in-house brand with similar technical characteristics.
Rims are available in matt or gloss finish with discreet branding, spokes are high quality from Sapim.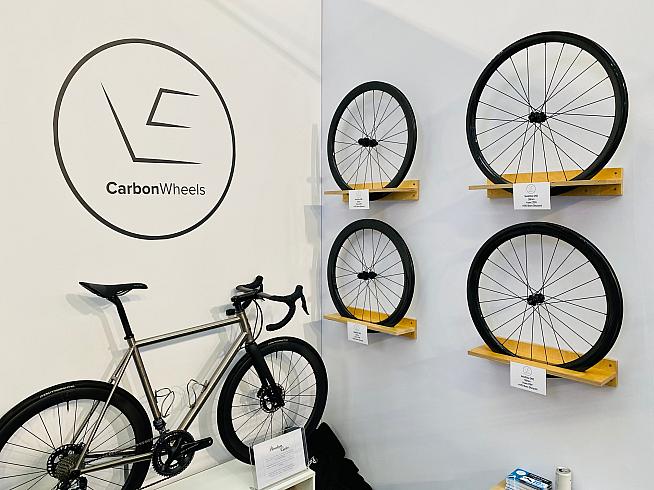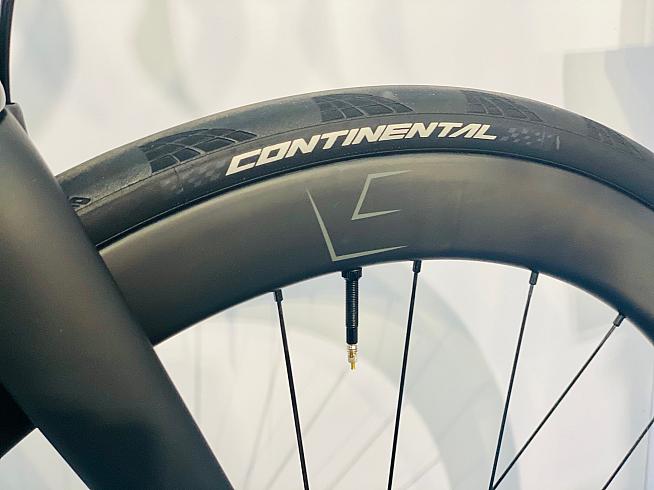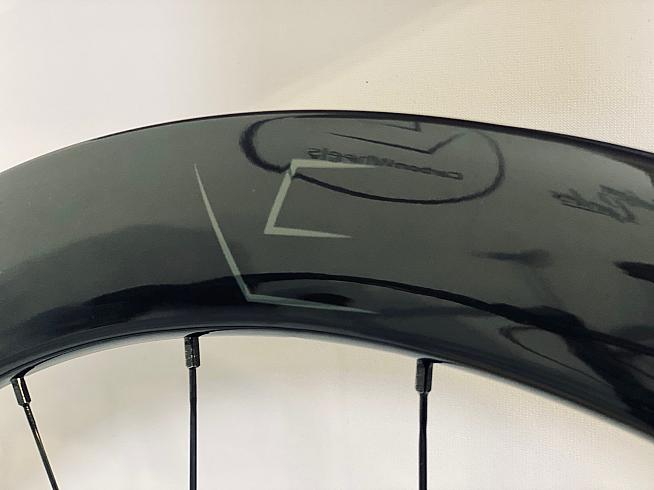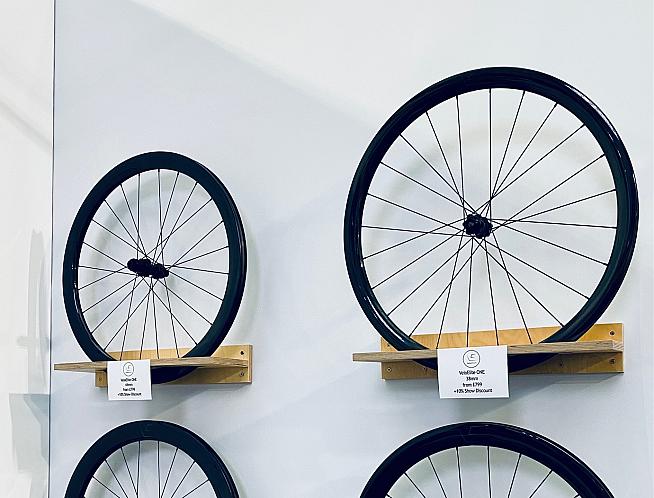 At £799 for a mid-section carbon wheelset weighing around 1400g, the pricing seems competitive with the likes of Hunt or Scribe.
Find out more at www.carbonbikewheels.co.uk.
Ribble Cycles
Ribble's renaissance under childhood fan, now CEO Andy Smallwood, continues apace. Last August they unveiled the Ultra SL-R, an aero road bike claimed at launch to be their fastest ever design with world-class performance.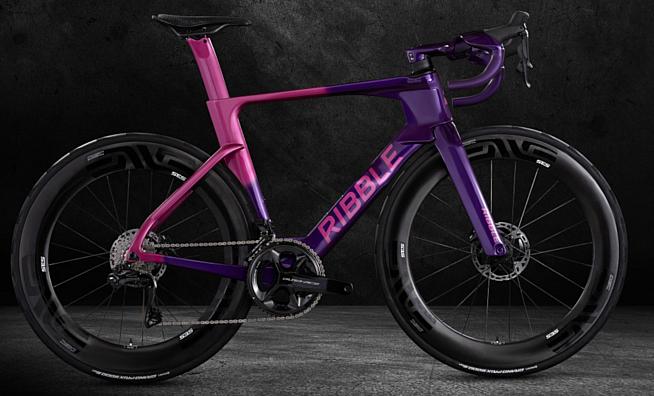 I called by the Ribble stand to have a peek at the Ultra SL-R in the flesh.
The model on show - tied down to its display stand, presumably to stop it tearing off at 120kph - featured Ribble's custom paintwork, as did many of their show models.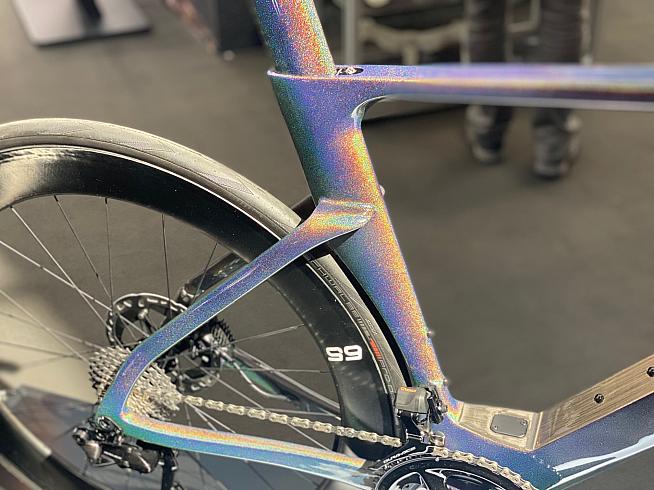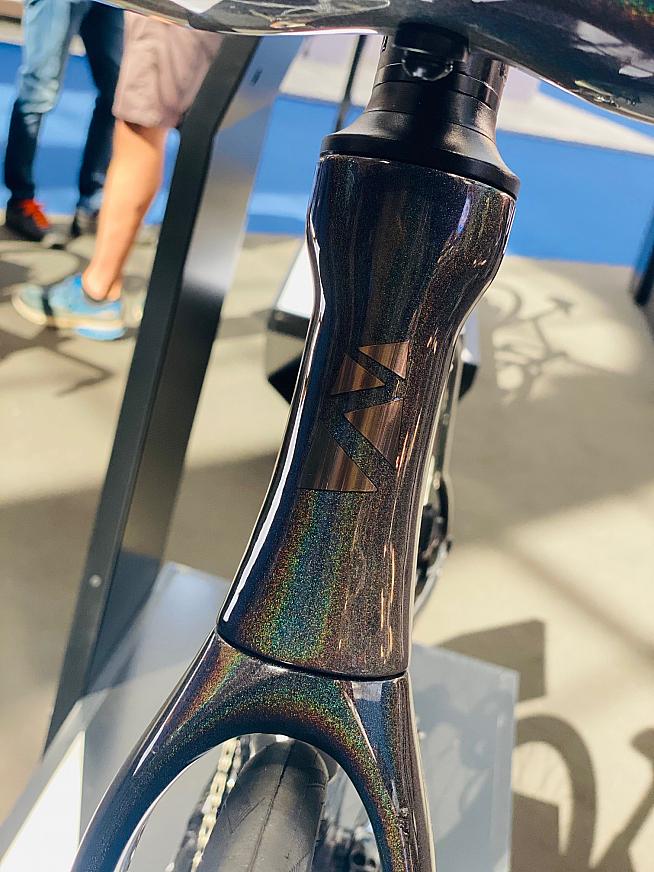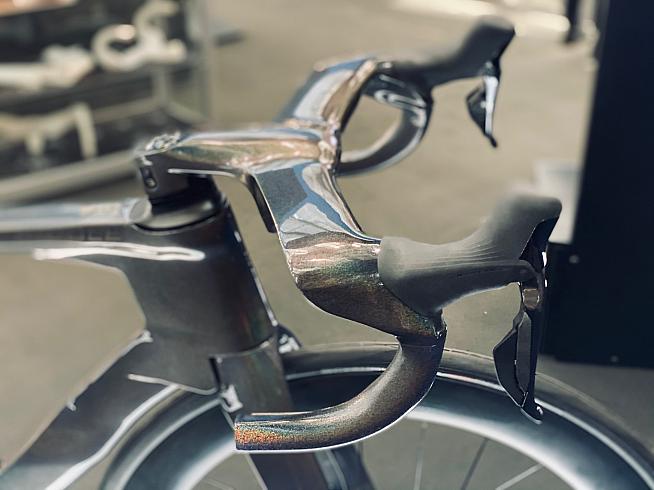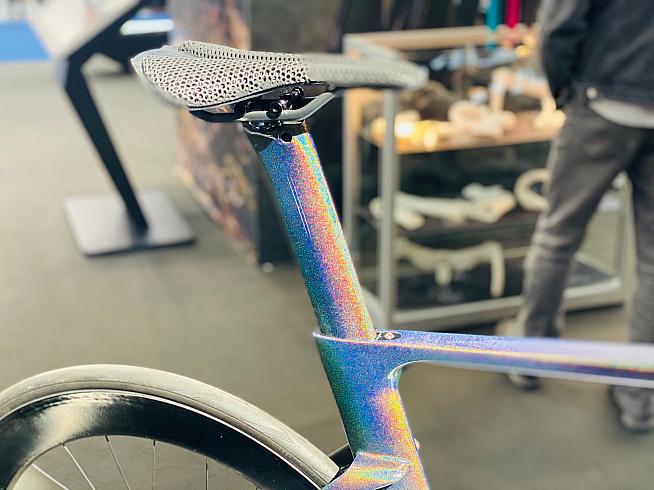 It's a stunning looking bike for sure, and as their rep explained it's been designed in the wind tunnel to be faster with a rider on it than without. The frame profile has been sculpted to eke every aerodynamic gain possible, taking into account the addition of a rider and even shaped to optimise air flow over a water bottle.
Seat and chain stays are noticeably bowed - reminiscent of Team GB's track bike for the Tokyo Olympics - while the extravagant curves of the Level 5 carbon integrated bar and stem feature a textured finish that avoids the need for bar tape.
The Ultra is available in two versions, the SL and the SL-R. Both have the same aero shape, but the latter uses a higher grade of carbon for a lighter weight.
Pricing starts at £3299 for the Ultra SL (Shimano 105, Level carbon wheels) or £4,299 for the SL-R (Ultegra 2x11 groupset), rising to £7,599 for the "Hero" edition specced with Shimano Dura-Ace Di2 2x12 groupset and Enve wheels.
Discover the Ultra SL-R at www.ribblecycles.co.uk/ribble-ultra-sl-r.
Ribble also had this rather lovely emerald green number on show, which I think is the Endurance SLR in gravel mode: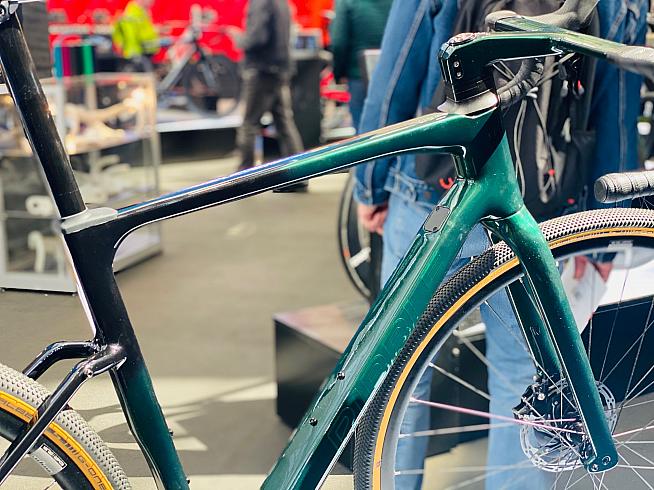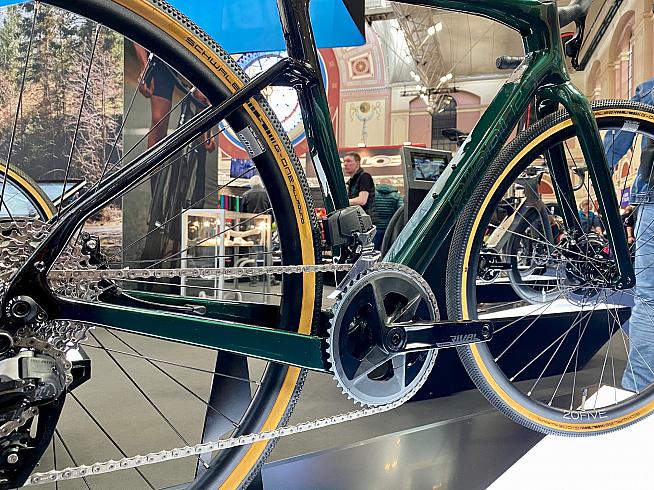 They also had on display a cabinet of bleached sheep bones collected from the Lancashire hills...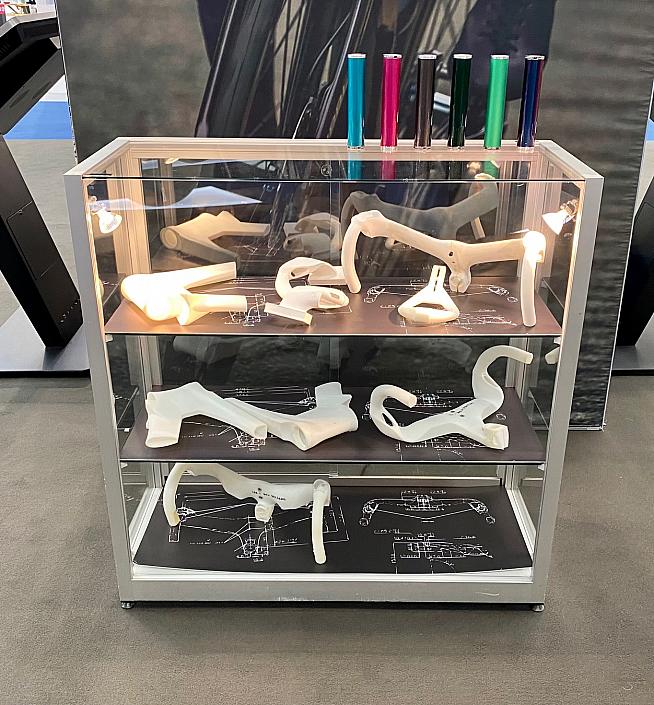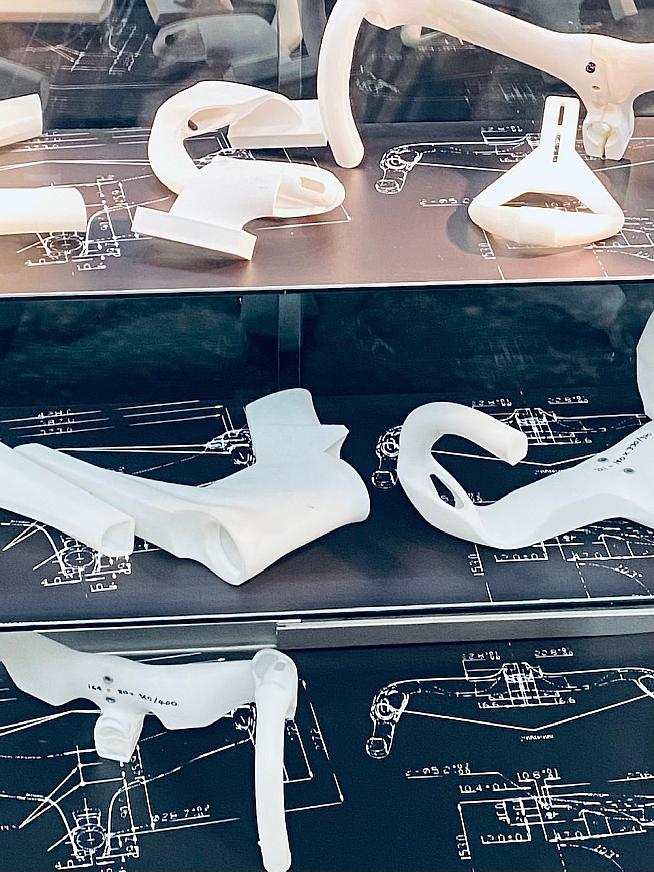 Lovely stuff.
It's always a pleasure to drop by the Ribble stand, their staff are so friendly and enthusiastic about the product - as they should be.
Behold the Ribble range at www.ribblecycles.co.uk.
Reilly Cycleworks
From one superbike to another - over at the Reilly stand, aero titanium is now a thing: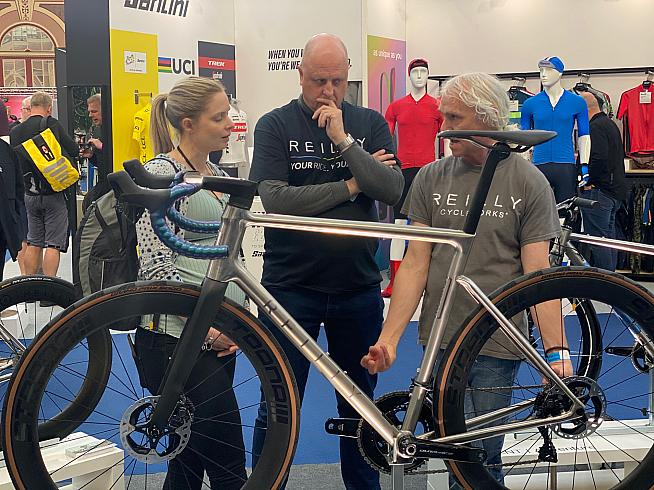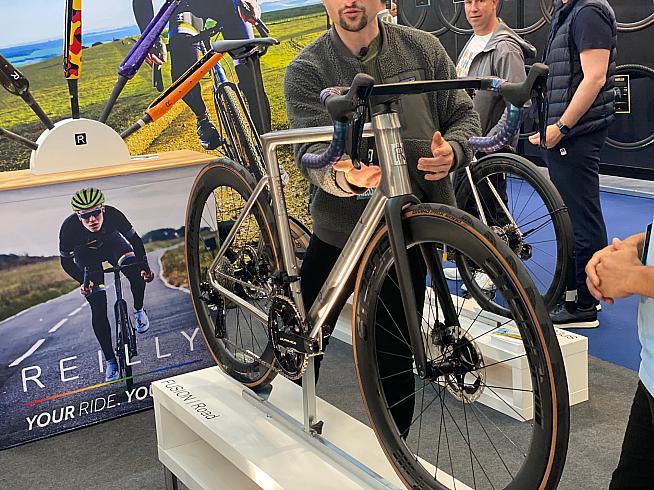 You're looking at the Fusion, Reilly's aero road disc bike, which uses investment cast head tube, seat cluster, BB shell and dropouts to recreate the aero shapes usually associated with a carbon frame.
It's reminiscent of Specialized's Allez Sprint - except that the seamless welds of the Fusion, in particular at the head tube and seat cluster, are executed to such a standard that on first inspection I genuinely thought the frame must be carbon.
The Fusion is the cleanest looking titanium bike I've seen, helped by fully internal cable routing. Reilly claim a frame weight of 1.79kg for a medium, and complete builds start at £7,499 for Shimano Ultegra Di2 2x11 with carbon wheels.
While the Fusion is Reilly's headline act, my eye was caught by the Gradient T47 Adventure Disc: a modern titanium (of course) steed that ticks all the boxes for a dream gravel/adventure bike.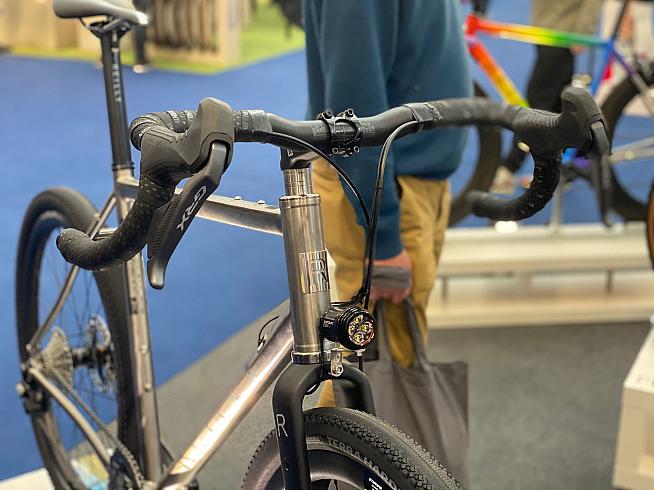 "T47" refers to the oversize threaded bottom bracket that's fast becoming standard.
The frame is furnished with all the mounting points you'll need for luggage, lights or mudguards, along with internal dynamo cabling.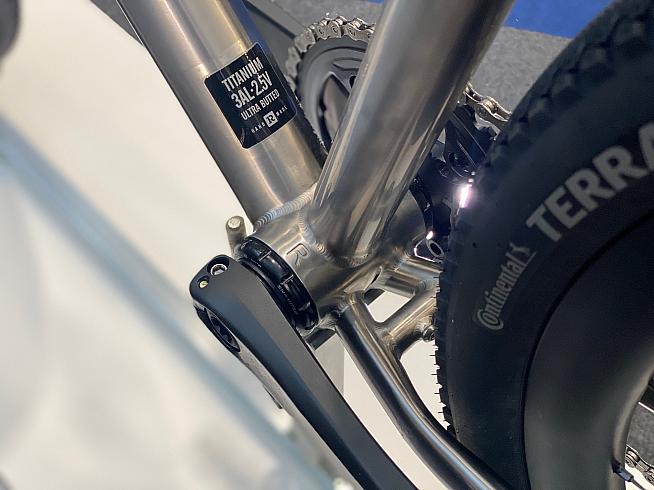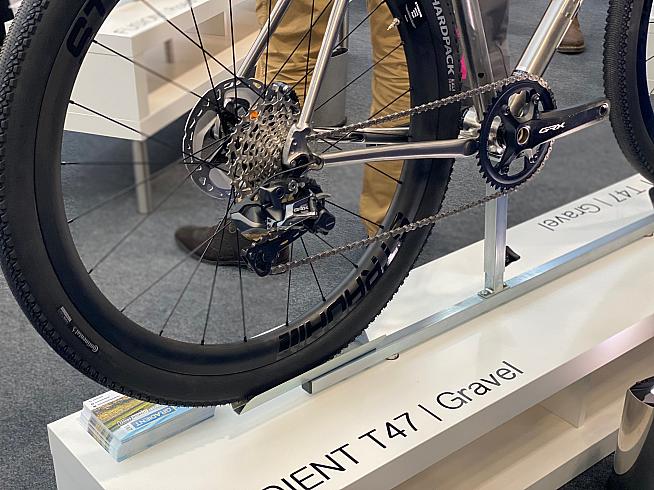 And some "just because" features, like a titanium headset.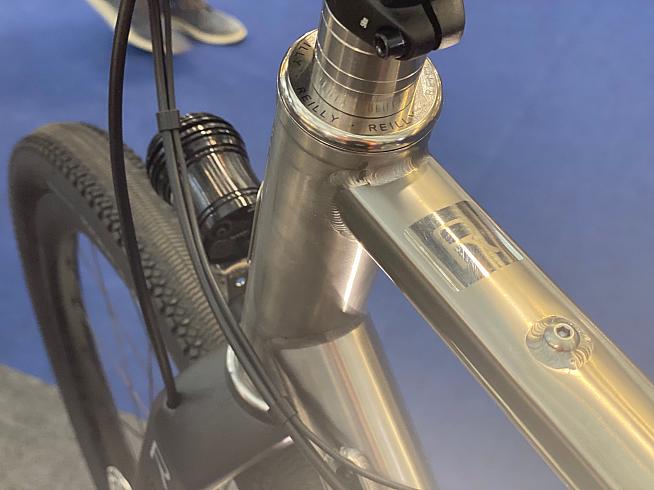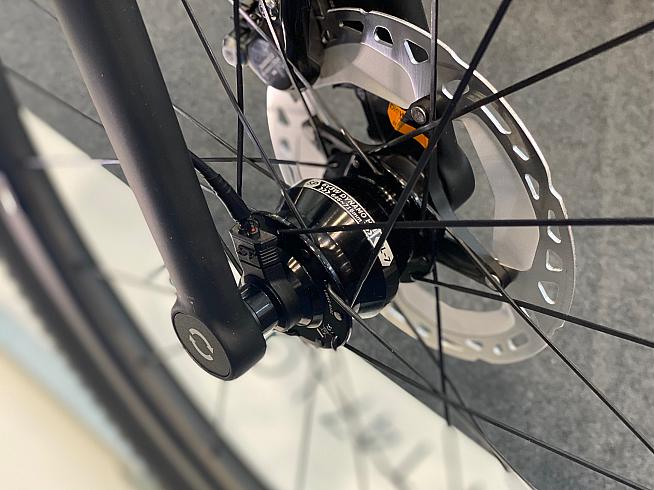 The bike's standout feature though, was a Shimano GRX Di2 groupset paired with a Classified Powershift rear hub.
Classified are a Belgian company producing internal geared hubs. Their system offers a comparable gear range to a traditional 2x setup - but without the need for a front derailleur.
It's an intriguing concept, particularly as Classified claim it to be mechanically as light and more efficient than running a front derailleur.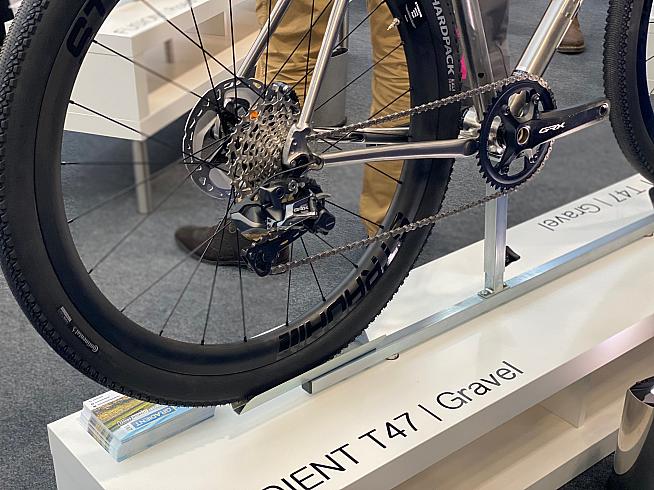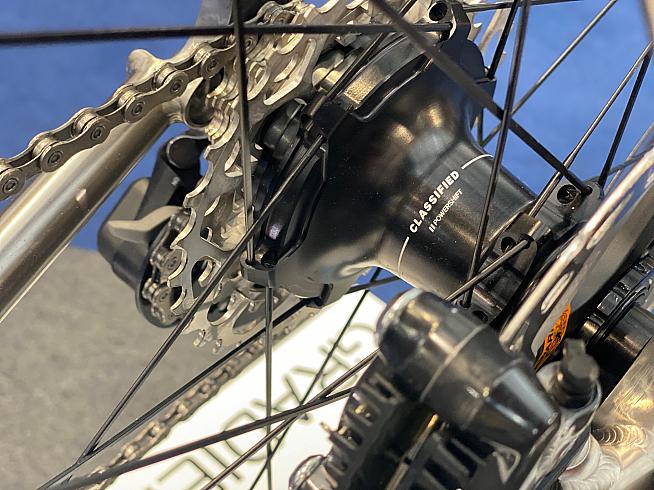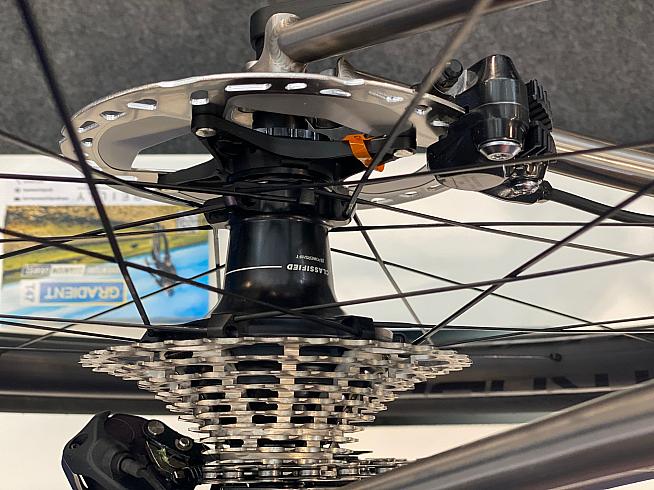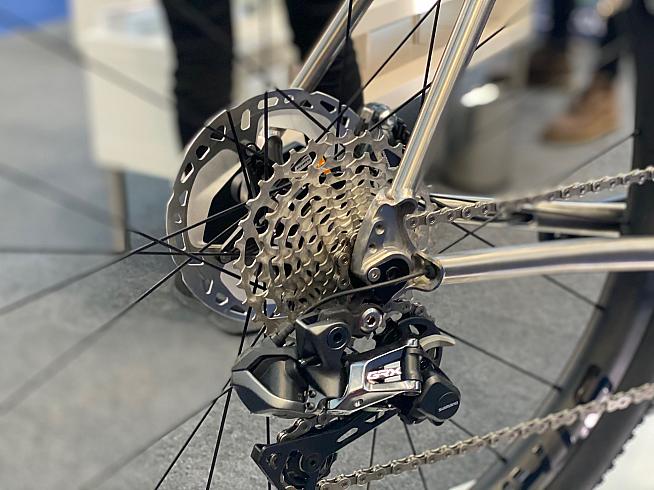 The result is very streamlined; to all appearances the Gradient looked to be running a 1x Shimano GRX drivetrain.
There's just a small "satellite shifter" style button near the left brake lever to give away the presence of the extra ratios tucked inside the slimline rear hub.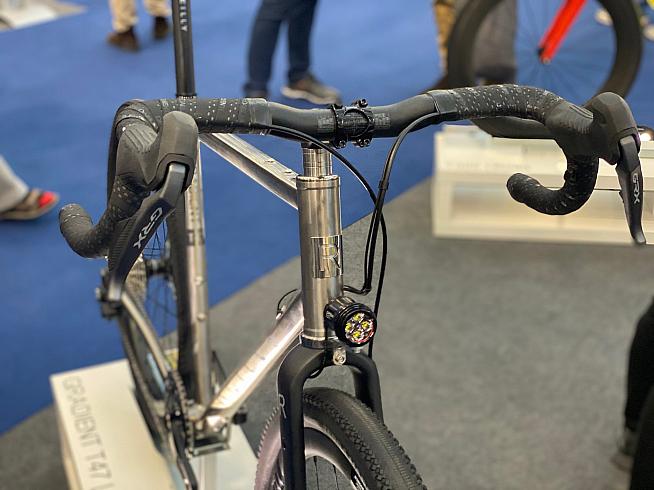 Classified had a stand right next to Reilly at the show, so a little more on that later.
Back to the Reilly Gradient T47, and tyre clearance on the frame is a whopping 700c x 55mm, or swap to 650B wheels and run 2.4" MTB tyres.
The geometry isn't as stacked and slack as more trail-oriented bikes like the Fustle Causeway - but for fast-paced road and gravel grinding, the Gradient T47 looks like your ticket to long-haul adventure.
Only Shimano builds are currently listed on the Reilly website, with prices starting from £4,149 for GRX 600. SRAM and Campagnolo Ekar builds are also available on request, and I guess they'd sell you a frameset too if you'd rather build to your own spec.
Finally, for those still happily running on rim brakes, the "brightest bike on show" award goes to this rainbow Reilly T325: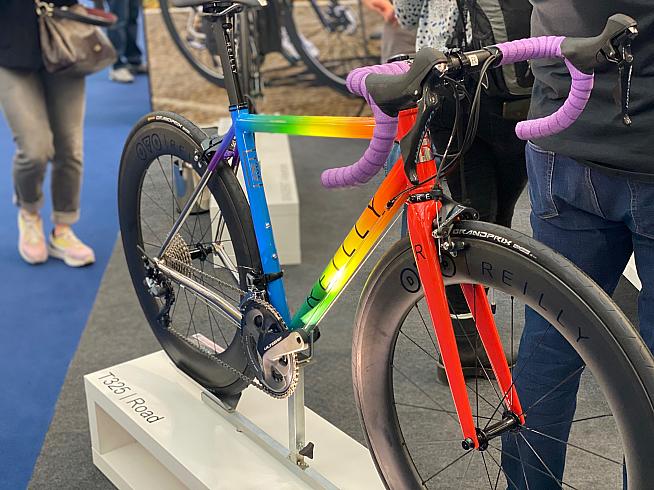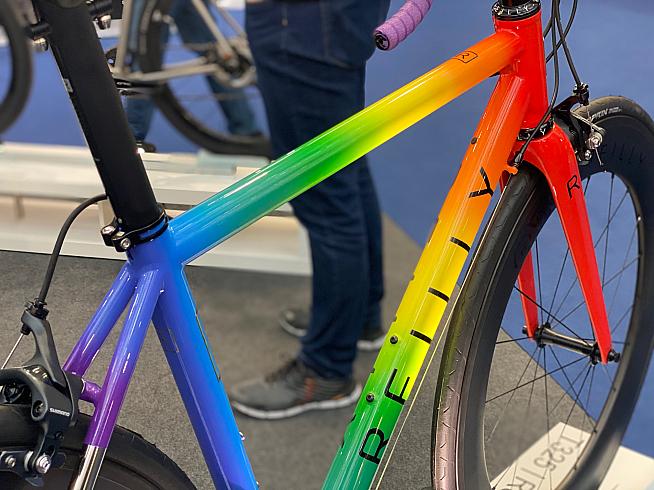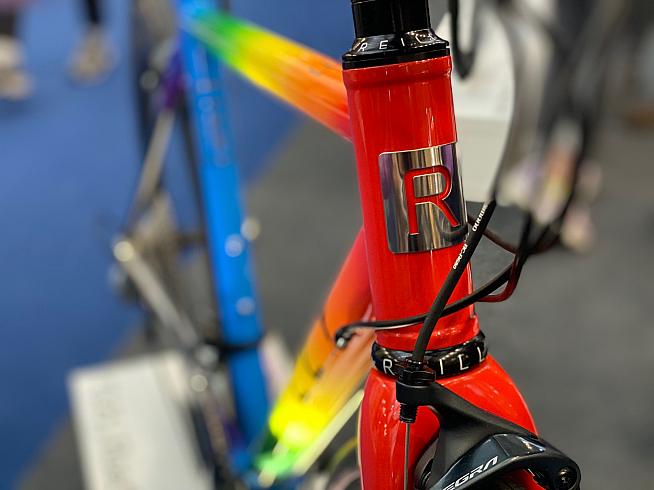 If you like it, this exact bike is available, along with several other of Reilly's display bikes from the Cycle Show, with discounts of up to £600 on the Reilly website.
Check them out at www.reillycycleworks.com.
Hunt Bike Wheels
Tucked in the trendy quarter of the show hall next to the vegan food counter I found the Hunt stand - and, to my surprise, the familiar face of Hunt, Mason (and Worthing) ambassador Claire Frecknall.
I met Claire on the recent GranGuanche Gravel Audax in the Canary Islands - to be fair it was impossible to miss her and her buddy Martin, both riding matching bright orange Mason Bokeh bikes.
We shared a few miles at the start in Lanzarote and a couple days later in Tenerife, before parting company deep in a forest halfway up Mount Teide. So, it was surreal but not the maddest segue ever to bump into her in an ornamental palm house full of bikes.
We exchanged GranGuanche road tales while admiring Hunt's new wheels. My trusty Hunt rim on Son dynamo hub has seen me through several bikepacking adventures, and the Sussex outfit continue to offer some of the keenest value hoops available.
The Hunt Gravel Race Disc wheelset for example, features rims with 22mm internal width optimised for 30-45mm tyres and Sapim CX-Ray spokes. Tough and lightweight, at 1459g these are comparable in weight with many carbon wheels but priced considerably lower at £449.
If pushing the pace on sportives or road races is more your thing, Hunt have you covered too. While the likes of Claire and fellow test pilot Josh Ibbett are putting Hunt products through the wringer in real-world race conditions, back in the lab Product Engineering Manager Luisa Grappone is putting her experience in aerospace engineering to use in developing some of the world's fastest rims.
Hunt's Aerodynamicist range compares with the industry's finest in wind tunnel testing - and, with prices starting at £449 for a 34mm wheelset, Hunt bring serious aero gains within reach of competitive amateurs on a budget.
Even as a non-competitve amateur, I've been mulling a switcheroo to 650B wheels in  order to run wider tyres for bikepacking events like GranGuanche. As such, a visit to the Hunt stand was fraught with fiscal peril.
I managed to resist, settling instead for a freebie Hunt cap. But the website is always there, for 24-7 temptation...
Vitus
While most cyclists will have heard of online retail giant Wiggle-Chain Reaction Cycles, their bike brand Vitus had flown under my radar a bit.
But my cousin recently bought a Vitus as his first foray into road cycling. Given a chance to examine one up close, I was impressed by its good looks and value spec.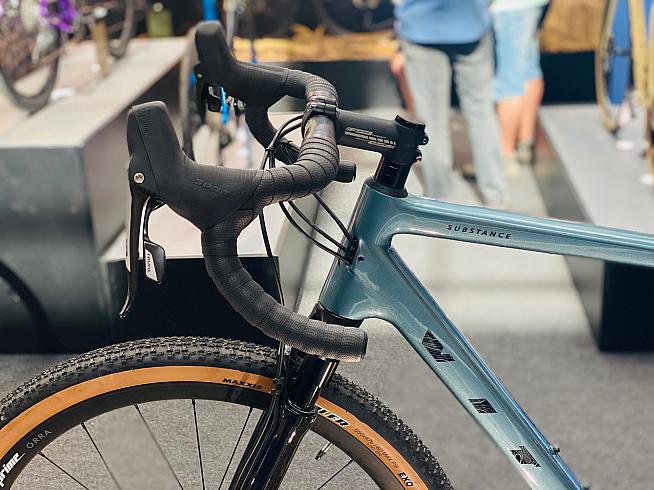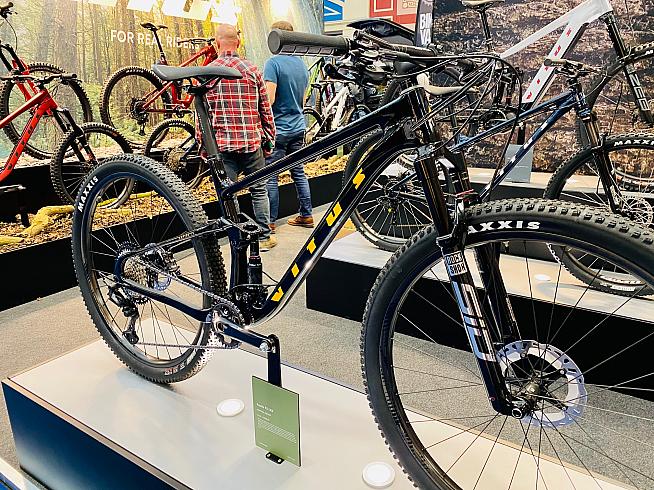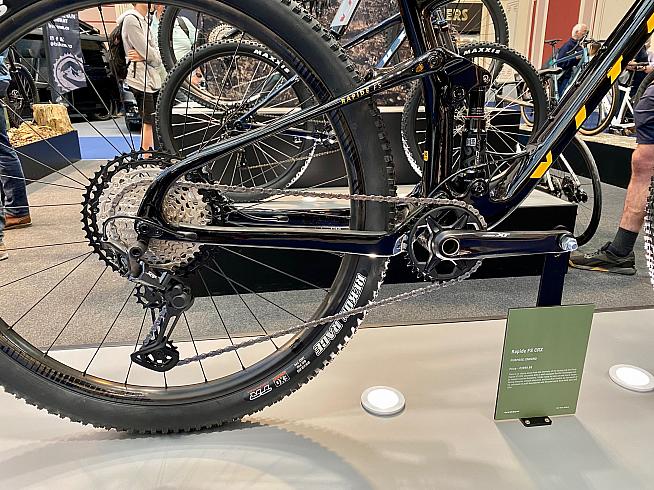 I found Alex Marchant, Vitus PR, busy wiping down the cobbles on their Paris-Roubaix themed display.
"We just got these blocks from B&Q to make the display and they're a bit dusty, but it's come out well..."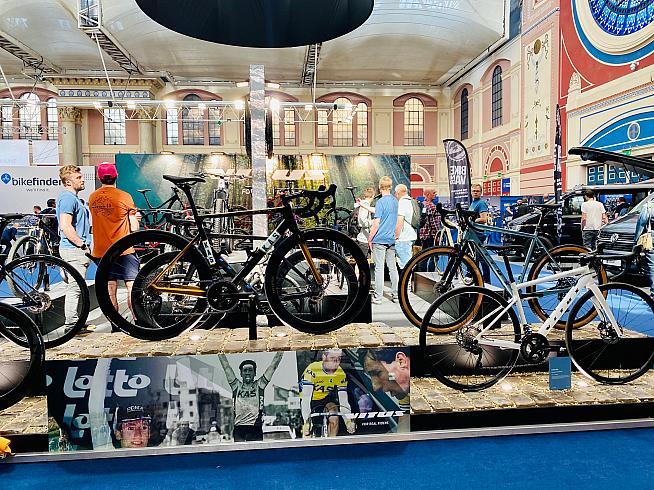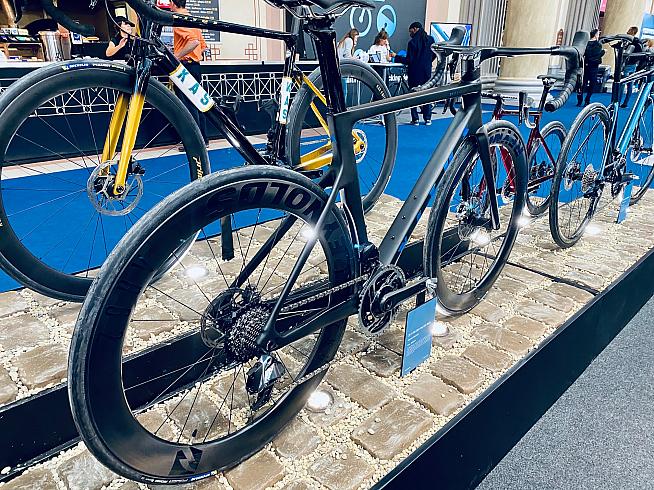 An interesting looking bike with custom KAS team paintwork sat atop the cobbles. Alex explained as he cleaned that the bike was a one-off, intended as a gift for none other than Irish cycling legend Sean Kelly.
The paintwork lists highlights of Kelly's palmares, along with a typically droll quote from the great man: "To know if the weather is too bad for training, put on your gear, go train, and you'll know when you get back."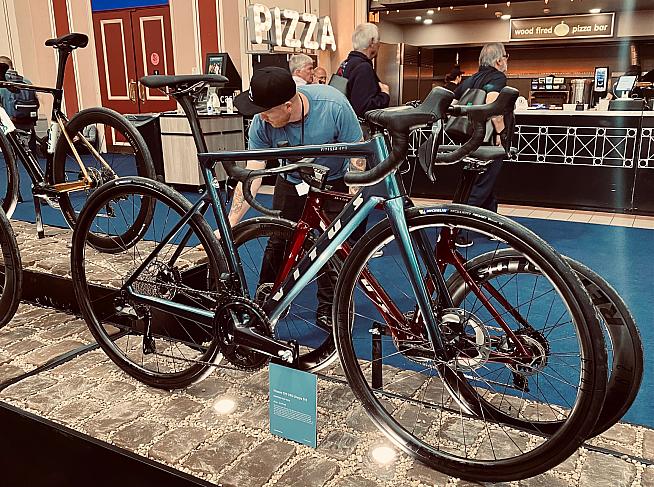 I picked up from Alex's accent that he is, like me, from Northern Ireland - and well familiar with the MTB trails near my hometown Rostrevor.
The name of Glyn O'Brien came up, a local legend on the MTB scene. Glyn, said Alex, deserves a lot of credit for helping establish the Irish MTB racing scene over the past 30 years.
I mentioned that by coincidence, Glyn's wife had recently been in touch with my own wife, with a very generous offer of a couple of brand-new bikes for two Ukrainian refugee children being hosted by a local family.
"That was us," replied Alex with a smile.
Glyn and his wife had heard about the children through my wife's Facebook post, and Alex had immediately offered to donate two Vitus bikes for the kids.
"We didn't want to make a big deal of it or do any press," explains Alex, "we just heard the story and were happy to do something to help."
Well now... what are the chances? I'd not even known the gift bikes were from Vitus; here I was face to face with the man who'd made it happen.
It can be easy to forget, but behind every big brand name is a handful of humans, all making decisions, doing their best - and, sometimes, being very generous and asking nothing in return.
Thank you, Vitus.
Prime Bike Components
Wandering round the back of the Vitus stand in search of further freakish coincidence, I discovered another of Wiggle CRC's brands, Prime, displaying their wares.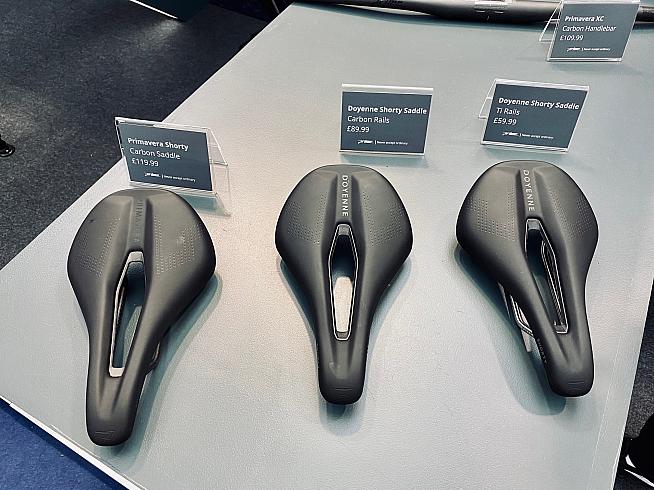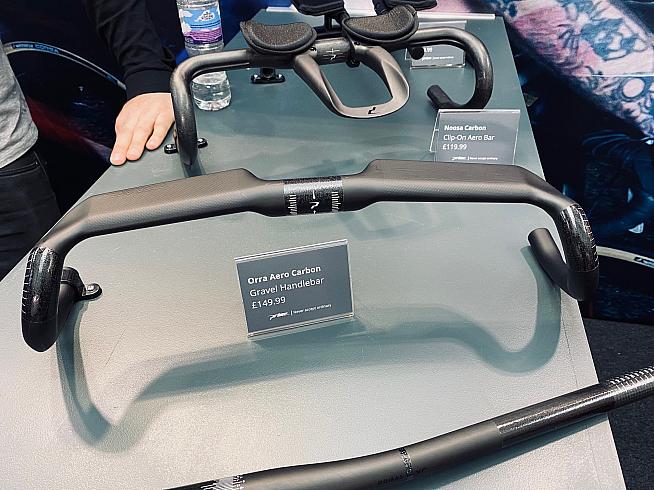 For those who imagine that components like stems, handlebars, wheels etc from a "house brand" like Prime are simply selected from a vast catalogue of generic Chinese parts, that is not the case.
Presiding over the stall were the actual designers of said components, R&D Engineer Ben and his team mate Craig.
As I noted the ergonomic scoop on the corners of their new flared gravel bars, Ben laughed.
"Yeah, that's based on the shape my hand," he said, grabbing the bars to demonstrate.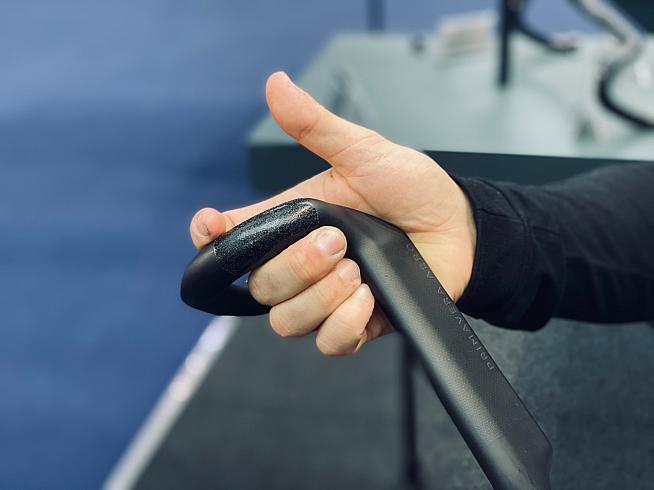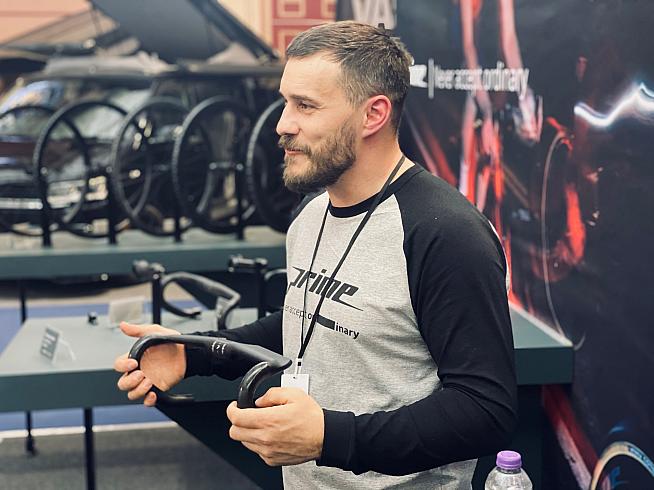 For a complex 3D shape like drop handlebars, the design process is painstaking - Ben flipped open his laptop to show me the CAD files for the bars, a complex mesh of colour-coded contours - followed by 3d printed protoypes and testing.
The result is products that compete with "big-name brands" in terms of quality and innovation - and in the case of Prime, at a lower price point than many rivals too.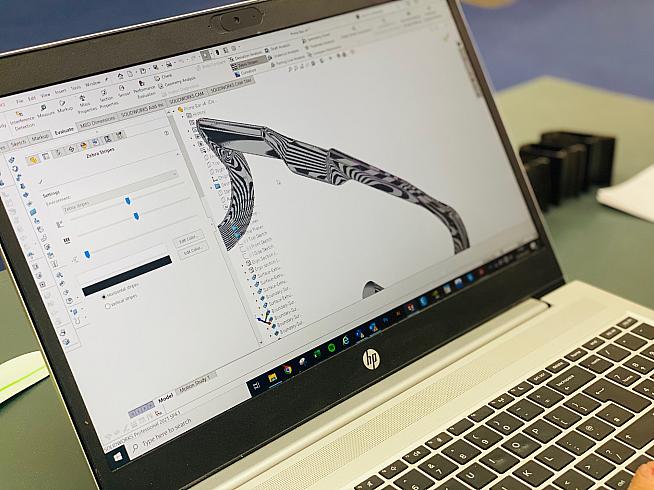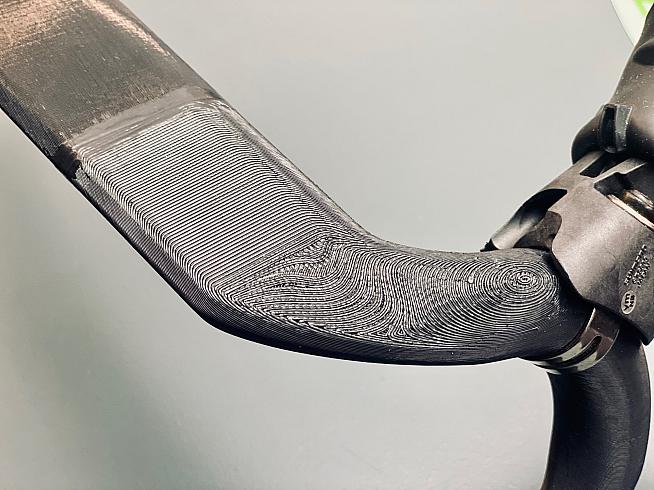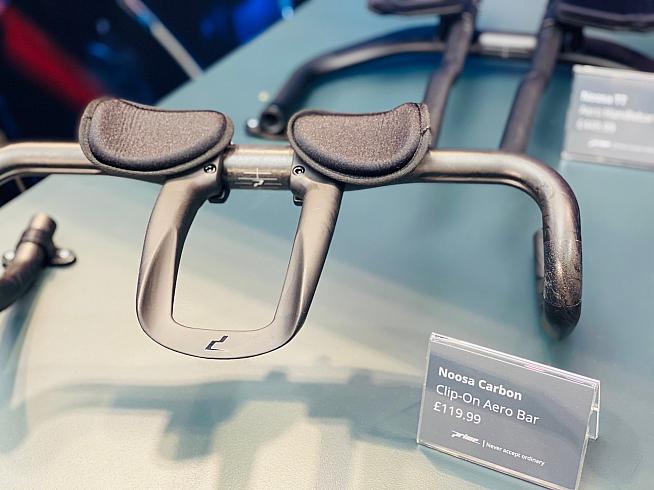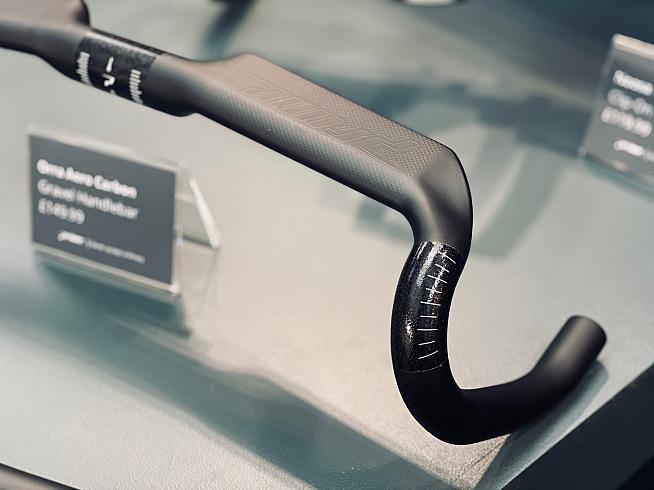 The aero gravel bars look the business, I'll be tracking down a set of those for sure.
Classified Powershift
I approached the Classified stand with scepticism, expecting to be either confused or underwhelmed by their magic beans...what exactly is it, anyway?
An exploded version sat displayed in a glass case like the crown jewels.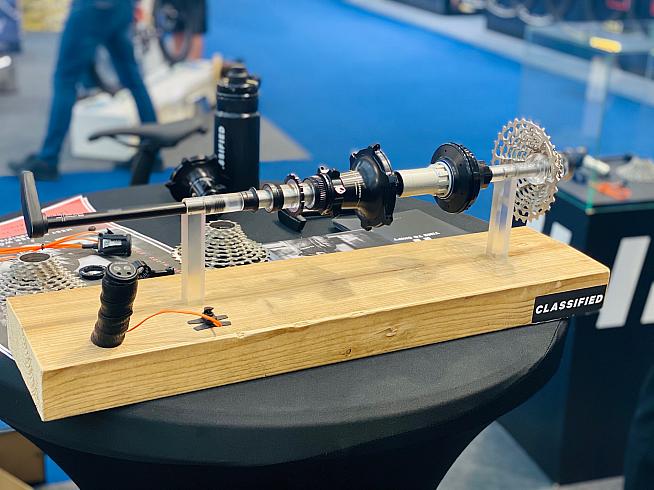 You may already be familiar with Classified Powershift - their innovation has received plenty of media coverage in recent years - but essentially it's an internal two-speed hub gear, wirelessly activated, that offers the gear range of a 2x setup without the need for a second chainring and front derailleur.
Shifting is via a small shift button that mounts beneath the handlebar tape on your bars. The shifter actuates a bluetooth transmitter installed in the left bar end (replacing your usual bar end plug), sending a signal to Classified's Smart Thru Axle which in turn actuates the hub gear.
The entire process is almost instant; shifts take just 150 milliseconds, and you can change gear under loads of up to 1000 watts.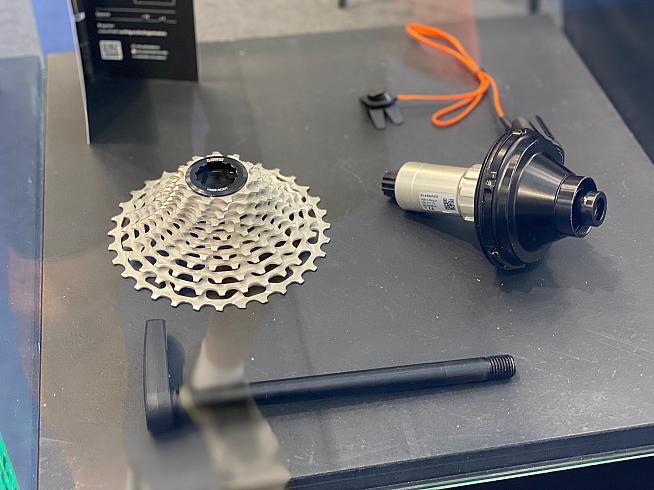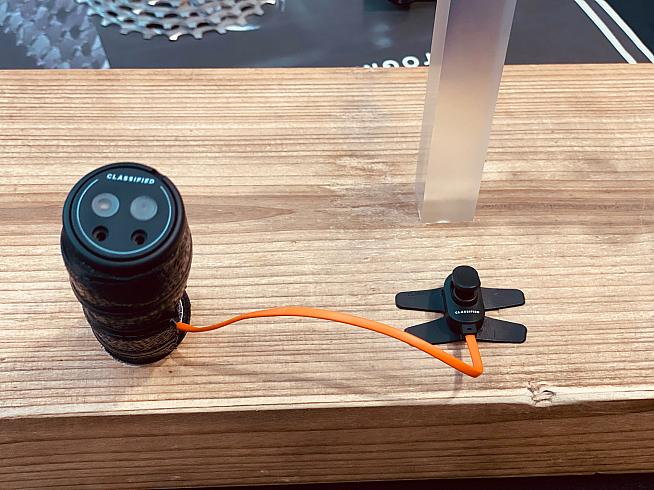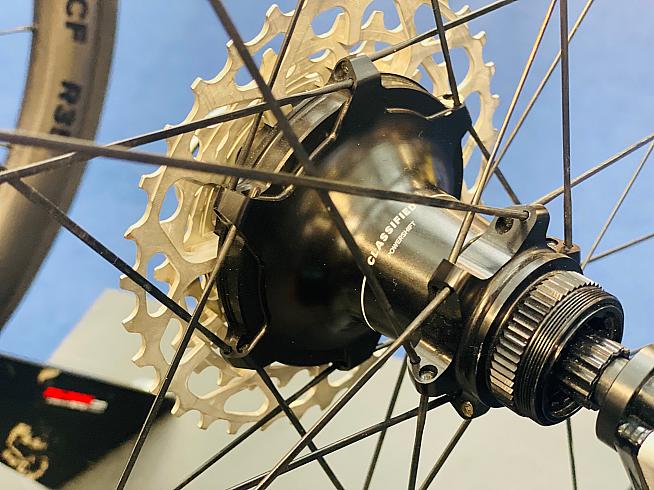 I hopped on a demo bike fitted to a stationary trainer to give it a quick try under the watchful eye of their friendly rep.
Pedal up to speed, push the button and... the shifting was indeed quick and smooth, with none of that momentary slack you get shifting from big to small chainring in a 2x drivetrain.
It feels like an evolutionary leap forward from the clunky old front derailleur.
The system is compatible with 11 and 12 speed drivetrains and requires the use of Classified's own cassettes, which are machined in one piece from a block of steel and specially shaped to fit on their hub.
Classified currently offer eight cassette options for road and gravel which, combined with their hub, offer a range of up to 451%. That's a much wider range than you'd find on a traditional road racing 2x set-up; for example, a 53/39 chainset paired with an 11-25 cassette gives a spread of 309%.
It's comparable with off-road gearing; Campagnolo Ekar with a 13-speed cassette for example gives a range of 466%, while the widest range offered by Shimano and SRAM's 12-speed dinner-plate MTB cassettes is around 510%.
The advantage of the Powershift system over these 1x options is in offering smaller jumps between gears. And, if you're wondering, Classified say the weight of their system is equal to or less than an equivalent 2x drivetrain.
The only barrier really is the price, and the fact you need to replace your existing rear wheel - or at least, the hub and through axle. Classified do include a complete carbon rim wheelset as part of the system, there are three options currently: one gravel and two road in 35mm and 50mm depths, all tubeless ready.
The cost for the entire system, including shifter, smart axle, hub, cassette and wheelset is €2599 (£2230). There are 22 UK dealers at the moment, where you can give the system a test ride for yourself.
Find out more at classified-cycling.cc.
Spatzwear
I mentioned Sean Kelly's famous quote about the weather earlier, and one brand hustling cyclists outdoors into the elements is Spatzwear.
Founded by former pro Tom Barras, who presumably got fed up training with wet feet, Spatzwear launched a couple of years back with a range of waterproof overshoes.
They've since expanded their offering, so alongside heavy duty rubber shoe covers in varying tiers of kevlar-reinforced impregnability, you can now wrap yourself in wind and waterproof jerseys too.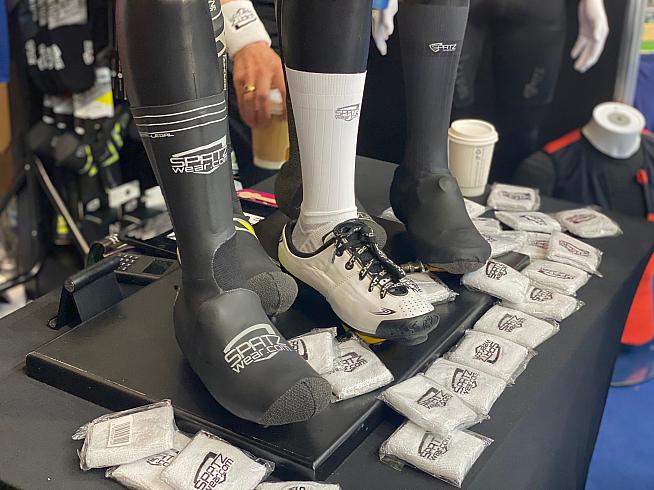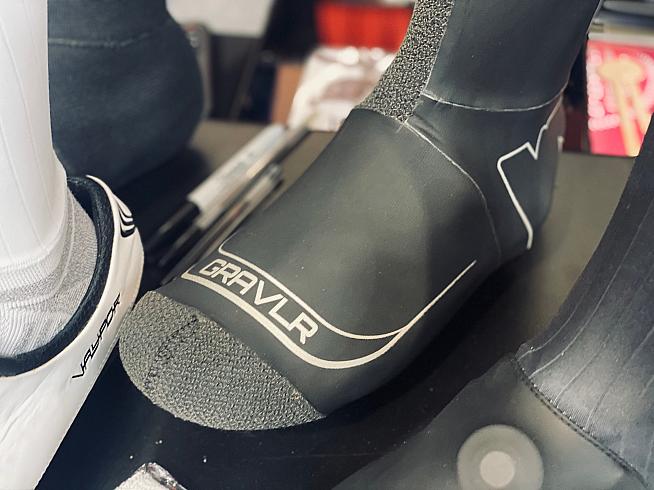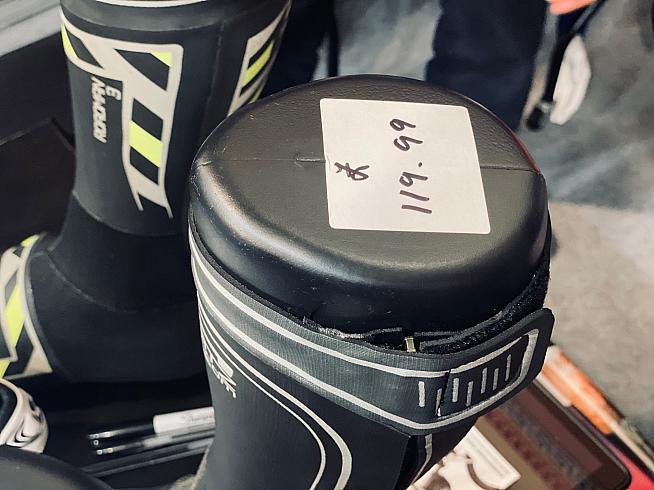 While the overshoes look fantastic - a sort of Marvel Avengers meets Worzel Gummidge chic - today it's the new kit that's proving a hit with visitors to the show.
"We've sold four of those already today," said Tom pointing to a bright orange top.
A morbid fear of overheating, despite the admittedly low odds of this ever occurring in Ireland, means I'm habitually underdressed on bike rides. But who could resist a pair of bulletproof wellies?
I could even bring myself to overlook the ".com" in the brand logo - so noughties Canyon (says the editor of... Sportive.com).
Anyway. I imagine Sean Kelly already has a pair of Spatz in his kit bag, but if not I trust Tom will do the right thing.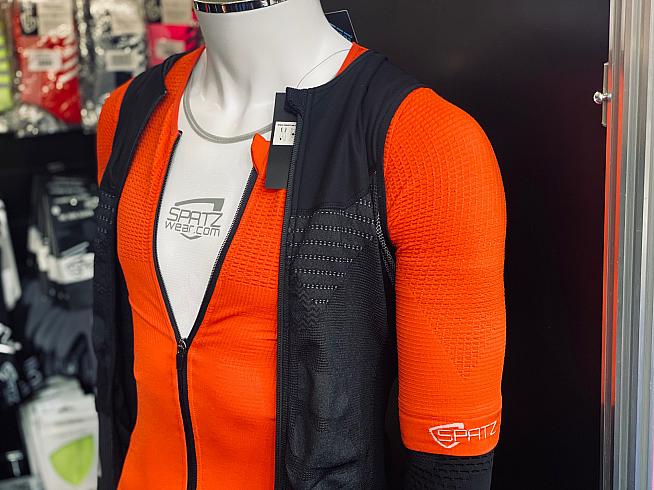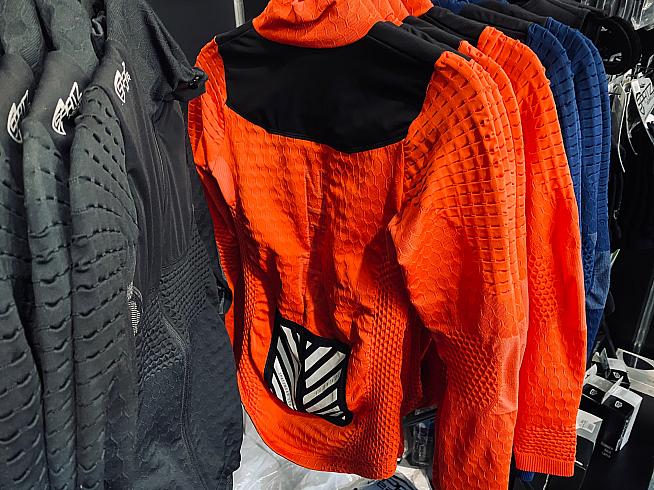 Gravel & Bikepacking rule the roost
Gravel and bikepacking bikes seemed to outnumber pure road offerings at the show; whether that's an accurate reflection or just confirmation bias on my part (I'm a fervent convert to off-road meanderings) is hard to say.
Here are a few of the other bikes and bits that caught my roving eye as I circled the show, starting with a lovely 3T Exploro decked out in Campagnolo Ekar.
Check out the tyre clearance on this...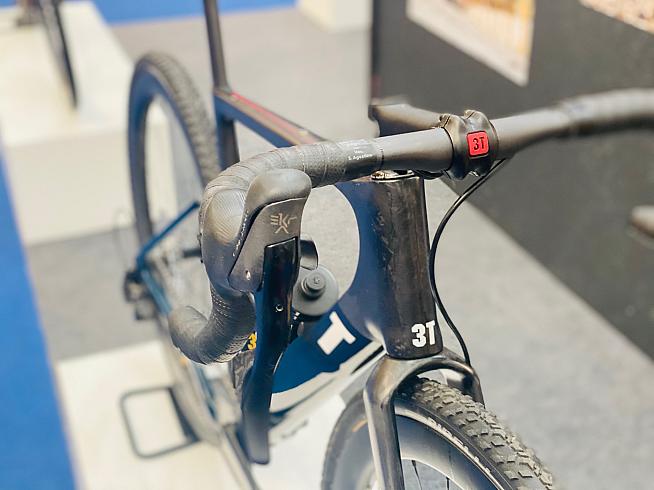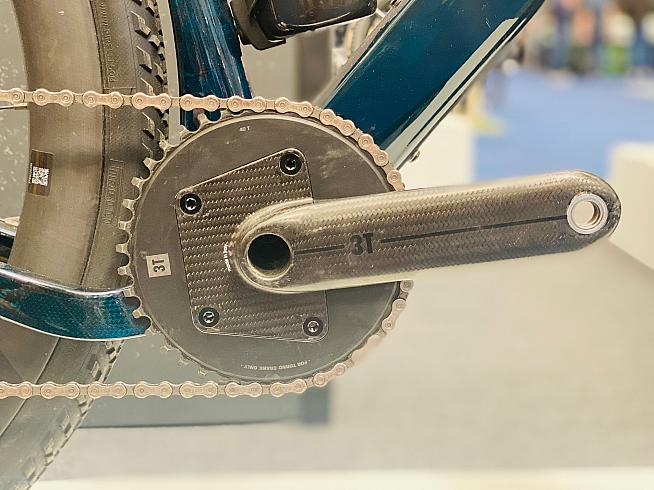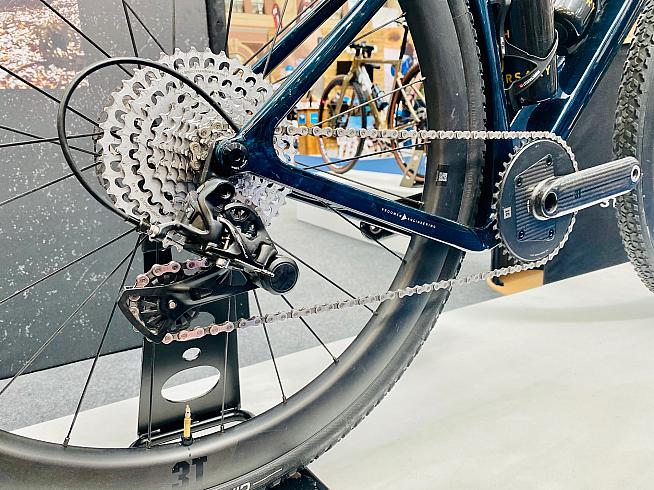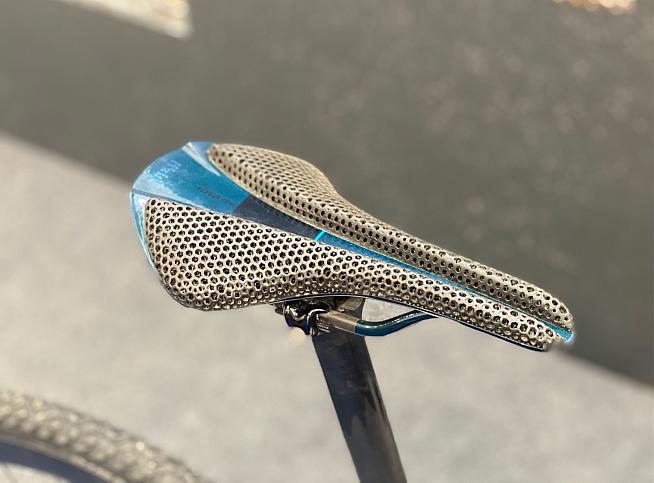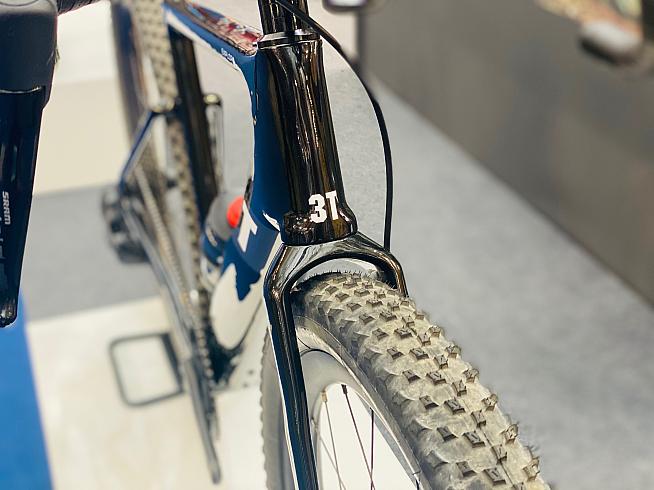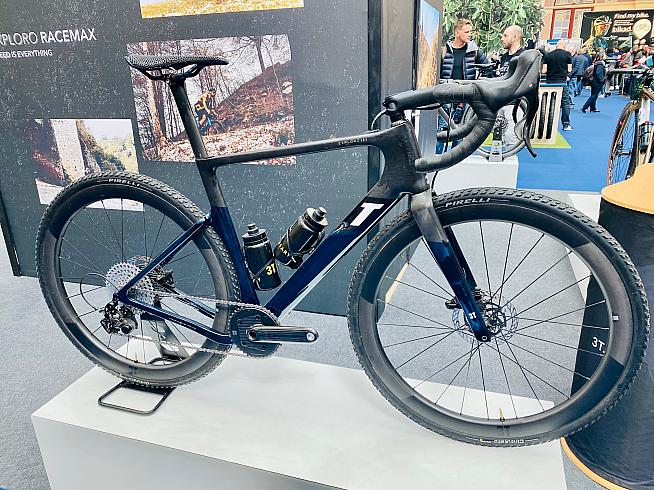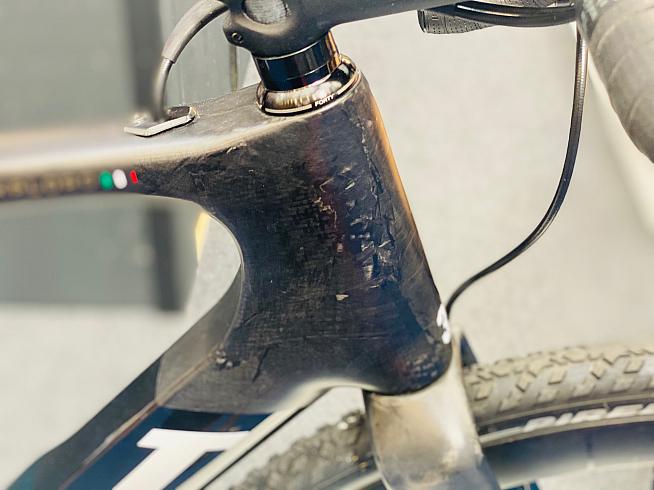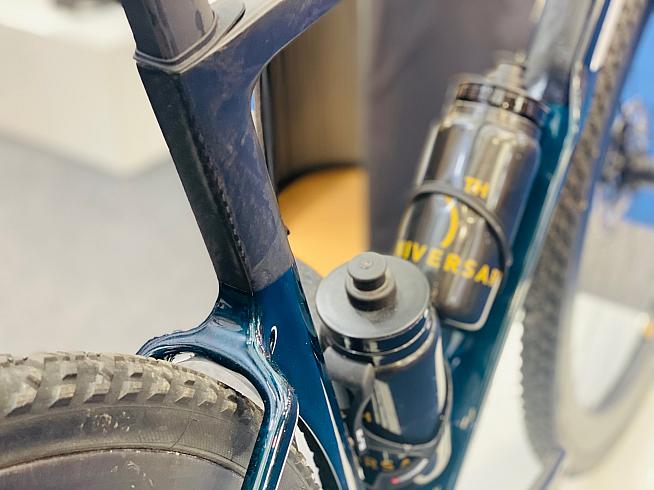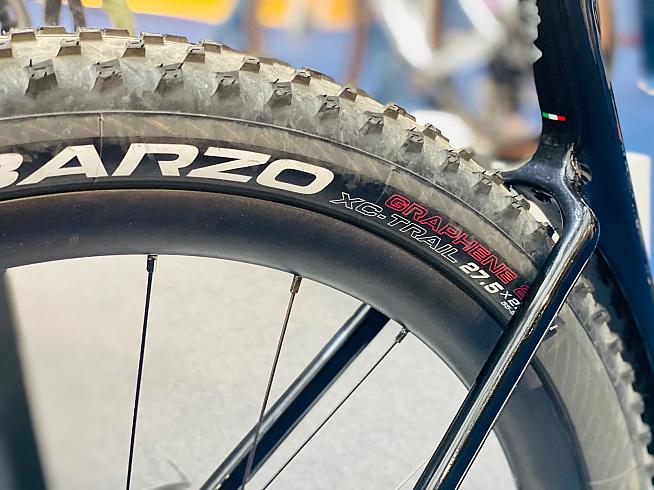 BMC Urs
The BMC Urs is another gravel bike built for moving fast - but with built-in compliance both at the rear and up front: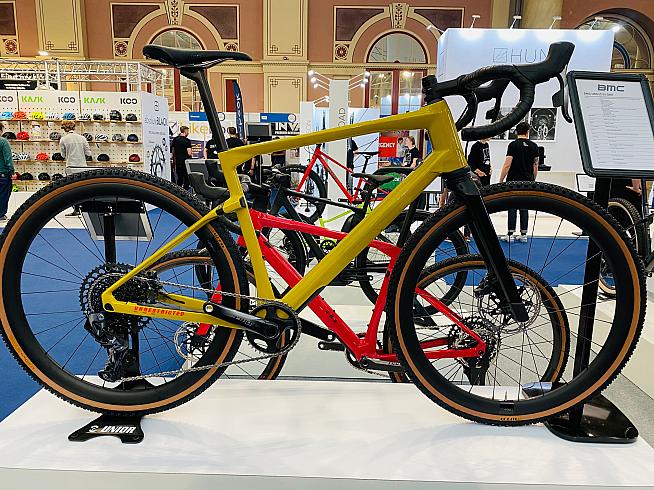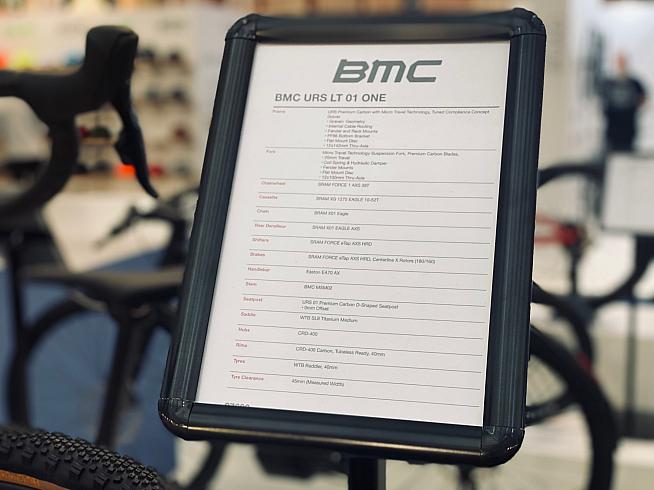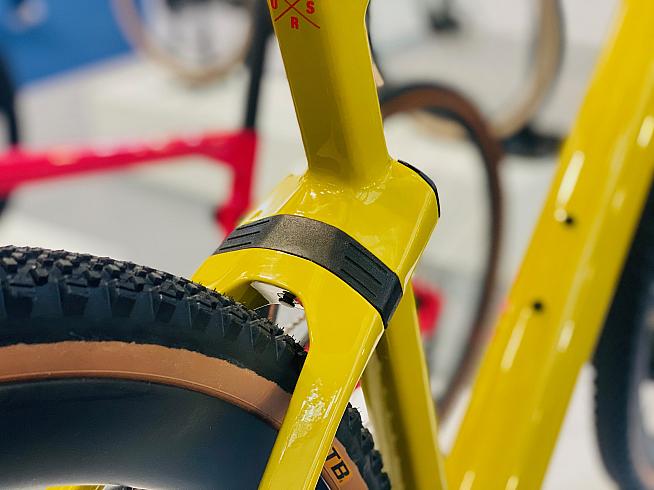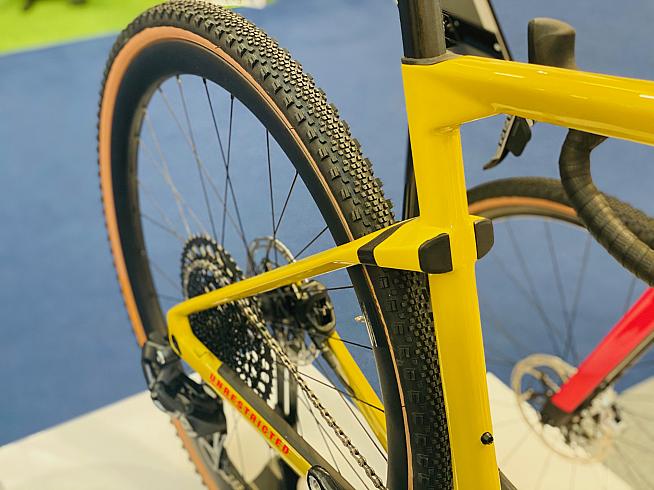 Moots
Not had enough titanium yet?
Here's another fix, this time from Moots: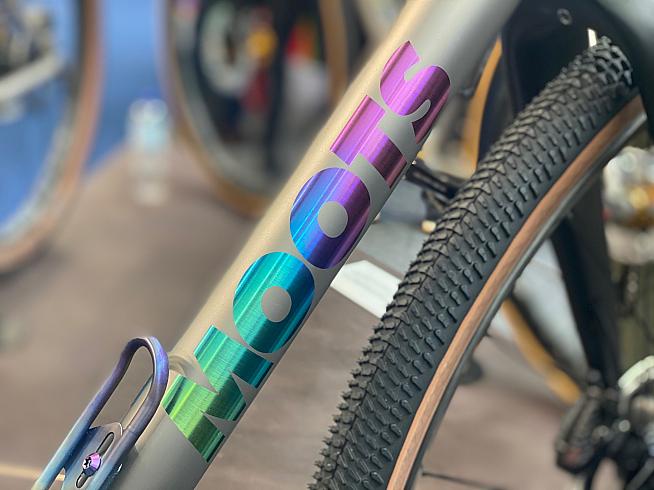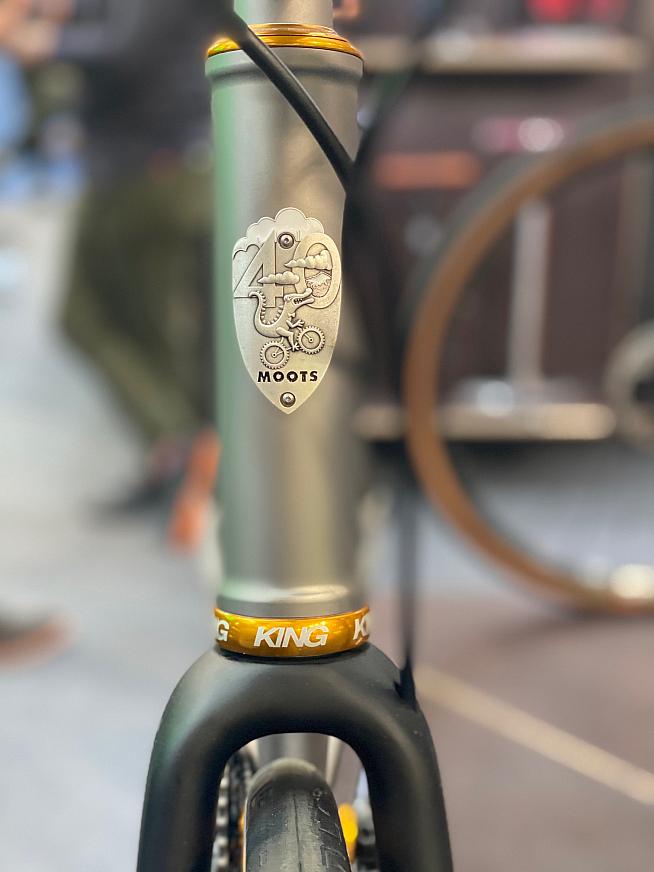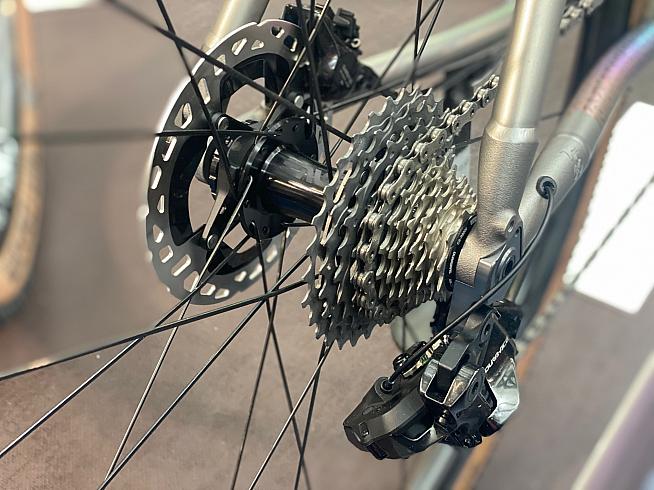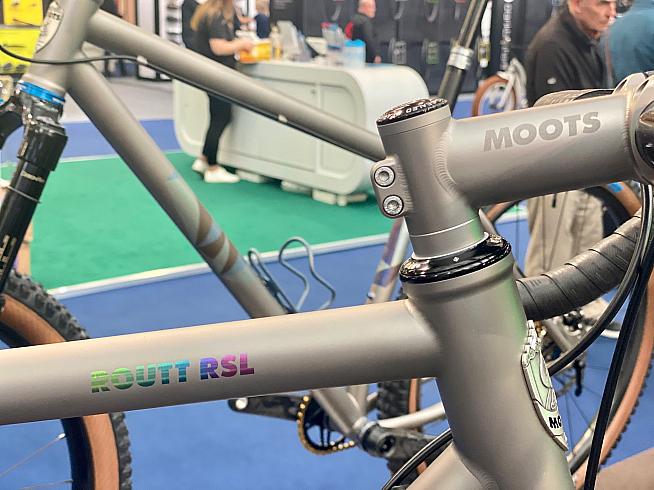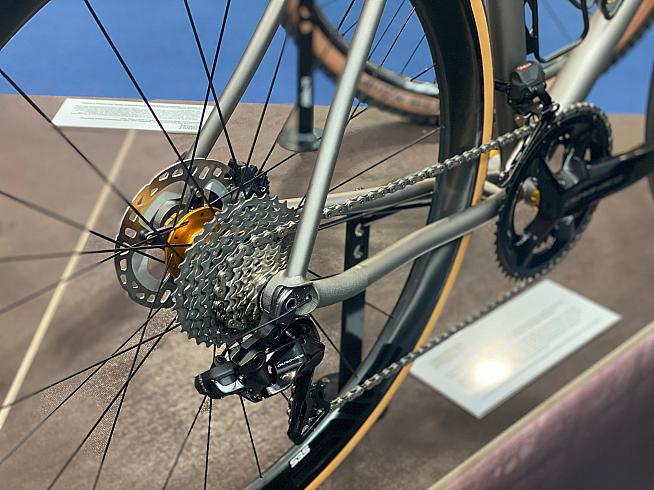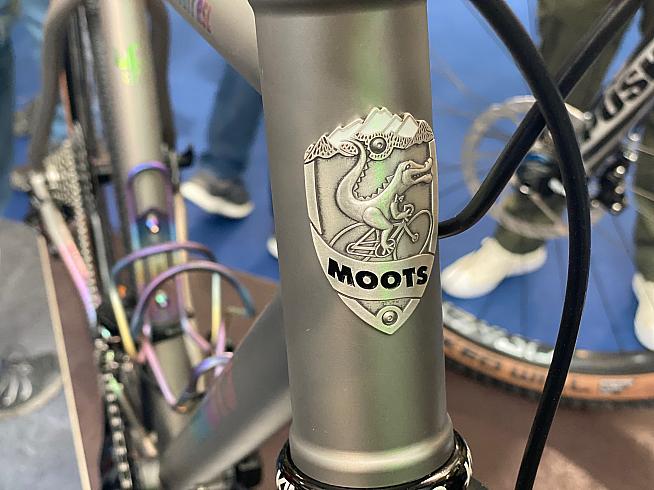 Some shoes, just for a change - these are from Lake and Sidi: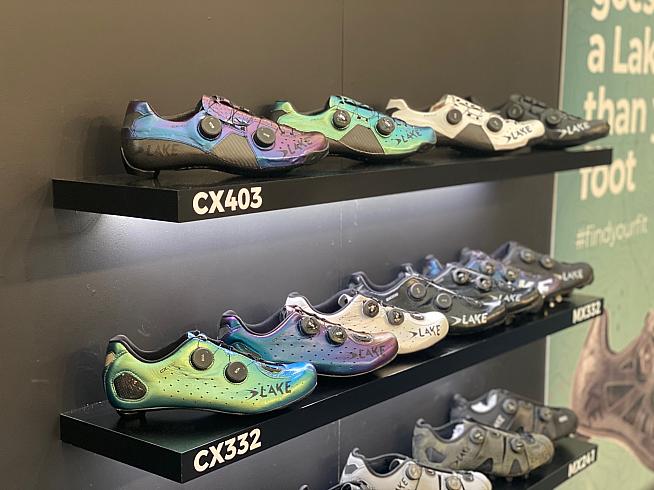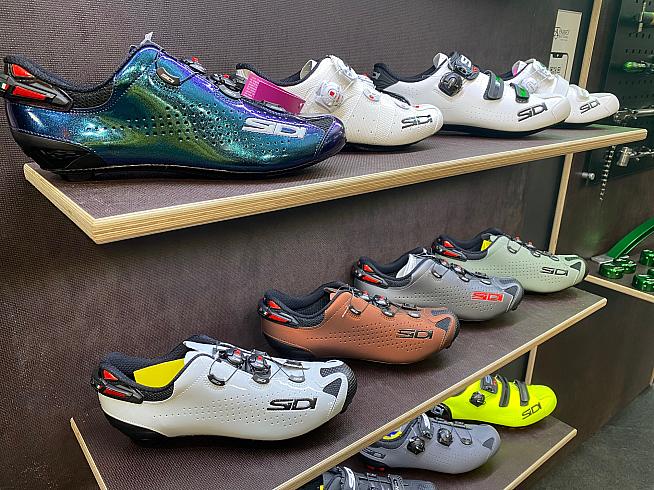 The show also has live entertainment; this display of derring-do involved participation from one brave audience member: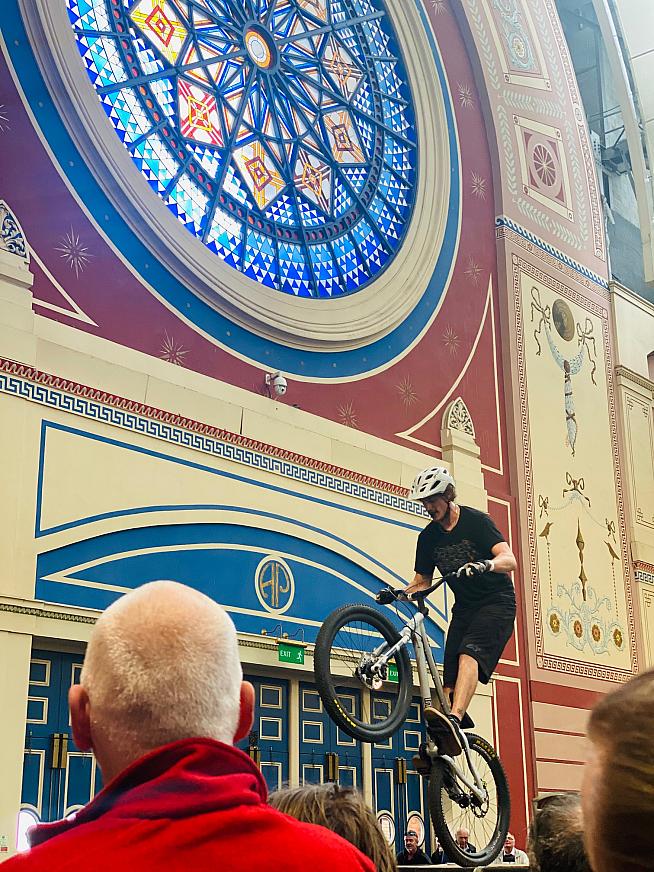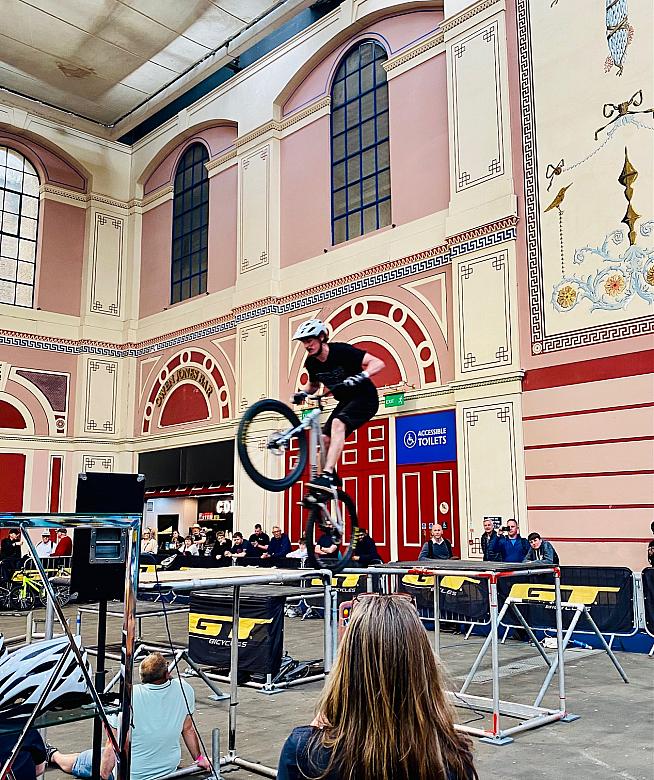 ...no one was harmed.
They should press-gang random roadies up there to attempt a few tricks, that would liven things up. Circus Maximus style.
I also loved this festive steel bikepacking rig: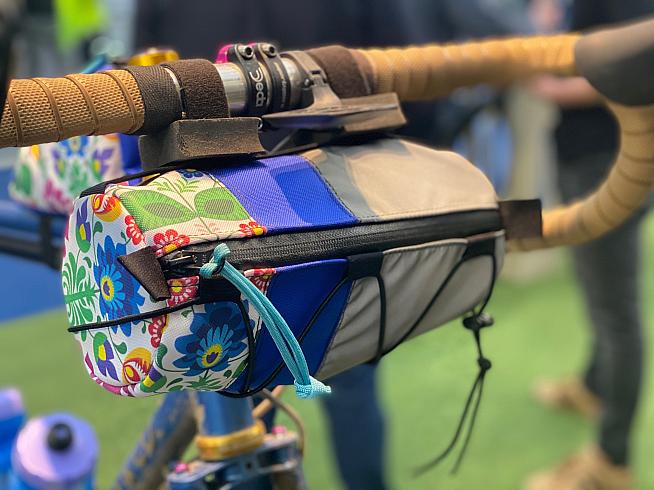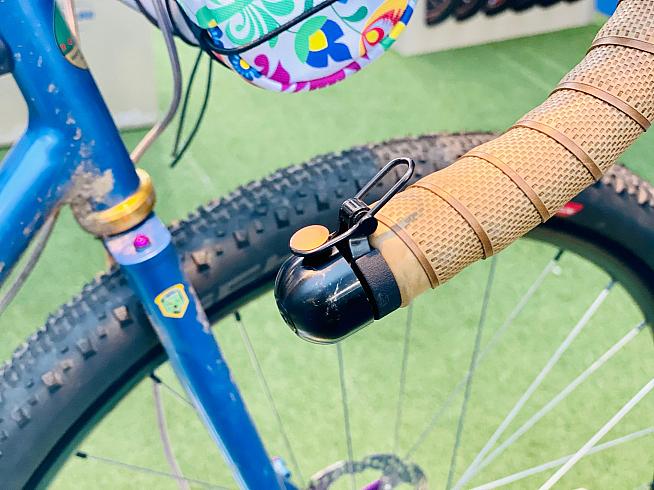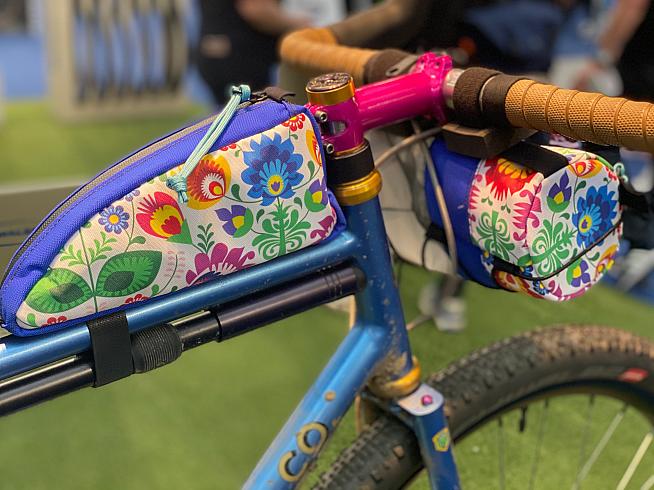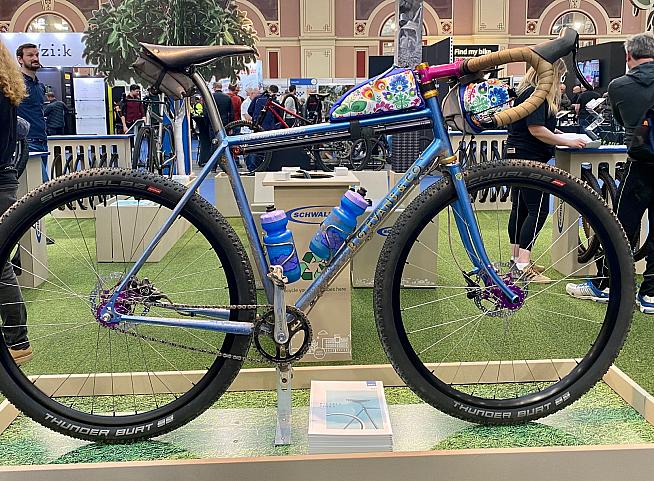 And finally, a few classic 90s MTBs. These beauties were on display at the entrance to the exhibition hall: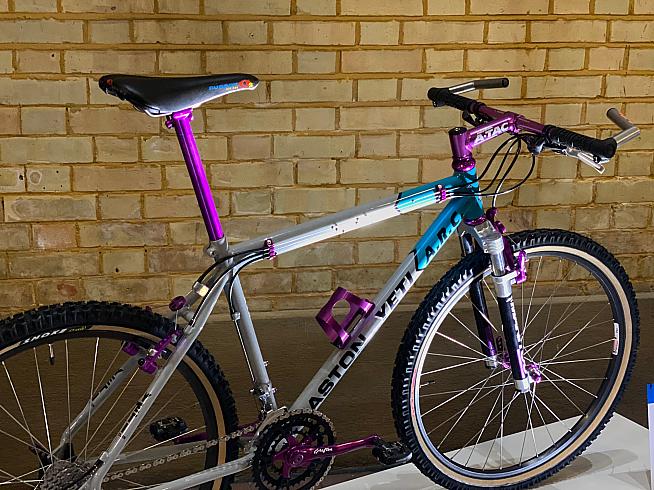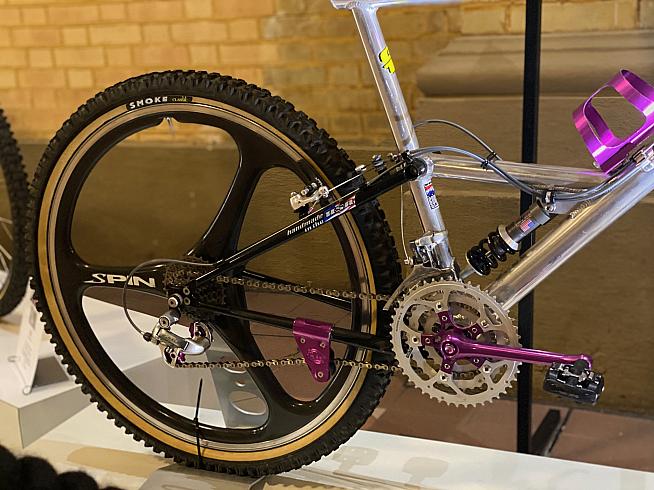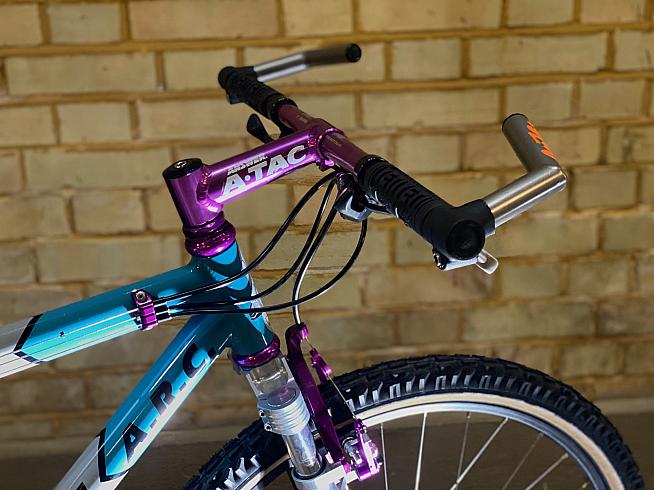 0 Comments