I have real estate issues.
I'm not alone - lots of adventure cyclists have to make the best use of their handlebar space, whether it be for luggage or gadgets, and the square footage just isn't there.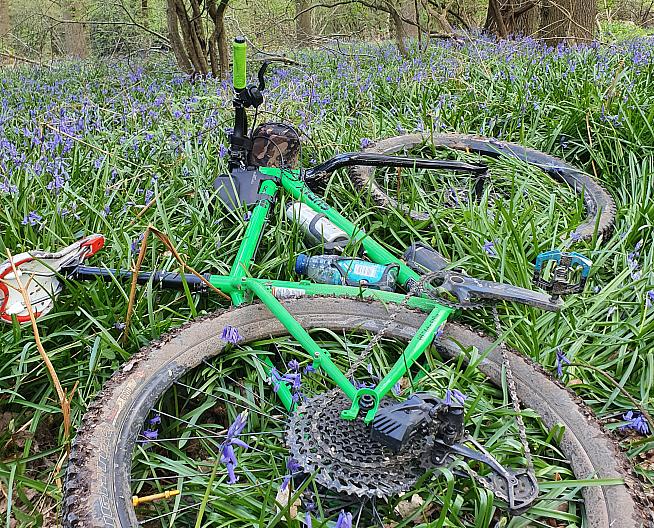 Lights, GPS units, and bar bags do not play nicely together, and if you run a camera, you might as well go full Heath Robinson and fashion your own bar or stem-mounted extension out of tri-bars, gaffer tape, and plumbers' off-cuts. I have an alloy out-front mount that combines my Wahoo head unit with a light bracket, but this limits access to my bar bags.
If keeping stuff handy and secure during your ride is a goal then you need to explore previously untapped capacity - and right behind the stem, on the top tube, seems to make the most sense.
This won't be a surprise to triathletes, who have been using top-tube bento boxes to store gels, inhalers and, I don't know, maybe cigars in there? These tend only to be 'quick access' and largely impractical for long-term storage, but thankfully, there is a growing range of options now on the market for road, gravel, and mountain bikers.
I've been trying out one from those wonderful people at Craft Cadence.
Their Waterproof Top Tube Bag is a good-sized unit. With a capacity of up to 1.5L, it's long and deep enough to accommodate all but the most ridiculously oversized mobile phones. It also sports a couple of unique features, which I'll come to later.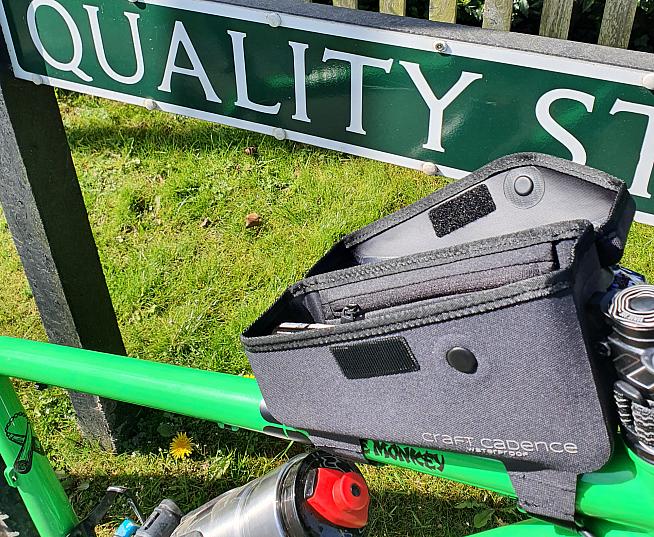 As with all Craft Cadence kit, the basics are very well attended to - good strong, rubber-backed hook-and-loop straps wrap around the top tube, and there's another to fasten on to your steerer tube (and it's removable should you favour a slammed stem).
The bag is also sculpted to follow the shape of your steerer, the side walls and top are stiff and waterproof, and it keeps its shape well unlike some squishier alternative products. You appreciate the boxiness more when you discover that, rather than a zip closure, the bag has a flip lid with a magnetic catch complemented with more sticky fuzz doing the closure duties.
I found the semi rigid structure and flip lid incredibly useful, as it meant the bag was properly open for getting stuff in and out of on the move. I even managed to take some photos whilst cycling along and had no fear of sliding my phone down the outside of the bag and onto my cranks to be punted into the undergrowth.
Yet another fine feature is a cable port to the front, so that you can carry around a battery pack to boost a bar-mounted phone or GPS device. And, if you're worried about valuables being whisked out by your ever more theatrical one-handed lid flipping, there is a nice secure zip pocket inside.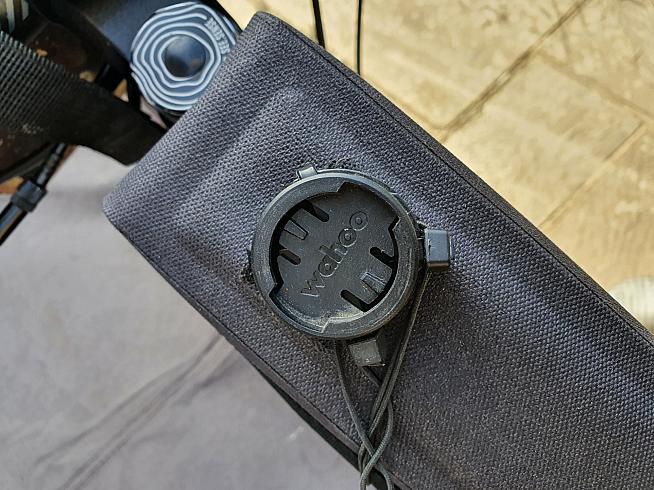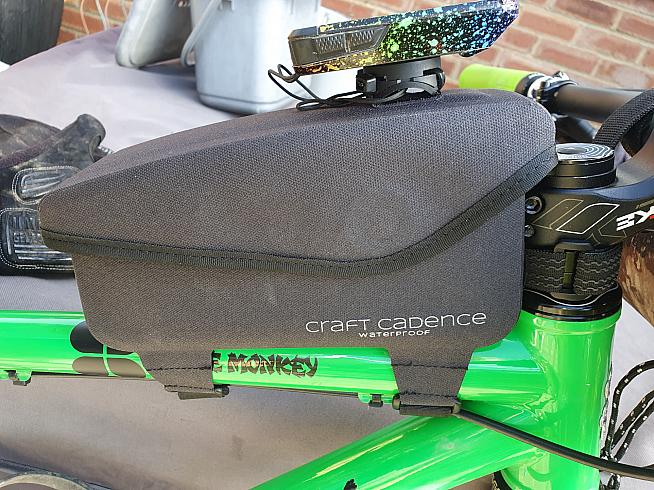 The real killer feature for me was, however, a loop on the lid that allows you to attach a GPS unit mount.
There are plans to manufacture one tailored to the bag, but I found zip-tying my spare handlebar mount to it worked equally well, holding it securely to the lid while I flipped and photoed, or reached for a mid-ride panatella. This also meant that I could mount my front light clear of my bar bag, should I need to retrieve my onyx ashtray or similar bulky item.
Out on my hardtail, the bag stayed rock solid through all kinds of terrain as I ploughed through hoof-spoiled muddy bridlepaths and across newly ploughed, farmer-reclaimed public footpaths.
It was odd at first, to have my Wahoo in a different location and I felt like I was doing a lot of stem staring while trying to navigate but I soon got used to it.
As for capacity, the bag is not vast but there is plenty of space for my phone, keys, energy gels, and CO2 spares - and it's preferable to having them bouncing around in the bar-mounted luggage out front.
I tried the Top Tube Bag out on my steel framed gravel bike a couple of days later and immediately encountered a problem. The tubes on my All-City are thinner than a vagrant's roll-up and the straps at the bag's bottom, being sewn on at one end, didn't have enough adjustment in them to go small enough.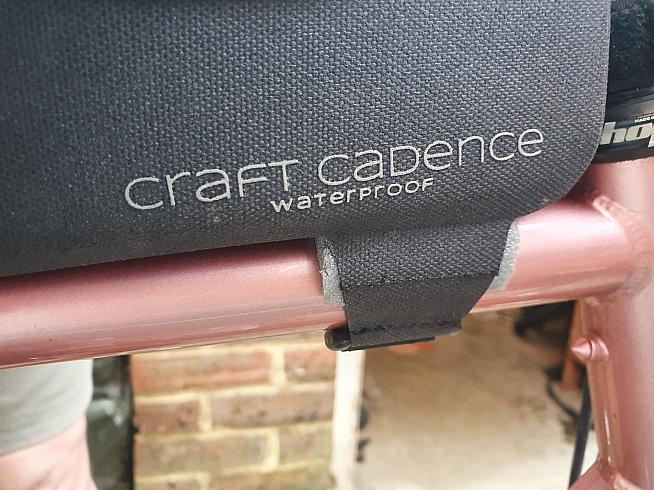 I was constantly re-adjusting the position of the bag until I hit on the idea of adding some pipe insulation between it and the bike. This resolved the movement issue but due to the frame geometry, I found the bag occasionally brushing against the inside of my knee like a nervous teenager on a first date.
The lower front of the gravel bike also pushed the Wahoo further back out of my eye line and completed my Chris Froome stem-staring parody. In a further attempt at self-hindrance and to rid my handlebars of unnecessary faff, the gravel bike now has a steerer-mounted bell fouling on the bar bag when the front wheel is turned so any further use will be on the hardtail.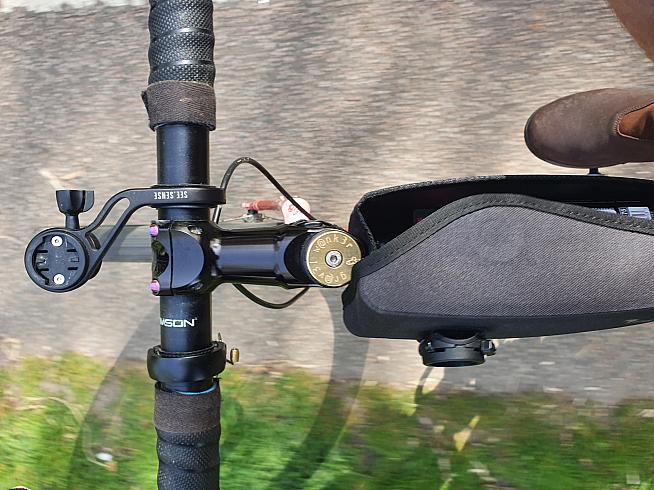 If a top tube bag is your thing (and you don't immediately sabotage its usefulness), you'd be hard-pressed to find a more practical and well-made solution than this one from Craft Cadence.
10/10 would recommend.
Craft Cadence Top Tube Bag - £39.99 from craftcadence.com
0 Comments