Indoor training is having a moment right now, with more and more people coming to appreciate the advantages of having a bike ready to go whatever the weather, whatever the time of day.
It helps that technology has moved on, making training indoors far removed from the old-school 'pain cave' misery of staring at a wall for an hour.
And, of course, since March 2020, there's another reason...the C-word.
This third factor was in evidence the day my Wahoo Kickr Core arrived for test, the postman's knock coming just minutes after a dreaded 'ping' from the Covid app, telling me in pulsing red text that I needed to self-isolate until 23.59 on Christmas Day.
Perfect timing in some ways...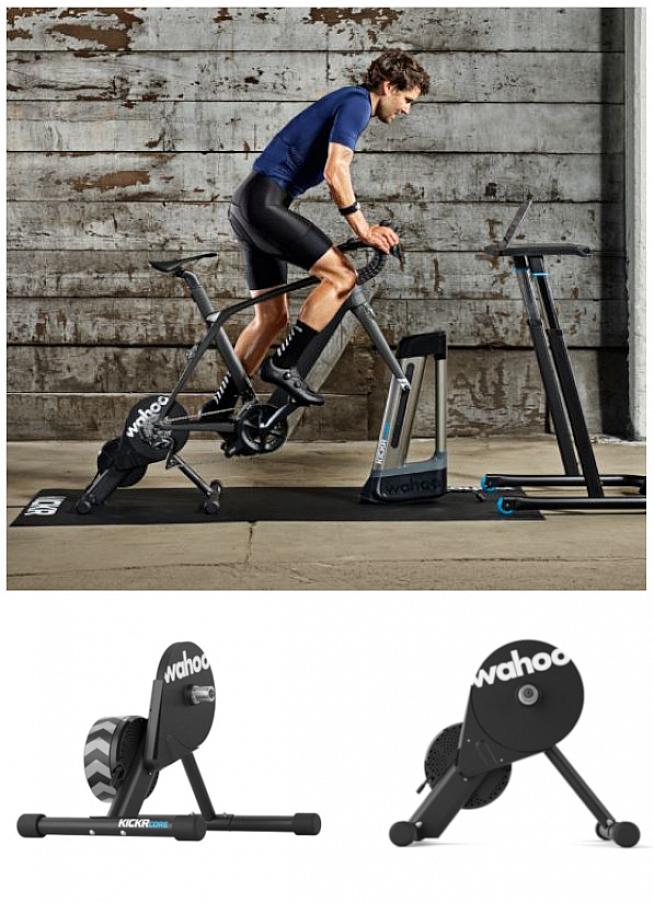 The Kickr Core arrives in a fairly large box, and it's heavy (18kg to be precise), so my first piece of advice would be to build it up where you intend to use it.
It's particularly awkward to carry once ready-to-use.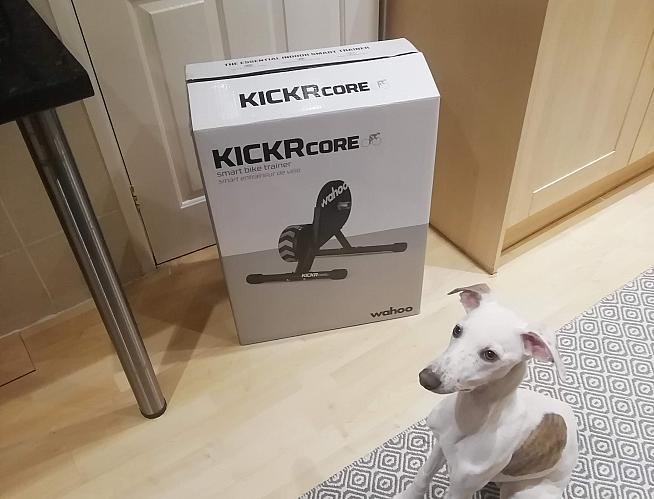 The brief instruction booklet takes you through the steps to get going, but it's all pretty simple. You'll need to attach a cassette to the Core too, either a new one or the existing one from your bike. Not difficult, provided you have a cassette lockring tool and a spanner.
This is because the Core is a 'direct drive' trainer, where you mount the bike with the rear wheel removed. This matches the style of all higher-end trainers and means you don't get any rear-wheel slip common on 'wheel-on' units (not to mention the damage to your rear tyre). Also, a direct drive trainer is generally a lot more stable.
A bit of fighting to get the bike onto the thing, and a few app installs and calibrations later, and you're ready to go.
A touch of tech savvy-ness, a good Wi-Fi signal and a Bluetooth enabled phone/tablet/laptop are needed. As is liberal use of boxes or, in my case, ladders to complete your set up (Wahoo sell a much smarter option if money is no object).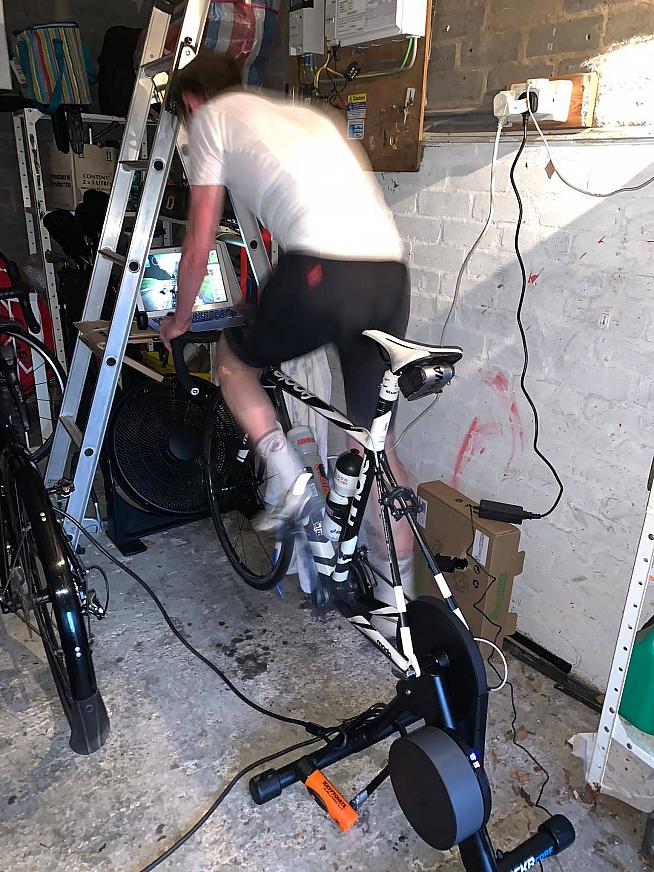 You're best to install the Wahoo SYSTM app. Previously known as The Sufferfest, SYSTM has all the good stuff you may've heard of - video-assisted training with entertaining guest appearances from the likes of the GCN crew, Mike Cotty of the The Col Collective and more.
You need to pay for it - a subscription costs £14.49 per month - though you do get a 14-day free trial to SYSTM and several other popular training platforms bundled with your Wahoo purchase.
The Kickr Core has four modes, but you'll soon realise you only need two in SYSTM - Erg and Level - and the app tells you which one to use. Erg mode simply means that whatever power (in watts) you're being asked by the training session to ride at, it holds you there - pedal harder and the resistance decreases, for example.
It's effective and means you can just concentrate on the task at hand.
Level mode, on the other hand, allows you to configure the Kickr's base resistance on a scale of 0-9 (where each level represents a gradient from 0.5 - 5%), and then shift up and down the gears on your bike as you would outdoors to adjust your power/effort.
This is useful for some training sessions, including SYSTM's feared but necessary 4DP test (more on which later).
But the magic of smart trainers like the Kickr Core really comes into its own in virtual worlds like Zwift, where the Kickr will allow the app to control the resistance depending on the 'terrain' you're riding; go up a virtual hill and it gets tougher, go down the other side and it's easier.
If you're into training, numbers and data, or are building up for a specific event or race series, I can see the benefits of SYSTM. There's an enormous library of workouts and training plans, all designed by people who clearly know their stuff.
The training plans are automatically tailored to your own fitness level, based on the results of your 4DP test. This hour-long session is SYSTM's version of the FTP (functional threshold power) test. It's tough, but well worth the effort as it provides you with an overview of your power levels over 5 seconds, one minute, 5 minutes and 20 minutes.
With those numbers in hand, SYSTM will adapt every workout you do to improve your fitness and strength. The plans include optional strength and mental focus sessions as well as yoga; you can also choose whether you want to train towards a gravel, MTB or road event, or just increase general cycling fitness.
There's a lot on offer, and it can be a bit overwhelming - although others on the Sportive team swear by it as a pre-season fitness booster. I also found it a little buggy - sometimes the video/tutorial doesn't load, or freezes mid-session, which is a little irritating and would be more so if I was paying for it.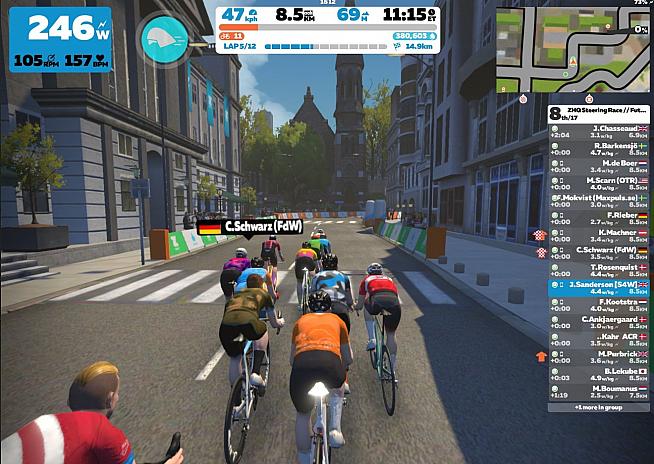 My main issue was that for me, riding is a social experience. No matter how insistent that little voice on the video becomes to hit those pedals, I found my interest waning. That's what led me to Zwift.
This was more my bag - riding around in groups, racing or just generally pottering around the frankly weird virtual worlds they've created is great fun. Chasing down Pedro from Brazil who has just smoked you on a climb is weirdly addictive.
Zwift also has a dazzling array of training programs, challenges and workouts. The Kickr Core works flawlessly, with the resistance changing smoothly and realistically. It's also quiet - the only noises came from me and the bike. No problems for those using it in a flat or a spare room.
It's also very stable. On the rare occasion I felt the need to get out of the saddle and give it the beans there was no noticeable wobble. It's capable of taking up to 1800 watts of pedal power, though I confess, dear reader, I Googled that.
The only drawback is its weight - not ideal if you need to shove it in a cupboard between uses. It's no issue if (like me) you can leave the thing all set up in a garage or shed.
If you only have one bike, and want to ride outside occasionally, then it's a matter of a minute or two to remove the bike, slot in the rear wheel and off you go.
The Kickr Core measures power and cadence, but to get the most out of training and riding it I'd recommend adding a heart-rate monitor. They're not expensive (the link here will take you to the Wahoo shop, and there are plenty of alternatives available) although it would be nice to have it all included on a £700 piece of kit.
I'd also recommend a fan (I bought one for £20, but Wahoo has a very fancy version for a bit more...). Even on the coldest days, turbo training is a sweaty business.
Am I sold on the whole thing? Well, from an initial position of old-school scepticism I have to say I am - though really that's partly down to how good Zwift is.
The Kickr Core allows you to join this online world (and others), and it does so with an absolute minimum of fuss. Once you're set up, calibrated and connected, it just works brilliantly.
The ability to go for a 'ride' any time of the day, away from the triple threats of poor weather, poor visibility and poor driving has drawn me back time and again. It's given me back the pleasure and freedom of riding when I want, instead of trying to cram a daytime ride in during short winter days on potholed roads covered in muck.
The Wahoo Kickr Core costs £699.99, though occasionally it's reduced in sales.
Wahoo KICKR Core - £699.99 from uk.wahoofitness.com
0 Comments