My typical cycling attire is usually whatever's clean and dry. But today is different. Today I'm feeling like a cycling god. And here's why: I'm at the starting line of my first circuit race in close to a decade and I look as good as I've ever looked on a bike.
I challenged myself to get here because the kit I have to test is just too nice to simply run errands in - I need to show it off in suitable company!
I've always thought that cycle racing is in the mind. Sure you need the legs and lungs, but the psychological element is huge and today I have an extra psychological advantage because I'm really pleased with the way I look! I'm wearing - head to toe - the most awesome kit from Alé.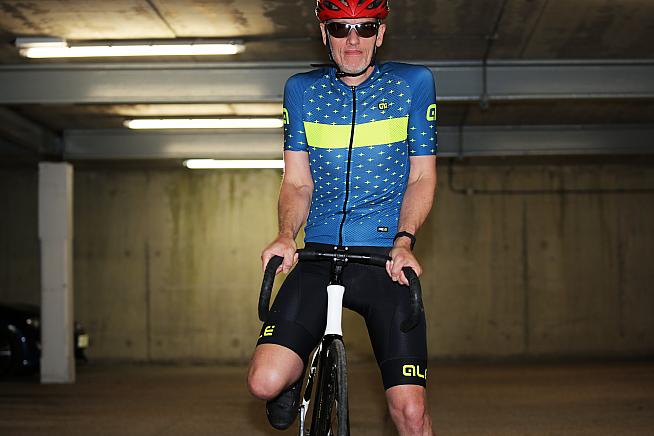 The race is on
We're all on the starting line and I'm buzzing with excitement. The race commissaire briefs the riders; then the call to roll away and we're off!
Amateur cycle racing is about the most life-affirming sort of thing you can do. The speed, the bikes, the boys and girls looking impossibly cool. I digress (warning: I do this a lot)... we're actually here to tell you about the gear I'm wearing. Let's start with the ripper branding... (did you guess yet that I'm Australian?!.. I also have an MBA in marketing so I'm well qualified to remark on this!)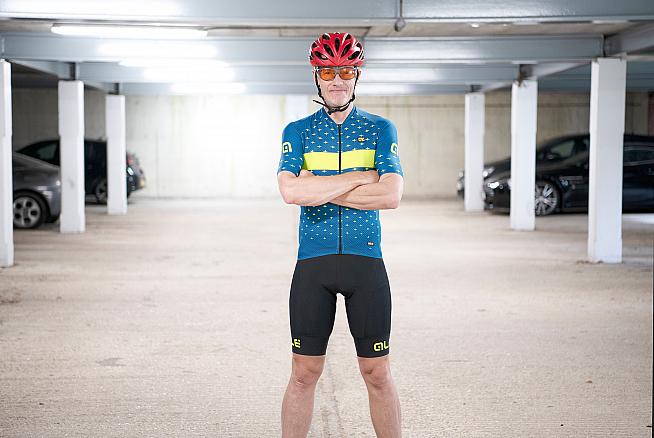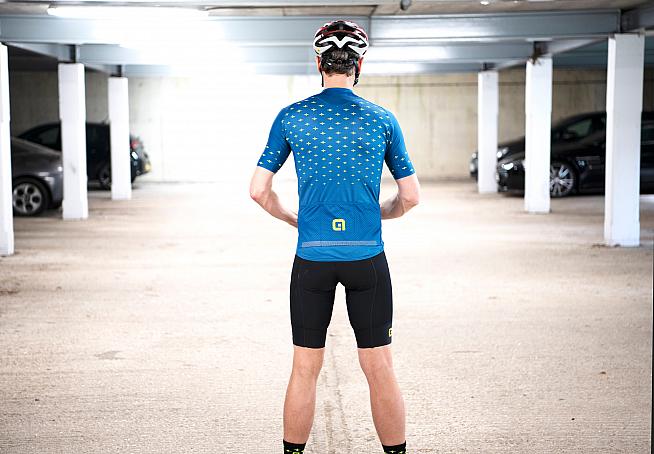 Alé is not as well known here as it is on the continent, but I think that is about to change and here's why:
Superb Italian styling
Excellent manufacturing standards
Quality & Innovation
Competitive pricing
This is a masterclass in how to smash a new marketplace to pieces. They're like Eddy Merckx at the starting line of the 1973 Tour de France: everyone knows he is going to do something exciting.
Let's get into the details.
The design of this lightweight jersey is a mighty fine example of "Euro Fluoro". The colours are so nuanced that no photograph would ever do it justice. In the flesh, it really is the kind of work of art that you'd expect from a manufacturer that supplies yellow jerseys to the Tour de France.
It's so nice that I'm reluctant to pin my race number to it but today, everything's going my way and I've got a beautiful race number: 111. It's horizontally and vertically symmetrical and so the intellectual beauty of it is a fair match for the aesthetic beauty of the jersey. They are now pinned together and my psychological advantage is further enhanced.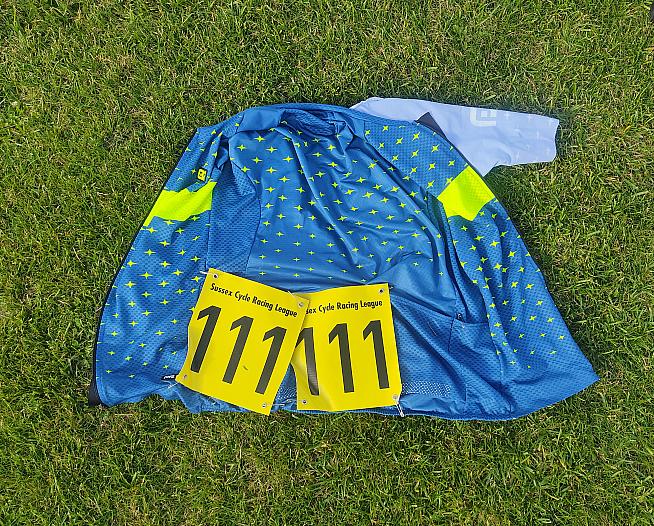 It's a warm summer's night at Preston Park Velodrome in Brighton, where I'm racing in the SCRL summer circuit series. The weight of the jersey is ideal - I won't overheat in it.
My phone fits snuggly in the rear centre pocket for recording on Strava, and a gel on either side completes my obsession with symmetry (I'm also a graphic designer!).
This is not the sort of top you want to stuff your toolkit and lunch in, there is only enough room for a few simple things so you'll never be tempted to overload it and look like a snail with your home on your back. It's perfect for a social day out in the sun, a banana, some gels, a wallet, maybe a pump if you absolutely cannot fit it in your saddle bag. This top is about looking cool and feeling comfortable, not carrying lots of stuff that you'll never need anyway!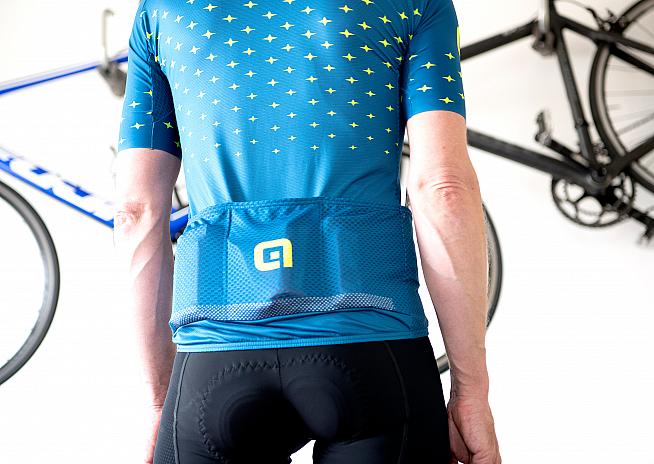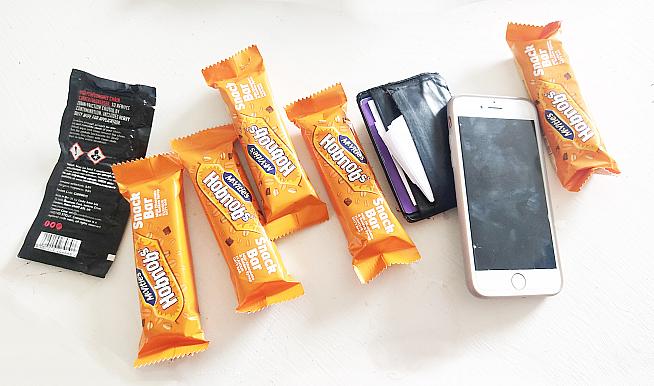 The material is light and highly breathable with a super tech 3d Wide Weave that allows for good levels of ventilation regardless of your riding position. Wearing this jersey will make you ride faster and feel happier.
Before I move onto the shorts, I should warn you that my overblown psychological advantage is in no way matched by my physical strength. The truth is, I've got no hope of winning this race no matter how good I think I look!
The Agonista bib shorts
I realise this is a family website, so I'm going to use a metaphor here: In my lunchbox I pack a medium-sized sausage roll. Don't get me wrong, I'm happy with the contents. However, the best thing about these shorts is they make me look like I've got a full ploughmans, with, I don't know, a bag of crisps, and maybe some crudettes on the side with a small container for hummus, and perhaps a small box of juice as well.
Apparently, the use of carbon threads in the front part of the crotch also makes it antistatic and I have to supress the urge to say out loud to myself in the mirror "Ooh matron". They rock!
On a slightly more serious note, there are other merits too. These shorts are extremely comfortable, and that's the real reason I've worn them on every single ride since I got them.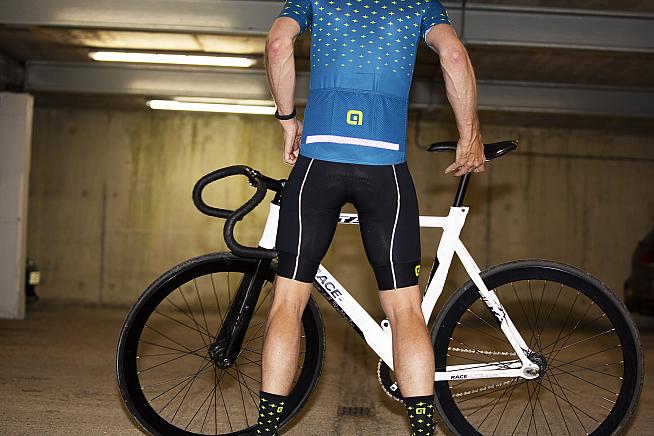 I've done some very long days in the saddle, some hot and sunny, some cold and wet, some fast, some slow, off-road, touring, track racing, club runs, the lot! And they have never failed to be very, very comfortable.
The Alé logo on the legs also matches the fluoro style of the top neatly, but are discreet enough that you can wear them with just about any other top you have.
The quality really is very good. The bands are wide and you hardly feel that they're there, doing the great job of keeping everything effortlessly in place. The front of the shorts come up to your belly button and this is useful for keeping any wobbly bits in check so that a top sits over them; there is absolutely no "muffin top" to speak of.
The socks
Friends that know me well will recognise that I have two things in common with Einstein. The first is the crazy hair. The second is more obscure. We share a dislike of socks! Both of us consider them rather pointless apparel and they nearly always end up with a hole in the end that your toe pokes through.
Sadly, Einstein didn't live long enough to try socks from Alé - it really would have enhanced his life though!
I wore the mid length socks that are designed for high temperatures from 18c. They are very well made and feel supportive and comfortable. They stay nicely in position, my feet stay cool and they finish off my outfit just so.
The results are in
The look is complete and the race is on... I pace myself for a little over 50 laps of this beautiful, historically important, utterly charming velodrome and I feel right at home in my classic Italian designed and manufactured outfit.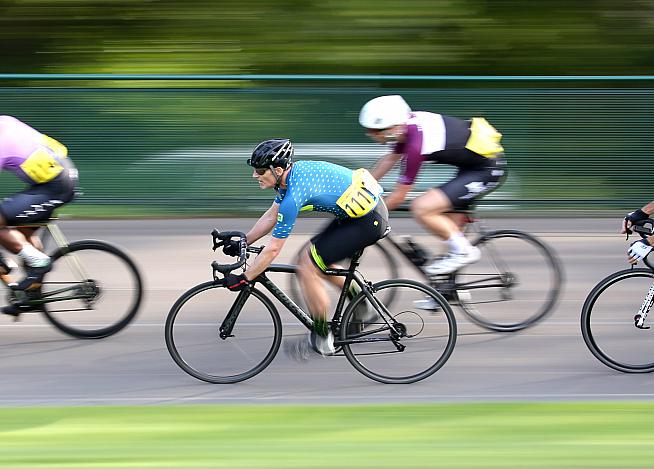 In the back of my mind I know I'm going to get dropped but I manage to stay with the bunch up to the final three laps when voila, the cycling gods smile upon me again and my chain breaks - I could hardly believe my luck.
This is about the best way to bomb out of a race. It's the perfect excuse, I mean for all anyone else knows I could have won, but I put so much power into the final sprint that my chain actually broke.
Nobody needs to know that I never had a hope of staying with the final sprint. I can go home proudly with a whopper smile on my face... and looking good in my Alé kit!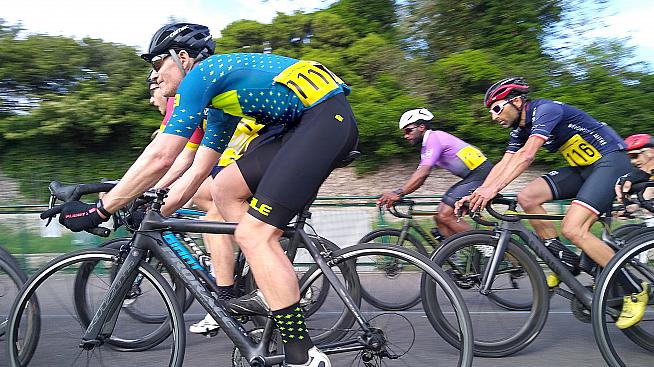 Alé Stars Short Sleeve Jersey - www.alecycling.com
Alé Agonista Plus Bib Shorts - €157.90 at www.alecycling.com
Alé Stars Socks - €16.90 at www.alecycling.com
0 Comments