A water bottle that doubles up as a light?
Now that sounds like a bright idea; we take the Orb for a test ride.

Bike lights have improved beyond recognition in recent years, thanks to improved batteries and LED technology. But one area where they can struggle is peripheral lighting, making you visible to drivers approaching from the side at junctions for example.
The Orb seeks to fill this gap, with an ingenious design that fits bright orange LEDs into a 700ml water bottle.
The result is a bidon that undoubtedly boosts visibility from the side while riding at night.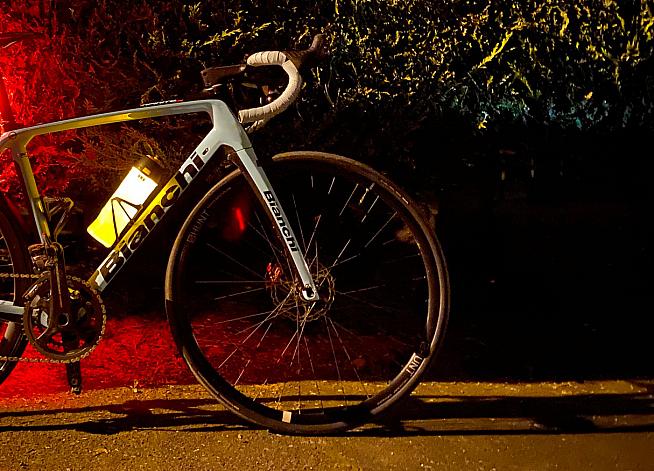 Design wise, all the tech is packed into the Orb's screw cap. There are four LEDs in there, controlled by a single rubber on/off switch on the side of the lid. There are five constant and flashing modes which you can scroll through by pressing the button.
On the other side of the lid is a USB charging port concealed with a snug-fitting rubber cover.
Output is 72 lumens, so no danger of dazzling but rather a pleasant fireside glow. Orange was chosen as it's the colour of sidelights, and the designers say the light emphasises the pedalling motion of a rider's legs. So in theory, drivers will recognise you for a passing cyclist rather than grab their mobile to report a UFO.
It's a neat concept, and the bottle is well made. BPA-free plastic has been used so there's no effect on taste, and the bottle feels solid.
The LEDs and battery do add a fair amount of weight over a standard bidon - the Orb weighs 200g, which is roughly double the mass of a standard 750ml bottle. As you'd expect the weight is in the lid, which weighs 125g by itself; as the bottle gets emptier it begins to feel a bit top-heavy.
That said, water is heavy too - a full standard 750ml bottle is over 800g, so perhaps the extra heft of the Orb is neither here nor there in the grand scheme of things unless you're racing. I do wonder though whether there's scope to reduce the weight a bit in future iterations; hefting a 900g bottle while riding is a bit of a workout for roadies who've been skipping arm day since oh, forever.
The tech in the lid also means the Orb is a bit taller than a typical bottle at 25.5cm - something to note if you're riding a small-framed bike.
The bottle itself features some angled sculpting rather than a uniform round circumference. I'm not sure whether this is purely aesthetic or a tactical decision to help disperse the light better.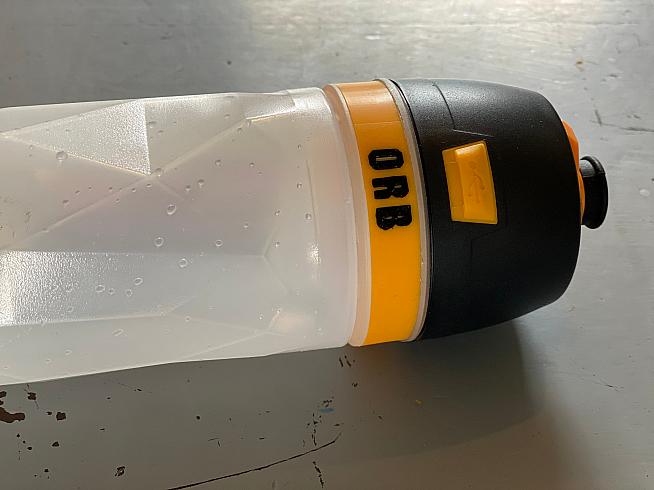 The angular planes do provide a useful handhold, making the bottle easier to grip than a normal round-profiled bidon, but perhaps slightly more difficult to squeeze. There's also potential for abrasion with repeated insertion and removal of the bottle from its holder.
As for battery life, Orb claim 8 hours runtime on full power and 16 hours flashing. That's plenty for most evening spins. You will of course need to run front and rear lights as well - the Orb is an extra, bonus light rather than a replacement for your usual headlight and rear blinker.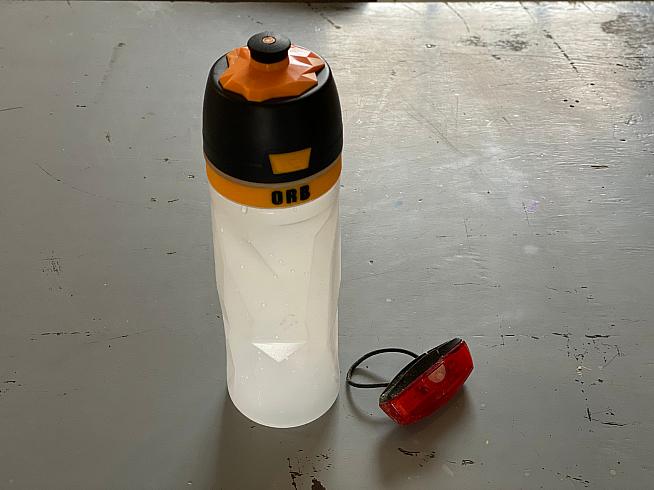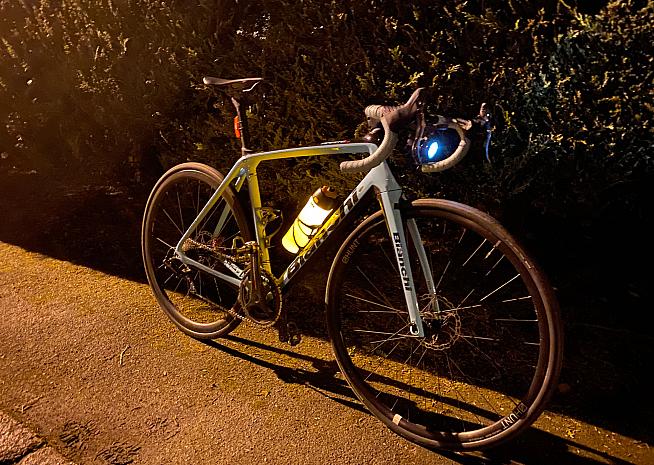 For night rides and especially commuting, the Orb makes a lot of sense - particularly if, as the manufacturers say, a third of serious cycling accidents involve side-on collisions.
You're probably carrying a water bottle anyway; why not use one that doubles up as a light and helps make you safer?
The Orb - £29.99 from www.orb.bike.
0 Comments