If, like me, you've spent the current lockdown wondering how you could possibly make your bike look more like a baby giraffe, help is finally at hand.
Behold, Innerbarends:
These jaunty looking little horns are from German company SQlab. An innovative rethink of the old-school bar ends that may have graced your mountain bike back in the 90s, they're designed to fit inboard of the grips, rather than at the bar ends - hence the name.
It might sound odd - we're reminded of Willy Wonka's "Square sweets that look round" - but SQlab say there are a couple of big advantages to shifting the bar ends inwards.
First, they afford a more natural and ergonomic hand position compared with standard grips or bar ends.
Second, because you're presenting a narrower frontage to the wind, they're more aerodynamic; and third, unlike normal bar ends, you can easily reach the brakes while cruising on the "hoods".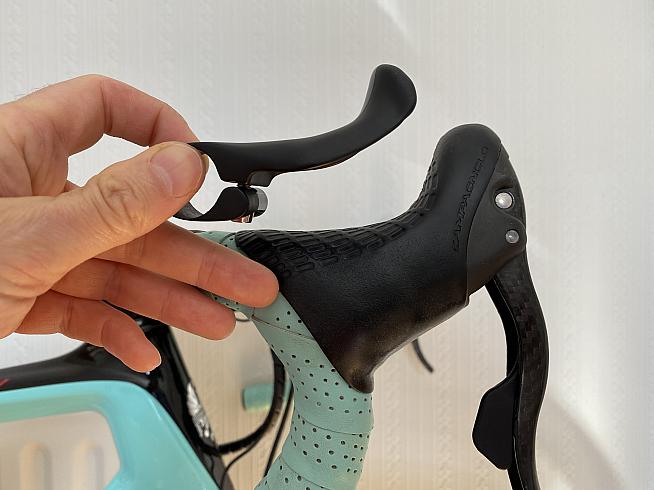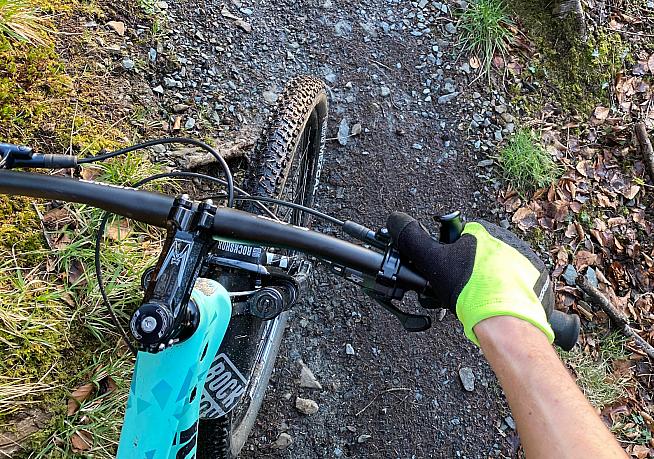 Coming fresh to off-road riding after a long-term diet of tarmac and drop bars, I found the transition to flat bars on my MTB a spot uncomfortable over longer rides. It's easy to take for granted on a road bike, but on flat bars you soon appreciate that being able to switch hand position - from the drops, to the hoods, to the tops - is pretty helpful in avoiding fatigue.
In search of a solution I came across SQlab. I've been trying out their Innerbarends for a few weeks now, and I'm totally sold.
Innerbarends essentially mimic the shape of the hoods on road bike STI-style controls, in a pared-back design that does away with all the levers and internal gubbins of road shifters.
Out of the box the quality impresses, with smooth contours and an attractive two-tone matte/polish finish to the carbon. The feathery weight is a bonus - just 39g per pair for this carbon version, or 108g for the more full-figured original 411 model.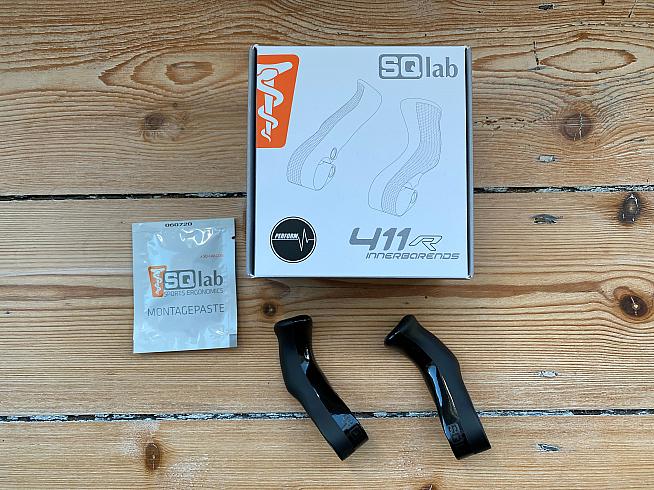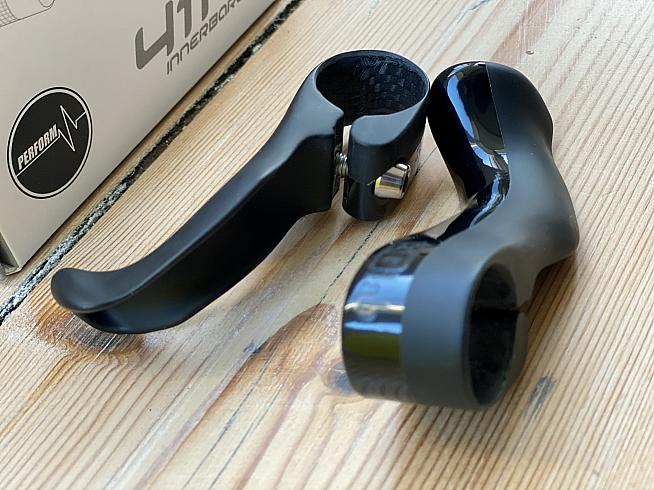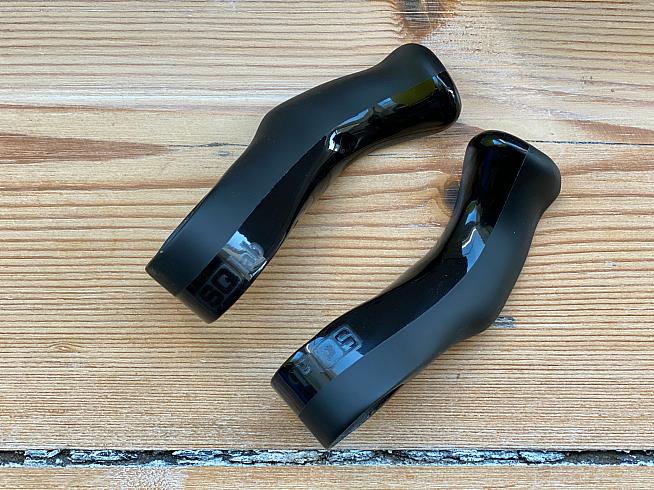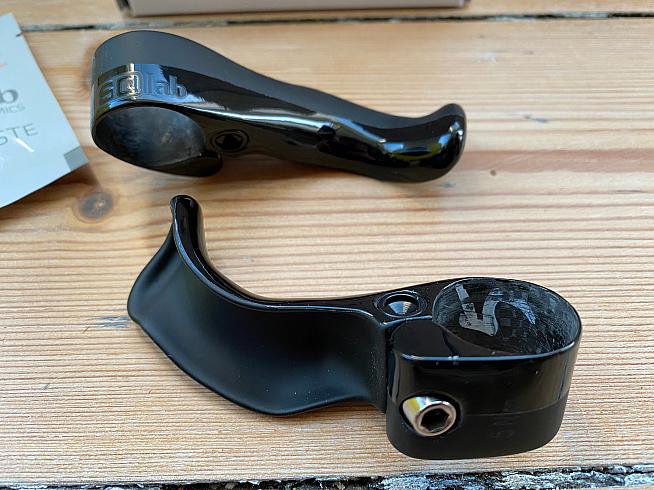 They take just minutes to install. I removed the grips beforehand, but you don't even have to - the clamp is designed to bend to fit over bars. Slide the Innerbarends up against your brake/shift controls and tighten the bolt, then replace the grips (if you removed them).
Out on the trails, you now have an extra hand position - and if you're used to riding on the hoods on your road or gravel bike, you'll find the Innerbarends a familiar and comfortable spot to rest your paws.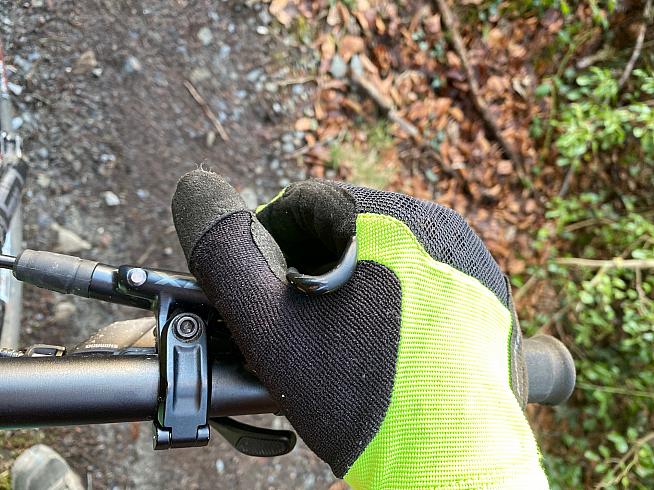 Whatever you may think of the looks, I can confidently say that SQlab have nailed the ergonomics. The hoods are curved inwards, providing a perfect nook for your thumb, leaving the rest of your fingers free to reach the brakes.
I've found them particularly useful on less technical stretches of fire road or gravel trails. The hand position on the Innerbarends just feels more natural; and I don't think it's only because I'm used to riding on the hoods on my road bike. SQlab have done their homework on the biomechanics side of things, and this is borne out on the bike.
On longer climbs too, the hoods provide something to get leverage on while you're honking away in your granny ring.
As for the aerodynamic gains, results from my natural wind tunnel (aka the Irish coast in winter) are inconclusive - but moving your hands inwards by 12cm each side does feel faster. You're effectively narrowing your bars by 24cm, which makes a significant difference.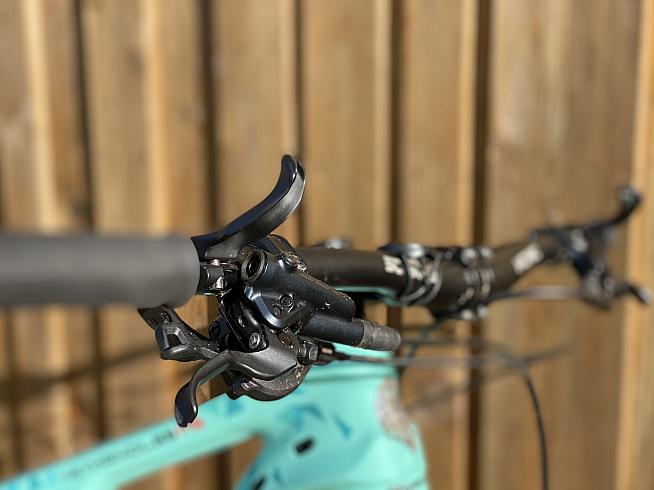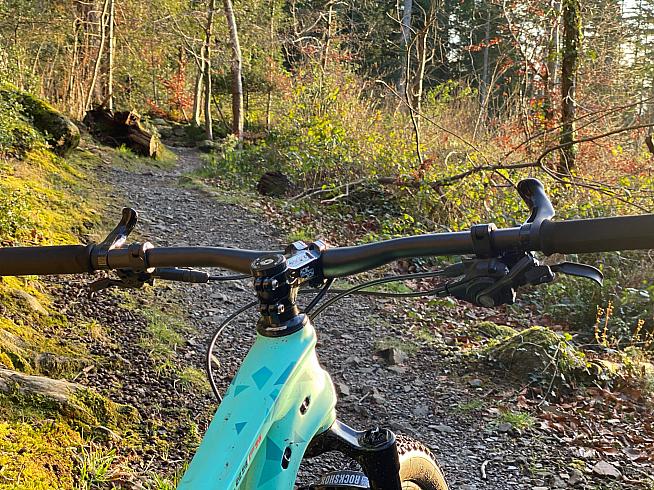 Spend any amount of time scoping out riders' bikes for long-distance off-road events like the Tour Divide, Atlas Mountain Race, Veneto Trail or similar, and you'll find the majority have fitted aerobars to their MTB.
While Innerbarends don't offer anything like that degree of aero tuck, they do make it possible to achieve a significantly narrower stance on the bike.
SQlab have run some tests and reckon you can save 14 watts using the Innerbarends, based on a 5% efficiency gain at 36km/h. While we can't verify those numbers, the more aero position will certainly prove faster over long distances and on descents.
The flipside of that narrower stance is that control and brake access is slightly less assured than when holding the grips; so, if most of your riding is spent bombing downhill runs or dodging trees on twisty technical trails, you may find Innerbarends of limited use.
Nor can you reach the shifters from the hood position, although it's not a big deal to transition back to the grips when you need to change gear.
Of course aerodynamics features pretty low on the list of demands for most mountain bikers - but on comfort grounds alone, if your MTB sees a mix of action - bridlepaths, XC trails, towpaths, pub runs... - then Innerbarends maybe well worth a look.
Options are good
I've been testing the new Innerbarends 411 R Carbon, which weigh in at a paltry 39g the pair - but SQlab also offer their original Innerbarends 411, weighing 108g per pair, and costing a lot less at €39.95.
Beautifully made as the carbon edition is, the more inexpensive model may actually offer performance advantages to some riders. That's because the one drawback of the carbon model is that the sculpted, hollowed-out shape of the barends, while perfect for resting your hands on top of, isn't particularly comfortable to wrap your fingers around when hauling up a climb, say.
The original 411, by contrast, has a more filled out shape similar to standard hoods, and this I imagine would offer better purchase when you want to grab hold and put down some wattage.
That said, racers looking to shed every gram from their rig may well decide the carbon model is the one to go for.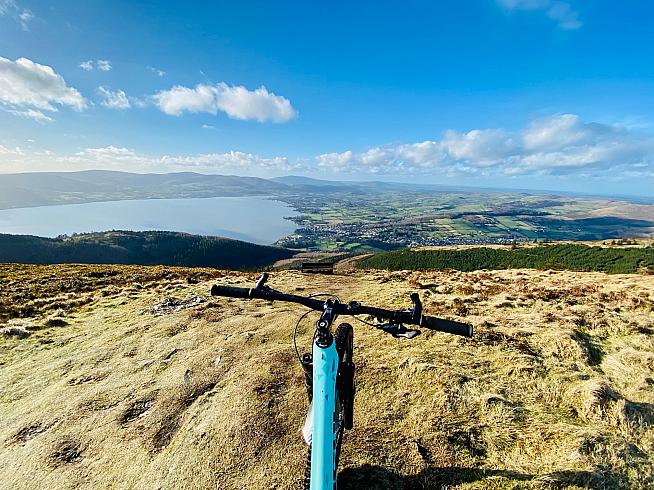 If your future plans include off-road touring, XC marathons, an epic ultra endurance race, or simply long days on safari with your MTB, take a look at SQlab.
Their unusual looks might seem designed to troll MTB purists, but there's no denying the enhanced comfort and speed on offer from Innerbarends.
Plus they're cute little horns, just like on a baby giraffe - and what's not to like about that?
Innerbarends 411 R Carbon (as tested here) - €129.95 from sq-lab.com
Innerbarends 411 - €39.95 from sq-lab.com
0 Comments