Fewer punctures, lighter weight, improved ride feel - it's no wonder that increasing numbers of cyclists are turning to tubeless tyres.
But for first-timers, the process of ditching inner tubes can be a bit daunting.
Looking to take some of the stress out of the process come Muc-Off, whose Ultimate Tubeless Setup Kit contains everything you need to get rolling in one handy package.
The kit includes tubeless valves, sealant and rim tape. Provided you have a pair of tubeless-ready wheels and tyres, you're all set.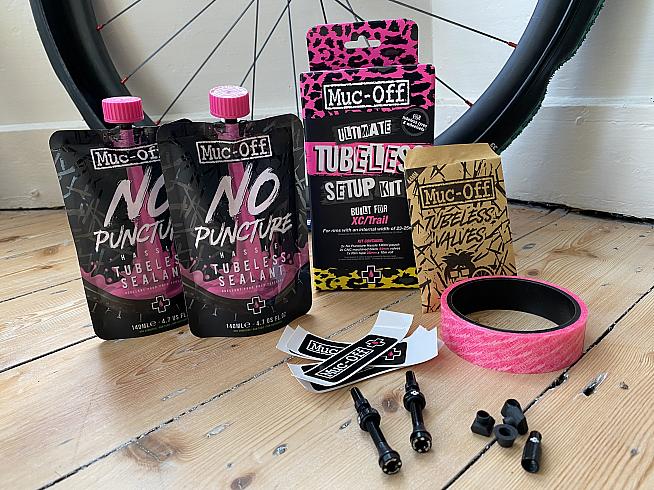 The Ultimate Tubeless Set-Up kit comes in five different versions, the only difference between them being the width of the rim tape and the length of the valves.
We've been testing the XC/Trail version, which includes two 44mm valves and a roll of 25mm rim tape.
Although it's described as being for XC and trail bikes, it's the width of your rims rather than type of bike that is the decisive factor. The 25mm rim tape included here is suitable for rims with internal width of 23-25mm - and if you have a recent gravel bike (or wheels) that may well be within spec.
I first used the kit to set up my road wheels tubeless. Internal rim width is 19mm, although the rim bed doesn't have spoke holes so I didn't need the tape.
The valves Muc-Off have included in the kit are lovely little numbers. Machined from 6061 aluminium with an anodised finish, they're available in a choice of eight colours if you buy them separately (although the kit sticks to stealthy black).
The finish here is top quality, with some thoughtful details that will save you stress out on the road or trail some day.
For example, the washer for securing the valve is not only knurled for ease of grip but has flat edges, so you can use a spanner to loosen it if it gets stuck. A rubber o-ring sits beneath the washer, helping to provide a tight seal against the rim.
Alongside the two standard valve caps, Muc-Off include a third cap with a slot cut into it to use as a valve core removal tool. If you've ever been stuck by the side of a road grappling with a valve core with cold, numb fingers, you'll appreciate this.
You'll also find three differently shaped rubber inserts for the base of the valve. These will fit the majority of rim beds, ensuring a snug seating for the valve that prevents air and/or sealant leaking out.
It's a comprehensive package, and fair to say Muc-Off have done everything they can to facilitate the process of tubeless set-up.
I've now set up road, cyclocross and MTB tyres using the kit, and it's worked a treat.
The pouch nozzle fits nicely over the valve preventing leakage, and gradations on the side of the pouch make it easy to see how much sealant you've added.
The only setback I experienced was when seating a tyre with a blast of compressed air. I'd failed to notice that the valve wasn't centred between the tyre beads, with predictable results: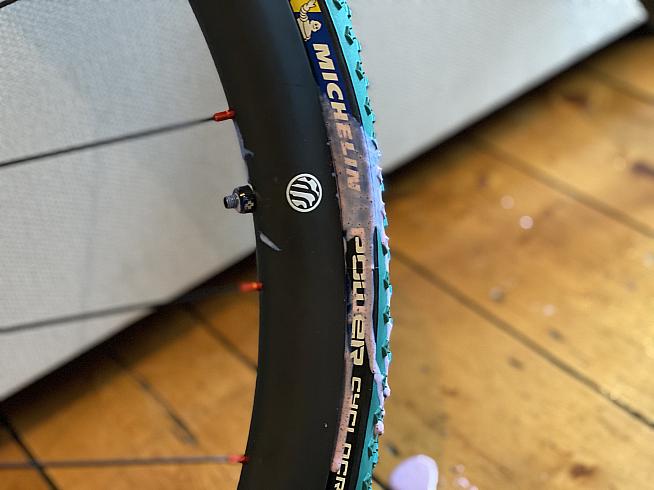 Luckily the bright pink colour of the sealant means that, unless your name's Barbie and you live in a plastic fuchsia house, it's easy to spot spillages on the floor. A quick clear up with a wet-wipe and Ken need never know.
Top tip: if you're struggling to get your tyres to seat, remember to remove the valve core - this allows a much bigger volume of air into the tyre, which can make the difference.
I've put a few hundred miles of wintry roads into the test bikes now, without any flats to report - at least none that I noticed.
Muc-Off claim the sealant will repair cuts up to 6mm in size, and last for up to 4-6 months. I still carry an inner tube with me in case of emergency, but without inner tubes to pinch flat the likelihood of punctures is greatly reduced.
Ride feel vs inner tubes is fairly subjective, but on my road bike I've been able to reduce tyre pressure slightly (to around 80psi) which lends a little extra comfort.
After initial set-up you may find some tyres lose pressure over a period of a few days. I find a quick top-up of sealant does the trick, and once the tyres are fully sealed it's pretty much set and forget.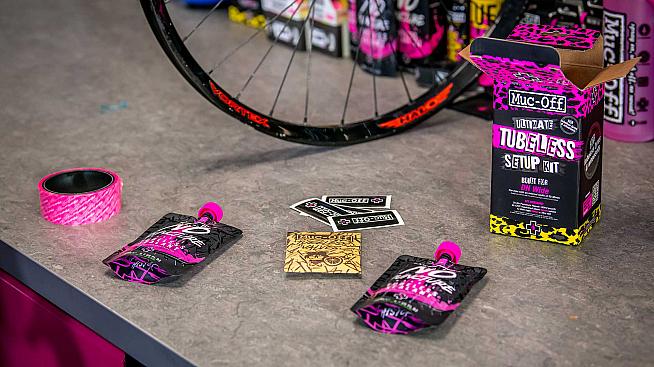 All in all this is a great kit. You could probably source the individual bits separately for cheaper than the £40 RRP, but shop around and you'll find the kit online for £25.
At that price, the premium quality of the Muc-Off valves and convenience of the package mean it's well worth the spend.
Muc-Off Ultimate Tubeless Setup Kit - £40 from muc-off.com.
0 Comments