I've recently moved back from the Sussex coast to my hometown in Northern Ireland. A lot has changed since I left - mostly for the better - and filed under improvements would be the mountain bike trails.
Although I grew up surrounded by woods and hills, I never really got into mountain biking. While my pals romped around on fluoro-coloured '80s proto-MTBs, I was riding a steel Raleigh road bike. It was my pride and joy, but the dropbars and skinny tyres didn't transition well to the forest trails and mountainsides.
Anyway, fast forward thirty years or so and I feel like I've bit of catching up to do. So, when Ribble offered to loan us their new hardtail MTB, they didn't need to ask twice.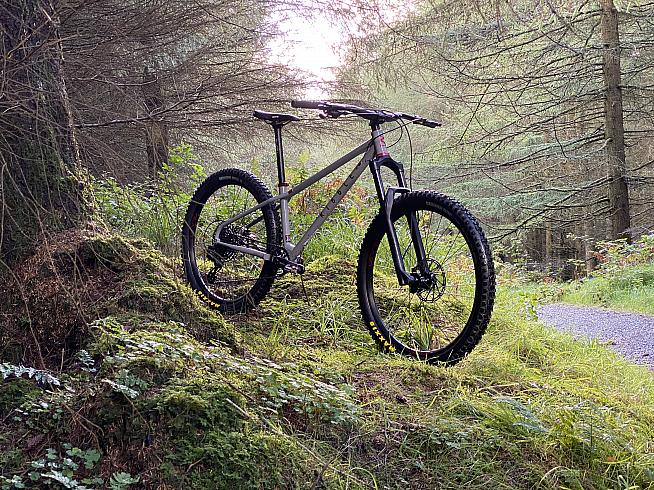 A mountain bike, from Ribble?
True, Ribble's long heritage is in road bikes. But CEO Andy Smallwood twigged to the allure of independent, "rough stuff" touring long before gravel was a thing, and with trends turning towards more versatile, mixed terrain riding, Ribble have been quick off the mark in pursuit of the gravel dollar.
Their CGR - "cross, gravel, road" - range has grown to encompass bikes in carbon, alloy, titanium and steel, followed by a still more rugged, trail-oriented model in the shape of the Adventure Ti.
Following that line of progression, it seems only natural that a full-on mountain bike would be next; the HT 725 is that bike.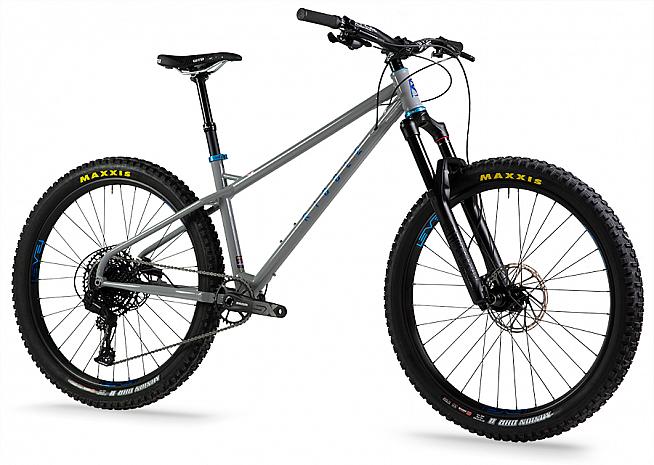 A steel hardtail with classic lines and modern geometry, paired with the latest 1x12 groupset and 27.5" wheels, the HT 725 looks a winning combo on paper, especially when you factor in Ribble's competitive pricing.
I'm ready and willing to be converted; but how would it fare in the hands of a mud-shy roadie?
The bike
Out of the box, it's the detailing on the steel frame that draws the eye.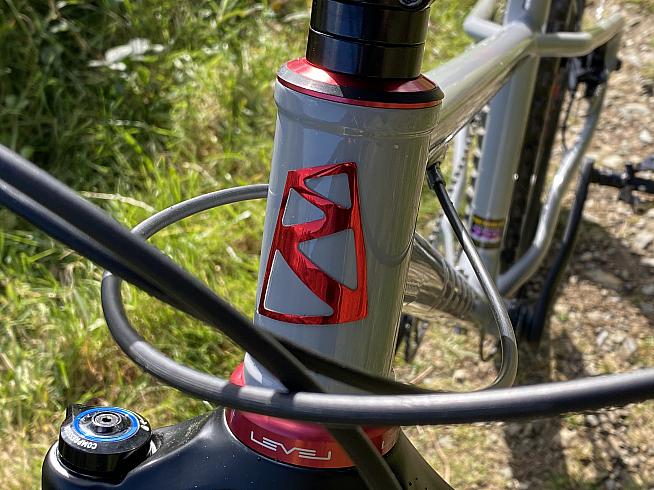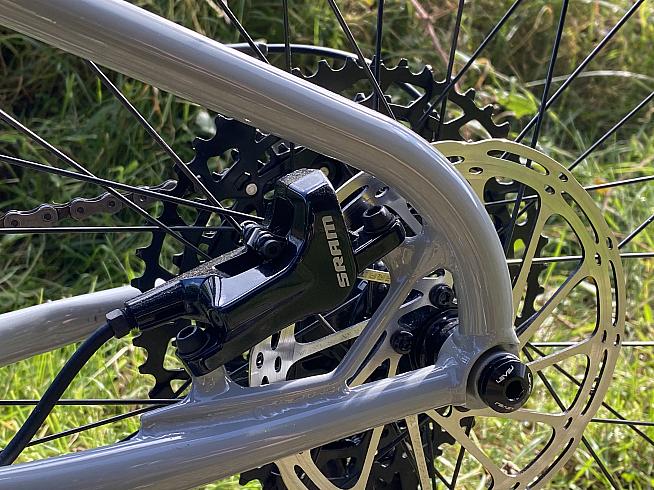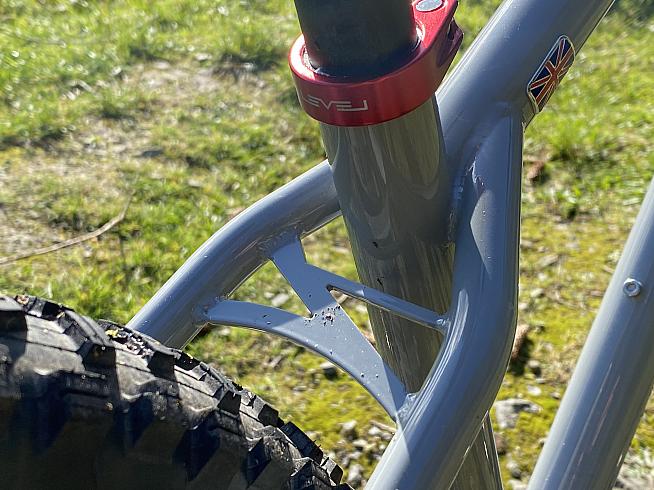 The seat stay bridge is a stylised "R" logo; brake and gear cables disappear into the down tube, preserving the sleek lines of the Reynolds 725 tubing.
Then there's the stamped "Ribble" on the chain stay, the BSA threaded bottom bracket... And sure, maybe the Union flag on the top tube carries a bit of baggage for the Northern Irish market, but pass no remarks; we've all moved on.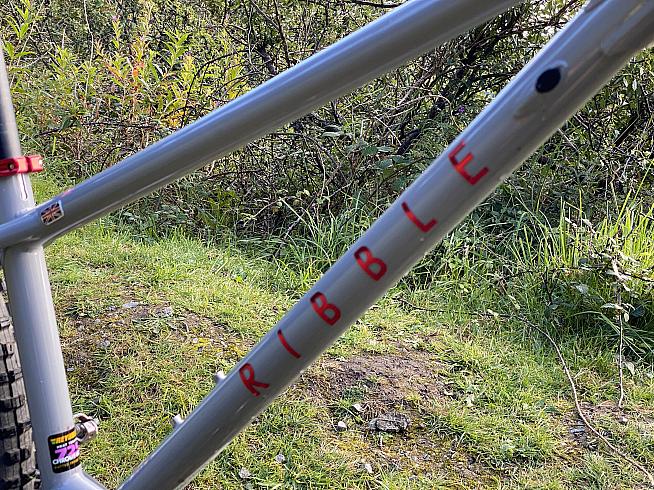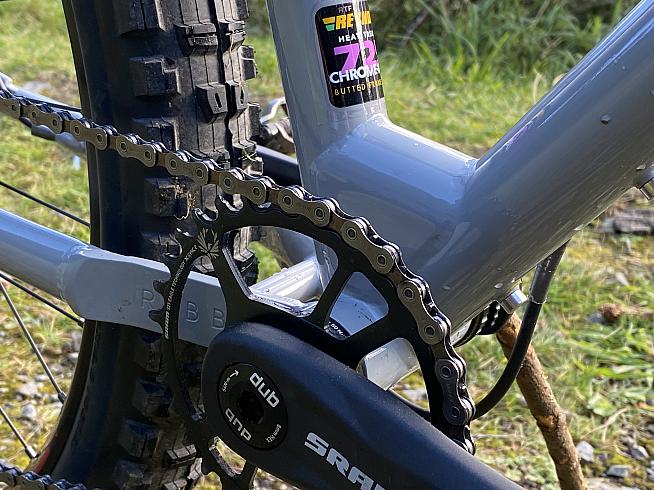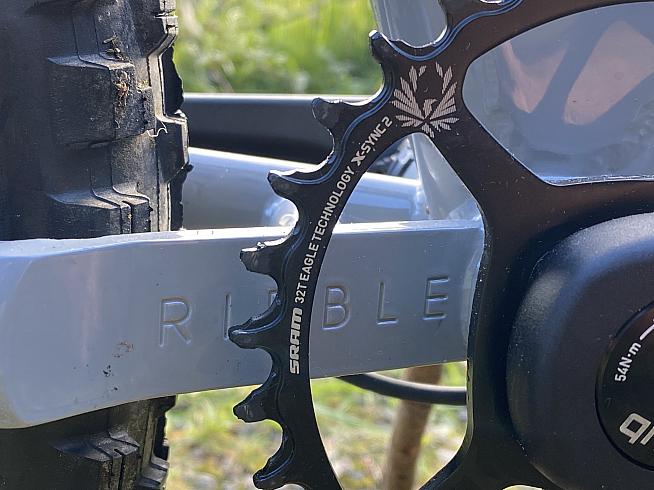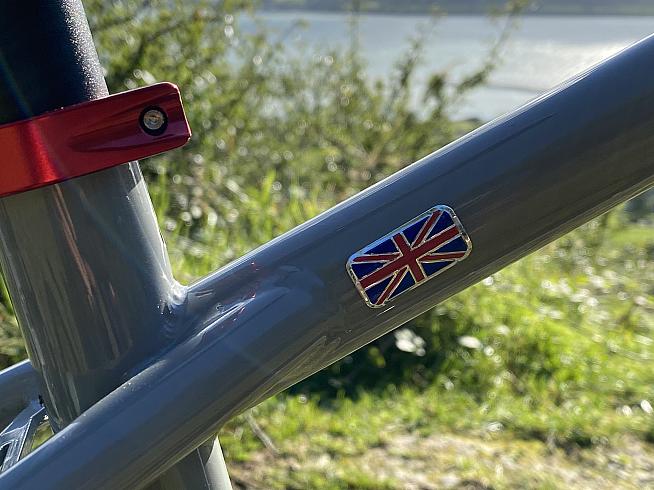 It's a lovely looking bike, its lines and materials somehow putting me in mind of a vintage aircraft, but the geometry and spec is up to the minute.
I was sent the baseline Sport model. It comes with the SRAM SX Eagle 1x12 groupset, offering wide-range gearing thanks to a 32T chainring paired with the 11-50T cassette.
Wheels and finishing kit are from Ribble's new in-house brand, Level. It's decent stuff; the wheels are tubeless-ready, although the bike ships with inner tubes fitted, and you can customise the colour of the finishing kit when ordering. This is a lovely feature, with Ribble offering the anodised headset, stem cap, seat post collar and frame lettering in a range of colours. They even include colour-coordinated decals for the wheels.
My test bike came with the red kit, which looks really smart against the glossy grey of the frame. And if you don't like grey, you can design your own colour-scheme using Ribble's custom colour option.
Up front, Rockshox Recon RL Boost forks offer 150mm of travel, with 37mm offset.
Finally, the tyres are a matching pair of Maxxis Minion DH in front and rear versions, with a massive 2.6" width for trampling anything in your path.
The ride
I rolled out the front door and headed straight for the trails. Rostrevor Red Trail, like most trail centres I guess, has plenty of stunning scenery to offer, but here you really  do have to earn the views. The trail kicks off with a solid few km of steep climbing, and it's here that any extra baggage on bike or rider will be keenly felt.
At just shy of 15kg (33lbs) in this build, the 725 is no featherweight. But the generous gearing means that winching up those climbs is no major imposition. The burly tyres find grip everywhere, and are forgiving when the front wheel occasionally wanders off line.
By the time you reach a view like this...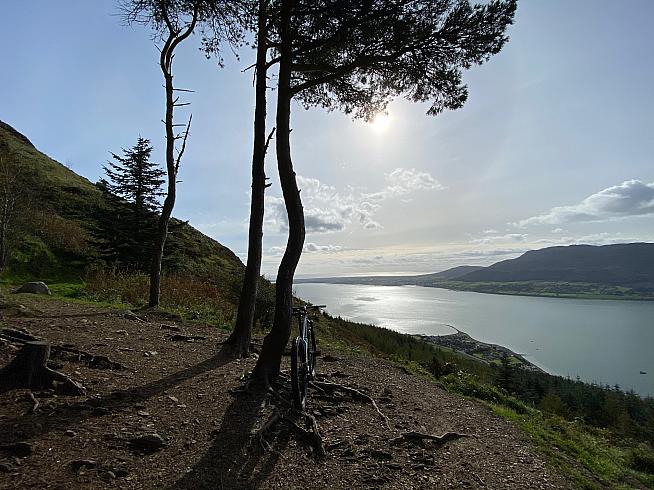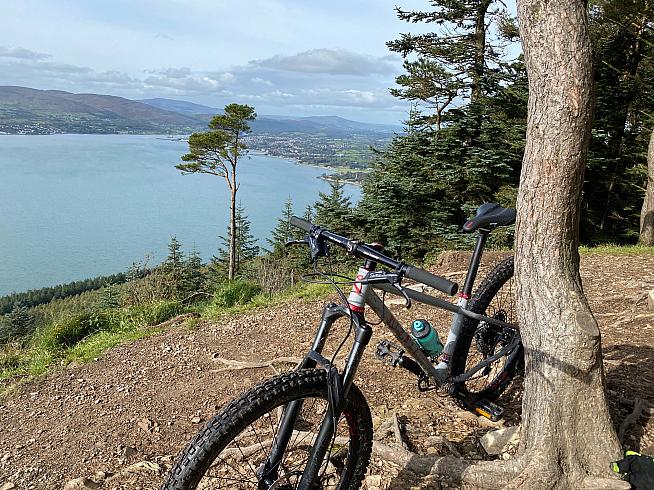 ...your work is almost done. And once you reach the top, it's time for the 725 to party.
Now, I should admit here that I am pretty much a complete beginner at mountain biking. Euro-gravel, cyclocross, and a few forays along the South Downs Way, yes: but drops, berms, North Shore, rock gardens - it's all Greek to me, and pretty daunting when you're reared on tarmac.
So when I say party, think conservative...er, party. I won't be posting any Strava records or trick compilations on YouTube, but, in my own very slow way I had a blast.
On descents, the weight probably helps; this bike goes where you point it, and even if that's occasionally directly at a rock or a tree (oops) it stays planted and bounces along with a stoicism I wish I could match.
After a few runs at the trails I'm enjoying it more each time, and while I'm nowhere near reaching the capabilities of this bike it's been a fantastic companion on the trail.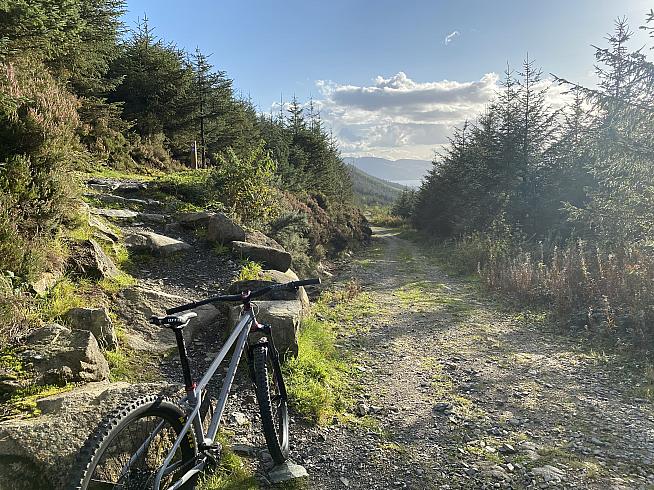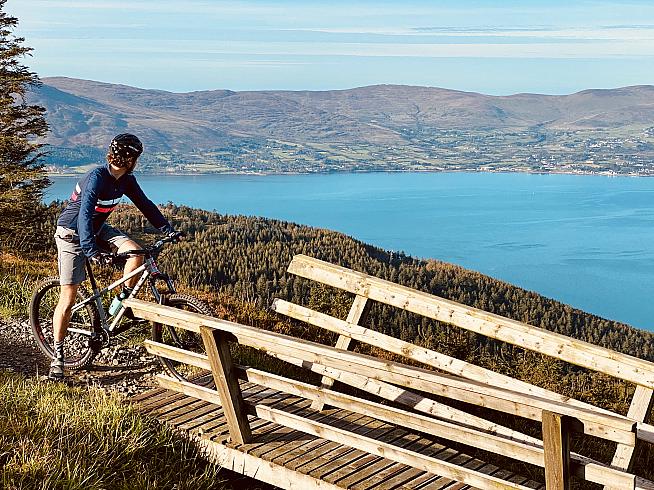 Turns out mountain biking is awesome, and the highly capable Ribble HT 725 offers a great introduction to it. The bike is tough as old boots, so you don't need to worry when you tumble off it into a stream (don't ask). The SRAM group bashes out the gear changes flawlessly every time, and the brakes - after an initial brief bedding in period - are reliable as you could want.
On tarmac it suffers compared to Ribble's CGR, and even the Adventure Ti feels lighter and more sprightly. But take the HT 725 off road and it excels, romping over obstacles as fast as you dare.
I think it's a good value package as well. Looking around, steel hardtails seem to have a strong fanbase - whether it's cyclists new to mountain-biking, or experienced bikers looking to reconnect with the trails on a pared-down machine.
There's no shortage of options out there - the Ragley Piglet, Surly Karate Monkey, Kona Big Honzo to name a few - but if you're looking for features like internal cable routing, the Ribble seems to stand apart.
Is it perfect? Well, I love the frame but there are a few changes I'd make to the spec. First, as a more experienced ride buddy pointed out, the tyres are tailored towards downhill riding (the clue is in the name: Minion DH). This means that while they excel on the speedy downhill sections of a trail, they're relatively heavy and inefficient when it comes to climbing, or even cruising on the flat.
I found the grip on the Minions to be exceptional - far exceeding my nerve/skill on wet rocks, roots, and all sorts of stuff where you'd instantly wipe out on a road tyre - but for general riding I'd probably swap to something a little faster rolling, lighter and less heavily treaded.
Likewise the bars, at 800mm wide, are a bit of a stretch unless you're blessed with the reach of an orangutan. I swapped them out for a set of 60cm flat bars while I got used to transitioning from 40cm drops.
Around 70cm would probably be ideal, and if it was my bike I'd be cutting down those stock bars to suit - the ends are handily marked at 5mm intervals to facilitate this.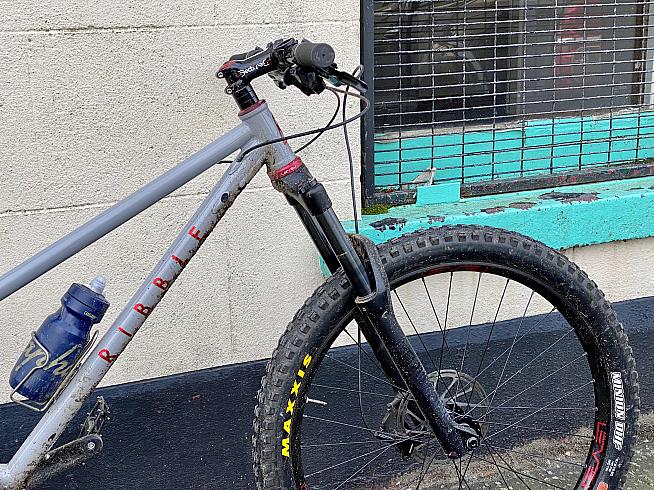 As for the rest of the kit, I got on well with the WTB saddle, and I liked the Level lock-on grips.
One thing I'd upgrade - and it's offered by Ribble at point of purchase - is to add a dropper post. The HT 725 has internal cable routing for a dropper, and the ability to push the saddle out of the way is a big help if you're hitting technical descents.
If you're doing without a dropper, at least throw on a quick release saddle clamp so you can lower the seat; it makes a world of difference, particularly if you're new to MTBing and your technical skills are, let's say, in the early stages.
Conclusion
The HT 725 has converted me to the joys of proper off-road riding. I've done a lot of road riding around here, and a little bit of "gravel" on my cyclocross bike, but a hardtail really opens up the potential to explore well beyond the trails.
The HT 725 is the ideal steed for ripping around at your local trail centre or getting lost in the woods.
At the heart of it all is that sleek steel frame. I don't know enough about MTB geometry to opine intelligently on the merits of the 64-degree head angle, or 37mm fork offset, but what I can tell you is the HT 725 is a REALLY fun bike to chuck down a hillside and lose a few hours getting muddy outdoors.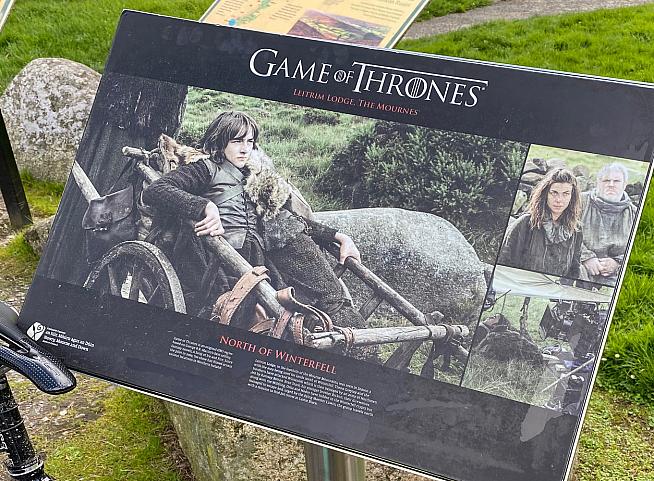 Following (attempting to) the wheel of a more experienced local has opened my eyes to the capabilities of these bikes. One ride saw us trace a route on a fire road out to Yellow Water and the lower reaches of the Mourne mountains.
A sign announced that Game of Thrones cast filmed here on location for north of Winterfell. We passed the board with its photos of a ragged Bran and Hodor, and followed the boulder-strewn road as it wound upwards into the mountains before disappearing into woods and heathland.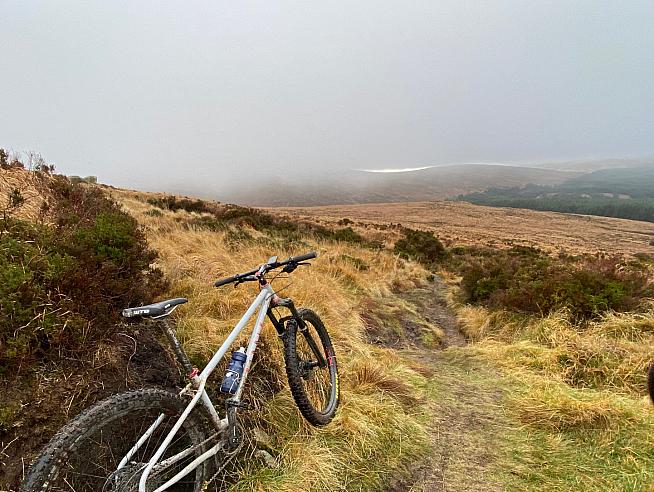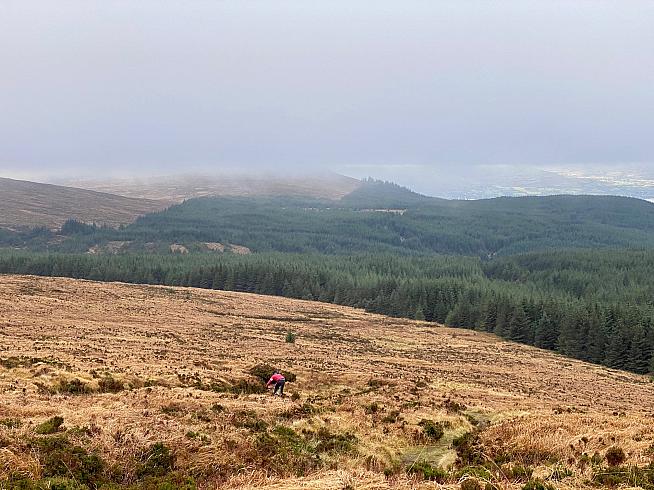 There's a rad new world of gnar out there for the taking, as my new Wildling crew would say. And the HT 725 is just the bike to take you there.
Ribble HT 725, from £1,199 at www.ribblecycles.co.uk.
0 Comments