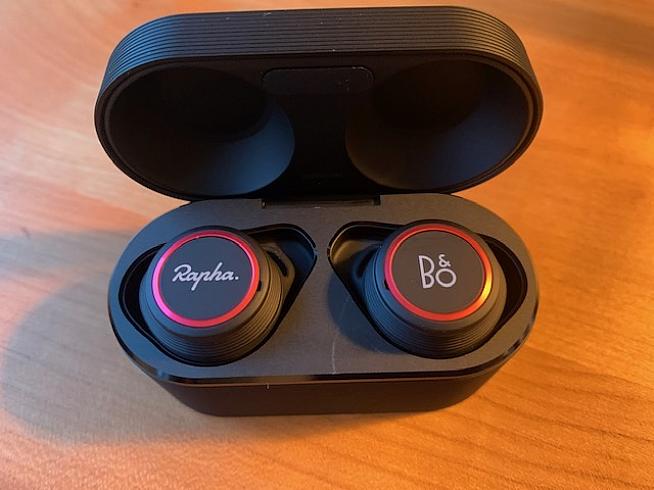 When I saw that Rapha was introducing wireless earphones designed for indoor training, I was quite excited. I have just started my winter training plan on the Wattbike in my garage and my wife was getting a bit fed up with my blasting DJ Pepe's Hard House playlist on the Sonos speaker which she claims was disturbing the neighbours (I can't believe they don't all want an uplifting David Morales track at 11am...).
The headphones are a collaboration between Rapha and B&O, the Danish consumer electronics company best known for their speakers and headphones. I've always been slightly wary of B&O since a Finnish audio engineer I know told me that within her world the reputation was "never a high, never a low, that's B&O", meaning that the sound output was pretty middle of the road and didn't go down well with purists. That said, I think your auditory acuity needs to be pretty high to notice these things.
This isn't the first time Rapha has collaborated with B&O - they also had a collab (as I am sure all the cool people say these days) back in 2015 to produce headphones - but these earphones are apparently a limited edition, in line with recent tie ups with brands like Palace.
I managed to get hold of one of the earlier sets of the Rapha X B&O wireless earphones, thanks to my membership of the Rapha Cycling Club.
They arrived a couple of days ago and I've been testing them out on my Wattbike indoor trainer ever since.
The first thing to note is that you are not paying any extra for the Rapha branding. The B&O E8 Sports headphones - which is what these are - retail for £300 and so you are getting some extra cowbells (which ring when you connect the earphones to your mobile) and Rapha pink for the same money, albeit you can probably get the B&) E8 Sports for below the recommended retail price.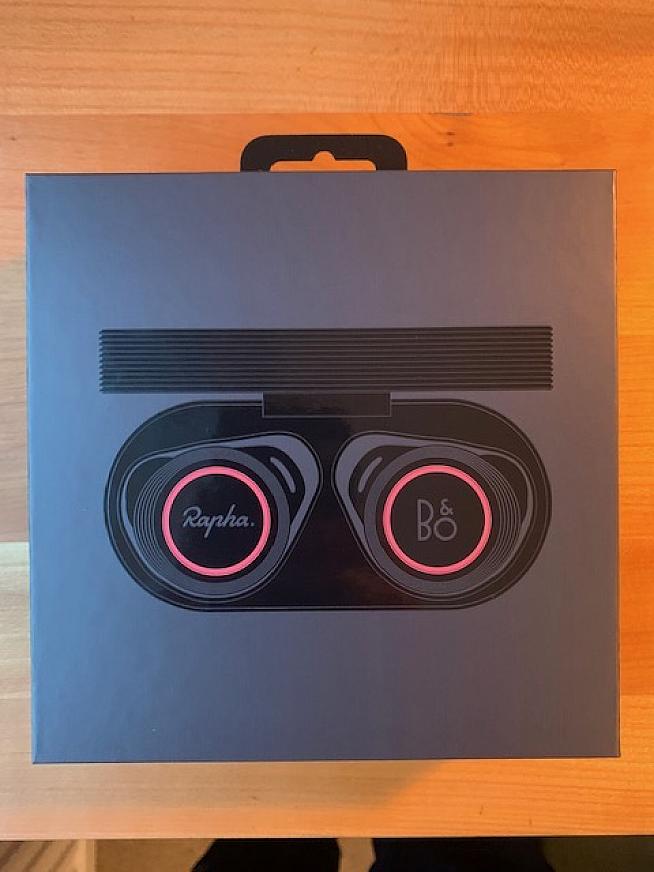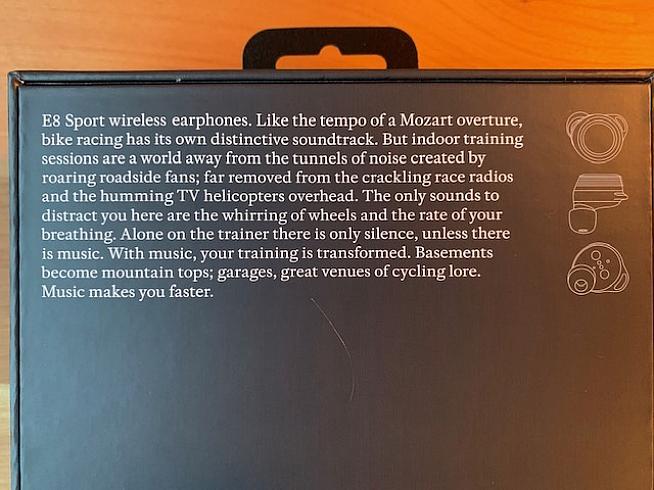 Like so many things, they arrive in an enormous box for something quite small. The actual presentation is very smart (as you would expect with Rapha) and there is something very pleasing about the charging case in which you keep the earphones. The case can charge the earphones for up to 23 hours use, on top of the seven hours charge capacity which the earphones have themselves. When the earphones run out of juice, pop them in the case and they will charge up again; you get 90 minutes playtime for a 20 minute charge. The actual case connects to a USB cable so you can easily keep it charged unless you are on the move and also supports wireless charging, which will be standard before long. By comparison with the Apple AirPods case it is significantly larger and more difficult to carry in your pockets, so if you are looking for minimalism then look elsewhere.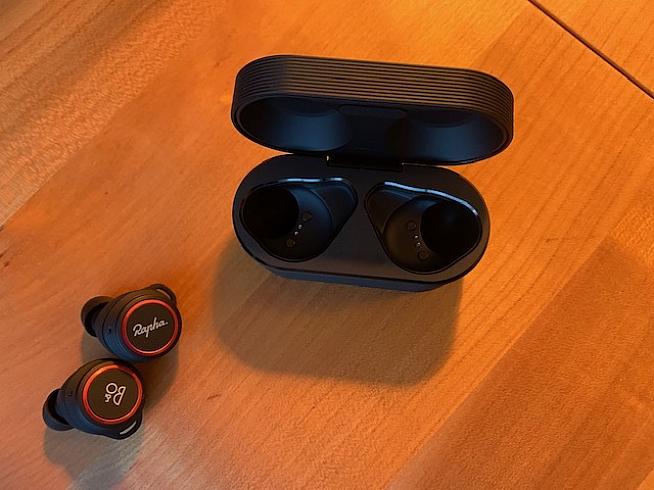 The key thing about these earphones are that they are water and sweat resistant and designed to deal with sweat. They have something called an IP57 rating (set by the International Electrotechnical Commission, just in case you wondered, and standing for Ingress Protection rating) which means you could go for a jog in the rain without problems and also in theory they could be submerged in shallow water for up to 30 minutes (we wouldn't recommend this but apparently this is the specification). Crucially, this means you can also clean the earphones after exercise by running them under water.
To set up the earphones you need to download the B&O app and then connect the earphones to the app, which was a simple process and (unsurprisingly) uses Bluetooth; importantly they use Bluetooth 5.1 which is less of a drain on your phone's battery. The app also controls some elements of the sound playback, using the BeoSonic feature which allows you to change the audio tonality to your own personal specifications.
I first tested the earphones in my study and was impressed by the clarity of the sound. My personal experience of earphones is that the sound quality is often poor, especially the bass levels. I also found that the transparency mode - which allows you to take incoming calls or be able to hear things in the background - to be very good.
Once I got on the trainer I experienced a few issues. Within about 10 minutes of starting my Zwift loop of the Innsbruck UCI World Championship circuit, the left earphone was on the floor and I only had half sound for the rest of the session. The next day both earphones fell out 15 minutes into my indoor ride, which meant I had to listen to my iPhone which was barely loud enough to cover the whirr of the WattBike pushing out 260 watts.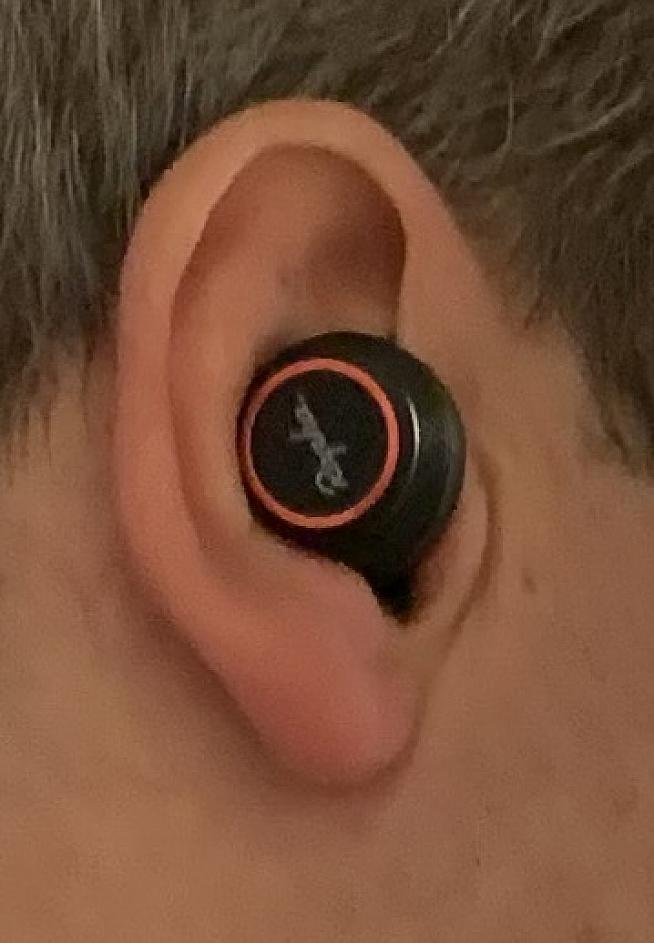 After searching for help online, I found a video by Martin Bloch, head of training at B&O, which explains how to fit the headphones properly. Rapha/B&O supply four different sizes of Silicone Ear Tips (XS, S, M L) as well as three sizes of Silicone Ear fins (S, M, L) to help keep the earphones on when you are doing vigorous exercise. The Comply™ tips mould to your ear canal and therefore create a complete seal which should lead to noise isolation, meaning you hear the music rather than the whirring of your indoor trainer.
After a bit of fiddling in which I worked out that there is a way to hook the earphones slightly into the lobe of the ear, I managed to ride a full 90 minutes without either earphone falling out. I even tried a few vigorous head shakes towards the end to see whether they would be displaced but everything seemed to stick. That said, it will be a while before I would take them out on a run, albeit the chances of my being found running are close to nil (what's the point when you could be cycling?).
Back to the sound quality. I have now had a proper chance to listen to a wide variety of music on the earphones and I have to say the quality seems pretty good. There is a range of different settings on the B&O app for listening while you are doing sport or just in your bedroom or living room and for someone who could not claim to be an expert on sound, I was impressed.
All in all, I like the earphones and would recommend them. They are a bit of a luxury item but if you are going to spend a lot of your winter on an indoor trainer then this could just about keep you sane through the dark months before being out on the roads is palatable again.
Rapha X B&O wireless earphones, £300
0 Comments