Ribble comes out with yet another cracker of a bike. The Endurance SL Disc 105 is a great all-rounder.
The bike's design delivers an uncompromising mixture of speed and comfort. Blinding results and comfort come through the incorporation of an ultra-lightweight carbon monocoque frameset and Shimano's ever-popular 105 groupset. The result is a bike that is quick, a great handler and comfortable over long days in the saddle.
There are many modern appointments to the Endurance SL that will have everyone and anyone from your club craning their necks to see what your latest bike is.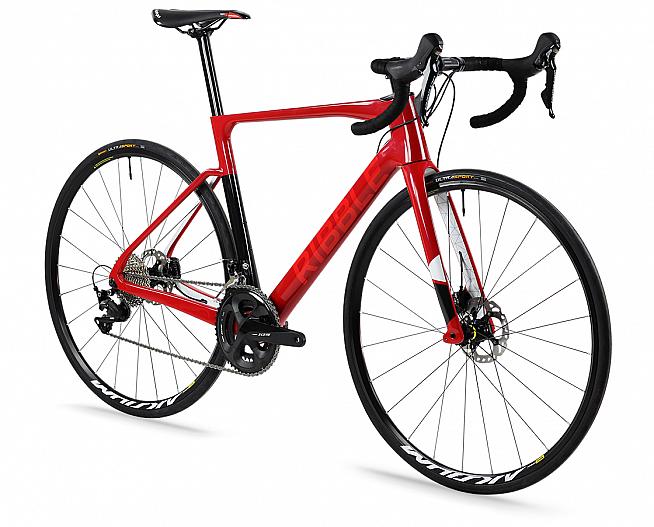 About the Endurance SL Disc 105
Ribble's Endurance range are the brand's road bikes designed for both speed and long rides. Thoughtful component choice and smart design will see riders blasting to new PBs. The bike's geometry will see riders jumping off the bike at the end of a long ride rather than stiffly unfolding themselves.
The Endurance SL Disc is one of nine different Endurance models, which include disc and rim brake options built around carbon, steel, titanium and alloy frames. There's even an Endurance e-bike, while riders looking to eke maximum speed and lowest weight from their bike can opt for the Endurance SL R - a lighter version of the SL tested here.
Equipped with Shimano's reliable 105 groupset, the SL Disc 105 is the lowest priced of the three stock SL Disc builds offered by Ribble, with Ultegra and Ultegra Di2 options available for riders looking to spend a little more.

The SL 105 comes equipped with the aforementioned Shimano 105 R7000 11-speed hydraulic disc brake groupset. Up front is a compact 50/34 chainset and the cassette is an 11-28T.
The bike is available in stock colours of red, black and teal. However, this is Ribble. If you can imagine it, they will create it. Maybe even as wild as the recent EF Pro collaboration with Palace Skateboards - imagine a duck-billed saddle!
The Endurance SL is built around a Toray T800/T1000 full carbon monocoque frame and forks. The frame features internal cabling. The handlebars and stem are Level 1 alloy 6061 models, or you can upgrade to lightweight carbon bars including the Level 5 cockpit, which sees all cables discreetly routed through an aerodynamic one-piece carbon stem and bars.
Providing a perch for the undercarriage is the Prologo Kappa RS. The saddle is upheld with a carbon seatpost. The rotors on the disc brakes are Tektro's Lyra Centrelock in a reassuring 160mm size.
Finally, the bike rolls along on a pair of Mavic Aksium Disc wheels. Tyres are a comfy pair of 28c Continental Ultra Sport III tyres, and the frame has room for up to 32mm rubber. Of course, wheels are thru-axle; a regular find on Ribble's current line-up of bikes.
The Endurance SL Disc 105 is available on the Cycle-to-Work scheme. Additionally, the bike comes with a free 30-day insurance policy offered through PedalSure. If the policy is kept past that 30-day period, PedalSure will apply a 15% discount to the rest of the policy.
Test conditions
I rode this bike almost exclusively for an Everesting attempt.
If anyone is somehow unfamiliar with Everesting at this point in time, it's a merciless and senseless challenge. The challenge is to ride up and down a hill repeatedly until the equivalent height of Mount Everest is hit - 8,848 metres. The monotony, the repetitiveness and the sheer leg-draining effort is enough to reduce riders to tears.
When I told Ribble I'd be testing the bike by attempting an Everesting, they agreed the Endurance SL was the right choice.
They also kindly upgraded the wheelset for me. When I unpacked the bike, a pair of Mavic Cosmic Pro Carbon UST Disc wheels greeted me. Mavic Cosmics are a carbon wheel made of a graphene compound. Mavic claim the 45mm deep rims provide 'low drag and excellent crosswind stability'.
The wheel's lighter weight results in greater climbing efficiency. The tyres were Vittoria Corsa Control and were set up as clinchers.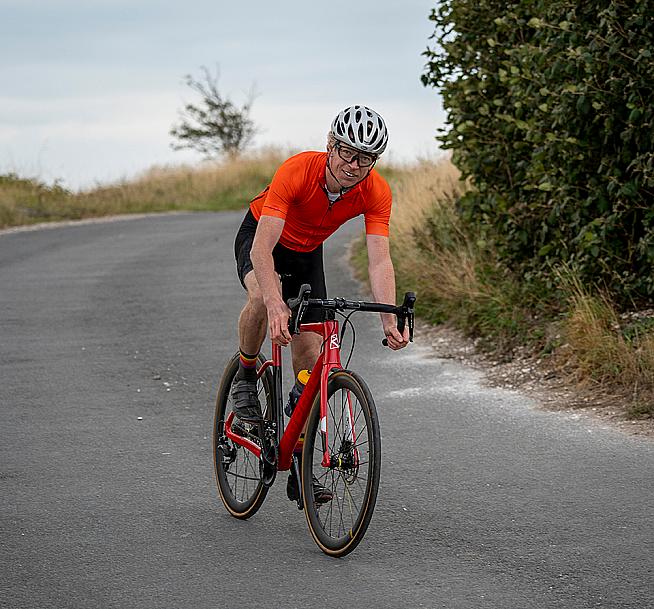 The Endurance SL is available in three stock colours: black, red and teal - although you can get creative and design your own paintwork using Ribble's Custom Colour tool.
Thankfully, the bike that arrived was in the juicy red colour! It's a real eye-catcher. And, of course, red is the fastest colour. Scientific fact!
I didn't get a chance to weigh the bike, but Ribble claim a weight of 8.8kg for the 105 build in size small. With the frame weighing in at 1150g and the fork another 400g, lightweight builds are possible even before you consider upgrading to the sub 900g SL R frame. That said, the stock alloy finishing kit from Ribble's house brand Level - while not the lightest - is well designed with a quality finish.
Before the first ride came the freewheel test. It is loud, proud and long!
I threw on some Shimano Dura Ace pedals and set out for a test ride.
Dialled for climbing
As I was going to be spending a lot of time (across one single day) on the bike climbing, I figured it was best to dial in the bike's fit on a hill. I popped out to the local to do just that. I adjusted the saddle height and handlebar positioning slightly with each rep.
That first ride was fantastic. The combined aero qualities of the bike resulted in me accelerating down the hill (1.5 kms long with an average gradient of 9.1%) with alarming alacrity. Thank goodness for the hydraulic disc brakes and 160mm rotors!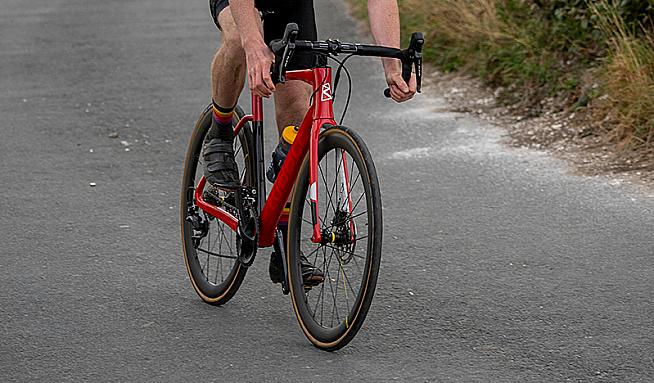 With the bike dialled and curious about what it could do, I decided on riding the longer route home. Having only ridden the bike for a total of 15 miles by that point, I was delighted that my instinct was right - it's a flyer! I was happy to have hit a fair few Strava PBs by the end of the ride.
This ride was an opportunity for me to move more freely through the gearing, which is easily done. The bike efficiently converts pedal strokes to power with a can-do attitude! And, the grippiness of the tyres and balance through the bike's design lends greater confidence going through bends and corners for greater efficiency.
So, it's a quick bike. Which is half of what the bike was designed for. What about the comfort side for those long days in the saddle?
To answer that question, I did an Everesting. I started at midnight and rode through to just after 6pm - just over 18 hours. That was certainly a long enough single-day ride to get a sense of how comfortable the bike is!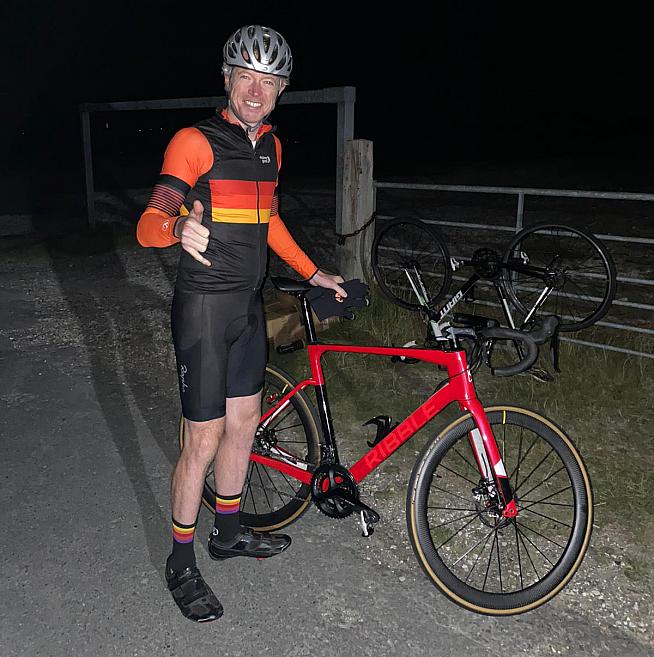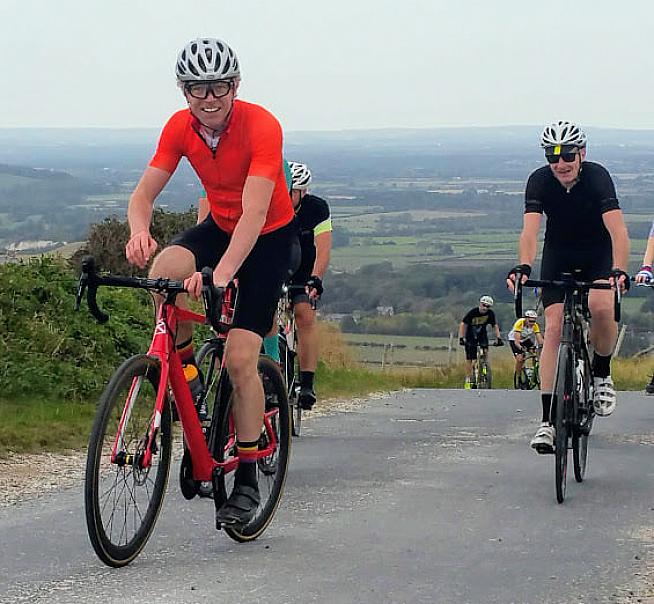 I completed the Everesting with no complaints - at least, none about the bike!
The Prologo saddle was a great perch for me for the day. I had no pain in any one area nor did the saddle interfere with pedal strokes.
Whether riding on the tops, the hoods or the drops I didn't feel discomfort/stiffness/soreness in any of the usual places. Even after spending that length of time on the bike!
In fact, so comfortable and so exciting was the Endurance SL Disc 105 to ride, I was keen to get out on a club ride less than 48 hours after wrapping up the Everesting! Inclement weather blew in bringing horrid rain washing away club rides that week. You know, that old chestnut!
Conclusion
Detailing on Ribble's Endurance SL Disc 105 is immaculate. It's a beautiful frame to just sit and stare at. The strong colourways, the form the carbon monocoque frame takes, it's all to be celebrated.
This isn't just a wall bike, though. Treat the Endurance SL Disc 105 like a work-horse and be prepared to be rewarded.
It is certainly a peppy bike that's a lot of fun to ride. The design and components will have riders moving a little faster on the Endurance SL compared to their old bikes. And, the bike's handling and braking won't make a little increase in speed an issue.
It is also a comfortable ride, making it an ideal choice when planning that next century... or even, someday, for a long sportive - remember those?
Ribble Endurance SL Disc 105 - £1,899 at ribblecycles.co.uk.
0 Comments