With Covid-19 restrictions easing around Europe, outside is once again free; could 2020 could be the summer of bikepacking?
You can use just about any bike for touring, all you'll need is a reliable set of bags to carry your kit.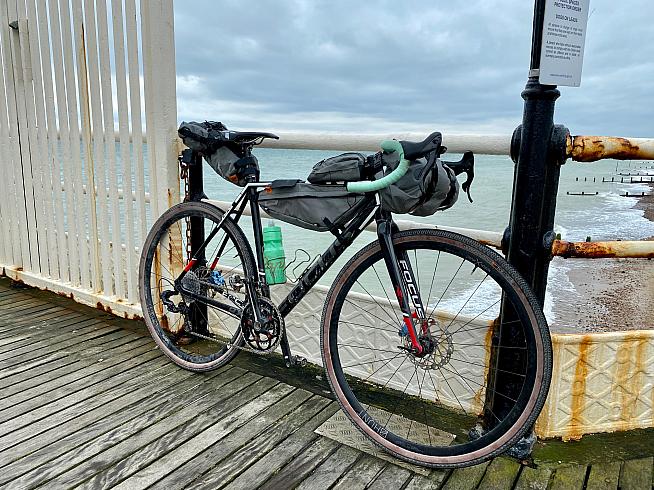 Woho, a Taiwanese brand who produce bikepacking luggage as well as bikes and other accessories, kindly sent us a set of their lightweight X-Touring bags last summer.
We put the bags to use on the Trans Alba Race, cramming 1100 miles (and four seasons of weather) into 10 days touring around Scotland.
It's about as thorough a test as you could wish for, and a perfect chance to assess Woho's credentials as a challenger to established brands like Alpkit, Miss Grape and Ortlieb.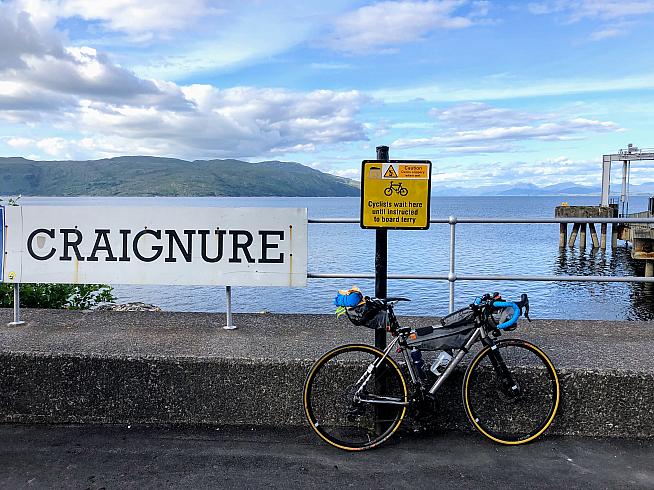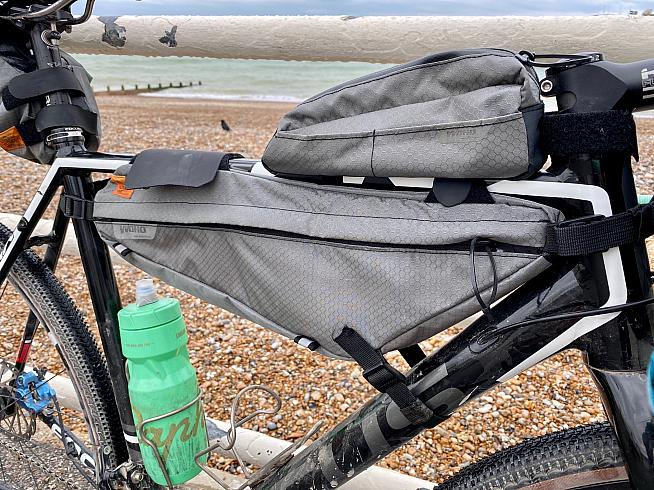 In line with the current trend, Woho do a full complement of bags designed to attach directly to the bike, rather than the more traditional rear mounted pannier rack.
We tested four pieces from their X-Touring range, comprising a frame bag, handlebar bag, saddle bag, and top tube bag.
At first sight it's attractive looking kit, made of a lightweight, silver-grey fabric. Woho claim the material is waterproof (more on that later) and uses a rip-stop yarn to provide additional strength against wear and tear.
Let's take a look at each item before getting down to an overall summary of performance.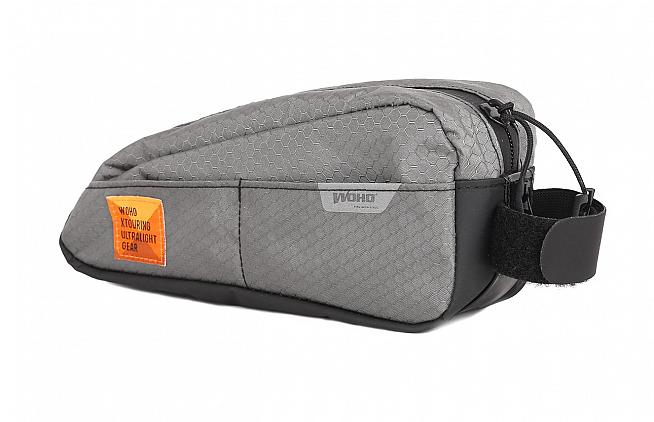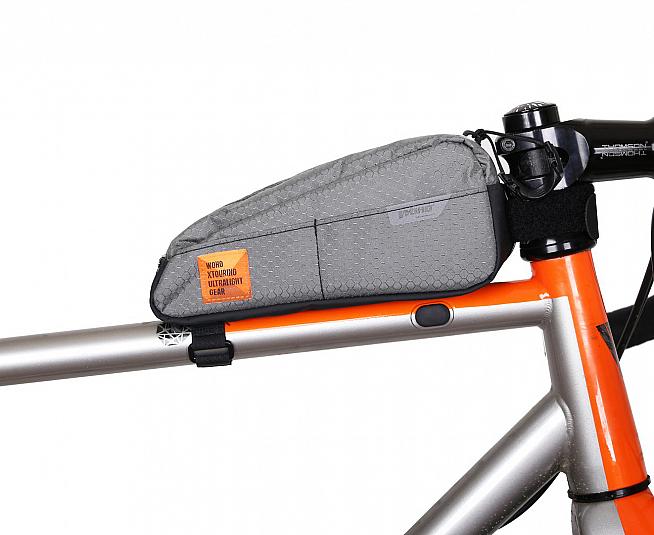 Sitting on the top tube just behind your stem/handlebars, this is a really handy little bag for everyday riding as well as longer tours. Capacity is 0.85L, which is enough for snacks, your phone, or anything you need to access quickly while on the move.
It measures 20 x 6.5 x 9 cm, and attaches securely to the top tube and head tube with velcro straps.
A full-length zip along the top provides easy access to the contents. On the Trans Alba, I kept my phone here to check Komoot and Google Maps for directions (far from the most efficient method of navigation, but that's another story).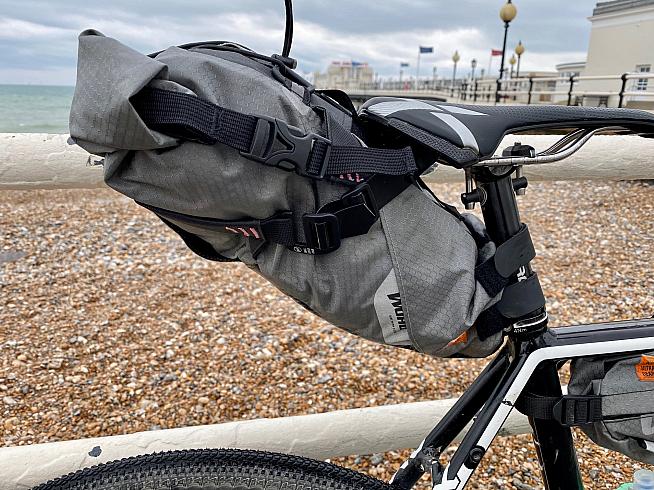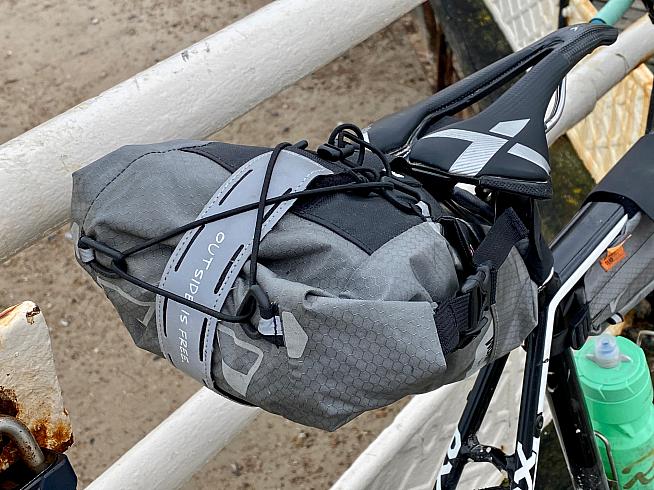 The Woho Saddle Bag mounts under your saddle; it's basically an oversize version of the traditional saddle bags used by cyclists for donkey's years to store an inner tube and multi tool.
Woho's design follows a fairly standard pattern; the bag attaches to the seat post with two velcro straps, while a third strap supports the rear of the bag and loops over the saddle rails.
The back of the bag is open, and once you've stuffed in your, err, stuff you close the flap, roll it up and secure it with adjustable clips.
I used this bag for spare clothing and things I wouldn't need to access too often (maybe once or twice a day). Scottish weather being what it is, I found myself fishing out arm and leg warmers, rain jacket etc more often than anticipated - but access is relatively quick.
The highlight of the saddle bag is a sort of bungee net on top, perfect for securing any extras. I'd typically have my rain jacket and a plastic bag of pastries, sweets, bananas, even a pizza, squashed here for snacking on the fly.
Reflective detailing on the rear strap is a nice touch, boosting visibility on evening or night rides.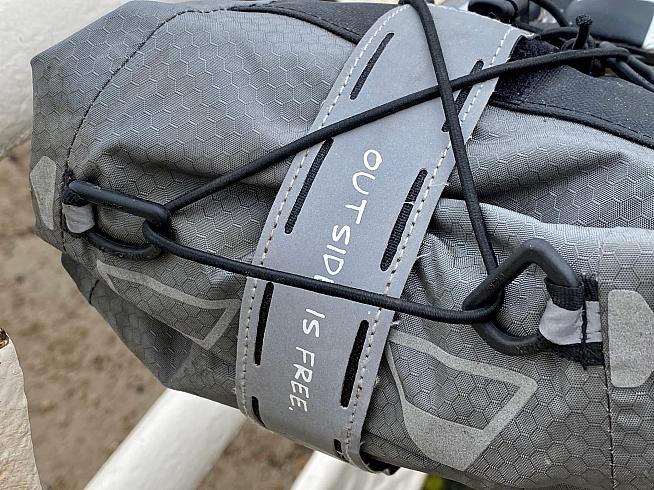 Sitting in the front triangle of your bike frame, the Woho frame bag comes in three sizes. We tested the medium (4L capacity; 186g; 46.5 x 15 x 6.5 cm).
The bag attaches to all four sides of the frame "triangle" (Head tube, top tube, down tube and seat tube). The internal storage is divided lengthways into two compartments by a lightweight - and bright pink - nylon lining.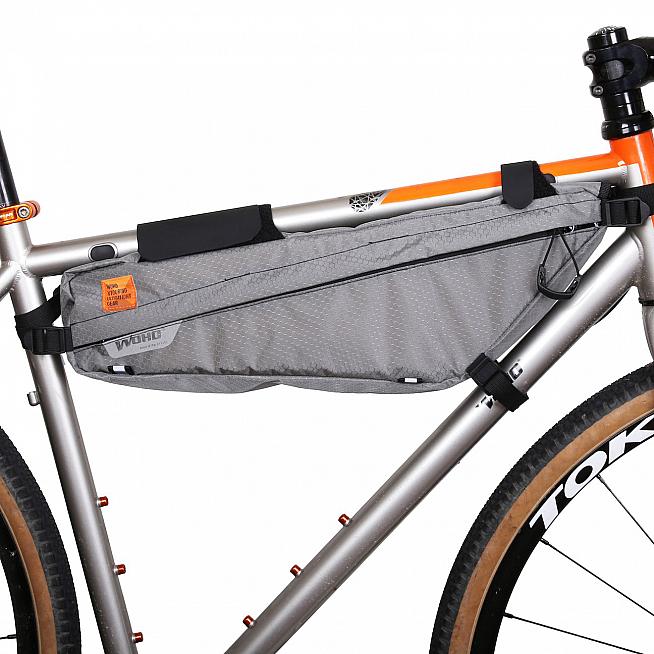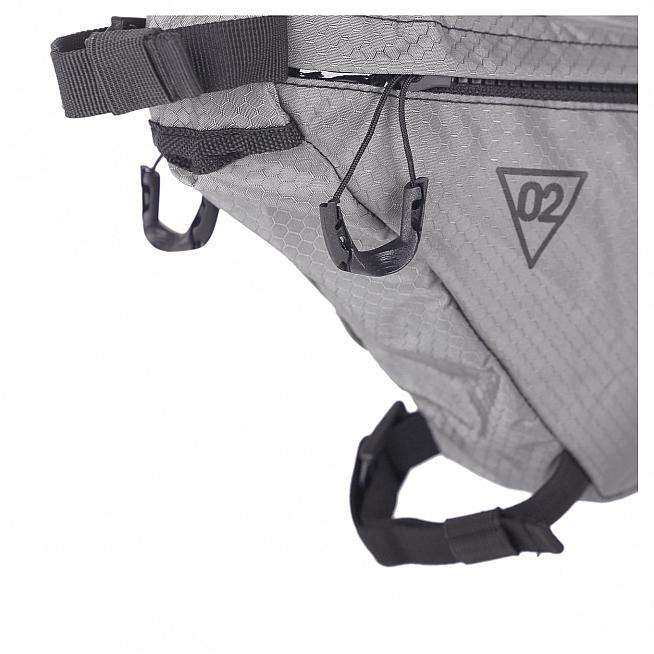 One nice feature is an access port for a drinking nozzle at the front of the bag; this allows for use of a hydration pouch (Woho offer one, the excellently named "Platypus Hoser", as an optional add-on).
I stuck to regular water bottles on my tour, but the frame bag was my main storage for essentials like pump and spare tubes, snacks, and more snacks.
It's another nice-looking bag. On arrival the zipper pull tabs were missing, presumably a one-off oversight - but that's why you can see zip ties in the photos.
The pink divider inside cheered me up each time I had to open the bag to fish out an inner tube after a puncture. More practically, it helps the contents stand out so you can more easily find what you're fumbling for.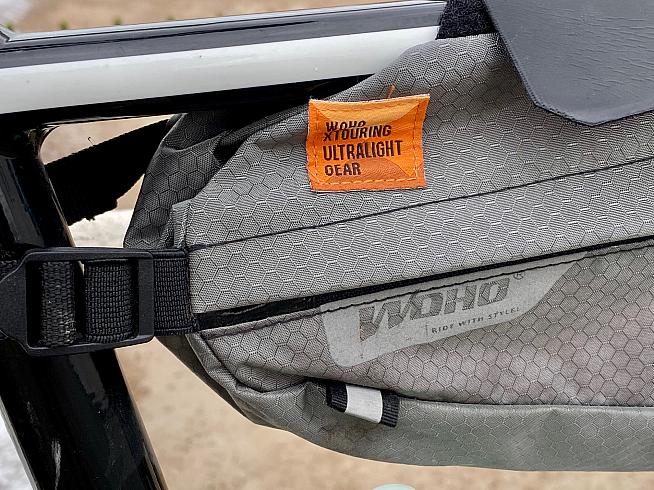 The frame bag is probably the most efficient way of carrying stuff on your bike, and on longer off-road rides (like the South Downs Way) this is my bag of choice. Unlike a saddle bag, there's no lateral movement or sway and it doesn't affect the feel or handling of the bike. The side pockets are easily accessible even while riding.
I also appreciated being able to access both water bottles even with the bag fitted, although it took a bit of wiggling.
Ideal for sleeping kit, or lightweight gear that you won't need to access often, the Handlebar bag hangs up front on your bars.
It's basically a tube, both ends are open and can be rolled up and secured with clasps. There's plenty of space inside for a bivvy bag, inflatable sleeping mat and sleeping bag. You could possibly even fit a small tent in there.
Mounting is via two straps which wrap around the bars. Foam spacer blocks are provided, which help you position the bag clear of any obstacles e.g. the front tyre/cable housings.
I found this a solid piece of kit, it sat in place well without the tendency to sag towards the front tyre that I've experienced with other bar bags.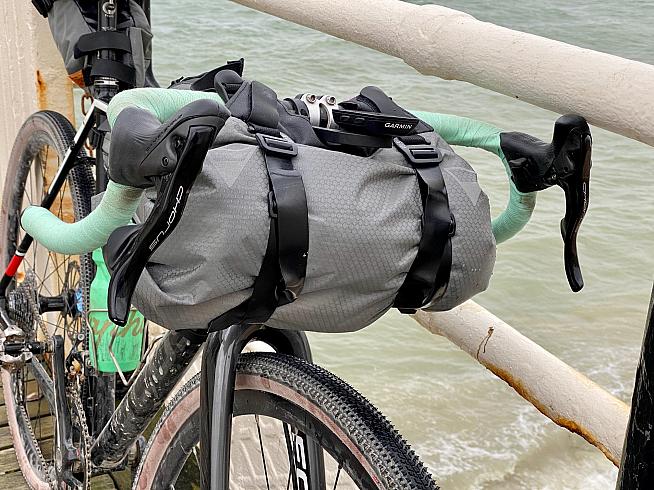 The Trans Alba test
As I occasionally mention, last year I rode 1100 miles around Scotland with these bags. They survived the trip pretty well, and overall I found them to be well made and reliable - with just a few minor niggles.
Definitions of "waterproof" may be open to debate, but I found Woho's bags met their match in a Scottish summer. Rounding the north coast we were subjected to several days of relentless wind and rain, and my Woho frame bag (and its contents) were soon saturated.
Woho have since changed the waterproofing treatment and construction of their bags, so hopefully the current "Dry" range is better able to withstand sustained soaking.
In any case, while irritating, the problem of water ingress was fairly easy to overcome simply by stuffing anything vulnerable (e.g. phone and Garmin chargers, battery storage devices) into plastic sandwich bags before packing them into the frame bag.
I didn't notice it being as much of an issue for the saddle bag and handlebar bag; perhaps because by this stage I was already wearing all the clothes in my saddle bag, and was no longer sleeping outside so not checking my bedding kit.
In fairness to Woho, the conditions were extreme - even my supposedly water-resistant Garmin Edge 520 suffered water damage to the screen and rusting to the charge connector.
That said, Eoghan was testing Ortlieb's range of bags in the same conditions and reports that his kit stayed dry.
> Review: Ortlieb bikepacking bags - pack light, ride far >
If I were to take a similar tour, I'd look at treating my bags with a water-repellent spray before setting off to restore the DWR coating. As I say, Woho now claim some of their bags are fully waterproof - rather than simply water repellent. Look for the "Dry" label in the product name.
As for durability, the lightweight material held up well but there was a small hole rubbed through the front of the frame bag. I'm not sure what caused this, I'd guess either friction where it rubbed against the head tube or more likely it could have been a spare spoke that I was carrying in the bag.
I can patch over it, and wouldn't necessarily mark Woho down for this - these are lightweight bags made of a thin material, and as ever low weight comes at the expense of some durability.
Finally, while the bags fit securely to the bicycle frame, the frame bag in particular is a bit fiddly to remove as you have to feed the straps back out through the buckle. A quick-release system, even a simple velcro strap, would speed things up and be a welcome improvement.
Summary
With an attractive design, low weight and neat construction, Woho bikepacking bags are a decent option for cyclists looking to get into bikepacking.
Just be aware that the bags - at least the earlier ones not marketed as "Dry" - are water-resistant rather than fully waterproof, and may need periodic treatment to restore the water repellent coating. Woho appear to be phasing these out in favour of an updated range that claims to be genuinely waterproof, so check for the "Dry" label when buying.
The light material helps keep down the overall weight of your kit, but means that if you're subjecting them to heavy touring you should be prepared to carry out the occasional repair. If you want something more rugged, we'd suggest looking to the Ortlieb range that Eoghan tested.
Overall, a good choice if you need some lightweight luggage for fast, fair-weather frolics in the great outdoors.
Check out the full range of Woho bikepacking kit at www.wohobike.com.
0 Comments