You must be aware by now, but just in case you aren't and you've stumbled over this review by mistake, I love my gravel riding and I love tubeless tyres.
All the bikes I ride are converted to run without the ol' vulcanised bladder. There's nothing more satisfying to me than the sound of a tyre pinging successfully onto a tubeless rim, or the explosive sound of someone else discovering their tubeless tyre and rim combo is not compatible and ending up looking like the prime suspect at a gruesome crime scene as they turn the UV floodlights on.
With the weather of late leaning more towards Summer than the Somme, I found myself in need to change out the 650b tractor tyres on my beastie and pop on my Hope hoops with a less tarmac churning tread. The GravelKings that I rode last year had been consigned to the bin after some unreliable moments with air retention and a conscious decision to move away from tanwalls, so it was by lucky chance that a pair of Pirelli's new Cinturato gravel tyres plopped onto my doormat just a few days into lockdown.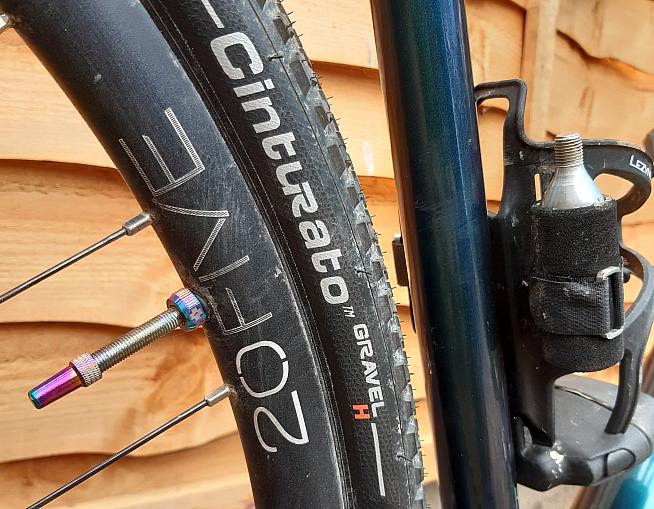 Now, if the name sounds familiar, it's because it is. The Cinturato was, in motoring terms, the first wrap-around radial tyre structure produced. It was endorsed and used to great effect by Juan Fangio, and many high-performance sports car brands offered a form of Cinturato as a radial option on their models.
This confused me for a while, and also made me a tad nervous. Radial tyres haven't been a great hit with cyclists as their ply tends to lead to less sidewall strength and handling problems. I tried a pair of Vittoria radials a few years back and no amount of scrubbing could ever get rid of the stains from those shorts.
These cycle-specific Cinturatos seem, however, to be of a more traditional makeup. They feature a reinforced casing construction with a woven fabric bead-to-bead layer and a tubeless-ready Aramid bead. This gives them, so Pirelli claims, a high level of puncture protection and contribute to lowering rolling resistance and increasing grip.
Pirelli offer the Cinturato with two tread patterns: the "Mixed Terrain" (M) with more pronounced tread for when the going gets sloppy, and the lighter "Hard Terrain" (H) version that I tested, which has a lower profile, more densely packed tread for drier, firmer conditions. Each model comes in a range of widths from 35, 40 and 45mm, and in 650b and 700c sizes.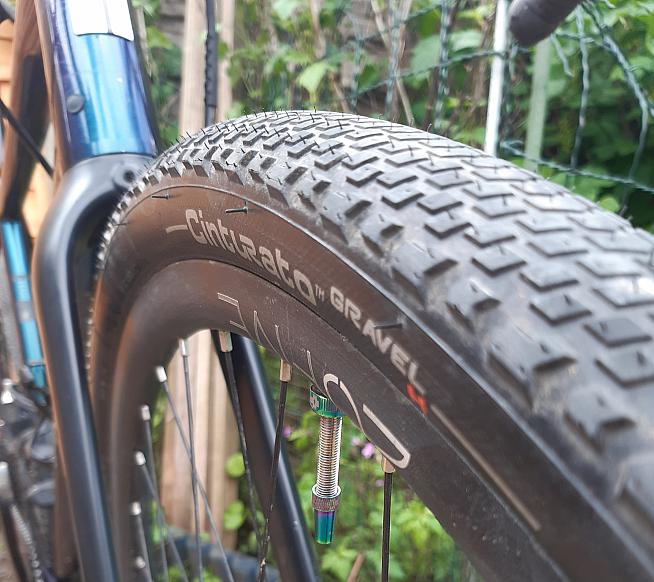 I was testing the 700x40c version. The SpeedGRIP compound that makes up the low, densely packed knobs of the tread is supposed to grip equally well in the wet or the dry, and their height is said to limit deformation and increase smoothness.
Well, that's all well and good on paper, but if it's like me (all talk and no action) they'll be found out on a rowdy ride - again, just like me.
Tubeless set-up
The first test was to get the tyres installed. In preparation, I bought a tubeless chamber pump (as I didn't have access to one out of work).
But that pump lies dormant in the shed, still wrapped in plastic, because the tyres were a breeze to install.
No wrestling with the bead, dislocation of thumbs, swearing, broken tyre levers, or spaffing sealant. The tyres felt almost (odd adjective here, I grant you) rubbery in popping onto the rims, and instantly inflated with nothing more than a track pump. The reassuring ping of the bead seating was loud enough to be heard across several postcodes and they held their pressure admirably.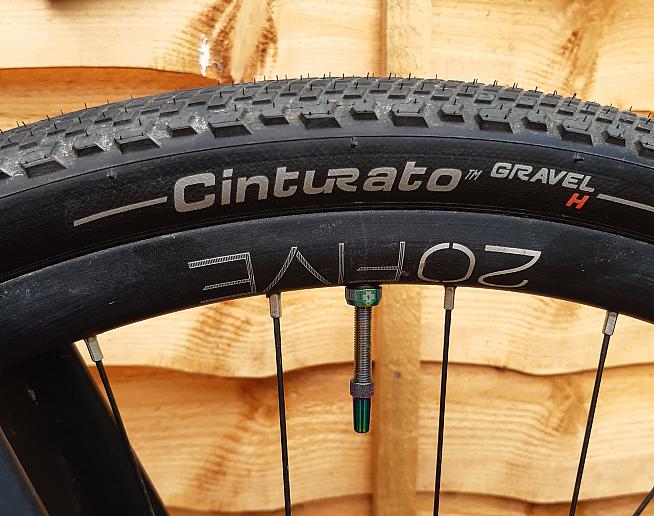 A couple of hours later, the air had escaped from both front & back, but I was never intending to ride them without sealant, so I was not too disappointed - more a criticism on my tubeless taping than their fit.
Once a generous squirt of luminous pink Muc-Off had been administered, they looked good to go. Or so I thought.
My first ride out, they felt vague and unresponsive. I thought back to my first experience with radials and thought maybe they had some radial heritage, softening the sidewalls. However, after a few miles, I concluded that my stem wasn't straight and stopped to adjust it. Confirmation bias got me home with no more surprises an hour or so later.
The second route I rode was a bit more challenging in the terrain and speed I was going at, and the more I rode the more confident I became. The ride had both gravel and road sections, but the recent downpour had left a couple of paths with a scintilla of wet muddiness about them and some continence-endangering wheel slips and skids were endured.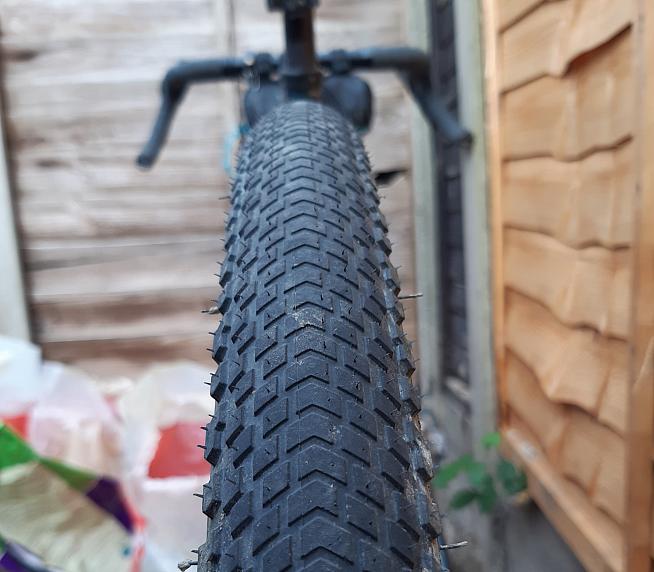 Understandable in the circumstances, but not as much as I would expect from hardpack tyres, even when I had to traverse a lagoon of liquid, second-hand silage. A wheel spin in that situation wasn't a desirable outcome, let alone failing to stay upright.
Once back on harder terrain, the extra tyre profile was shrugged off in sizable lumps. When I got home and got out the power washer, I noticed a few bubbles around the rim and found that what I thought was 40 psi was actually barely above atmospheric pressure in the front tyre. The airborne penny finally dropped and I overinflated both tyres, adding a squirt more of sealant.
This meant I needed to do a few more rides to give the tyres a fair go, but it augured well if they had done this well at stupidly low pressures.
M25 test ride
For a while, I'd been looking at the bridges over the length of the M23 that runs from Hooley to Pease Pottage and wondered if it was possible to ride the length, crisscrossing the motorway north to south. In all, there are at least 30 points where the trunk route crosses under or over local routes, some of which aren't accessible by road. This looked like an ideal test for the Pirellis, so I set out for the start just north of the Surrey village of Merstham, roughly 12 miles from my house.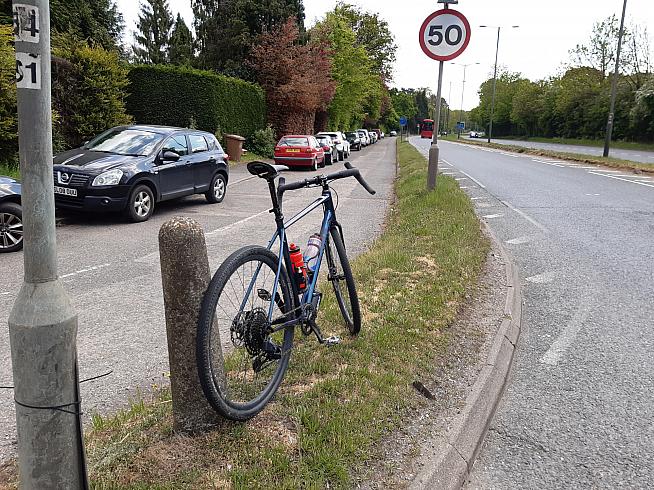 On the road, the now fully inflated Cinturatos were an absolute dream. Grippy, comfortable and fast-rolling. The larger volume of these tyres, compared to say a normal road bike, meant that sections of sub-standard highway could be ploughed through and kerbs could be hopped on to separated infrastructure along the way effortlessly. There are a couple of quite gruelling climbs in the first section, starting as it does on the escarpment of the North Downs, and the route soon traverses some of the North Downs Way.
The ground had hardened significantly since the last time I'd been out so the only peril I faced was from hoofy craters left by riding enthusiasts, a common problem when sharing Wealden Clay with horses and English weather.
On the whole, while the terrain was varied enough to test the mettle of bike, rider and rubber - not to mention the cushioning of one's chamois - I never lost control of my bike or my bladder except maybe on one of the final downhills where I forgot I was riding with rigid forks and was in danger of creating a living tableau of the game Buckeroo to the walkers who looked on in amusement.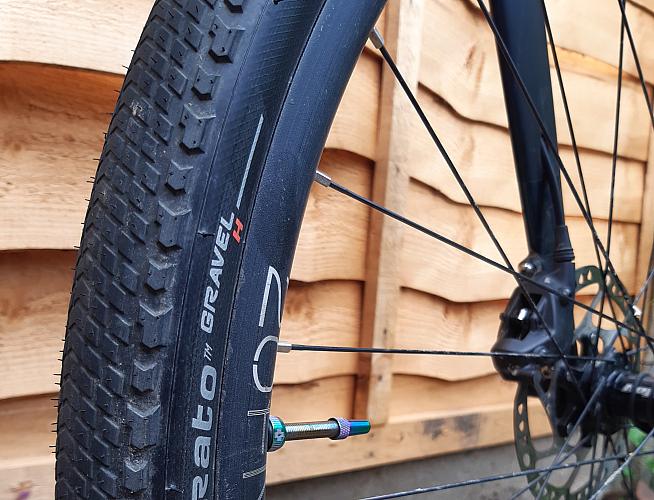 The front wheel had taken some sickeningly rim-shattering hits throughout the route, but the tyres never lost their grip or had any hint of burping off the rim. Several days later, and the pressure is still holding, front and back, suggesting that the initial problems I had were sorted out with the addition of gloop through the valves.
I'd be happy to run these tyres all summer to see how the compound holds up on longer road rides and if the puncture proofing remains as reliable as it has so far. The noise on hardpack isn't as pronounced as the GravelKings which is impressive, given that I can't really notice any reduction in grip or cornering ability.
All I have to do now is make sure that the logo is lined up with my valves - mea culpa...
Pirelli Cinturato H Gravel Tyres, from £36 - velo.pirelli.com
0 Comments