It's been a long time since Hammerhead first crossed our radar; back in 2014 the US start-up launched with the unique hammer-shaped H1, followed in 2017 by a more conventional - in looks, at least - cycling computer in the Hammerhead Karoo.
The Karoo is a full-featured GPS cycling computer, boasting a spacious colour screen, android-based operating system and a host of sensors allowing full connectivity with all the most popular cycling devices and apps.
It's garnered some excellent reviews. We recently got hold of a Karoo for ourselves, and over the past few weeks I've been putting it to the test.
Here's a look at some of the key features and our impressions.
If you're pushed for time, we'd simply say this is an excellent, highly capable cycling computer - and a worthy rival to the flagship devices from Garmin and Wahoo.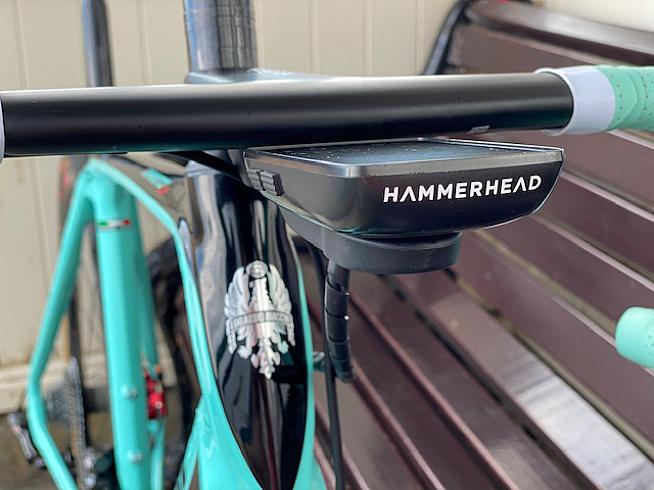 Big is beautiful
First things first, the Karoo is a large unit. It's about twice the size of a Garmin 520 or Wahoo Roam, but comparable to the larger Garmin 1000 series.
The dimensions are 98 x 72 x 28 mm. Weight is a claimed 168g, but our test unit actually measured 191g on the scales.
The upside to this size is that you get a lot of screen real estate - it's excellent for displaying maps while you're navigating about.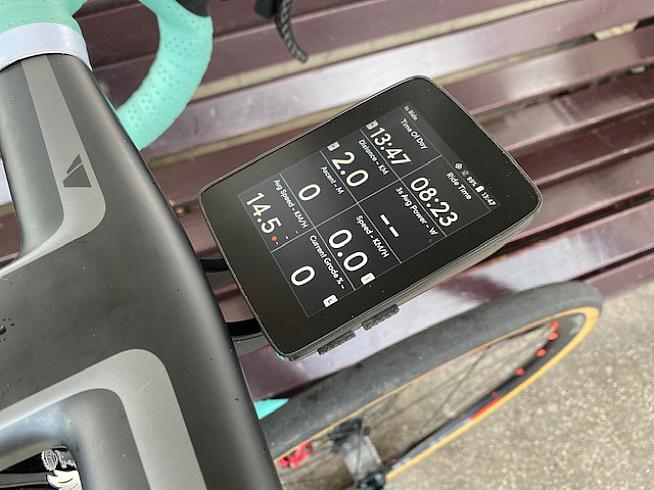 The 3.5" (54 x 71 mm) display is full colour, and the high 640x480 resolution makes it a pleasure to use. While some larger screen devices - the Mio we tested last year springs to mind - can suffer from excessive glare in sunlight, I've not found this to be an issue with the Karoo.
It's a capacitive touchscreen too, so you can swipe quickly between screens while riding. I typically have my ride metrics on show on the main screen - speed, distance, power, elevation etc - but a simple swipe right (or click of the top left button) brings up the map screen.
There's an option to lock the touchscreen so that only the side buttons will control the device, which is useful if for example it's raining (droplets of water could accidentally trigger the touchscreen). That said, I've been caught in the rain while testing the Karoo, and even without locking the screen the drizzle didn't affect it.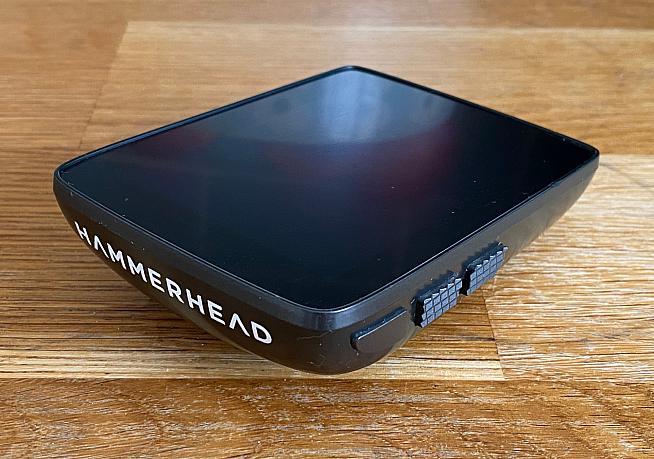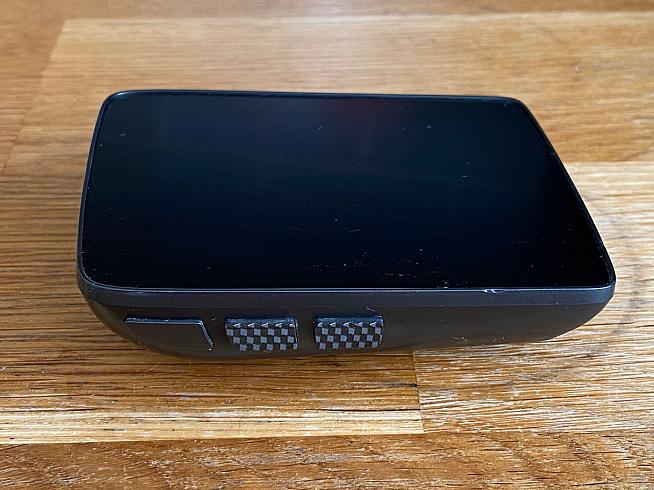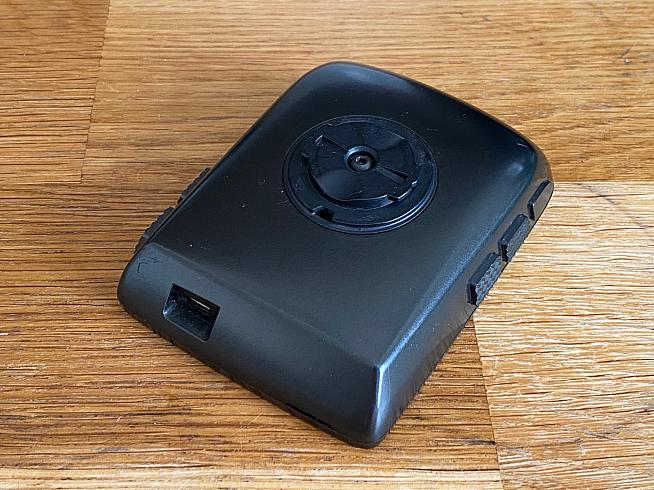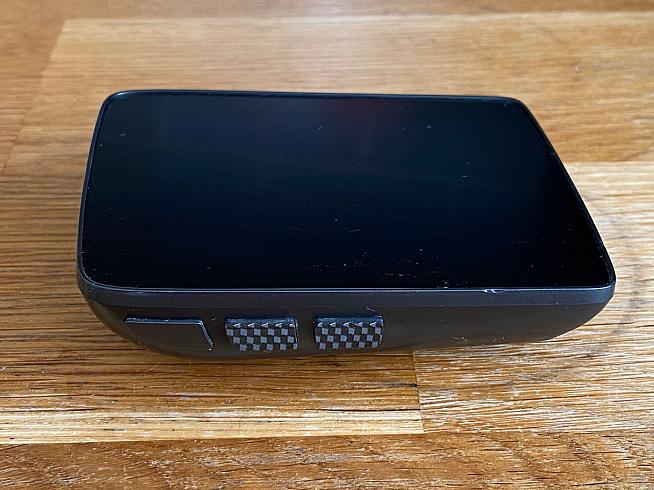 The Karoo has five physical buttons, three on the left side and two on the right. These are in proportion to the scale of the unit; in other words, big chunky buttons. Apart from the on/off button on the top left, the other four buttons have a textured surface. This together with the size of the buttons makes it easy to use, even while wearing full fingered gloves. Certainly if you've found yourself struggling with the fiddly, smaller buttons on other computers, this is unlikely to be an issue with the Karoo.
Build quality feels solid. Unusually, the USB charging port is open - albeit tucked into a recess on the rider-facing edge of the unit. The Karoo has an IP67 rating so should be suitably dust and water resistant for cycling.
Start-up time lags a bit behind my Garmin Edge 520; the Karoo takes about 40 seconds to start up vs 20s for the Garmin. You're treated to a jazzy animation while it's getting a fix, and once it's ready navigation between screens, modes and menus is snappy and intuitive.
Clicking the top right button starts a ride.
Once in ride, you can scroll through screens using the left buttons. Top right brings up the menu, bottom right is lap reset. Swiping down from the top of the screen brings up a settings menu from which you can adjust brightness, toggle auto-pause, and see your Wi-Fi, Cellular and sensor connections.
Mounts
The Karoo ships with an out-front mount allowing you to fit the head unit to your handlebars. It's a sturdy fixture, adding another 57g to your cockpit.
The Karoo attaches to the mount using a quarter-turn system similar to Wahoo and Garmin. In fact, while it doesn't quite fit an official Garmin mount, I found it works perfectly well with third-party Garmin mounts from HideMyBell and Canyon.
Connectivity
If you want to pair up your Karoo with other devices like a power meter or heart rate monitor, you'll find it has all the sensors you need.
ANT+, Wi-Fi and bluetooth capability are built in, meaning you can pair it to a wide range of devices and accessories.
I paired the Karoo with my Favero Assioma power meter pedals using ANT+. Initial set-up was a matter of seconds, and the unit picks up the pedals straight away when you turn it on to begin a ride.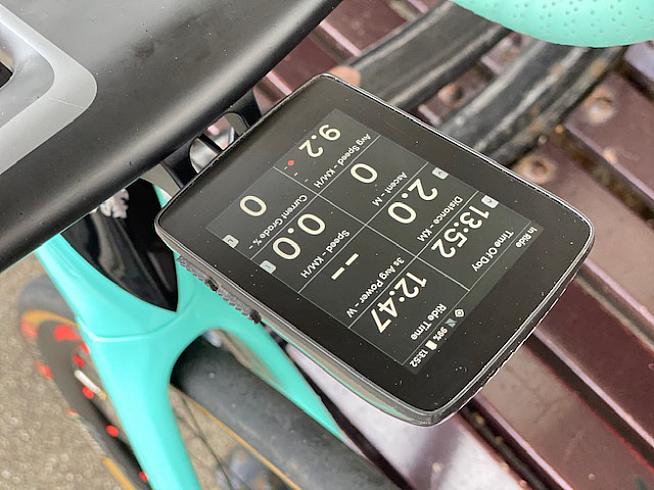 If you use a heart rate monitor or Garmin's Varia Radar, you can pair these in the same way.
If you're running an electronic groupset - Shimano Di2, Campagnolo EPS or SRAM eTap - you can also pair these with your Karoo and view what gear you're in. Shimano Di2 even lets you control the Karoo from the shifters, e.g. swiping between screens, zooming in/out, accessing the menu and more.
The Wi-Fi connection means you can update your unit without needing to plug it into a computer. Adding routes is managed through the Hammerhead Dashboard. Create your account online at hammerhead.io to access the Dashboard, where you'll find the option to add routes.
Adding routes
If you want to add a route to the Karoo, so that it can give you turn-by-turn directions on a ride, that's simple to do.
You can import routes (also known as activities or trips depending on your preferred source) from a wide range of popular websites and apps. These include Strava, Ride with GPS, Komoot, Gpsies, Openrunner and more. You can also import a Strava activity (e.g. a previous ride, or someone else's ride) although you'll first need to convert it into a route.
Adding routes can be done via the Hammerhead Dashboard. Click on "New Route" at the top right-hand corner, then "Import", and either upload the file or paste in the url of your route.
Navigation
In use, that big screen is a pleasure to use. Text is crisp and easily legible. But perhaps most impressive is the mapping when you're using the Karoo for navigation. The full colour maps show your route in great detail.
For my test ride, I loaded the Karoo with the GPX route for the Puncheur, a local sportive that starts a few miles from Brighton and finishes with a climb of Ditchling Beacon.
I've ridden it a few times in past years so am fairly familiar with the route, but there are a few junctions where I'd still hesitate. In the interests of science I loaded the same route into the Komoot app on my phone, and onto my Garmin Edge 520 which I mounted alongside the Karoo on my handlebars.
Even three navigation aids is no guarantee for someone with my fuzzy sense of direction - but which device would prevail?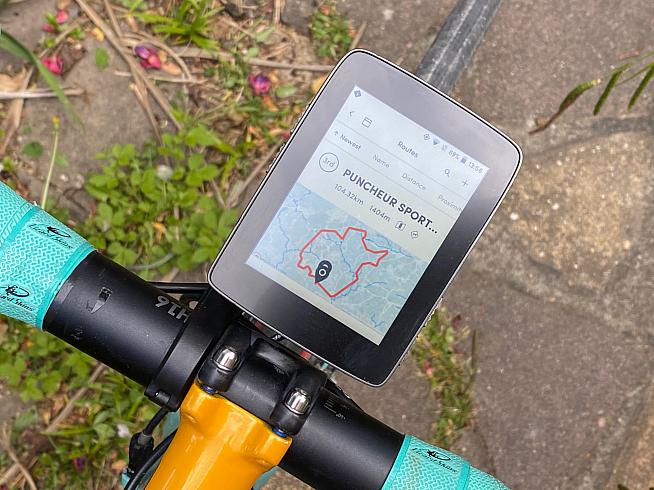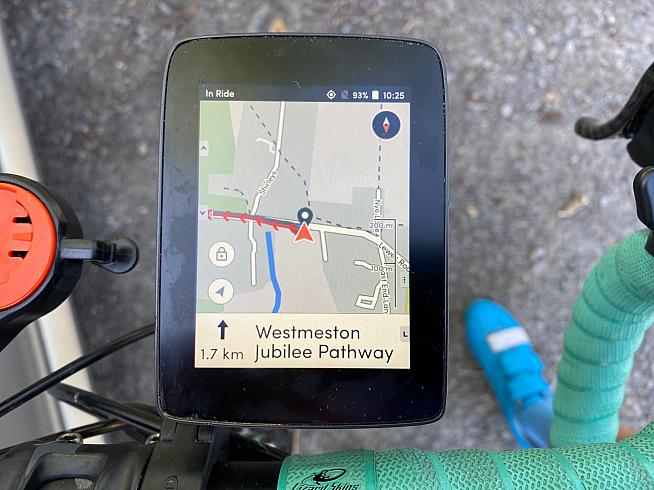 I'm a big fan of Komoot, but after a few miles I realised its semi-audible cues from my back pocket were superfluous here and turned it off: Karoo and Garmin had this covered.
They're both highly capable cycling computers, but the winner on this occasion is the Hammerhead Karoo. Not only was the larger, more detailed map easier to navigate by, it didn't miss a beat when it came to indicating junctions and turns.
The Edge 520, on the other hand, was thrown off once or twice and erroneously warned me I'd strayed off route - in one case even tried to direct me slightly off course. If I'd been relying solely on the Garmin here I'd have lost a minute or two double-checking against my phone, but a quick glance at the Karoo and all was clear.
Incidentally, if you prefer audio cues for navigation, you can pair Bluetooth headphones with the Karoo and it'll give you tone and voice cues for your route. If you're using Varia Radar, you'll also be alerted when vehicles are approaching.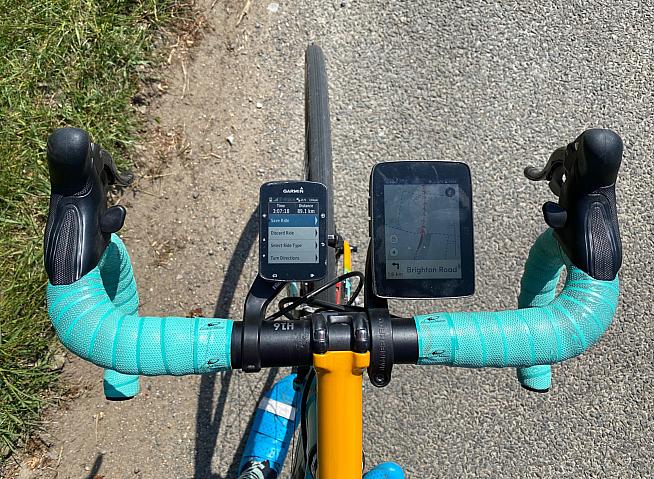 Downloading maps
The Karoo allows you to download maps for almost any country in the world for offline navigation. The unit has about 10GB of onboard storage allocated for maps. This should see you through most tours, but you could add and delete as you go along if you're globe-trotting (for reference, the map for Great Britain is 2.7GB). If you're riding in the US, you can download individual maps for each state (California is the biggest file at 1.5GB).
The Karoo also has a SIM slot, so you could in theory buy a SIM and use mobile data for navigation wherever you can get a signal.
It's worth mentioning at this point that Eoghan borrowed the Karoo for the Atlas Mountain Race in Morocco earlier this year. Unfortunately, although he had downloaded the map for Morocco, he found the unit didn't pick up a GPS signal so he wasn't able to use it for navigation.
Whether this was a glitch with the Karoo, a settings issue or even perhaps operator error under the stress of race conditions is unclear.
Hammerhead say the Karoo is capable of using both GPS and GLONASS systems, as well as determining your location using cellular-triangulation (A-GPS). With something like 55 satellites at its disposal, the Karoo should be able to pick up your location wherever you are.
Reassuringly, in my experience testing this same unit back in the UK it has picked up GPS instantly every time.
Syncing to Strava etc
As you'd expect, uploading and sharing your rides from the Karoo is simple. Wi-Fi connectivity means you can do it as soon as you get home - no need to pair with your phone, just use the on screen menu and your ride is instantly in Strava, TrainingPeaks, or your preferred training app.
You can also choose to upload rides automatically.
Conclusion
I've been really impressed with the Hammerhead Karoo. It's packed with all the features you could want, the screen quality is exceptionally good, navigation and maps is flawless, and despite the rich feature set it's easy to get the hang of.
There's also a wealth of information online, and here you can really reap the benefit of previous users' experience. The Karoo has been out for a couple of years now, so any niggles have been ironed out through Hammerhead's policy of continual software updates. Any questions you might have are answered in the website's detailed FAQs section.
The large screen size has grown on me too, to the point where my Edge 520 now looks puny in comparison. It's a bit like moving from a trusty Nokia 8210 to an iPhone; you think you don't need all that screen, but once you've adjusted it's hard to go back.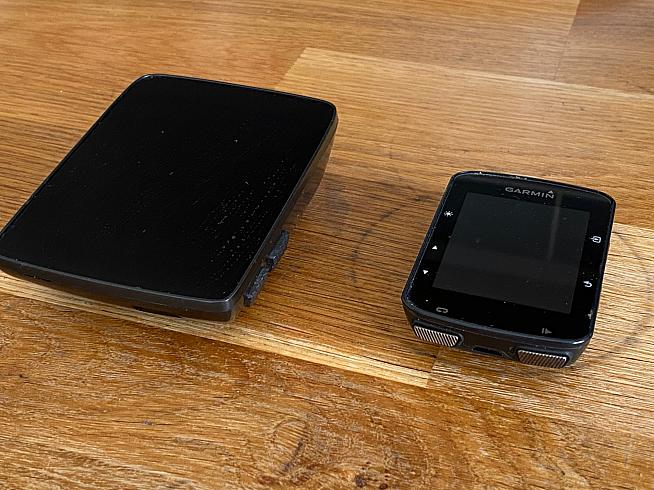 At £329 the Karoo is not cheap, but I think it offers value compared to the competition. It's about £300 less expensive than comparable units from Garmin, and similarly priced to the smaller Wahoo Roam.
I'd have no hesitation in recommending the Hammerhead Karoo. If you're looking for a premium cycling computer, it's all you could want.
That said, unless you can find a decent discount, we would recommend holding off on buying one just now. That's because Hammerhead have just announced the launch of an updated model, the Karoo 2.
Details are still thin on the ground; all we have is a teaser image which appears to show a similar sized head unit but with a more rounded shape. The Karoo 2 is set for launch in 2020, so keep an eye out for further news.
If Hammerhead have managed to trim down the weight while retaining the screen size and functionality, we'd say the Karoo 2 will be a serious title contender in the premier league of cycling computers.
As it is, the original Hammerhead Karoo is still a very strong proposition. Highly recommended.
Hammerhead Karoo, £329 from hammerhead.io
0 Comments