The Rockrider ST520 Hydration Pack from Decathlon is a comfortable and functional backpack that keeps you hydrated and provides storage space while cycling.
The pack features a 2-litre water bladder and an additional 6 litres of storage. There's plenty of space for fuel, tools and layers. It's ideal for long rides or rides across temperamental conditions where layers are essential.
I put the hydration pack (and myself) under extreme test conditions on the Atlas Mountain Race. The Rockrider Hydration Pack certainly saved me more than once.
About
The Rockrider ST520 Hydration Pack from Decathlon is an 8-litre multi-purpose pack (2-litre water bladder and 6-litres of storage).
The pack comes in at a very attractive price-point - £24.99. Given it's an 8-litre pack that it also comes with a water bladder, this is great value. A quick Google suggests that prices for similar packs can soar over £50.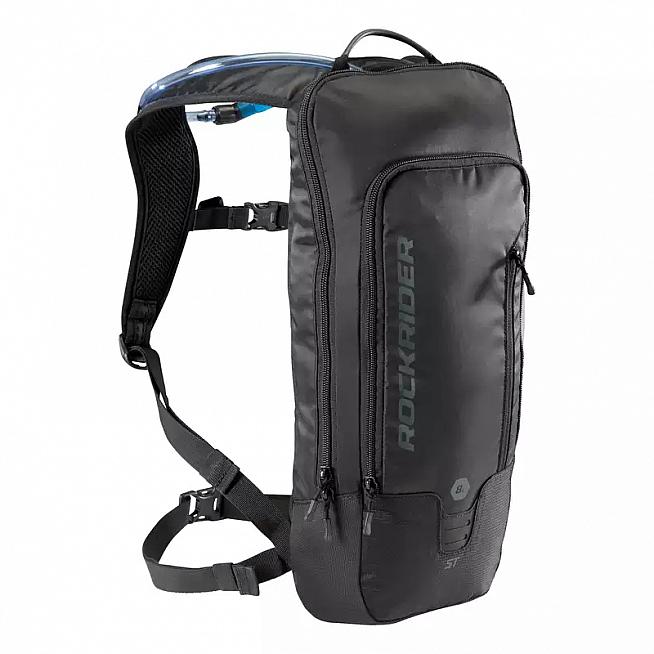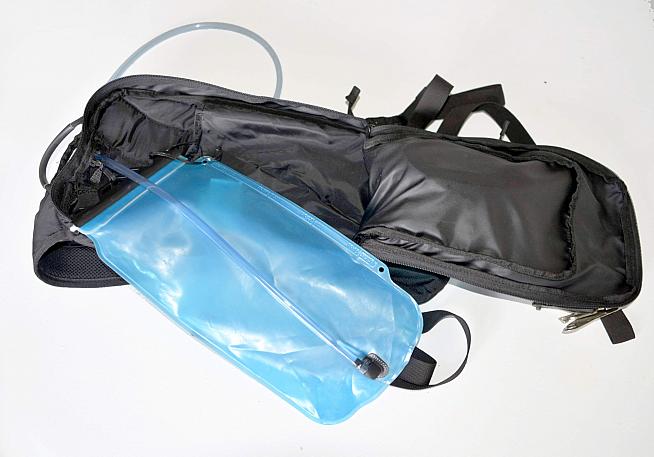 The Rockrider pack features two compartments. The bigger pocket is where the water bladder is stored and has room for additional pieces. The second compartment has four small inner sections. There is also an outer pocket.
The pack has multiple, adjustable straps at the shoulder, chest and waist designed for greater load distribution. Perforated foam padding on the pack's back and straps enhance comfort and ventilation.
Decathlon go to the trouble of outlining what are and aren't appropriate liquids to put into the water bladder - worth reiterating here. They don't recommend putting fizzy drinks, milk or alcohol into the bladder.
Care instructions seem simple and straightforward. To clean, use soapy, warm water, rinse thoroughly and leave to air dry. If all instructions are followed, the pack comes with a 2-year guarantee from Decathlon.
The desert test
The Atlas Mountain Race is a 1,000km race through deserts in Morocco where temperatures would hover at around 30 degrees through the afternoon. There were a few cases where resupply points were 100km apart. Staying hydrated and fueled was a very real challenge to overcome.
A friend also borrowed the pack for a few hour-long pootles spins herself. She relayed some feedback on the pack, which was great to understand the ease of dialing in fit and comfort for different people wearing the pack.
Review
Reviewing the Rockrider Hydration Pack is a simple and straightforward one to write. The pack has two functions - house a water bladder for water and additional storage for foods, tools or extra clothes.
The pack hits both targets without a problem.
Additional considerations include the pack's comfort while wearing, storage, drinking from the pack and maintenance.
Normally, I don't like to wear kit on my back while riding. I don't find it very comfortable. But, needs must - the AMR is no club ride or sportive - and I found the Rockrider pack comfortable to wear.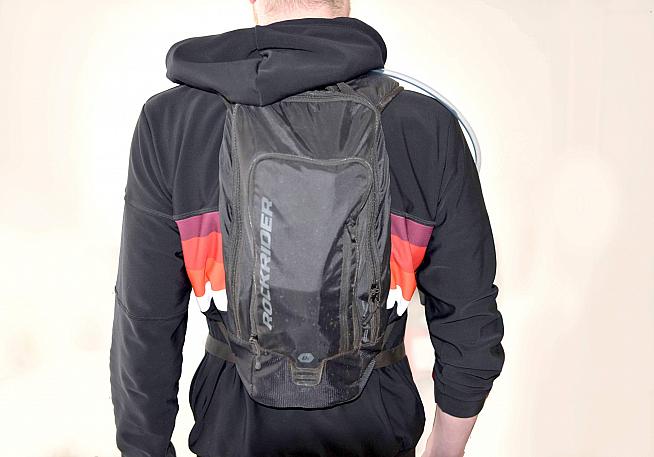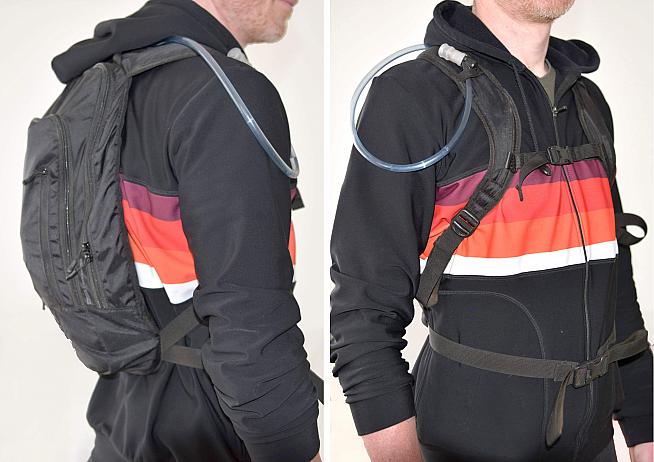 The adjustable shoulder straps makes quick work of dialling in a good fit, so the pack doesn't sit too high or low on the back. I also like its narrowness when sitting on the back. My experience has been riding with rucksacks, which covers the back shoulder-to-shoulder. The Rockrider pack is certainly a lot slimmer, equalling less sweatiness. Also, the perforated padding along the back increases ventilation, helping with comfort.
The chest and waist straps take away some of the load-bearing strain on the shoulders. This is a definite bonus when the weight starts increasing or across long, long rides when shoulders are going to become tired and sore.
Changing strap length and dialling in comfort was simple. I managed to get it within a few adjustments. While in Morocco, my friend also got out for a few pootles and took the pack with her so she could stay hydrated. Again, a few adjustments to the shoulders, chest and waist straps and she was ready to go. This is a definite bonus as it's easy to share the pack.
Neither of us had issue with the pack's wearability, where it sat on our backs, feeling uncomfortable, rubbing or any other irritations.
Storage
Storage/pocket access and layout in the pack is well thought-out.
The main compartment not only fits the 2-litre bladder, but there's room for other bits - including layers of clothing. The four smaller pockets in the second compartment, similarly, are incredibly useful for dividing up whatever's needed for a ride - food, a phone/battery pack and tools. The smaller compartments keep items separate preventing damage.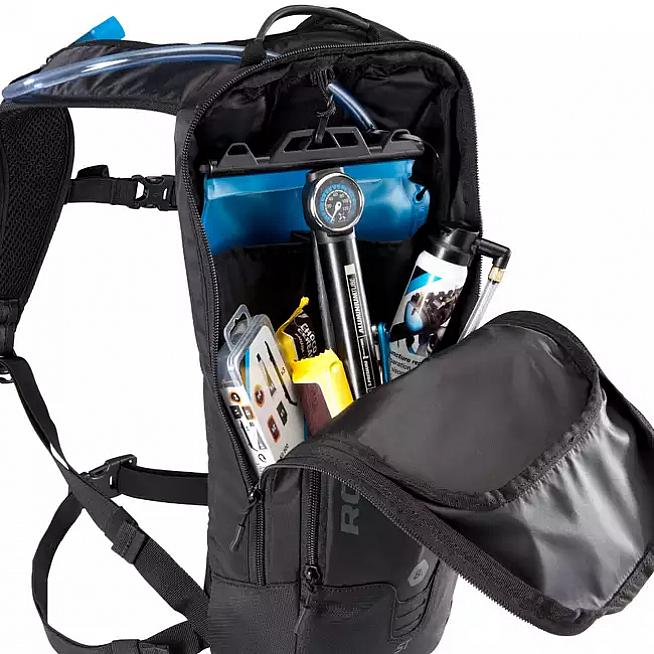 Adding to the pack's versatility, the water bladder can be taken out, creating more storage. If you're going for a winter's ride and have bottle cages in place, you can use the Rockrider pack to bring changes of clothes and extra layers.
While riding the Atlas Mountain Race I turned the pack into my pantry. It easily fit a 2-litre water bladder, another 1.5 litre water bottle, two tins of fish, five cheese triangles, three chocolate bars, a (huge) nut bar, candied nuts, two packs of biscuits and my passport and cash. It was a haul to cart about, but the pack fit it all admirably.
I used the compartments to keep cash and passport out of sight when in shops and loading up with food.
Drinking from the water bladder
Straight out of the box, there wasn't a plastic taste from the bladder or straw. Using the straw and getting liquid into the mouth was easy.
I ran the straw out of the pack's top, wrapped it over my shoulder and tucked it into the strap when I didn't want to drink. The straw would cinch when trying to drink in this position. But, releasing it from the strap to drink wasn't an issue.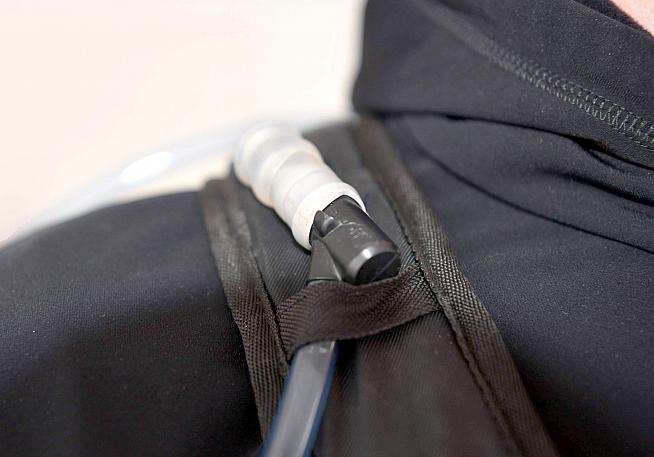 I was surprised at how cool the water stayed. Sweating with the pack on my back through unrelentless desert conditions and the sun beating down on the black bag, the water still didn't get too warm.
In an all too familiar pattern of behaviour, when the race was done, kit was shoved into a deep, dark hole to be sorted and cleaned at some far-in-the-future indefinite date... This deep, dark hole happened to be the back seat of a rental car in Morocco. When rooting around in the back one day, I realised there was still water in the pack. Rather than waste the water, I drank it. It was still fresh and cool. A definite point to note as cars roast in the sunshine - as does everything inside!
Maintenance
Cleaning the pack is simple as. I just followed the instructions - wash in soapy, warm water, rinse thoroughly and left it to air dry.
If you use it for anything other than water - for example an energy drink - then you'll want to clean it thoroughly immediately after use to prevent bacteria or mould developing. Milton's or a similar sterilising solution - the type used to clean babies' bottles - should do the trick.
In between uses, the pack is a small little unit so it's very easy to pack away into storage until your next ride.
Conclusion
There's a lot of great qualities going for the Rockrider ST520 Hydration Pack - from price, to versatility to design to usefulness.
The Rockrider ST520 Hydration Pack from Decathlon is the perfect companion for challenging days - long days in the saddle or when the weather's not being fun and layers are required.
Rockrider ST520 Hydration Pack 6L - £24.99 from decathlon.co.uk
0 Comments