Let's step back for a second from the debate on whether you need a dedicated bike to ride gravel (I mean, would a 'cross bike not do?), and open a fresh front: gravel kit, yes or no?
With the gravel bandwagon rolling faster and with less resistance than a 28C tubeless tyre, it was inevitable that brands would hop aboard with some specialised kit. You know, the sort of thing you couldn't possibly wear on tarmac or a muddy cyclocross course, but is perfectly tuned for your gravel adventure....
Cynicism aside, Stolen Goat's take on the gravel concept makes plenty of sense on paper. Their gravel shorts and jersey are more relaxed than your typical lycra roadie gear, but tailored to offer a reasonably close fit on the bike.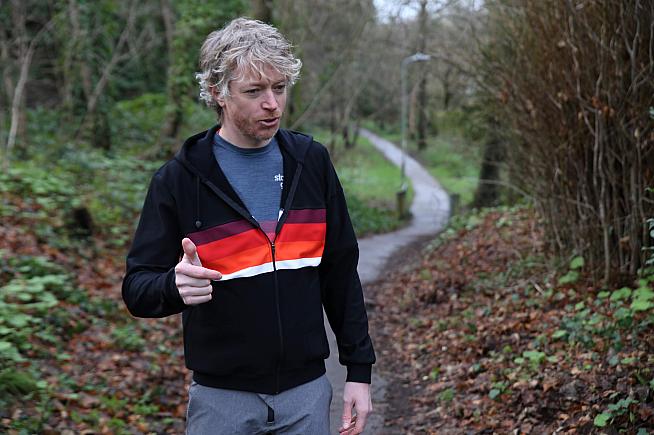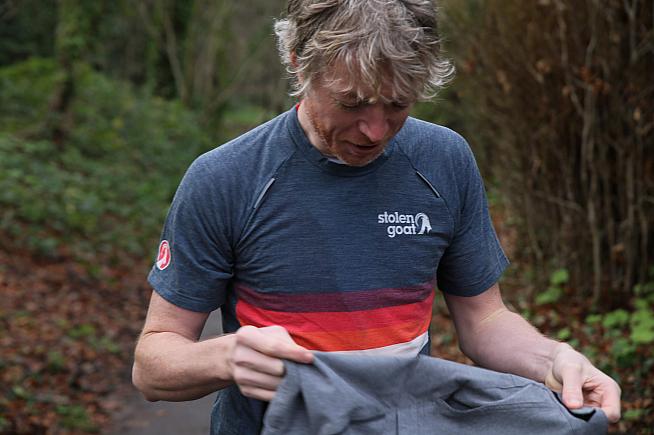 Sceptics of a certain vintage may be thinking, "it's just MTB kit that's been around since the 1980s", but to be fair to Stolen Goat it's not quite that.
Yes, they've dropped the pockets from the back of the Gravel Jersey, with the result that it's essentially a T-shirt - albeit a stylish, "technical" one that will wick away your gravel sweat.
But the material is a cut above your standard polyester fare, with Stolen Goat employing a Shetland merino blend. The result is a luxuriously soft feel; it's genuinely much more pleasant to wear than the usual race-cut cycling jersey.
Two reflective tabs on the shoulders front and rear boost visibility, and the back of the shirt features a dropped hem to keep you covered in the ride position.
As for the missing pockets, don't worry: they've simply been relocated to the legs of Stolen Goat's gravel shorts instead. I'm not convinced this is a great place to carry stuff while riding a bike, but on the plus side, the casual style means you can pass for normal in the pub/cafe rather than attracting death stares as you teeter around in your road-issue shrinkwrap.
There's also a zip on the thigh pockets, so maybe you won't lose your house keys right away (although you'll wish you had when they dig into your leg with every pedal stroke). More importantly, the shorts feature standard side and rear pockets, and it's easy to achieve a secure fit thanks to popper buttons and adjustable velcro fasteners at each side of the waist.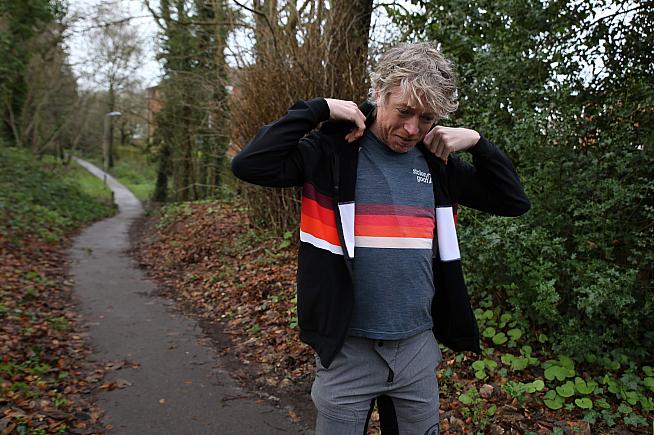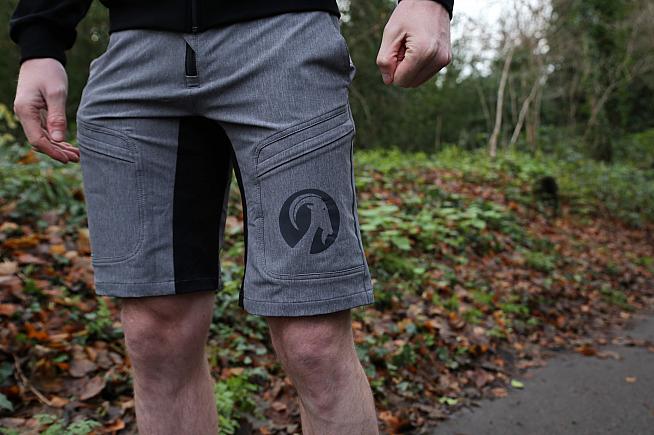 I'll have to admit that I haven't tested the kit much on actual gravel - there just isn't that much of it around, even on so-called gravel sportives. But I've worn it while rambling around on my cyclocross - sorry, gravel - bike, and been impressed with the materials, feel and style of the kit.
Put it down to my "winter padding", but I found it a relief to have a bit of breathing space in a cycling jersey. Likewise the relaxed cut and generous stretch of the shorts lends itself well to low-intensity exploring on two wheels. The shorts aren't padded though, so you'll probably want to slip on a pair of bibs underneath for anything more than a few miles.
For the first time in years my kit even attracted a compliment from my relentlessly truth-speaking other half - make of that what you will.
Eoghan, who's modelling the range in the photos you see here, is also a convert and will be putting the gear to a much more rigorous test in the upcoming Atlas Mountain Race.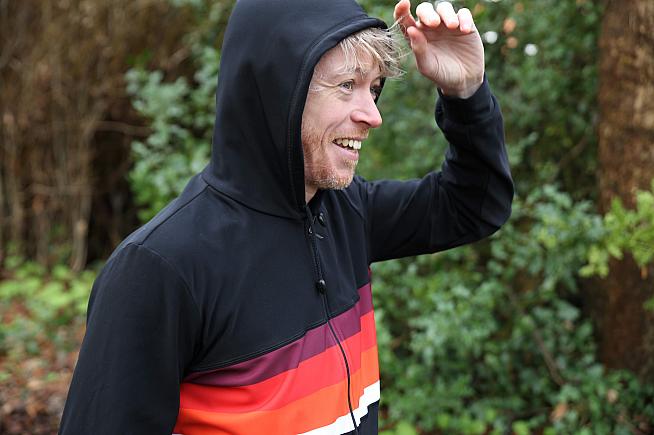 Eoghan's hoody, by the way, is also part of the leisure range and features a water-resistant outer with a soft inside lining for warmth. The Gravel Jersey is unisex, while the shorts and hoody are available in men's and women's versions.
Bottom line, you don't even have to be sold on the gravel concept. If you're looking for some well-designed gear that you can wear on and off the bike, Stolen Goat have delivered the goods here.
Stolen Goat Gravel Jersey - £65
Stolen Goat Gravel Shorts - £65
Stolen Goat Orkaan Water Resistant Hoody - £100
All Photos Peter Levenspiel

0 Comments