Are my ears a funny shape or something? I've been trying out the Lypertek Tevi true wireless earphones, and am starting to suspect (after years of believing it was just my nose that was weird) that my ears, too, deviate dangerously from accepted norms.
But first, the headphones themselves. For cyclists looking to listen to music on the move, Tevi ticks all the boxes: no-fuss wireless connectivity, long battery life, good sound, fast charging and IPX7 waterproofing, all for a shade under £100.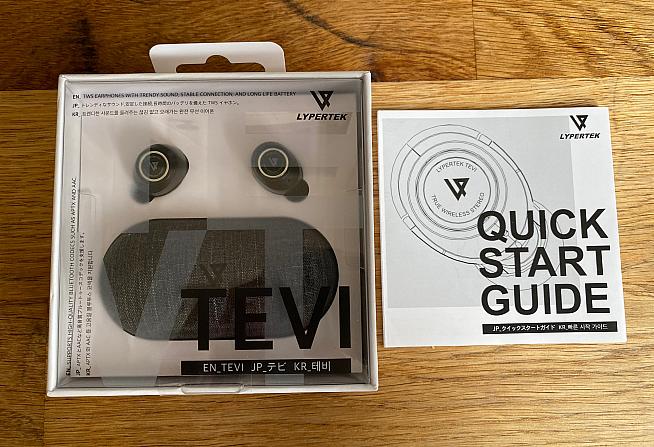 It's my first experience with Lypertek, and they make a strong first impression. The Tevi earphones emerge from sleek, minimalist packaging reminiscent of Apple, all white card origami and concise, neatly illustrated instructions.
The headphones come with a smart protective case that doubles as a charging cradle, topping up the earbuds when not in use. The case is small enough to slip into a jersey pocket, and feels easily robust enough to protect the headphones though the occasional tumble. The buds snap into place magnetically and four LEDs on the case indicate how much charge is left.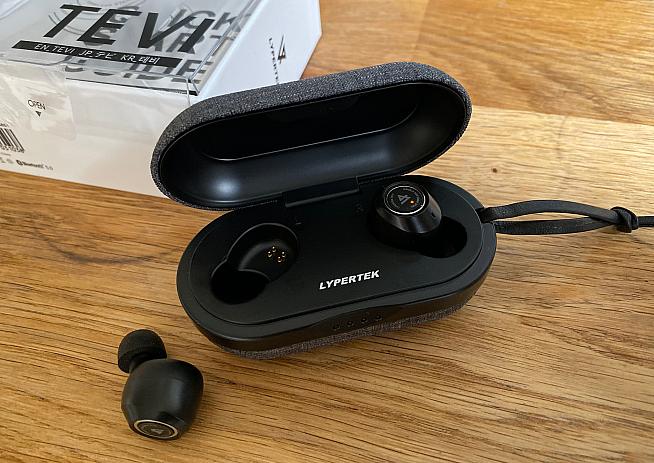 Setup is a matter of moments: just enable Bluetooth on your phone and pair the headphones with the push of a button on the side of each earbud. In use, the same buttons are used to control volume, play/pause, skip tracks and answer calls.
Sound quality is impressive, but I was most impressed by the reliability of the Bluetooth connection: none of the annoying skipping, hiccups or dropped connectivity which I've found with other wireless headphones in the past. The Tevi buds didn't miss a beat.
Listening to music while cycling is a treat, and they also work well for audible directions if you use a navigation app like Komoot. You can have your "Epic sportive" Spotify playlist running at the same time: the music fades while Komoot issues a direction and then smoothly resumes, it's excellent.
The headphones aren't noise-cancelling, but I'd say that's an advantage while cycling - music is clearly audible, but you're not entirely deaf to road traffic around you. They aren't leaky either, so your chain-gang need never know you're kicking out watts to the Frozen soundtrack.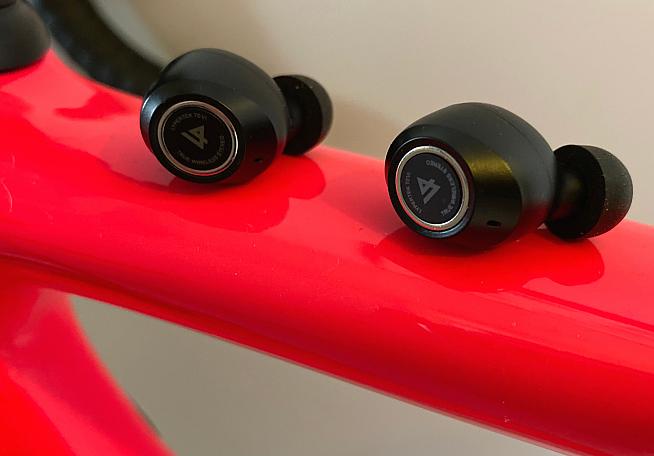 Battery life is another strong point; Lypertek claim 10 hours for the buds, with a further six full charges from the case making 70 hours in total. That's enough for a week-long cycling tour, never mind a sportive. The headphones switch on and pair automatically when you remove them from the case, then switch off and begin recharging when you put them back.
So far so good, but now we come to the issue with my ears: at first, I simply couldn't get the headphones to fit securely. They ship with a choice of three sizes of silicone eartips; I tried all three, but struggled to find a reliable fit. They'd be fine for a while, but every so often one would pop out. This is just about tolerable around the house, but while cycling you don't need the worry of your £99 headphones bouncing off down the road behind you at any moment.
Then I discovered the "Flexfit" foam tips hiding in the package, and hallelujah - a secure fit! Apparently the problem was my freakish lugs rather than the Tevi buds themselves, and thankfully Lypertek have catered for this with the "one-size-fits-all" foam tips.
I'm glad I didn't give up, because in every other respect these headphones are all a cyclist could ask for. Wireless convenience, waterproof, epic battery life, great sound quality, and overall a slick, portable package. If you're looking to groove on the move, the Lypertek Tevi are a sound choice.
Lypertek Tevi true wireless earphones, £99 - www.lypertek.com/tevi.
0 Comments