Stolen Goat is a walk-the-walk cycling brand founded in the UK in 2012. Their focus is to make you look and feel good. So good, you get out on your bike and stay out - hitting your goals and finding freedom.
Stolen Goat was founded in 2012 by Tim Bland, and the brand has grown to include a comprehensive range of cycling kit in designs that are anything but bland!
Tim left his corporate job because he wanted more time for family, fun and adventure. And, he wants the same for the Stolen Goat herd.
Everywhere on the Stolen Goat website are references to this value: encouraging freedom - enabled by the choice of clothes we wear: "Within our chosen sports and pastimes, what we wear plays a crucial role in finding that freedom."
The thinking seems to be, if it's designed well and made from quality materials, you'll be happy to stay in the kit longer and do more.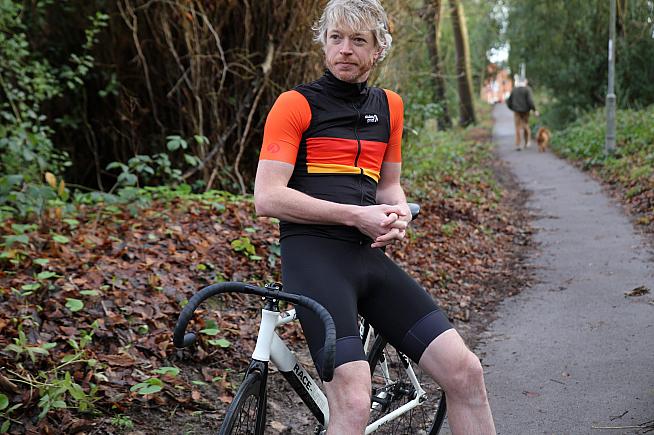 Stolen Goat aren't talking 'freedom' as a marketing line. The company is passionate about cycling, and dedicated to its customers. Take for example their crash repair policy. If you damage your kit coming off, Stolen Goat will either repair it or give you a 50% discount towards new kit.
They also have a kit amnesty partnership with Clothes Doctor. Trade old, unused kit to be recycled through charities and get credit with Stolen Goat for new kit.
All this is detail you could learn from the Stolen Goat website; but what's the kit actually like to wear?
I got out to test out three items from the current range on a few autumnal rides - those rides where it's a bit wet, it's a bit dry, it's a bit blustery and it's a bit cold. Also known as, the rides you want to make sure you've got good, reliable kit on.
And as I soon found out, Stolen Goat is the biz!
Let's start with a quick overview of the three items, the Mesh base layer, Core jersey, and Bodyline Klank gilet.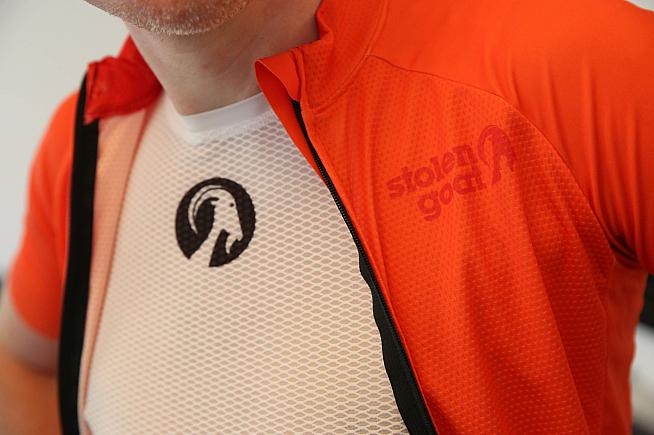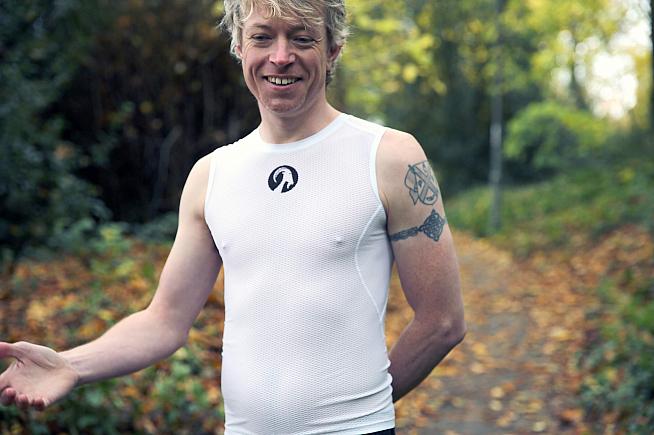 The base layer is composed of AirMesh, a lightweight and breathable material. Its usability comes from its four-way stretch construction and taped neck and armholes.
The garment's design hugs close to the body and stays comfortable no matter your shape or ride position across a spin. The AirMesh is a fast-drying material that wicks moisture away from the body.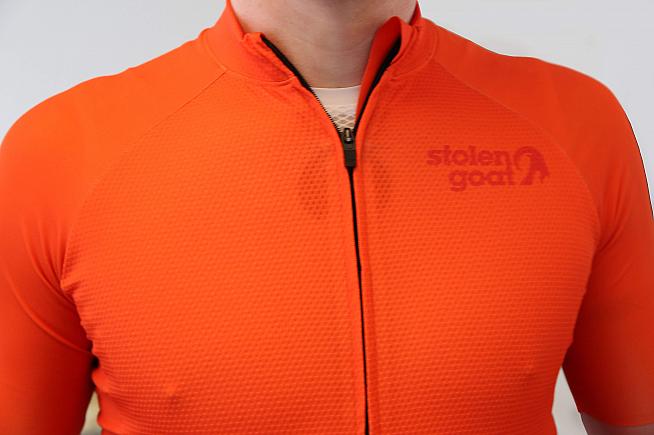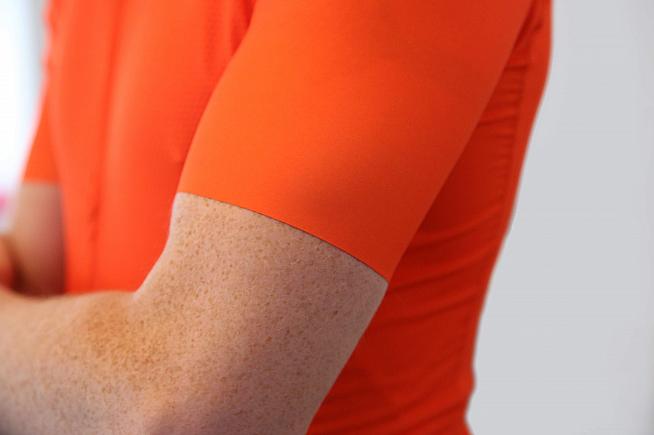 The Core line is based on Stolen Goat's Bodyline Jersey. Designed just-so with a single colour block design, this jersey is perfect for riders wanting a subtle, low-key cycling jersey. Again, Stolen Goat have incorporated four-way stretch supporting and hugging the body.
The jersey takes modern design cues with longer, aero sleeves that sit flush on the bicep. To the rear you'll find four pockets - the three traditional, reinforced vertical pockets for essentials, and one zipped, water-resistant pocket perfect for keeping a phone dry. All zips use dependable and reliable YKK zippers.
The material provides UV protection and are available in a range of colours - black, blue, red, and the flaming autumn-leaf orange version I tested.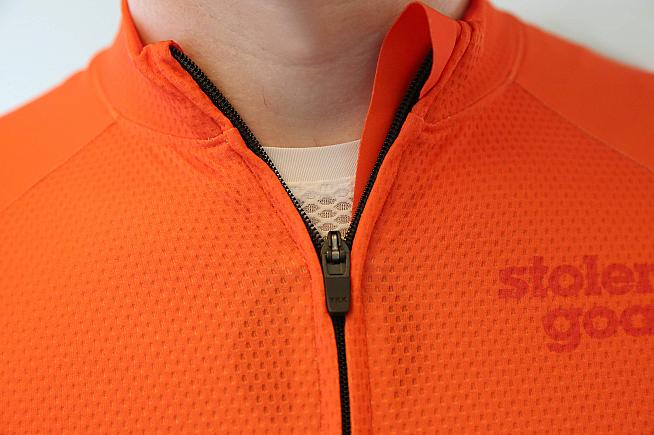 The very smart bodyline Klank gilet has a slim fitting design, eliminating flapping in the wind and drag. It features a windproof front, breathable mesh panels and high neck making it the perfect companion for those chilly, damp rides common across the spring or autumn. Its super light-weight design means you can throw it on in the morning and forget you're wearing it.
The pocket area in the back has one central pocket with two further openings allowing direct access to jersey pockets underneath. Store the essentials - energy bars and gels - in the gilet pocket and fish out sundries from the underlying jersey when needed.
The gilet also folds down into its own middle pocket, making it easy to pack away in your jersey if you want to take it off.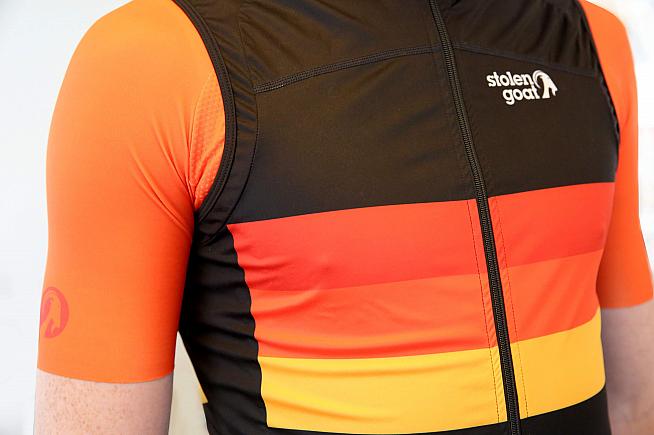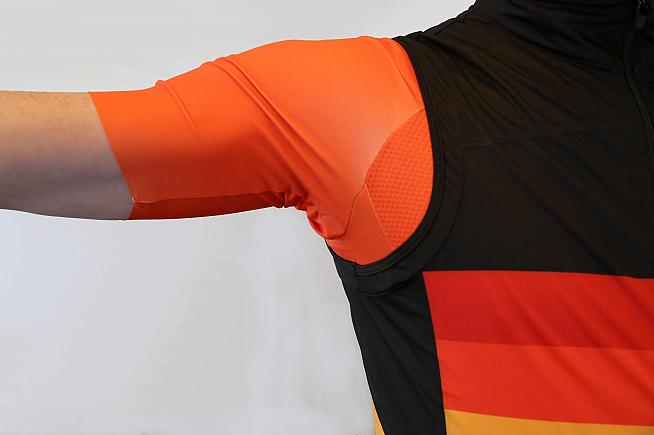 The test
I've been wearing the Stolen Goat kit on recent rides in autumnal conditions.
One test spin involved an early-morning, 7:30am dash out the door. Although it was supposed to pick up and turn into a lovely day, late October just after dawn is going to be cold.
But all it took was cycling maybe 200 metres down the road for me to notice the Stolen Goat effect. The gilet worked wonders deflecting the wind, keeping it from my core. By the time I covered a few miles, my exposed arms and legs were freezing, but beneath three layers of Stolen Goat kit my core was a very comfortable temperature.
This thermal sweet spot was to prove a consistent feature across my rides in Stolen Goat. The kit is really comfortable to wear, on and off the bike.
Despite having a base-layer, a jersey and the gilet on, the kit didn't bunch or feel uncomfortable where seams sit on top of each other. Sitting up to look around (including behind), down on the drops or, even tucked low for a descent, I was able to concentrate on what I was doing.
The kit is comfortable, allows for full movement and is just out of mind when you're enjoying and in the moment.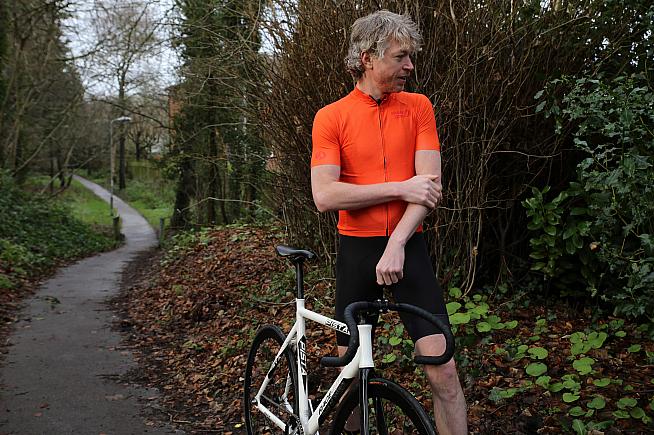 Stolen Goat haven't skimped on the details. The zips, for example, are easy and smooth. Extra design points are awarded for the gilet's larger YKK zip puller. It's easily usable while riding, even when wearing full-finger gloves.
From the quality of materials chosen and the attention to stitching, it's clear to see these garments are intended to last several seasons and keep looking as fresh as the day they were first put on!
The only aspect I didn't find useful are the jersey access flaps on the gilet. Certainly it's a good idea on paper, but I found it difficult to retrieve my phone from my jersey pocket from underneath the gilet, finding it required some skilful/lucky manipulation.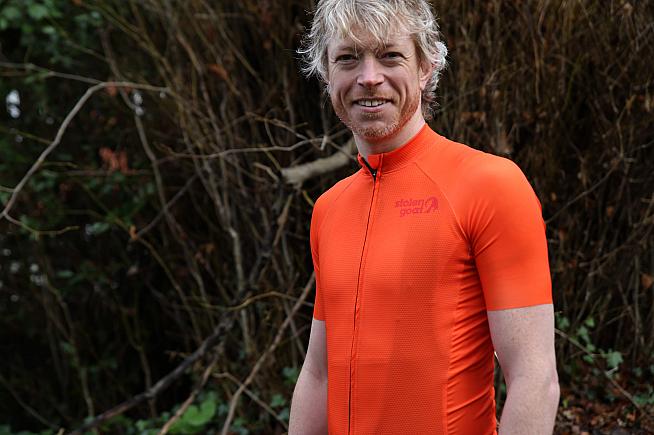 As for the look, I like it - and I'm not a man for loud colours/designs. I'm more of a muted guy - I live around the blacks, whites, greys, blues tones. But I've got to say, I found the orange of the jersey and the orange and yellow colour splashes on the gilet to be rather fetching. It's not loud, it's not showy, but shows some real design pizzazz!
I wasn't the only one to admire Stolen Goat's sleek designs and well thought out colourways - I was virtually molested by friends and clubmates who wanted to touch, poke and pull as they asked questions about the kit.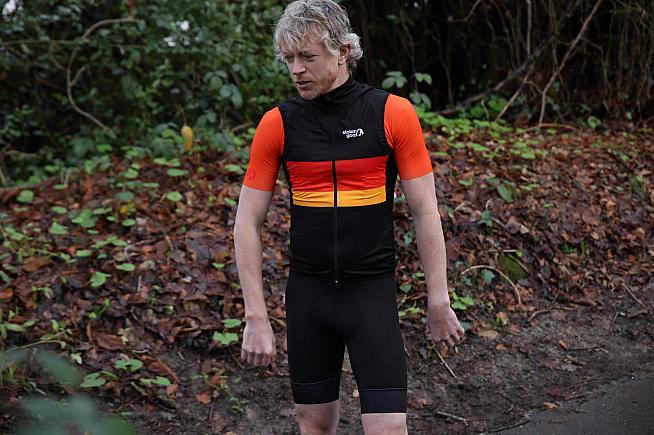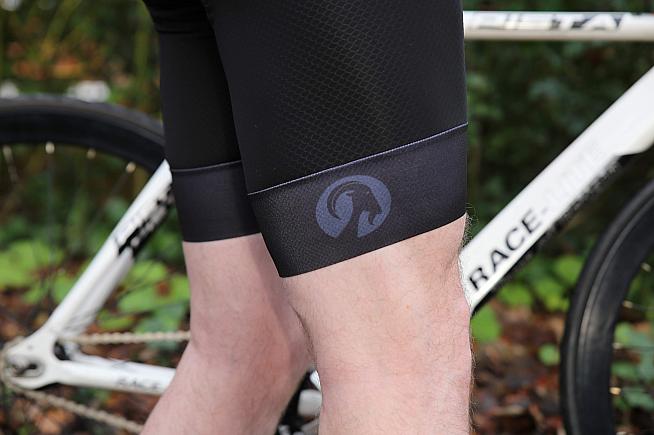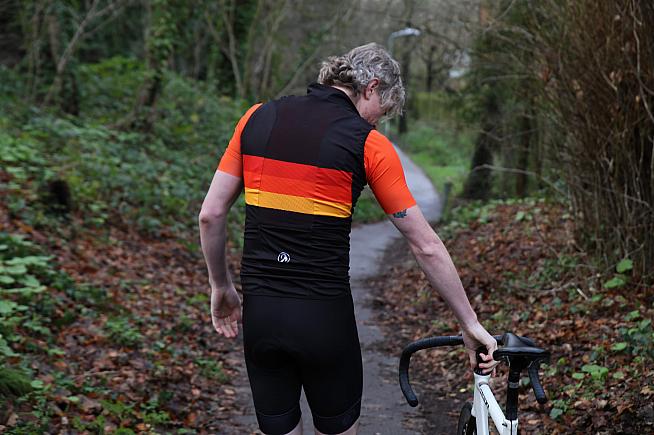 Summary
Stolen Goat is a brand on a mission, and it's got nothing to do with borrowed Bovidae. They're out to provide their cycling herd with motivation and the kit to pursue that motivation through thoughtful, well-designed clothing.
Based on the ensemble I've been testing, that mission statement does translate into high-quality cycling apparel. Across weather types, you'll stay comfortable. When riding, you'll feel smooth cutting through the air. And when ordering that post-ride cake, you'll be confident about how you look.
Core Orange Cycling Jersey - £60
Bodyline Klank Cycling Gilet - £65
0 Comments