Recently, I had a bike stolen.
I am a cycle commuter, and lock my bike up in an off-street bike shelter, where I've gotten to make friends with some of the other regular commuters who also lock their bikes there. There is a bike shelter that's since been built closer to work, but for the camaraderie and apparent safety, I continue to lock my bike in the same place.
So, imagine my surprise one day when I was walking past, looked down and saw the bike was missing. Cue a swirl of confused thoughts. Did I ride my bike that day? Yes, I had helmet in hand. Did I lock the bike in the usual place? Yes, I remember coming into the shelter this morning. Both bike and lock were gone.
And confusion turned to deflation as the realisation sank in. The deflation turned to an unplanned evening registering the bike as stolen with the police, and scouring the internet in case it cropped up for sale. Unfortunately, there are a lot of bad things in the world that take up the police's time, so a bike theft where no one was hurt is a low priority.
Even when the bike did appear for sale online, with my saddle bag and cheap computer still fitted and clearly visible in the photos, the police were unwilling to pursue charges against the individual responsible. I can see why some people resort to vigilantism - I had to talk Oisin down from pulling out the sewing machine to whip together his own crime-fighting outfit.
The negative feelings and wasted time of having your bike nicked are two things Hiplok are trying to help cyclists avoid.
Hiplok was founded in 2011 by two friends who came together, using their background in engineering, to create a better bike locking product. The company's mission statement is 'designing and building innovative, quality security which protects your bike and enhances your ride.'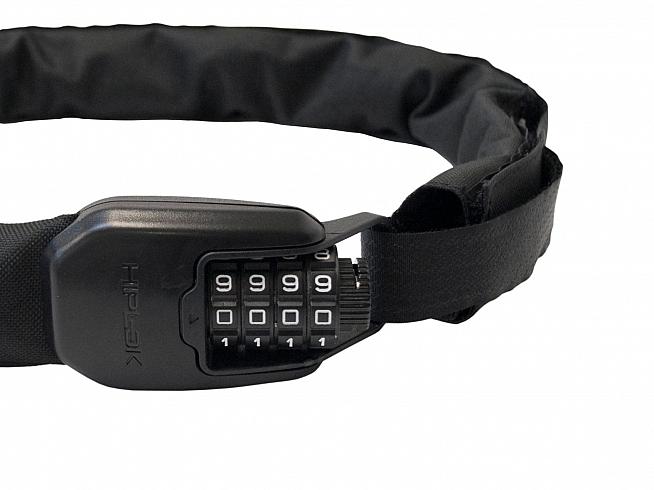 Hiplok take security very seriously. They work closely with experts in the field and independent security accreditation houses around the world to conduct real-world security testing using the very latest equipment.
Off the back of this research and testing they've developed a comprehensive range of locks, one of which is the Hiplok Spin.
Hiplok Spin - a wearable bike lock
There are two standout features of the Hiplok Spin. First, it's wearable. That doesn't mean the lock will count your steps or vibrate when you get an email. But you can sling it around your body and use the patented, adjustable fastener - which I would describe as a Velcro strap - to secure it around your shoulder, or your waist like a belt.
The second feature is that the Spin is keyless. Helmet, lights, cycle computer, pumps, tubes.... we cyclists have enough odds and ends to keep track of as it is, so Hiplok played to their audience and developed a super easy-to-use combination locking mechanism.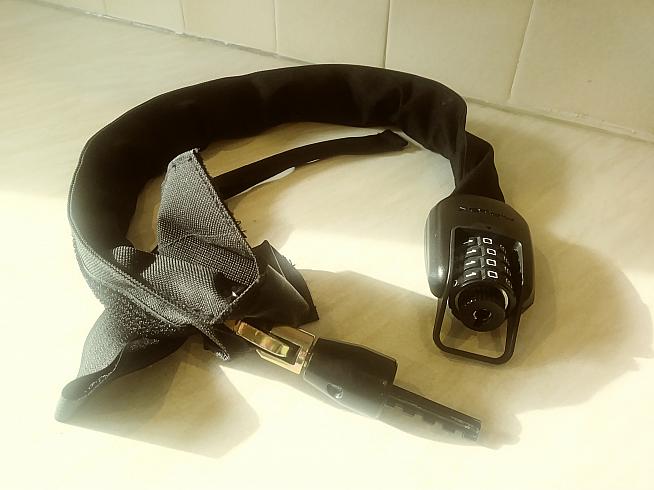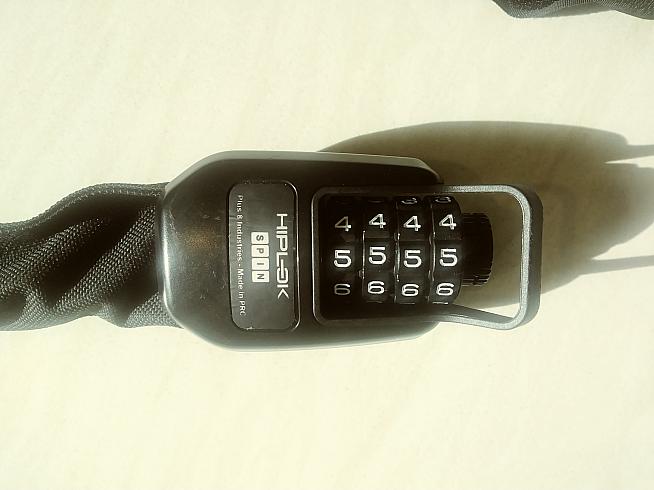 The Hiplok Spin essentially comprises two parts, thechain and the locking mechanism. The chain is made of 6mm hardened steel links and is just under 75cm in length. It has a reassuring heft, and is sheathed in a heavy-duty fabric to make it more comfortable when wearing.
The second part is the combination locking mechanism, protected by an outer case. In total, the lock weighs around 800g.
The Spin is Hiplok's lightest wearable lock and is not Sold Secure certified. More durable, and therefore heavier, options are on offer, including the Hiplok Lite (Sold Secure Bronze, 1kg) and at the top of the tree, the Hiplock Gold (Gold Sold Secure, 2.2kg).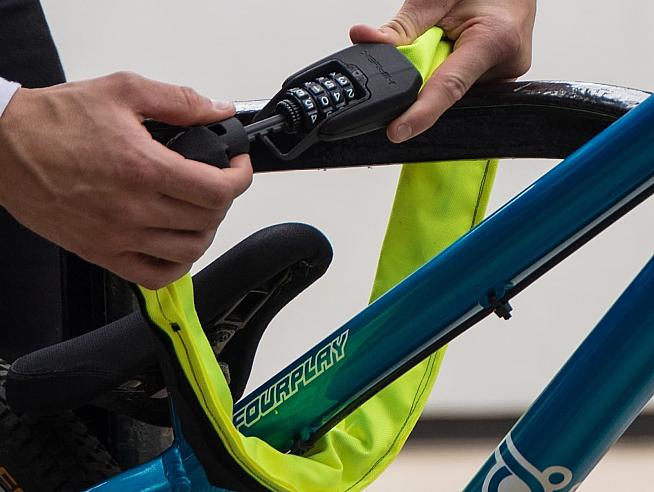 I sold my car years ago and cycle everywhere - to commute to and from work, to run errands, and of course on club rides. The Spin is overkill for sportives or club rides, but I was keen to test it out while running errands around town.
Setting up the combination on the Hiplok Spin was a jiff. A simple matter of picking four memorable digits, setting the lock to those digits and I was in business. I was confident in the lock's robustness to prevent any would-be opportunists from robbing me, again, of another velocipede.
I quite like the wearable aspect of the Hiplok. I don't like wearing a bag and don't have room on my bike for another accessory, so being able to wear the lock is the perfect solution.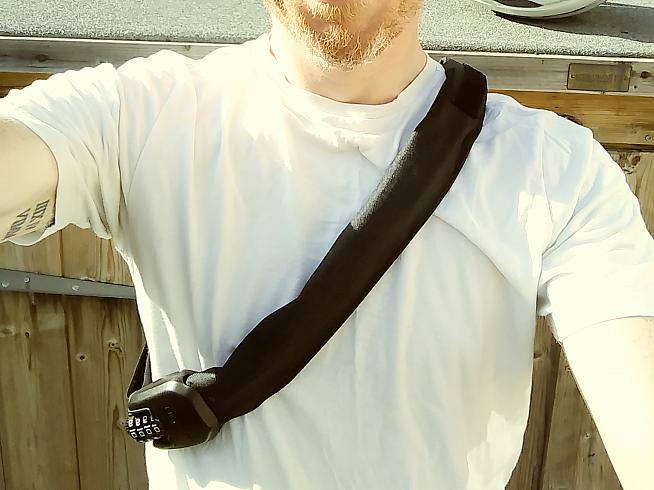 The Velcro fastener is very easy to use when securing the lock. And, despite, the chain's weight, it wasn't uncomfortable to wear. The adjustable Velcro strap let me fasten the lock to me - either slung over my neck, across the chest and under the arm on the opposite side, or around my waist. Neither option caused bouncing or movement while navigating through roads with the usual cracks, potholes and what have you.
The Hiplok Spin is ideal for locking my bike up on short errands, but I would hesitate to use it if leaving the bike alone in public for any significant length of time.
For commuters, my recent experience would suggest that the Hiplok Gold is a better option. No lock is impenetrable to the determined thief, but it may make them look for easier prey.
The added weight needn't be a deterrent either - you could, for example, leave it at your workplace to avoid having to carry it to-and-fro each day.
Conclusion
The Hiplok Spin is a lightweight lock that is well-designed, portable and simple to use. It offers a great balance between security and ease of use. And while the Spin may not be theftproof, cyclists looking for added security will find just what they need higher up the Hiplok range.
Hiplok Spin, £34.99 - www.hiplok.com
0 Comments