A bike computer is one of the first investments many people make after getting "serious" about cycling. Even the most basic computers are a great way of keeping track of your speed, distance and riding time, while mid and high-end models offer real-time route navigation and synchronise seamlessly with your smartphone to keep you connected while you ride.
The Mio Cyclo 405 fits into this latter category: it's GPS equipped, and features a kingsize 4-inch, full-colour touchscreen capable of displaying multiple data feeds at once, or a detailed map with course directions.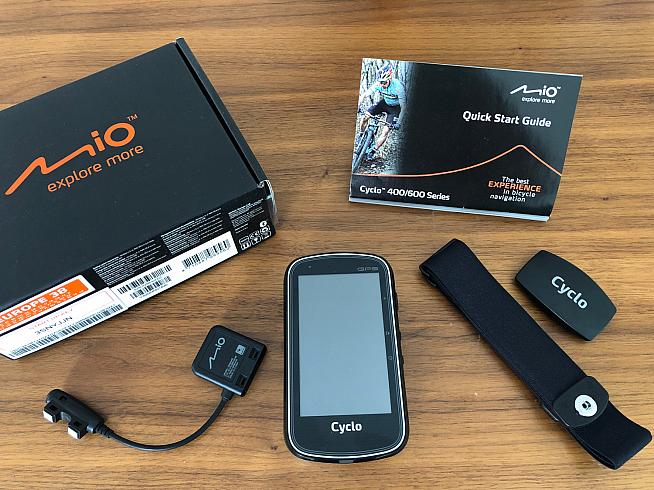 Impressively, the Cyclo 405 comes loaded with full European maps, making it a tempting proposition for tourers and explorers. The robust plastic casing may not be the most svelte, but it comes with an iPX7 rating that means it's waterproof to a depth of one metre for 30 minutes.
As for connectivity, the Cyclo is ANT+ and Bluetooth compatible, so it will pair with accessories like your heart rate monitor, power meter or smartphone.
Mio say their cycling computers offer "the best experience in bicycle navigation" - a message emblazoned on the start-up screen each time you power up the Cyclo 405. It's a bold claim, with market leaders Garmin and challengers Wahoo both recently offering strong updates to their range.
So how does Mio's bike computer stack up against the competition? We've been putting a Cyclo 405 demo unit to the test to find out.
A giant among cycling computers
On paper the Mio 405 looks a strong proposition, and out of the box first impressions are of a big, solidly constructed unit.
In that box you'll find the Cyclo computer, together with cadence and heart rate monitors, a USB charging cable and a handlebar mount. It's a great bundle for the price. The only slight disappointment is that the mount is affixed to the handlebars by zipties, posing problems if you want to switch between different bikes. It seems an afterthought, for an otherwise slickly packaged product.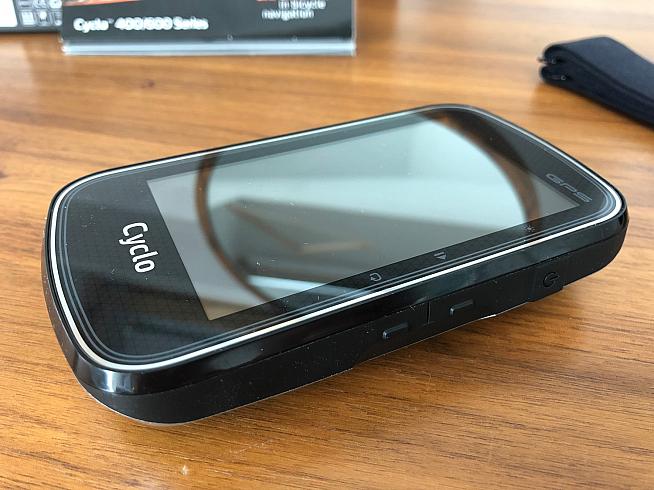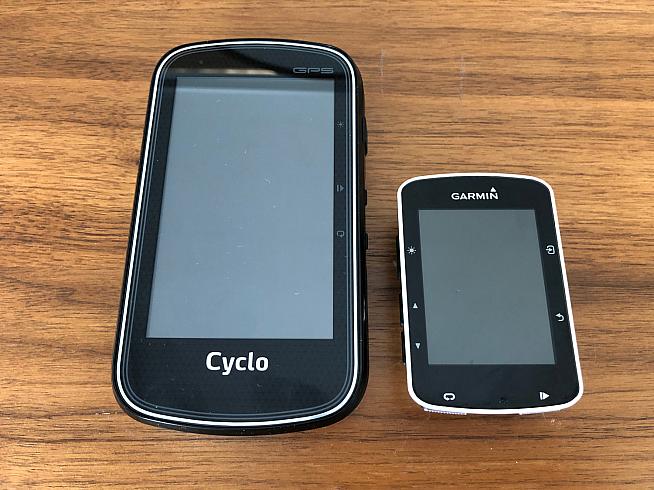 Some vital stats to start: the Cyclo 405 measures 129.4 x 73.7 x 22 mm, and weighs 177g. To put that in a more meaningful context, it's so big that it doesn't fit on my out front mount - the bottom edge of the Cyclo overlaps the handlebars.
Zipties it is then, and with the Cyclo 405 securely installed on my bars it was off for a few test rides.
Operation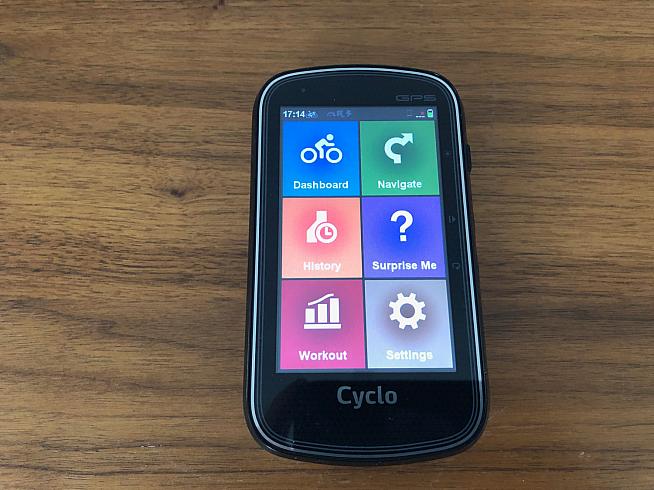 On startup you're presented with a bright and colourful home screen offering six options:
Dashboard: this takes you to the ride data display, as it appears during a ride with your various data fields.


Navigate: Let the Cycle direct you somewhere - you can pick from home or another address, a particular stop or point of interest, or a pre-loaded track.


History: Check out your stats - not just distance ridden, but total ascent, calories, time, average speed and active time. You can view by total, year, month, week or day.


Surprise Me: Tell the Cycle how far or for how long you want to ride, and let it calculate a route for you.


Workout: Looking to burn a set amount of calories/mileage? Workout mode will set you a route based on your set criteria.


Settings: As you might expect, the settings menu is your gateway to a world of fine-tuning the Cyclo to meet your personal needs. Of particular note, here you can define your heart rate and power zones for workouts, pair the device with your sensors and your Android or iOS phone, and set up the Cyclo to play nicely with your Shimano Di2 groupset if you have one.

You can also specify a few parameters for routing here, such as whether the Cyclo will direct you on to major roads, cycle routes, what they call "node networks", cobblestones and ferries.

Changing a couple of the factory default settings instantly made the Cyclo more pleasant to use: namely, turning off the auto screen lock, and disabling the alert tone that makes the device bleep every time you tap the screen.
Field testing
I've been testing the Cyclo for a couple of months now, and it's proven to be a highly capable cycling computer.
The basic functions work perfectly: it tracks distance, speed, elevation etc accurately, and even pairs with my iPhone 8 to display message and Whatsapp notifications.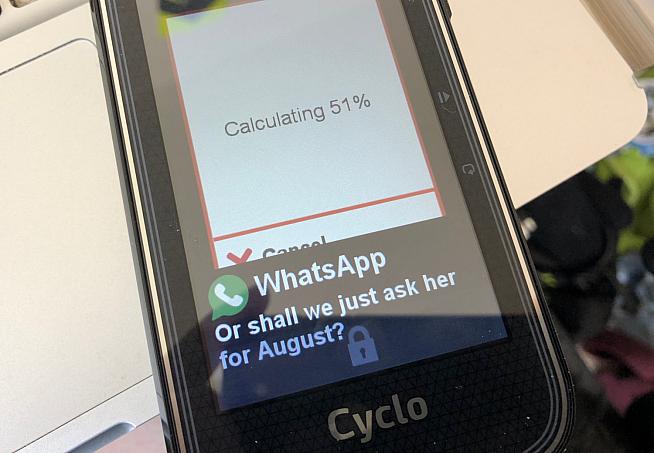 One of the main reasons most buyers will choose the 405 over smaller options is presumably the large screen. And it's a nice one: bright, sharp and responsive to touch commands.
Mio describe the screen as "anti-glare", but I found it tended to reflect light in bright conditions. This isn't a big problem when using the screen to display general metrics like distance, speeds etc, but it definitely affects usability when trying to navigate using the on-screen map.
To give you an idea, here's the Cyclo on a recent sunny ride in the Sussex Downs: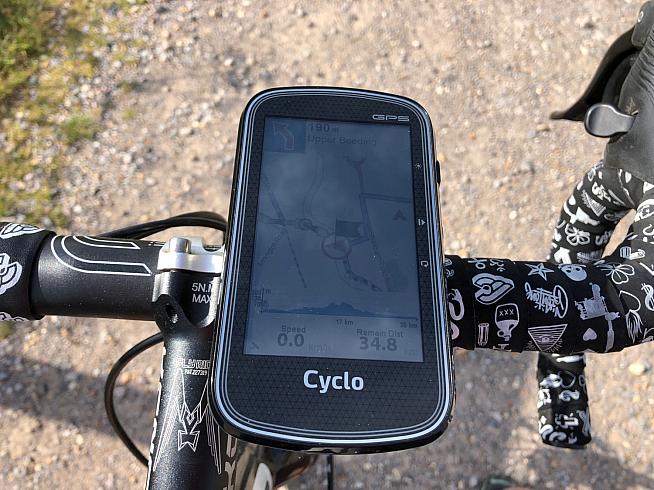 Combine this with the fact that the OpenStreetMaps used by Mio are highly detailed and complex, and it makes navigation quite a challenge at times.
On the plus side, the generous dimensions of the display mean that plenty of text can be displayed at once. When you're cruising along in non-navigation mode this is a real bonus. There's ample real estate for all the data fields you could want - I choose to have eight fields on show - without the need to scroll through screens as you would on a smaller display.
As you'd expect, the data on show can be customised so you can set up the Cyclo to display pretty much any combination of metrics you like.
Navigation
Anyone buying the Cyclo 405 is likely looking for more than basic functionality. When it comes to navigation I found the Cyclo to be useful, with a few caveats.
As mentioned above, the maps it uses are extremely detailed - I would say too detailed, for the majority of road cyclists' needs. The problem is that the excess detail makes it difficult to see at a glance where the actual road is, which is all that really matters if you're approaching a junction.
The ability to display a stripped down version of a map would perhaps be a benefit here. That said, the detail in the map, and the ability to zoom in and out and scroll around, is on the whole an advantage and one of the device's strong points.
And of course, if you're taking the Cyclo on an off-road adventure then the inclusion of unpaved trails and tracks is essential. Similarly, if you're looking to explore an area rather than simply relying on the Cyclo to point you left or right at road turns, the detail in the maps will be a help rather than a hindrance.
The map also has a few idiosyncrasies which, once you're tuned in to them, are quite clever. For example, cycle paths are coloured purple and depicted as larger than main roads (coloured orange), which helps you spot them on the display.
The Navigate function works well, but - like any bike computer or app - you'll need to pay attention and occasionally override it to ensure the best route in any scenario. For example, my regular loop involves crossing a busy dual carriageway but the Cyclo point blank refused to recognise this as an option, instead rerouting me some 15 miles further to a different crossing point.
Luckily, the map is more than detailed enough to allow you to identify issues like this for yourself, and make executive decisions where necessary.
I also had one disconcerting experience where the Cyclo froze with a Windows 95-style error message on the screen. The classic trick - switching it off and on again - sorted the issue. When I got home I discovered a software update waiting, and there have been no repeat issues since which suggests it was a one-off.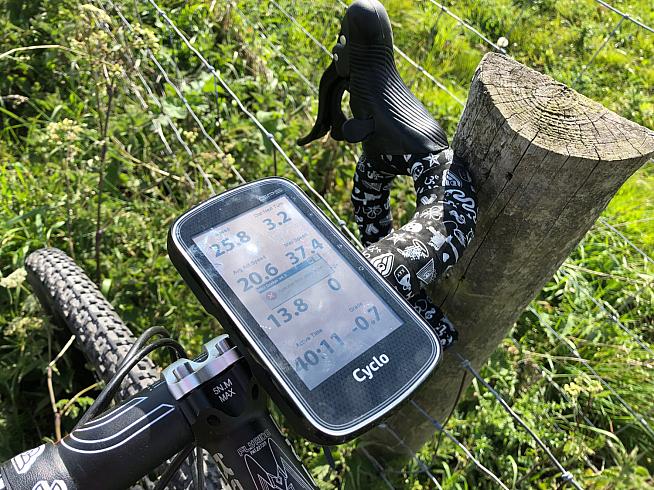 Surprise Me
If the navigation is generally impressive, the "Surprise Me" feature is a little less practical. It's a nice idea, to delegate the job of choosing a pleasant cycling route to your computer, but in practice the Cyclo has room for improvement as a tour guide.
I live on the doorstep of the South Downs with endless miles of lanes and decent climbs like Ditchling Beacon within reach. Plenty to work with there, you'd think. But, ask the Cyclo for a 50km loop, and it directs me 10 miles along the seafront to Brighton for a lap of the train station... and then back again, along the same (very busy) main road.
To be fair, when I enter a 100km ride it does throw up what looks like a more interesting option into the countryside. It may just be a case of playing around with it a bit until you find something that appeals.
Connectivity
The Cyclo is ANT+ and Bluetooth compatible, and I had no issues pairing it with my phone and Assioma Favero power meter pedals. It's also designed to work with Strava Live segments, although as I currently just have the basic, free Strava account I didn't test this.
Uploading your rides to Strava and similar apps is easy enough, albeit less straightforward than with my Garmin. The first step is to get the ride file off your Cyclo and onto a computer, for which you'll need to download Mio's CycloAgent program.
You'll then need to create an account with MioShare. Once logged in, go to the "Synchronisation settings" tab where you can select to link your account with Strava, Training Peaks, Endomondo or Today's Plan.
Surprisingly, there doesn't seem to be a MioShare app or any way of automatically importing rides to Strava through your phone.
Conclusion
The Mio Cyclo 405 is an impressive all-rounder, offering a full suite of features at a very competitive price point. You can pick one up for a little over £200 - by way of comparison, that's less than half the price of Garmin's Edge 1030.
It's a large device, so you'll need to decide whether you really need the real estate of that 4 inch screen. if you like a big screen to look at, and a richly detailed map, you'll like this. Just be aware that such a large screen does tend to, perhaps inevitably, reflect quite a bit of sunlight which can make complex navigation more of a mission on sunny days.
Cyclists who are likely to stick to the roads or not planning to ride outside the UK may not need the big screen and full European map set. If that sounds like you then the less expensive, more compact Mio Cyclo 205 may be a better option.
The software is good, if not best-in-class. To my mind Garmin and Wahoo still have a slight edge in terms of a more polished user experience, especially when it comes to exporting rides to third-party apps like Strava.
Ultimately though, Mio have put together an impressive bundle for a competitive price. If you're looking for a cycling computer with detail-rich maps for exploring on and off road across Europe, the Cyclo 405 is a strong candidate.
The "best experience in bicycle navigation"?
Perhaps not quite yet... but Mio are certainly on the right road.
Mio Cyclo 405 - £217.51 from Hollandbikeshop.com
Find out more at www.mio.com/en_gb/cyclo-405

0 Comments