Bib shorts. They're only there to cover your modesty and protect it across those long rides, right? That was what I always thought. And thinking that, I never invested in quality shorts.
Well, Rapha's new Core Cargo Bib Shorts have me converted. Well-constructed, comfortable and silky smooth, I may have to say goodbye to my other shorts and hello to more Rapha.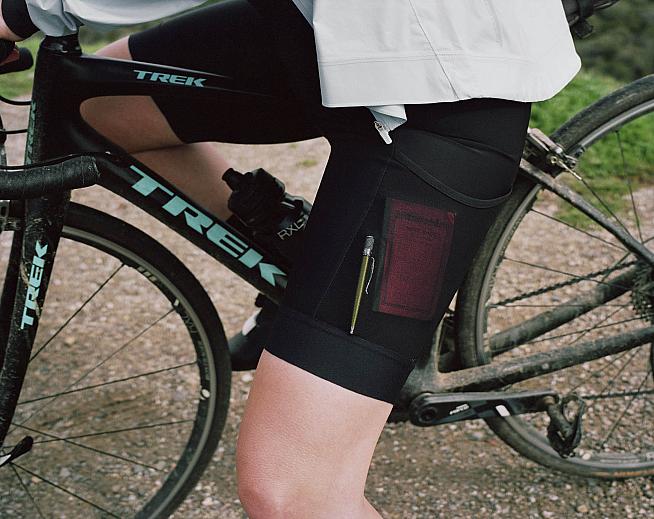 Rapha's Core Cargo Bib Shorts are designed for both comfort and value - retailing for a reasonable £110. The shorts are designed for every road rider, wherever they ride. Sizes range from X-small to XX-large with a choice of all-black or black shorts with cream suspenders.
And what does £110 get you? A lot!
The shorts' main panels use a dense-knit fabric offering compressive support and modesty. Flatlock seams and laser-cut, soft silicone trim on the legs holds the shorts close for a comfortable fit. This reduces chafing and provides greater comfort and durability. The Core Bib Shorts feature the same Rapha chamois pad used in all the brand's Classic bib shorts.
The shorts incorporate colour-matched trim throughout. The bib section uses high-stretch material that is efficiently machined for even stretch distribution to accommodate longer torsos (a bonus for this longer torso-ed writer).
And that's not all. The shorts are also designed with extra pockets. You may scoff at the idea that bib shorts, BIB SHORTS, have pockets. But, Rapha are not misleading the youth here. They're actually very useful. The pockets are big enough to easily stash a few gels or bars, and are conveniently located one pocket per leg, running down the outside. There are a further two pockets on the lower back.
I managed to get a few early-season leg-burners in wearing the new Core Cargo Bib Shorts, including some fairly quick club runs and a sportive: The Sean Yates Spring Classic, a 63 mile (100km) spin with a few thousand feet of climbing. I cycled the 60 odd-miles round trip getting to and from the event for a bit of extra fun, all of which gave me enough time in the shorts to collect my thoughts.
Road testing the Core Cargo shorts
The Core Cargo Bib Shorts are an attractive pair of shorts that perform well. Rapha may even be at risk of cannibalising sales from their higher-priced ranges, the quality is so good!
At no point during any of the rides did the shorts feel uncomfortable - either in the bib section or shorts.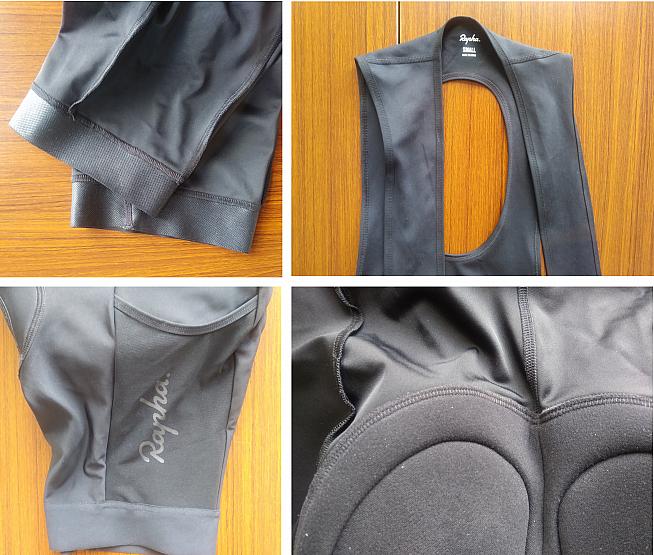 Starting with the bib - the wide suspenders accommodated my longer torso when riding in different positions (in a tuck, on the drops, on the tops) and even turning and twisting in the saddle or stretching out to relieve the back.
The shorts felt very sleek and hugged my legs and torso tightly. The laser-cut silicone held the shorts in place, they didn't shift at all.
The chamois pad provided as much comfort as a chamois pad can. Even after the 100+ mile day out that I had, I felt comfortable with no sign of chafing (I didn't even use chamois cream).
The stitching throughout feels strong and durable. Maybe it's just the cheap shorts I normally ride in, but after a little time where the chamois is stitched into the rest of the short at the back, the seams begin to separate. The flatlock seams in the Rapha's give me confidence that I'll avoid this rather embarrassing issue.
Branding is quite subtle, there's no prominent logo across the rear: just a tasteful "Rapha" picked out on both legs beneath the mesh pockets.
As for those pockets, I found them useful. They're great for stashing a bit of extra food, or even my phone. They're far easier to reach into than twisting yourself to dig something out of your back pocket. I'm surprised these are the first shorts I've seen with pockets.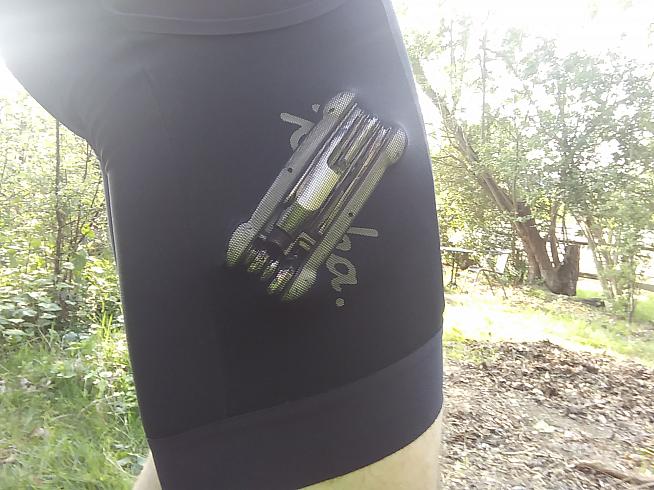 I must admit though, I didn't use the pockets on the back. They aren't easy to access with a jersey sitting over them, but could be useful for things you won't need during a ride - your house or car keys, maybe.
The washing instructions were very clear and concise. Cold temperature, non-bio detergent, do not tumble dry. Easy enough to manage. The shorts washed well, came out the other end looking great, still fitting and ready for the next ride.
Not your average fancy stockings
Rapha's new Core Cargo Bib Shorts are a win when it comes to quality and design.
They look very smart and have a comfortable fit no matter how you're riding or what you're doing in them. The quality throughout is immediately apparent, and that feeling won't leave as you continue to ride in them.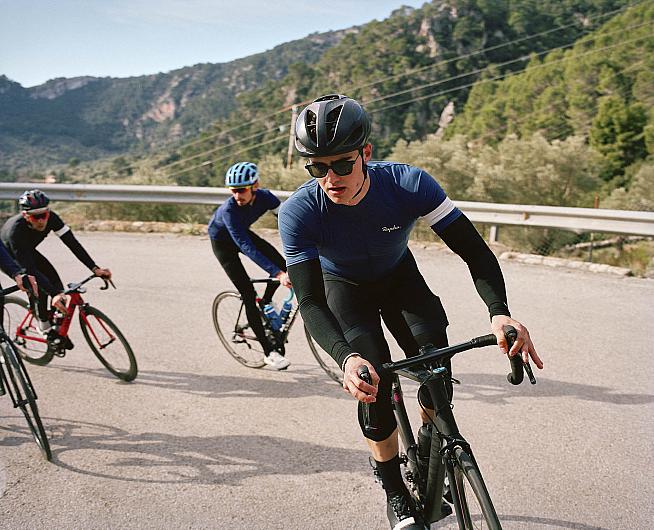 In addition to the high quality, don't forget Rapha's guarantees: some of which you might expect, but others get the KOM.
Standard guarantees include 30-day free return. If you've bought something and don't like it once it's in your hands or after you've sweated in it, you can return it within 30-days of purchase.
Rapha's size-down offer may also tempt you to give their catalogue another look to see what other kit catches your eye. If you bought a jersey this year and lose weight, Rapha will give you props and not penalise you for having to replace your, now baggy, jersey. They will give you a 50% discount on a replacement.
Another great feature Rapha offers is a free repairs service. Unfortunately, accidents happen. And when they do, Rapha will repair your garment - for free - to get you back on the road.
Having tried the Rapha Core Cargo shorts, I now understand that not all bib shorts are made equal. And neither are all brands equally committed to after sales service. Highly recommended.
Rapha Core Cargo Bib Shorts - £110 from www.rapha.cc
0 Comments