VEE Tire Co have been in the rubber business for over 40 years, specialising in automobile, motorcycle and bicycle tyres. They claim to be the leading producer of rubber tyres in Thailand, but it's fair to say most riders over here have probably not heard of them.
I have to admit I hadn't, and I've got through my fair share of tyres over the years. We tend to stick to what we know or what we like, becoming sceptical about change, but a little intrigue and mystery is good sometimes: we may even be pleasantly surprised. I wondered, when the VEE Apache tyres landed on my doorstep, if this would be one of those occasions.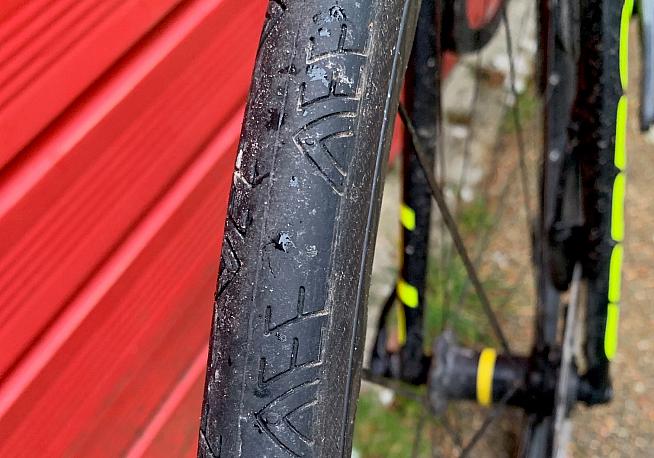 VEE make tyres for all road or off-road riders, but I was testing their flagship road tyre, the Apache. The Apache is available in three sizes, 23, 25 and 28c and one colour: black. Not the broadest range you'll come across, but certainly comparable with many manufacturers.
The look and feel of the tyres was not dissimilar to many others I have unpacked, with a folding bead, slick tread and unassuming appearance - no flashy logos here. Once unwound, the weight was 182g per 25c tyre. The tread is reminiscent of the familiar Continental shark fin motif, but in this case the rubber is imprinted wih a "VEE" pattern. Using the company name as the tread pattern on the tyre wall to increase traction is a novel approach, and removes the need for graphics to be added.
The Apache are made with VEE's proprietary Continuum 66A compound, claiming to make you faster without affecting durability. Well, there's one way to test that.
We are at the hardest time of year to ride - and I don't mean getting yourself psyched up to get out, but from a kit/gear impact perspective. The conditions underneath your tyres, and from above, mean any kit you use will be put through its paces. This autumn/winter (so far) has proven to be no different. Whilst we haven't many real cold spells we certainly have had our fair share of the wet stuff.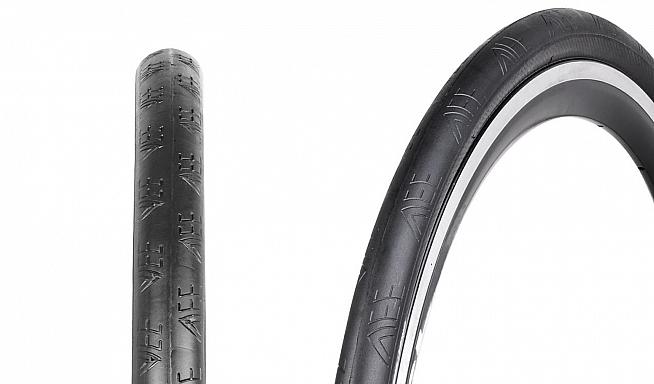 My first thought when the VEE tyres arrived, was great I need a new set for the winter bike/commute so this will be the ideal testing ground. And so it has proven. With disc brakes on the winter bike the tyres would certainly get a chance to show what they're like.
Once unpacked, I chose to unfold one tyre so it could return to its normal shape before fitting, and left the second bundled to see what, if any, the difference would be to the ease with which they went on. The wheels I was fitting them to were Mavic all-roads, nothing deep sectioned, just a sturdy set of wheels designed to cope with the harshness of inclement weather and severe road conditions.
Needless to say, the tyre that had been unfolded went on like a dream, no need to use a tyre lever to get the rubber over the rim. Nice. The second tyre less so. This proved to be a little bit of a workout, but finally the tyre was seated and with both inflated the testing could begin in earnest. The tyres look good, and the rubber felt reasonably thick, offering a good layer of material between the wheel and the road without a weight penalty.
I've used the tyres for over four weeks now, with about 1000km on winter roads on them, and initial impressions are favourable.
The Apaches' grip has proven to be reliable: no twitching or slipping, just reassurance that the rubber is in full contact with the tarmac. This includes particularly wet conditions when such confidence is needed. We've had some fairly miserable riding conditions over the winter, with a lot of rain and even more debris on the roads. Throw in the fact that roads are in a permanent state of disrepair, and you have the best testing conditions to thoroughly test any tyre.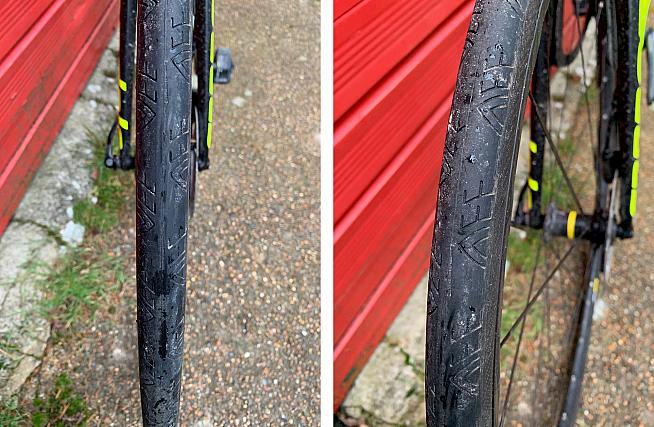 Given those conditions I have been impressed with the VEE Apaches. My winter riding consists of getting the miles in. I'm not out to set PRs, but I will log plenty of base miles where I want reliability and confidence that on a dark commute, I can make it to my destination without having to worry unduly about punctures.
In all that commuting I've had no issues only reassurance. The Apaches' rubber is holding up well with minimal visible wear, and (touch wood) no punctures to date.
As to value, with an RRP of £50 the Apaches face tough competition - in every sense - from the likes of Continental's ubiquitous Grand Prix 4000s II, which are currently available at under £30 if you shop around. The Apaches have a marginal advantage in weight though, and if you can find them on sale at a discount they're certainly worth a look.
Bottom line: certainly a 4 out of 5, with the only mark down due to long-term durability on which the jury is out for now. A good start though.
VEE Apache Road Tyre - £49.99 from www.veetireco.co.uk
0 Comments