When I crashed and injured myself on a gravel ride in the Dolomites earlier this summer, one of my first thoughts (apart from "Why's my arm bent that funny shape?") was to wonder how I'd get my bike back to the UK.
My ride mate Daniele, to whom I'm eternally grateful, immediately abandoned the event (we'd been riding the Veneto Trail) and, after loading me safely onto an ambulance, literally picked up the pieces and drove my bike back to his house in Reggio Emilia. But how to get it home from there?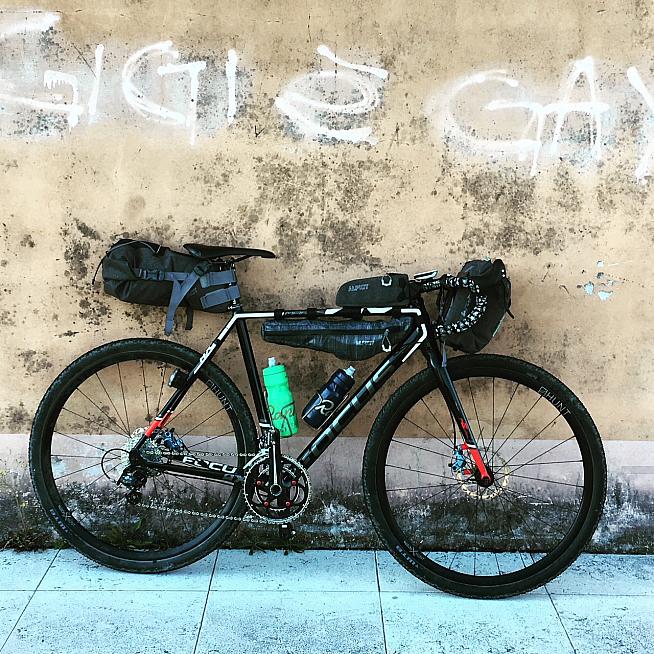 By a stroke of luck I'd got an email some weeks previously from SHERPR, a company specialising in couriering sports equipment including bicycles to and from cycle events across the UK and Europe. They're a bike logistics company primarily, making use of established couriers like UPS and DPD to ensure that cyclists' bikes arrive at their destination in time for their holiday, sportive or race - and get them home safely again afterwards. The appeal is obvious: you save the hassle of lugging a heavy bike box through airports, and minimise the risk of damage through rough treatment from baggage handlers en route.
I got in touch with SHERPR and explained my problem, and they quickly arranged to have my bike shipped back to the UK with a minimum of fuss.
I spoke to them on the phone first to set up my delivery, as my circumstances required an unusual one-way service originating outside the UK, but typically bookings are done via their clean and easy-to-use website. You simply enter the collection and destination countries, the required arrival date and a delivery plan (standard three-days or express one-day) and specify whether you'll need a box.
This latter aspect is critical, because SHERPR don't carry regular bike cases: bicycles must be packed into a cardboard box that meets strict size restrictions, with maximum dimensions 110x30x75cm. Anything over these dimensions will incur a £45 large item surcharge.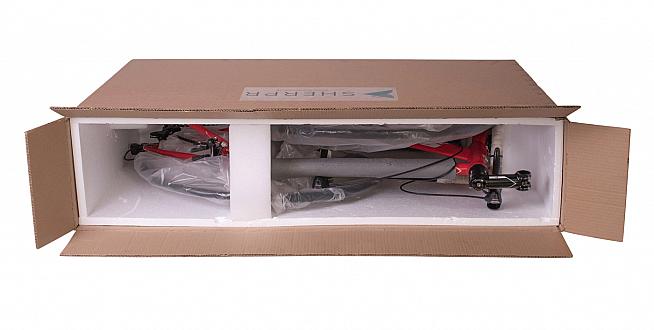 You can supply your own cardboard box, but if you don't have one SHERPR can have one delivered to your home a few days before the collection is due. Their cardboard box costs £37.99 including delivery, and comes with packing instructions and a useful roll of branded packing tape to secure everything. They also offer a more heavy-duty Premium box priced £67.99, and will soon be launching Pro boxes too: sherprbikebox.com.
In terms of pricing, a standard one-way booking from the UK to France will cost £97.99 with a box (£157.99 return). If you already have a box (within dimensions), the price is £60 one-way or £120 return.
Insurance cover for your bike is not included as standard, but is available as an add-on. The price is £6.99 for £500 cover or £9.99 for £1000 cover, after which you can add £5 per additional £500 of cover up to a maximum of £20,000. Those prices are per leg of your journey, so you'll need to multiply by two for return trips.
So how does SHERPR compare to the cost of flying with your bike?
Airline fees for a bike can range from free (cost is absorbed by a much more expensive flight cost) (British Airways) to as much as £120 return (Ryanair) with the average being around £40 one-way. Check out this excellent infographic from Yellow Jersey for an at-a-glance guide to airlines' bike charges: www.yellowjersey.co.uk.
Clearly you are paying a little extra for the convenience of having your bike couriered by SHERPR but the extra cost may well be justified - provided, of course, that the service delivers on its promise.
My experience of using SHERPR was overwhelmingly positive: a box was delivered to Daniele's house in Italy on a Friday, where he disassembled my bike and packed it carefully ready for collection. The box was collected by UPS on the following Monday, and arrived safely back at my home address on the Friday.
I unpacked it to find everything in perfect condition; even some packets of pasta that Daniele had used as packing filler (only in Italy...) were uncrushed. If anything it was a bit galling to discover that my bike had survived the crash and a flight without a scratch while I spent a week in an Italian hospital - but at least one of us got home unscathed.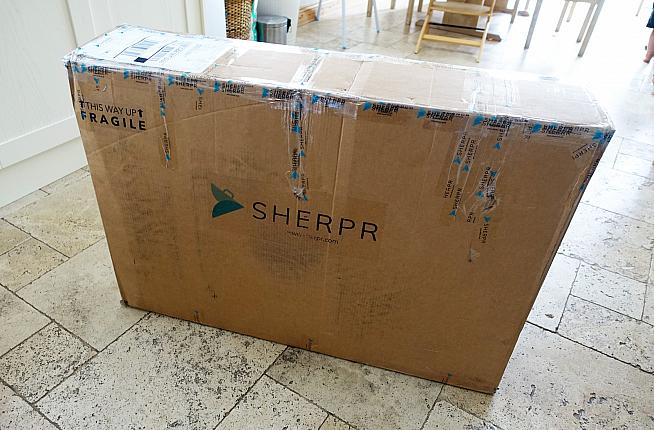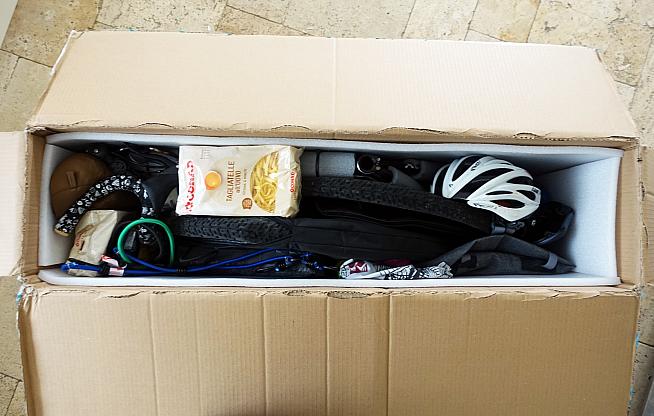 Based on my experience, I wouldn't hesitate to recommend SHERPR for cyclists looking to cut some of the hassle of transporting their bikes to overseas events. The pricing is competitive with airlines, and I suspect many cyclists will feel a premium of £60 over the average airline fee is money well spent. And - in case you're wondering - a quick browse of the UPS site suggests using SHERPR is also cheaper than booking a delivery directly with the courier.
They also offer a personalised service far beyond anything you'll get from a standard courier. Once you make your online booking, a member of the SHERPR team will be in touch within 60 minutes to confirm all of your details and the date by which you need your bike to arrive at its destination.
SHERPR also offer a bespoke event service for their event partners whereby they utilise their own fleet of vans and drivers. A return shipment starts at £160 using one of their UK-wide collection points or £200 door-to-door, and includes £1500 of insurance cover, each way, with the option of adding more on if needed.
With the ink now dry on partnerships with premium events including IRONMAN, Mallorca 312 and the UCI amateur World Championships, the holiday ambitions - not to mention bicycles - of thousands of cyclists rest in the hands of SHERPR.
I suspect I'll be making use of their services again; and hopefully next time, it'll be a return trip in less dramatic circumstances.
SHERPR bicycle couriers, from £60 - sherpr.com
0 Comments