Sir Bradley Wiggins and Yanto Barker have got together to produce a range of good-looking jersey and bib-short combos, called Le Col by Wiggins.
The Le Col bit is Yanto Barker's technical cycle clothing company - if you read his "What to wear and how to wear it" articles in various cycling publications, you'll not be surprised to hear it all has a certain panache to it. But unlike another former pro, David Millar, whose Chapter 3 kit is phenomenally expensive (£240+ for a jersey anyone?), Le Col is slightly more realistically priced, though I'd still call them a "premium" brand. Most jerseys and bib-shorts on their roster come in at over £100, while the range covers everything from base-layers to skinsuits, winter jackets and gloves.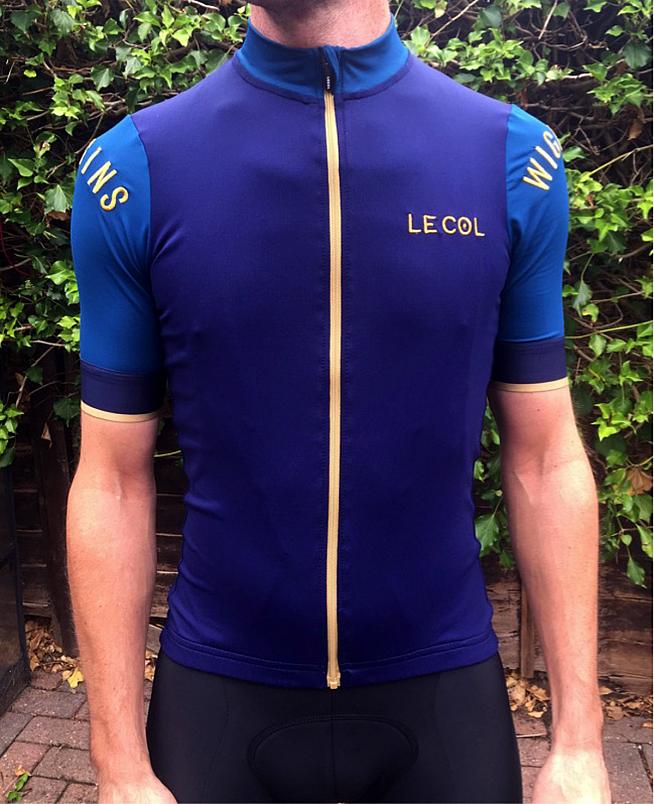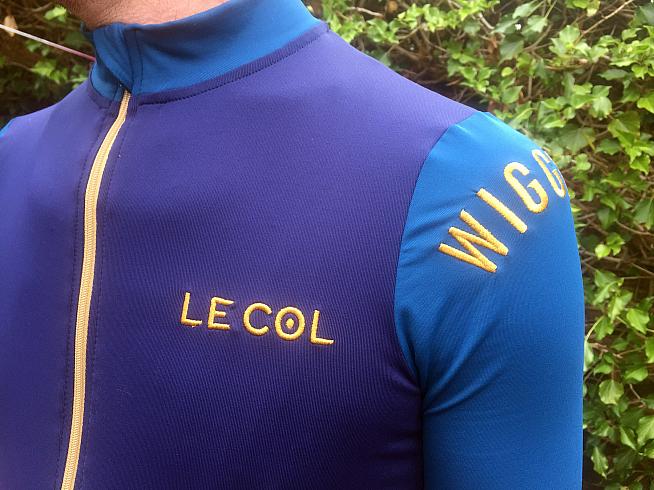 The Wiggins collection is fairly limited in comparison, comprising a selection of nine jerseys and six shorts in three different collections, plus some socks.
I initially ordered a jersey from the lower end of the range, the Sport collection, which retails at £85. This range has a subtle selection of colours and designs I like. The other collections are Pro (£125 for the jersey) and HC (£155).
As often is the case with online ordering, size choice is the difficult bit. The website describes the Sport jersey as slim fit, relaxed and made from stretchy material, and my feeble torso placed me right on the XS/S borderline; actually an inch above it. XS was ordered, though I was fully expecting it to be a tight fit (which I prefer - I'm no fan of flappy jerseys) or even too small.
I was pretty surprised on arrival when I tried it on how roomy it was. It was way too big for me, particularly around the waist/torso - the gripper gave no assistance holding the waist in place, simply because it was too baggy to grip. I contacted Le Col about the sizing, who replied:
"The Sport jersey is recommended for the casual cyclist/commuter who prefers a more relaxed fit. The Pro is the most aero/slim fitting of the ranges and is targeted to the typical racer/club rider who wants the most aero/form fitting top. The HC is also slimmer than Sport but a bit more forgiving than Pro. The HC is targeted to those who want the most luxurious materials and details in an aero but forgiving cut."
Fair enough. Le Col were great and offered to switch the jerseys, sending their top-of-the-range HC jersey in blue in XS.
I expected this to be pretty snug, and while it fit nicely on the arms I found there was still just too much material around the chest and beneath the armpit (remember, the size guide suggested I go for a Small). As a result there's a bit of of "bunching" of the jersey - you know, when the zip folds up on itself at the front and you forever have to re-adjust a waistband that just wants to ride up above your hips. Funnily enough, this top fit me best when not on the bike, just walking around - perfect for the café.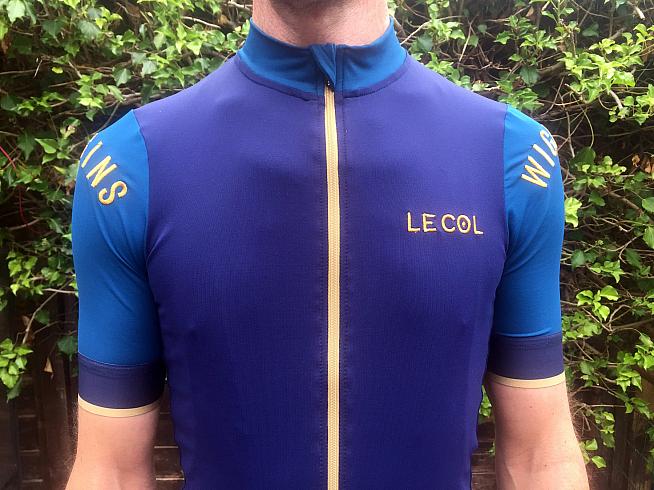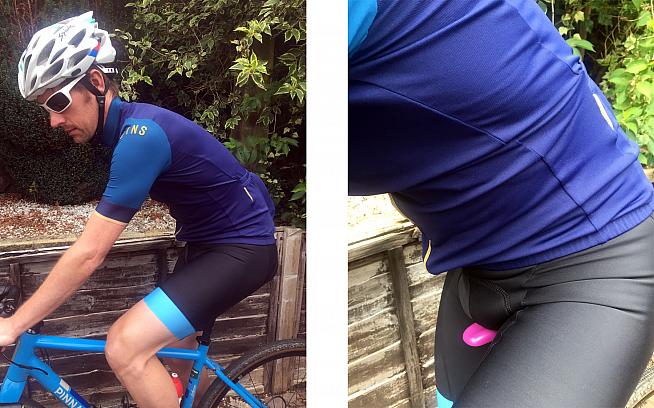 Fit is subjective, but out of curiosity I thought I'd compare the HC to another XS jersey which fits me perfectly, a RedWhite jersey I've reviewed here on Sportive.com. In almost every aspect these two jerseys have similar measurements, except the chest (i.e., around just beneath your armpit) - the RedWhite measures 30 inch, the Wiggins one almost 34 inch That's a lot of extra material, and particularly annoying as the size guide on Le Col has this XS as suitable for chest measurement of less than 33 inch.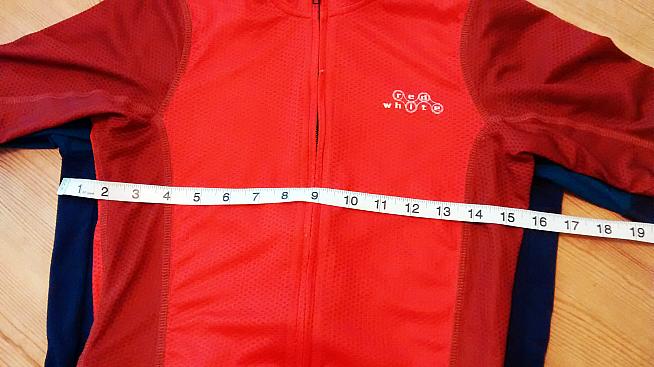 This XS jersey fit my friend perfectly - he is 6 foot!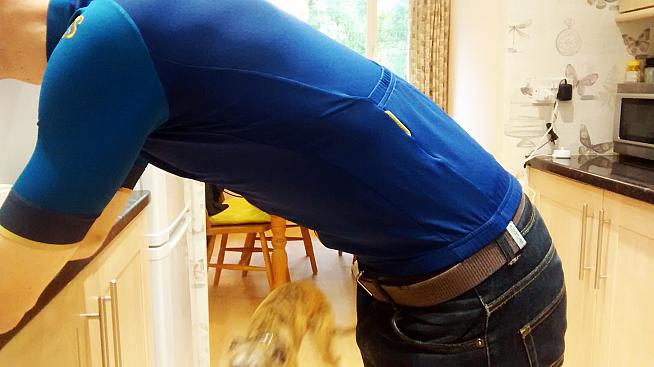 Size is always an issue when ordering online, but a misleading size guide doesn't help. I spoke to Le Col and they admitted that they're "working on sizing information for the website". When you're spending this much money, you'd hope that this would have been finalised before they went on sale. There is no free returns policy, so if you buy online and want to return it then you're going to fund the postage. Le Col do have a few stockists in the UK, but they're still pretty few and far between.
Sizing quibbles aside, the HC is a nice looking jersey and the quality in other respects is befitting of the premium price tag. The arm length is on the long side, with a comfortable thick gripper to keep the sleeves in place. There's a natty embroidered "Wiggins" logo on the top of each arm in gold (to represent Sir Wiggo's Olympic record), which matches the Le Col sewn logo on the back of the jersey. If it's possible for me to have a favourite part of a jersey, it was the arms.
The materials used are high quality, similar to Rapha's top end jerseys. It's a very soft fabric; you could almost call it luxurious - "Soft touch Meryl fabric" it says on the website. It feels great against the skin, although it's not particularly lightweight or cool; I was too warm on August rides of 18+ degrees. If you tend to run hot then it's perhaps not a jersey for a summer week in the Alps - possibly more for the Spring/Autumn wardrobe.
The full-length zip sits nicely in one of those fancily titled "zip garages", and the toggle is sized well to make grabbing hold of it pretty simple. It's a small detail, but it's expected when you're spending this much.
The standard three-pocket rear is fine, and the waterproof zipped key/valuables pocket is a nice touch. The pockets are generously sized, which is great for carrying a spare layer, energy gels etc - but it does mean there's a bit of excess material which can allow heavier items to pull away from the back of the jersey rather than sitting snug.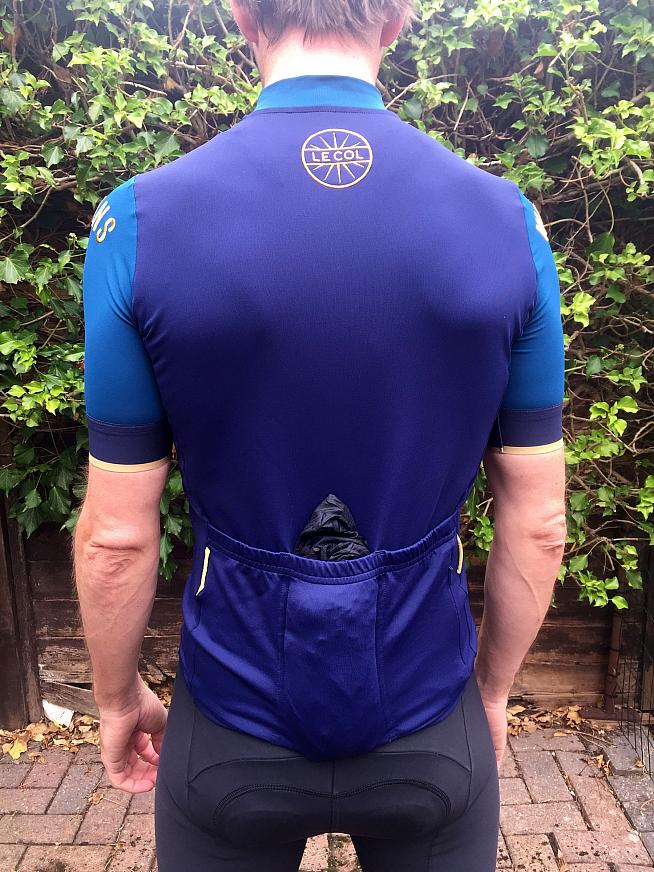 £155 is a lot for a jersey, but you're getting the input of a knight of the realm and pretty well decorated rider here. It's just a big shame that it doesn't appear to have had much input from the size department. You really need to try this one on before you buy, and be prepared to be flattered by the fact you're six foot and need a Small.
That's pretty unusual and something I really hope Le Col revisit, because if the fit were better I'd be raving about this jersey. Of course, everyone's body shape is different and if you find the cut suits you then the quality and attention to detail of Le Col's HC jersey will certainly not disappoint. But if you really want a skintight fit, I'd suggest sizing down or perhaps checking out Le Col's Pro range.
Le Col by Wiggins HC Jersey, £155 - lecol.cc
0 Comments