It feels a little odd to be writing a review of RedWhite's short-sleeved jersey, whose makers rave about how well it handles hot weather, the type you look forward to wearing on those blazing summer days, while eating a mince pie and watching the recent snowfall begin its sad decline to slush - but that's the way in this world where you can buy kit at the click of a button from the far side of the planet...
I reviewed RedWhite's "The Race" bib shorts a while back and it's fair to say I've been mighty impressed by them. RedWhite have since added a base layer and a jersey to their product line, and I was keen to try the jersey.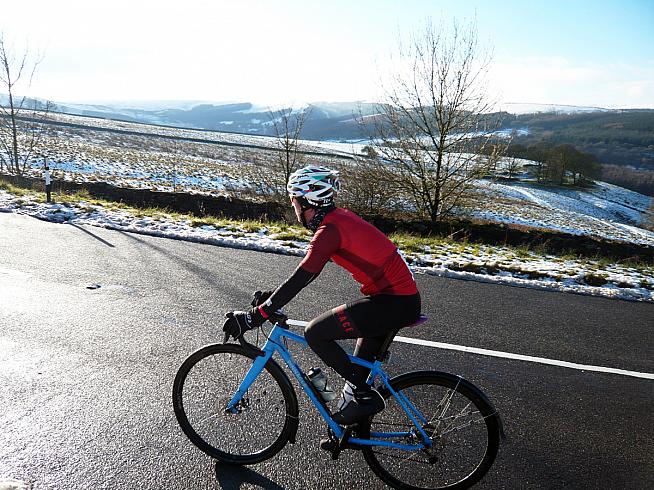 RedWhite's "The Jersey" duly arrived for review in November, but in the name of investigative journalism I didn't let such a trifling detail get in the way of trying it out. In any case, according to the website, it is "...versatile enough to be paired with a warm cycling base layer, jacket / gilet during the cooler season".
First things first when buying online is the sizing question. I am 5'6" and measure about 86cm around the chest, which placed me right on the bottom of the Small in the website's size chart. A few emails with the ever-responsive Yuva at RedWhite and a Small was recommended. However, I do prefer a tight "race fit" to my kit, so in typical style I ignored this advice and went for the XS, expecting that it would be loose enough material to stretch.
When the jersey arrived (the offered free international post from Singapore takes about 5-7 days, which seemed pretty good to me) I realised I should have listened - not for the first time - to the expert. There is very little stretch to the fabric and I could only just do the zip up on the XS. The Small size arrived a few days later and was spot on - tight but not restrictive, with no excess flappage.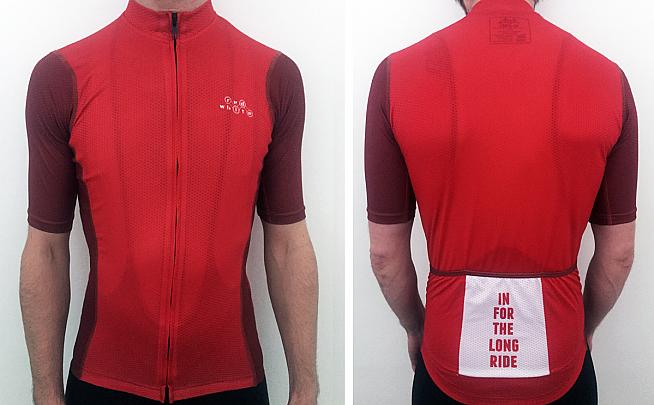 RedWhite are based in Singapore, so it's to be expected that their kit is designed for hot, sweaty days on the bike. To replicate this I got into the garage and turned the turbo for a while. The fabric is a lightweight mesh and certainly appeared to wick away the sweat well, while the larger-than-usual zipper was a real bonus - easy to grip while frantically trying to keep up the cadence and with a great "auto-lock" meaning that it stayed exactly where you had stopped it.
I have to admit to being a little dubious of the benefits of such an initially clunky-looking zip, but honestly once wearing the jersey it felt no different to a lightweight zipper but just worked well. This seems to be the standard of RedWhite kit. They consulted with customers before designing the jersey, and it shows; every detail has been thought out to be of benefit to the wearer.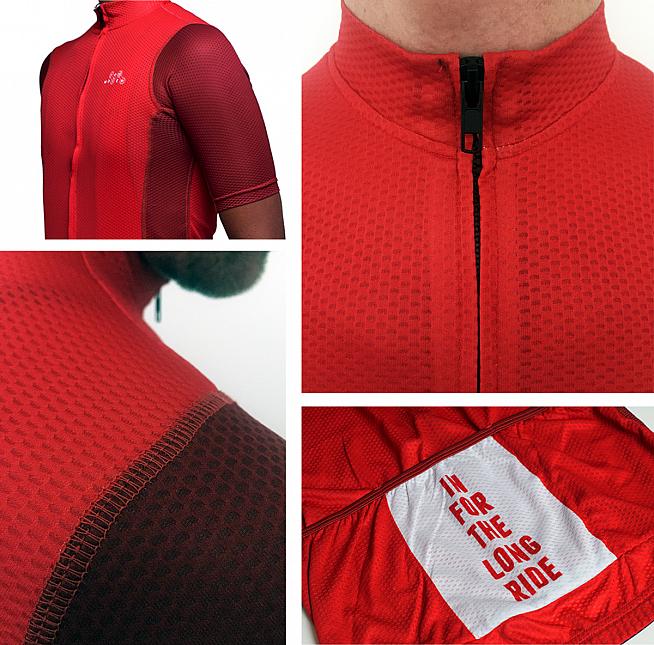 There's no labels in the jersey, so no annoying itching which can sometimes be found (I always cut out labels but still can feel them sometimes). Nor are there grippers on the sleeves, though they stayed in place well enough without them. The sleeve length is about halfway along the "Old Style Short vs New Extra Long" scale. The waist gripper is silicone and does a good job of holding the jersey in place at that end.
Coupled with arm warmers and a gilet it was warm enough for autumn temperatures, but below about 8 degrees it didn't keep me warm enough. But then, no short-sleeved jersey would do.
My only criticism would be that the front of the jersey is pretty similar in length to the back - I found this created a bit of bunching around the waist when really tucked into a race position. My current favourite summer jersey is a Sportful Bodyfit Pro and, as shown in the photo below, while the back length is pretty similar there is a much bigger cutaway in the front section of the Sportful jersey. This reduces bunching and the regular pulling-down-of-jersey I did while wearing the RedWhite jersey. But then, the Sportful is £20 more expensive and RedWhite do in fairness describe the fit as "tailored", rather than race-fit tight or a looser club-fit.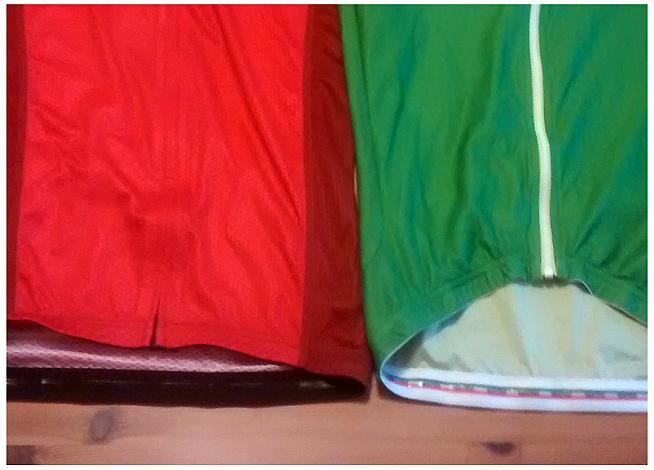 Style-wise I'm a fan of the understated look on offer here, and am looking forward to the day when it's warm enough to pair it with the aforementioned Race bibshorts. This isn't a garish Alé-style look, but also not the monotone offering found in some brands. Alongside the red version tested, the jersey is available in green, grey and blue.
The rear pockets do a good job of being pockets, three in number and deep enough to take phone/cards/cash/gilet, though anything more substantial might stretch things a bit. I'd have liked to have seen a zip on one of the rear pockets, somewhere more secure for the house key. The RedWhite motto - "In for the long ride" - is emblazoned on the centre rear pocket, and the white panel does offer an extra bit of visual contrast.
At £60 this jersey is really competetively priced - it sits pretty well with jerseys £15-20 more expensive. There's a fair bit of technical detailing not normally found at this price, particularly on entry-level jerseys from "premium" brands - you're not paying for the logo here.
It's likely you'll be wearing it mostly in the warmer months, so if you're looking for a jersey to wear while climbing up big hills in summer this is one you should consider. In particular if you tend to find some jerseys with a cutaway on the front panel too short then you'll be onto a winner.
RedWhite offer a bundle deal for £150 on the excellent bibshorts with one of these jerseys, with a £30 baselayer thrown in for free - a pretty good deal if you ask me, what with the free postage too. If you sign up to the RedWhite newsletter you'll automatically get 10% discount off all their kit too.
RedWhite Jersey, £60 from www.redwhite.cc
0 Comments