Stealth is soooo last season... This summer, dial up the colour with our pick of 11 extroverted cycling jerseys guaranteed to add a bit of sunshine to your ride. Featuring tropical birds, rainbows, unicorns, Tenerife and Hawaii, set free your inner flamingo and let the good vibes roll.
1. Svelte Lightweight Summer Jersey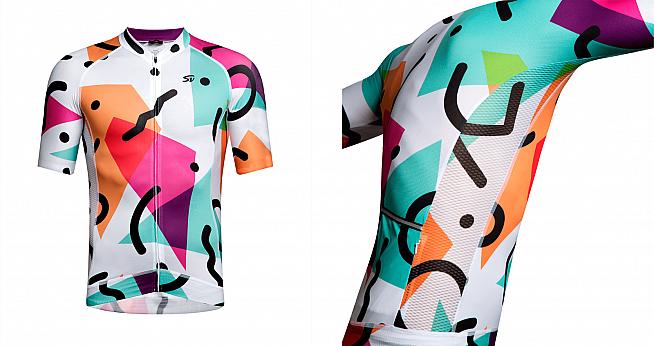 With a limited run of just 50 pieces, this paint-spattered number from UK thread wizards Svelte features a pro fit cut designed for "race day performance and epic adventures" - but frankly, you'll look epic even if you're just popping to the shops for a box of Soleros. Check out their other gear too for more surf-inspired designs.
2. Velocio Unity Ultralight Jersey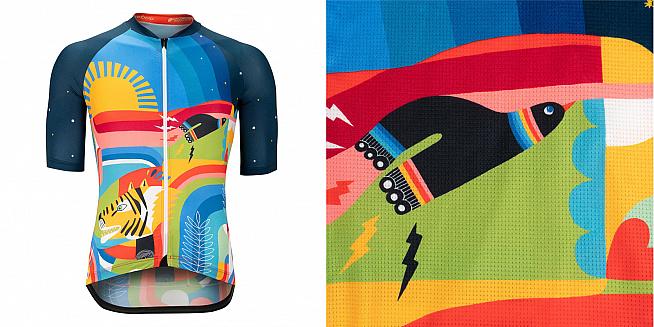 Each year US brand Velocio release a special edition Unity jersey and donate the profits to a charitable cause. Proceeds from this year's lush design by illustrator and cyclist Lisa Congdon will go to the Refugee and Immigrant Center for Education and Legal Services (RAICES) - a nonprofit that provides free legal services to underserved immigrant children, families and refugees on the Mexico-US border.
3. Degradado Elite Jersey by Maldita Buena Suerte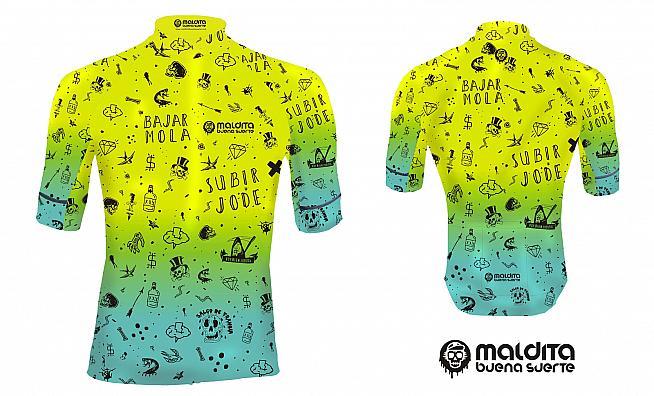 Translating as "Damn Good Luck", Spanish brand Maldita Buena Suerte produce an ever-changing array of bold and brassy apparel and accessories - but we can't look past this prison tattoo-inspired jersey with its celeste-yellow fade. Pair with a Pantani-era Mercatone Uno Bianchi or the new 2018 Specialized Crux.
£65.17 - malditabuenasuerte.patternbyetsy.com
4. Milltag Sunset Summer Jersey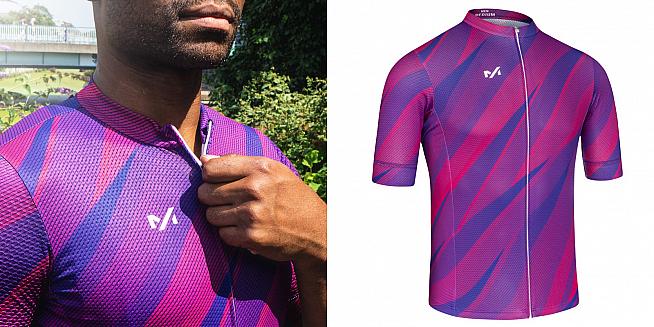 Inspired by a perfect summer sunset viewed at speed as you ride, this super-lightweight jersey from Milltag - the gang responsible for the official Dunwich Dynamo jerseys - is available in purple or ocean blue. While you're on their site, check out the fantastic new Joy Division tribute jersey too.
5. BBUC Moonlit Unicorn Jersey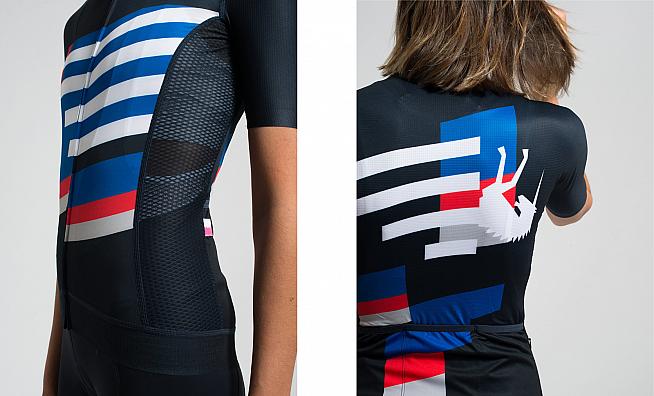 Conceived in Vienna, made in Italy, this is actually one of the more sober designs from fledgling brand BBUC. With a penchant for unicorns, clubbing and asymmetric geometry, if you think their designs are out there just wait till you check out the product blurbs... definitely a brand to look out for.
6. Tenspeed Hero Umbrellas of Cherbourg Jersey

Named after a French film opera, "The Umbrellas of Cherbourg" starring a youthful Catherine Deneuve (Geneviève) and Nino Castelnuovo (Guy) as two young lovers brought together by, err, an umbrella shop, this typically zany design by Tenspeed Hero is available in men's and women's versions and will make you look like a TV test card. But in a good way.
£124.24 - store.tenspeedhero.com
7. Muur Petersfield2 Jersey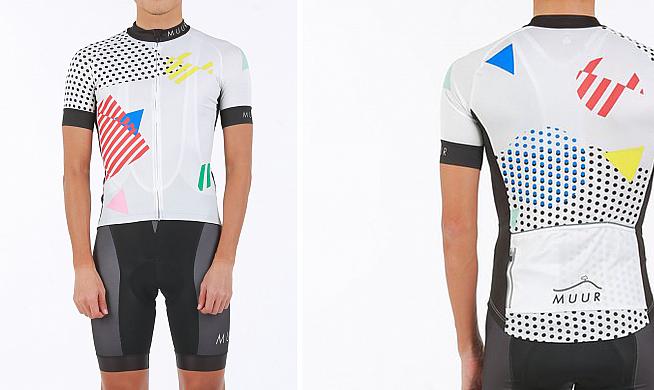 Hailing all the way from Thailand, the Petersfield2 may look zesty but it's actually a toned down version of the original (and still available) Petersfield design following feedback from Muur customers. Made from top Italian fabrics, it's got all the features you'd expect in a quality jersey plus makes you look like you've got a regiment of ants marching on your shoulder. It's hard to estimate the psychological advantage that will give you on a sportive start line, but we'll put it at 5.8 watts.
£65.47- www.muurcyclingcloud.com
8. Parlé Flamingo Jersey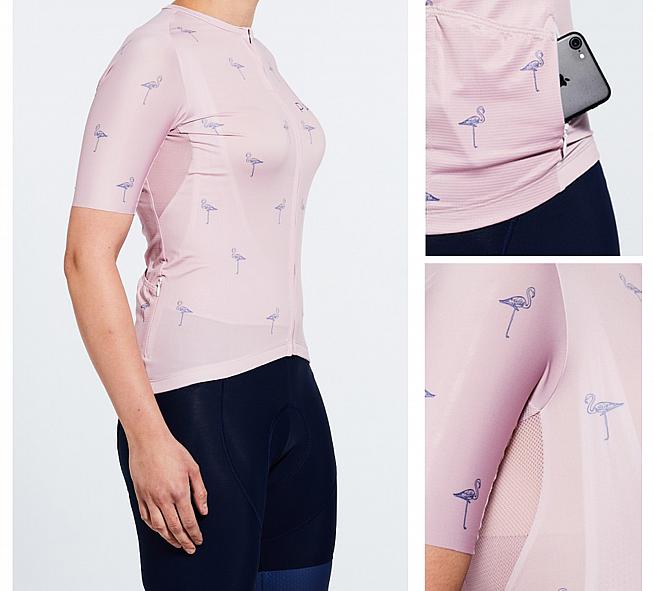 Nothing screams summer like flamingoes, and this tasteful print from Polish brand Parlé features literally dozens of the shrimp-swilling critters in an aerodynamic jersey designed for wading, flapping about and cycling in warm weather. There's a men's version in black, but you'd have to promise to team it with really colourful socks.
9. Primal Aloha Hawaii Jersey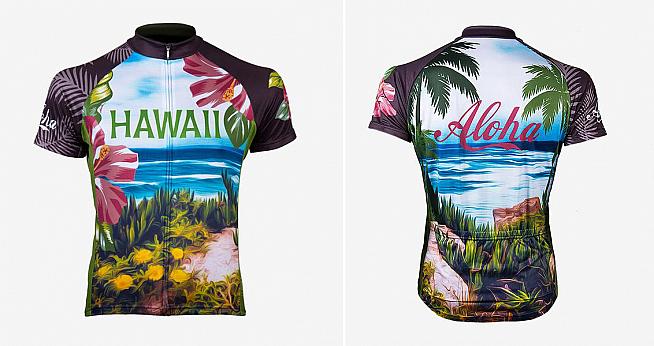 "This lightweight, industry-leading construction is the result of relentless research and testing within a variety of high-crucible elements and coin-operated horsey rides," expain Primal, but more to the point if you unzip it halfway the design will really set off that sportive finisher's medal nestling in your chest rug. Photos to [email protected]
10. TPNA Jersey from We Outdoor CC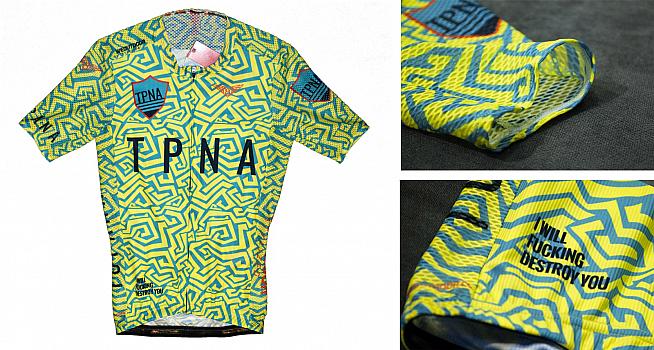 So you think you dislike dopers, but how much do you hate them? Enough to turn up at a Tour de France stage and throw a cup of urine at an asthmatic? Enough to carry off a jersey design that looks like the material itself is under the influence of psychoactive substances, emblazoned with a swearily aggressive threat to drugs cheats? In that case, we have just the thing for your next gentle Sunday club ride.
11. Tenerife Cycling Jersey from Luxa Cycling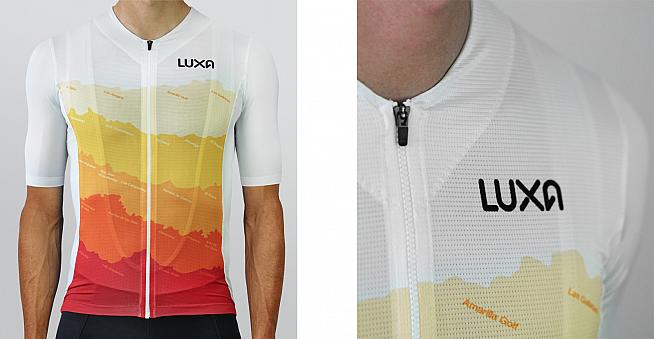 Roll over Mallorca, Tenerife is the new hot spot for warm weather training - and how better to share your love for your favourite Canary Island than this tribute jersey from Luxa which claims to have "an ideal length even for tall people" and sleeves that will not "self-tangle while riding". Those are both useful features and the design is bang Teide too. If you're still not sold, a Mallorca version is also available.
0 Comments