Now readers, you know me; I'm a sucker for anything shiny, enhancing or 'peng'. I am also a massive fan of anything that prevents that most unwelcome of cycling bedfellows - the bonk, hitting the wall or blowing up - all of which I have done spectacularly on several occasions.
Highlights include having to get off my bike and lie by the road for 10 mins after a particularly hilly ride in Northumberland, much to the amusement of passing motorists, and my phenomenal impression of a 'crisp packet in the wind' going up the back side of Mont Ventoux to Chalet Reynard - please see my Mont Ventoux report of 2015.
Ever since then I've paid closer attention to my, ahem, fuelling strategy, and a few weeks ago I was delighted to be sent some tasty offerings from Maurten.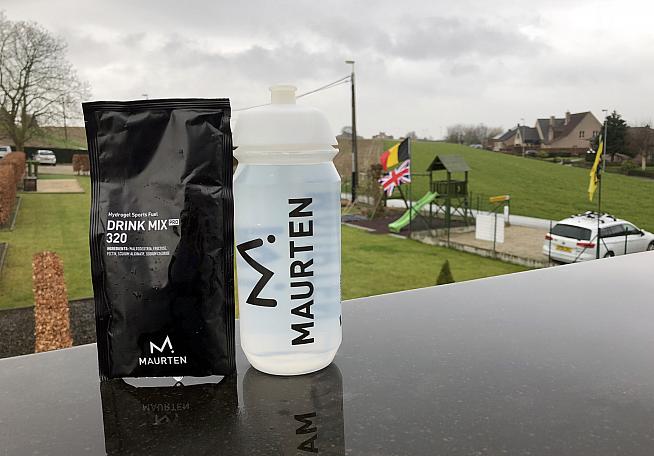 Maurten claim to represent 'the next generation of sports fuel'. A bold statement. Endurance athletes require carbohydrates to perform and the harder and further we go the more we need. The problem comes with the body's ability to store carbs, or indeed where they are broken down - incorrect absorption, generally through the stomach causes abdominal cramps, sickness and that unholy of holies - 'the screaming abdabs' (see Paula Radcliffe, 2005 London Marathon).
"Recent studies have shown that our bodies can make use of up to 90 grams of carbohydrates per hour; that's a lot of energy for the body," says Tobias Christensson, Head of Sports Nutrition at Maurten. "Our stomachs don't usually cope well with such high amounts of carbohydrates while running or cycling, but this is changing..."
Prepare to be dazzled by my scientific knowledge as I attempt to explain what they've done; basically, Maurten have turned a sports drink into a sports gel.
We all know the convenience of a sports gel; quick to get down, full of energy and as long as you aren't taking too many, pretty good on the gut. The clever bods at Maurten have found a way to encapsulate carbohydrate in a 'natural alginate' which is extracted from seaweed. This protective structure allows salts and carbohydrates to be carried to the intestine where is can more effectively absorbed into the body and prevent the Paula Radcliffes.
With all-natural ingredients, and no added colour or flavour, Maurten Drink Mix 320 is easy to drink. It does taste sweet, which is understandable, and has a thicker consistency to normal sports drinks; somewhere beween a drink and a gel.
I have tested Maurten in two tough event conditions, Flanders in the cold and Tour de Yorkshire in the hot, and it was first-rate. I definitely felt the difference and around 10-15 minutes after intake it felt like I had just had an espresso - I felt mentally switched on and my legs rejuvenated, which is a strange but massively welcome feeling 65 miles into an epic ride.
Each sachet when mixed with water makes up a 500ml bottle, and delivers an impressive 80g of carbs. To give a rough comparison, some leading brand energy gels contain 45 - 50g carbs. And at roughly £2 a sachet, it's cheaper - and faster - than stopping mid-ride for a coffee.
The list of world-class athletes using Maurten is extensive, and it's hard to argue with their results: 2018 London Marathon winners Eliud Kipchoge and Vivian Cheruiyot, 2018 Tokyo men's winner Dickson Chumba, 2018 Boston women's winner Desiree Linden - in fact, it's probably harder to find a marathon winner of the last few years globally who hasn't used Maurten.
In the pro peloton Maurten is being used by riders at EF Education First-Drapac Cannondale and has an evangelical convert in Rigoberto Uran. At the 2017 Tour de France, he was so taken by its benefits that he only ate bananas and drank Maurten. He went on to finish second on the podium, and makes no secret of his form and recovery being down to the 'next generation of sports fuel'.
So get on board the roller coaster revolution ride, and reap the rewards of Maurten before everyone hears about it!
Maurten Drink Mix 320, €44.80 (14 servings) - www.maurten.com 
0 Comments