Love it or hate it, you have to admire the dogged and unswerving march of social media. It's come a long way since its infancy in the early noughties in forms such as Friendster and MySpace. Fast forward to 2018 and with Twitter, Tumblr, Reddit, the Book of Face, Instagram, Etsy and Pinterest, there are now endless outlets available to anyone desperate to purvey their fraught need for social attention and recognition from complete strangers whilst attempting to put across their torrid opinions, be they political, sexual or comical.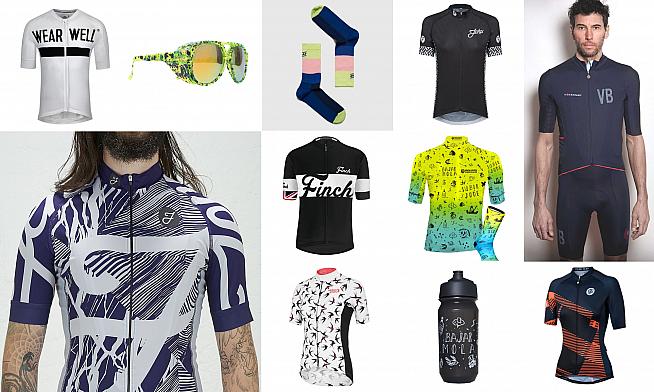 One benefit from the development of social media is the access to almost every consumer on the planet. Big up the little guy, the visionary, the grafter. With the addition of a '#' followed by a carefully selected word, clever metadata minions, on the line, connect like-minded idiots to other like-minded idiots to share their views, innovations and stuff.
Of course this transmits to cycling as much as any other niche vice. As in Ali Baba and the Forty Thieves, there is a magic word to open a plethora of cycling delights, psychedelic colours saturating body-hugging lycra - and that word isn't, as you have probably worked out, 'Open Sesame' - the magic word is '#kitdoping'.
Type #Kitdoping into apps such as Instagram or Twitter and it opens up an enchanted world of unique and eye watering designs. One-off kits that have limited runs, even limited sizing, affording the owner exclusivity in this corporate sheep-based world. You won't find the big names of Castelli, Assos, Endura, Sportful or even the revered Rapha here. Instead you will find dangerous, defiant and daring designs. They will split opinion; that all so famous 'Marmite' effect.
Below I have selected a handful of my favourite worldwide 'independent' cycling crews, based on what they represent and what they have to offer the enlightened few - that now includes you.
Prepare to be dazzled! Let's Boo-Boo...
Paria.cc
Paria.cc's tagline is 'Disruptive Fashion Forward Cycling Apparel | Ride Hard' - I'm already sold.
Sam @ Paria and his team of enthusiastic outsiders have developed some bold and discordant designs which were 'borne out of a desire to deliver something fresh into the cycling market taking urban influences and attitude, coupled with the grit and fervor riven out of the Yorkshire countryside.'
I'm double sold. The kit is of the highest technical wizardry made by those eternal exponents of cycling cool, the Italians - you can't argue that those chaps don't know a bit about cycling.
They have a healthy influx of independent creators offering even more leftfield designs for that idiosyncratic individual.
Ben's Pick of the Peloton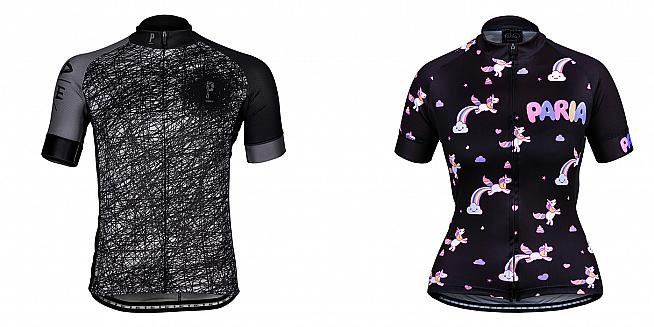 Girls: Unicorn Pooping Rainbows SS Jersey - £79
Boys: Rad Race Auroroa SS Jersey - £79
Hunter Bros Cycling
Hunter Bros Cycling is a family affair run by brothers Ray & Hal and father James. Their vision for an all-encompassing, ambitious & mythical brand gave birth to a zeal for quality and inimitable design.
James brings the experience of working with high-end brands. Ray brings a passion for maintaining, developing and improving all things bike. Hal brings a passion for design, tattoo and creativity. It is a perfect mix, with all three having the essential appetite for playing out on bikes.
You can see that the designs are heavily influenced by traditional tattoo styling and with contemporary colour twists, there are enough designs to shake a boomerang at (apologies for the horribly crowbarred Antipodean reference).
Ben's Pick of the Peloton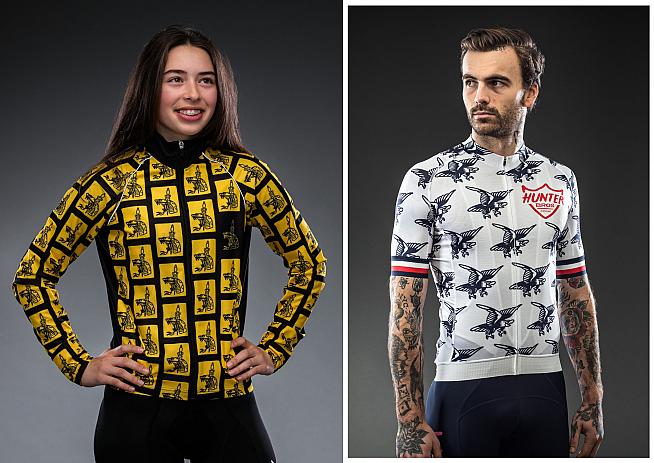 Girls: Dyin' To Be Your Snake LS Jersey - AU$130
Boys:  Bird of Prey SS Jersey - out of stock
Attaquer
The mission statement of Attaquer is 'look good, feel good & ride faster' and they also affectionately urge you to 'be your alter ego'.
Now, I need little encouragement to be 'Inflatable Belly Man' - in fact these days it is less my alter ego and more my de-facto state of being. But Greg Hamer & Stevan Musulin have created a diverse, fresh, high-end and head-turning range for all types of human to enjoy.
Like Hunter Bros, they are from the land down under - is there some sorcerous correlation for kickass kit made by 'Welshies and Magpies'?!
Ben's Pick of the Peloton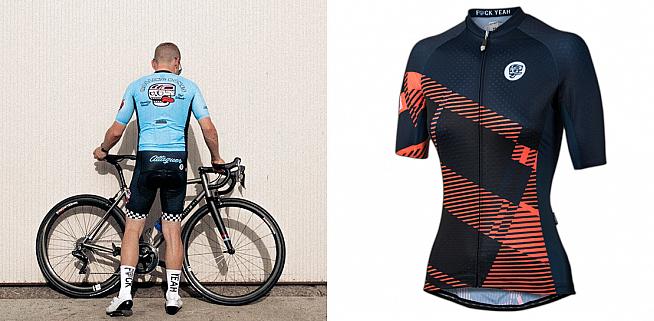 Girls: All Day Big Check SS Jersey - £114.95
Boys: Rollin Bones SS Jersey & Bibs - £219.95
Wearwell
Back to Blighty now with Wearwell. In business since 1867, Wearwell.cc has to hold the record as one of the oldest cycling clubs in the UK.
The history of Wearwell.cc since those early days reads like a BBC period drama - mutiny and revolt, gambling, embezzlement and fraud, family feuds, bombed and burned factories, not forgetting bike racing wins. It finally succumbed to recession closure in 1975 but was resurrected in 2017.
The kit is of simple colour and design, but it exudes class and doffs its cap to simpler times. This Revival jersey wouldn't look out of place at L'Eroica amongst the iconic designs of the last 100 years.
Ben's Pick of the Peloton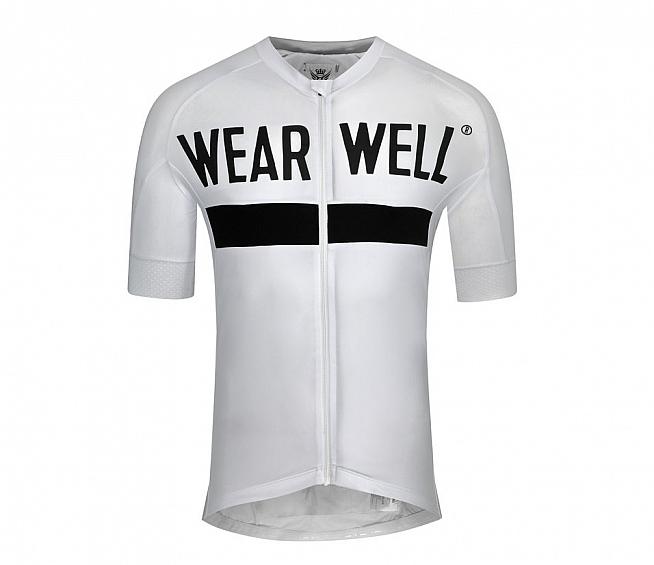 Unisex: Revival Collection White SS Jersey - £98
Belgian Boys Club
Now I'm sure I don't need to tell you about Belgium and cycling. If you don't know about the genetic predisposition for hardness, cobble skills and a pious dedication to two wheels, then you need to educate yourself chump. Youngsters grow up aspiring to become a 'Flandrien', 'the highest compliment bestowed upon a cyclist who embodies the country's humble blue collar beginnings.' They even have a 'Flandrien of the Year Award', which is held in high esteem amongst riders as it is voted for by their contemporaries on the road.
The Belgian Boys Club kit is inspired by the iconic climbs and places which the Classics are based around each year: Koppenburg, Kwaremont, Oudenaarde, Antwerpen...
'What you wear on or off the bike should motivate, inspire and truly attest you cycling passion; if you have everything under control, you're not moving fast enough.'
Amen brother.
Ben's Pick of the Peloton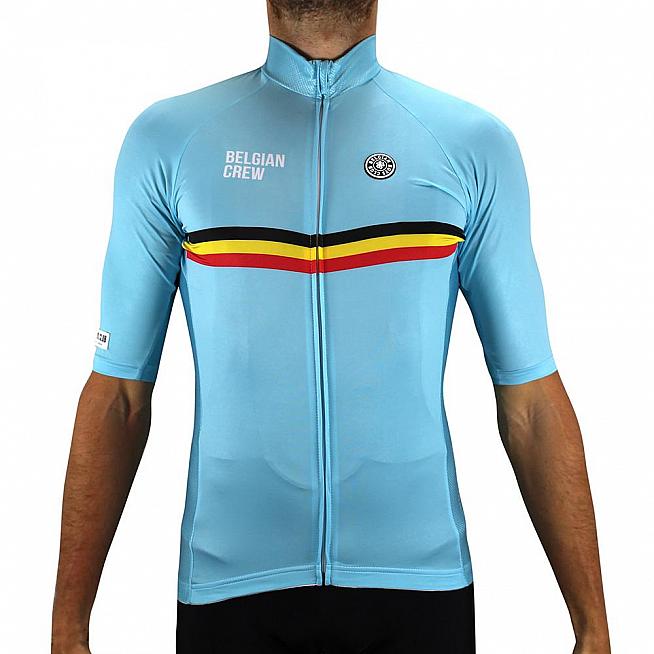 Unisex: Belgie Jersey' Light Blue SS Jersey - €120
Finch
Finch Cycling exudes class and firmly sites itself as a premium cycling brand. On the website, in several places, is emblazoned 'British Design' which it appears to hold in high esteem, however it is a South African outfit based at Sheffield Beach, Kwazulu-Natal. Like Wearwell.cc the designs are simple and surely hold inspiration from team jerseys in the 50's, 60's & early 70's. The individual details on the kit is what affords Finch to rise above the rest. Gold styling on the 'Royal Kit' range; gold is now not only available for the Olympic road champion to rock. The colour choices of the 'Bold Range' work to create just the right amount of contract without being crass; but the 'Core Range' with Union Jack arm gripper insert, in my opinion, are the pick.
Ben's Pick of the Peloton
Girls: Core Black & Coral SS Jersey - ZAR1200
Boys: Core Black (Union Jack) SS Jersey - ZAR1300
Milltag
Milltag.cc was started in 2010 by Ed Cowburn and Pete Kelsey after 'not being able to find any jerseys that weren't boring, generic and uninspiring.'
After 12 months and exponential demand they began to create custom kits. The mix of independent designers and unique inspiration has created some truly eye-catching items. The clothing is also race proven, with Milltag having supplied ASO's Tour de Yorkshire and Matrix Pro Cycling with kit.
The range is all encompassing and should satisfy even the fussiest of cyclist. Did I mention they have a jersey celebrating the hallowed cathedral of musical mayhem, The Hacienda? Did I also mention that they have two, yes two, Stormtrooper inspired jerseys?!
Say no more.....
Ben's Pick of the Peloton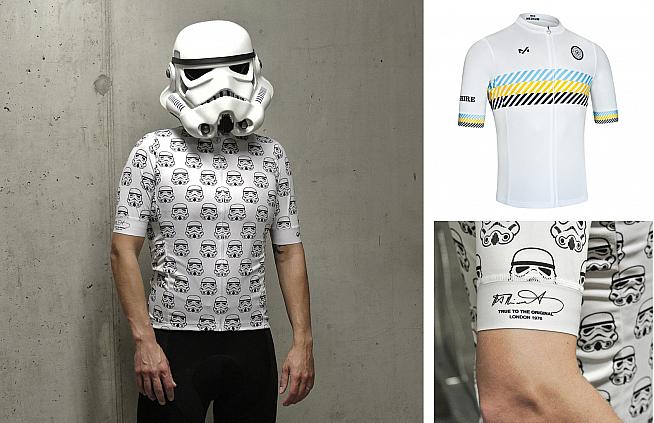 Girls: Stormtrooper Garrison SS Jersey - £75
Boys: Yorkshire National SS jersey - £75
Stolen Goat
'Work less, adventure more...you'd be amazed how productive your life becomes.'
Sage words from Tim Bland, the founder and director of Stolen Goat. There is a big Google/Apple feel about how Stolen Goat operates; fun, intellectually humble, conscientious and comfortable dealing with the unknown would all appear to be accurate descriptions of how, since 2012, the company has gone from strength to strength.
Now, techno-hippy alfresco values are all well and good, but if you don't have the product it's all just words... Good job this isn't the case with Stolen Goat. The range includes top quality merchandise with a menagerie of designs - the tongue in cheek 'Race Team Jersey' is a massive success with its spurious sponsors 'Graft', 'Amore Adventure', 'Bonk', etc.
Ben's Pick of the Peloton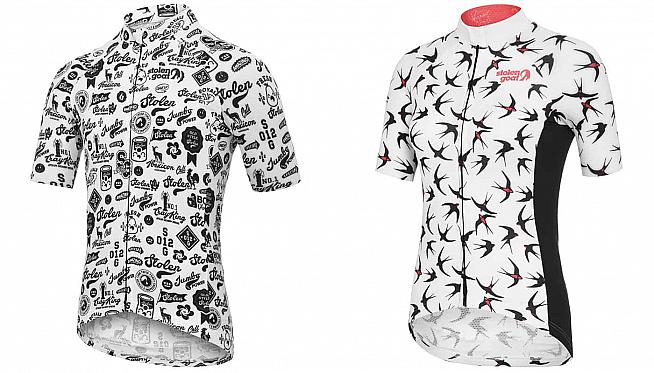 Girls: Flight Cycling SS Jersey Limited Edition - £75
Boys: Subtle Cycling SS Jersey Limited Edition - £75
Velobici
The fellows at Velobici don't mince words: 'We Love...Style (to look good is paramount), riding, summertime, smooth roads, favourable winds. We Hate...The cold, the wet, pot holes, punctures unfavourable winds.'
Considering these meteorological and highway preferences, it is miraculous that founder and owner Chris Puttnam has steered this UK-based company to such success. All the kit is manufactured right here in the UK, with the fabrics being knitted in Nottingham and then produced in Leicestershire.
They even offer cardigans...who doesn't like a cardigan? These ones are inspired by Lombardia - The Race of the Fallen Leaves. #peng
Ben's Pick of the Peloton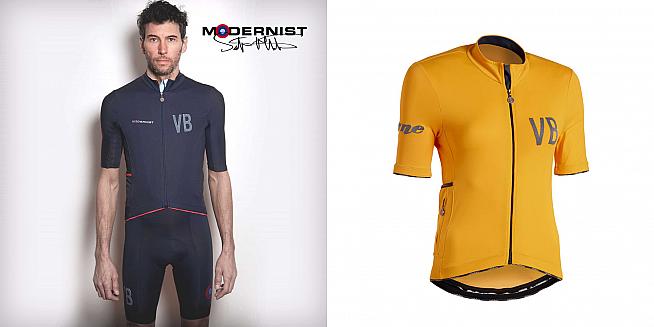 Girls: Verne-Gold SS Jersey - £170
Boys: Modernist by Scott Mitchell SS Jersey - £185
Jehu Bikewear
Hardcore puck rock is maybe not the most obvious setting to develop and nurture a high-end cycle clothing company. That is unless you are music graduates Freddy and Jack, whose obsession with getting sweaty not only inclined itself to loud music and pogoing, but also, to playing out on bikes - and from this came the designs.
Although the range is not huge, the designs stand out and can hold their own against other innovative kit.
Ben's Pick of the Peloton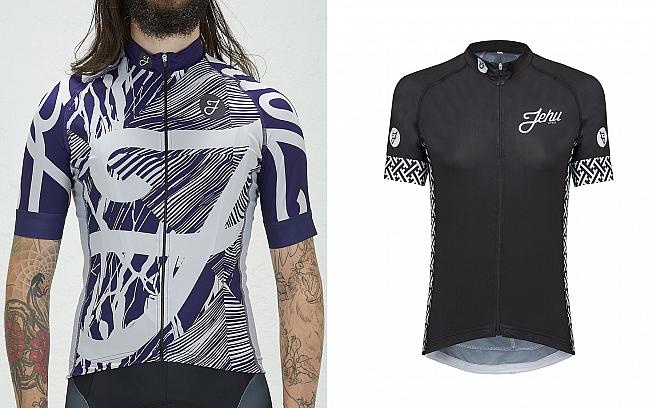 Girls: Sayagata SS Jersey - £70
Boys: Formation SS Jersey - £70
Worthy mentions...
If you want hallucinogenic jerseys, tees and all manner of cycling accessories look no further than Spanish hitters Maldita Buena Suerte.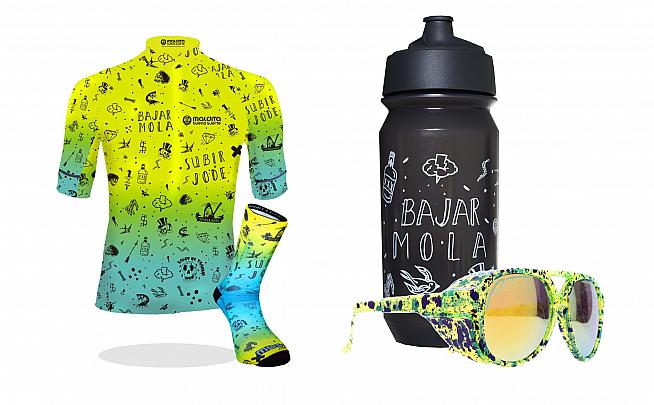 If socks are your thing (and if you have feet, they should be) then you'd be insane not to check out the range available at www.sockdoping.cc.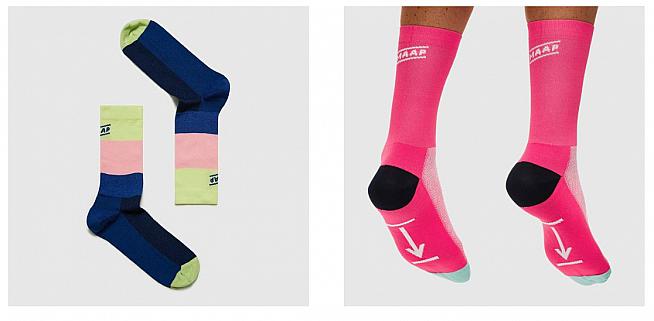 Custom apparel with a twist? Got a weakness for cycling shoes? So do the gang at www.velo-kicks.com.au.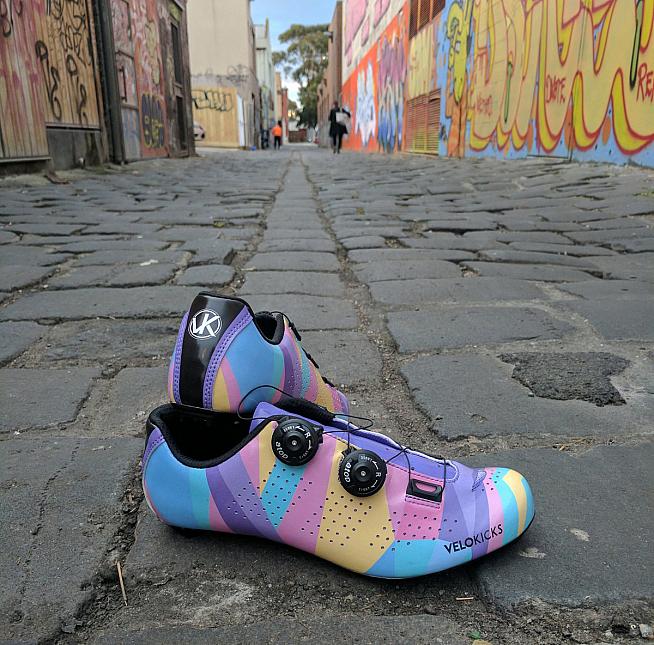 0 Comments