My three favourite 'white rabbit' references in popular culture, in order of appearance, are:
Alice in Wonderland, 1865 - the ubiquitous principal introduction to the metaphoric Leporidae
Jefferson Airplane's 1967 LSD-inspired 'White Rabbit' song that took listeners on a psychedelic journey, highlighting the dangers of ingesting mushrooms
The Matrix, 1999 - one pill to live an ignorant existence where everything tastes like chicken, or one pill to venture down the rabbit hole to Wonderland.
When we set off on a cold, grey and dreary March morning from the North East of England heading to Geraardsbergen, Belgium, little did we realise that a white rabbit would indeed lead us to our own Flandrian Wonderland.
As a group, this would be our 3rd, 2nd & virgin visit to the what some cite as the greatest one-day race in the pro calendar. As single day racing goes, some enjoy the climbs of the Amstel Gold, the potential chalky mud-fest of the Strade Bianche, or the pavé and flat-out thrills of Paris Roubaix... but the Ronde van Vlaanderen has everything and then some.
I have been to Flanders a few times now and love the sportive, but this report is simply a recommendation and review of Hakuna Matata, the bed & breakfast where we resided for those boozy, leg-breaking four days of Flanders. Engage Judith Chalmers mode...
As I said we were heading for Geraardsbergen, which for Flanders purists is the home of the ultimate cobbled climb, the Muur van Geraardsbergen. In years gone by the Wall of Geraardsbergen was pivotal in deciding the winner, being that it was the penultimate climb 15km from the line.
The Muur van Geraardsbergen has been axed from the parcours in recent editions, and Wouter Vandenhaute, head of the 'Flanders Classics' conglomerate, has made no secret that the route change was entirely based on gaining more crowd numbers, sponsorship and increased TV coverage. The new route, since 2012, is now centred on and around a three lap circuit between the Oude Kwaremont and the Paterberg with the finish in Oudenaarde. However, perhaps due to pressure or a sense of historical sentiment, the Muur was reinstated into the Ronde in 2017.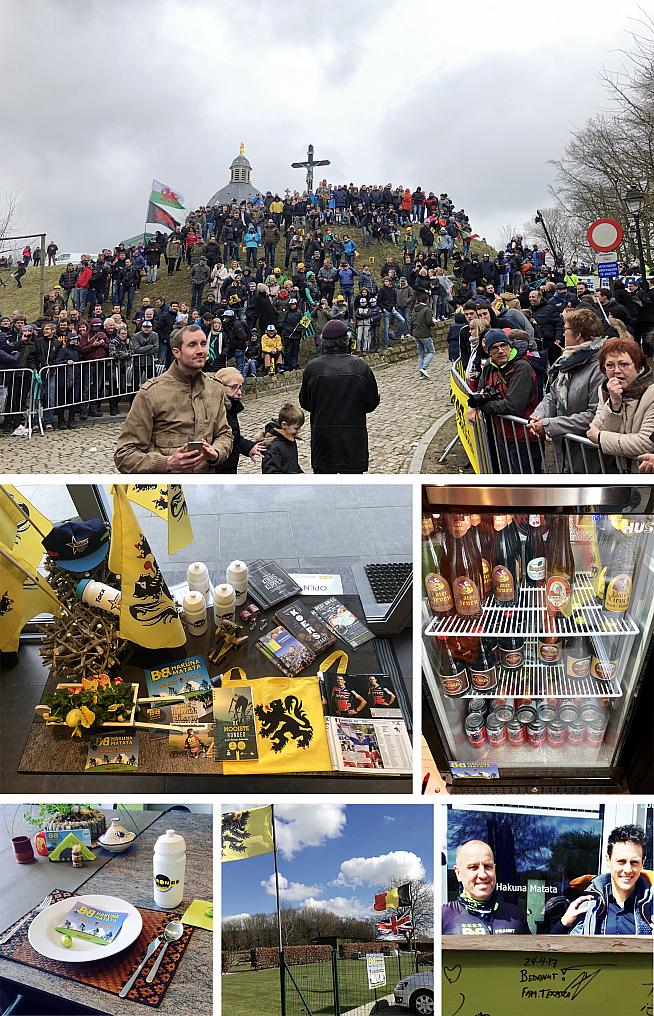 The Hakuna Matata Bed & Breakfast is located on the east edge of Geraardsbergen but is perfectly situated for both iconic climbs that reside there; the other, being the Bosberg, is 2km away, meaning your legs aren't even moderately warm when you hit the 11% gradient.
It is run by Franky and his wife Cindy, with help from their ever-willing and eager family. It's typically modern Flemish in architectural style, but with extensive grounds and views of Flanders fields, it offers thought-provoking views whilst you wheel out your two-wheeled war machine beneath leaden grey skies.
There are three rooms that offer 12 beds, with two being family friendly that increase capacity to hold five individuals. Each room has a private entrance, free WiFi, locally stocked bar, shower/bath and access to outside seating.
As the name hints, there is a certain zoological theme in the rooms and the Hakuna Matata reference starts to make a bit of sense as you take in the decor. Moreover, the Hakuna Matata aphorism is entirely applicable to our host Frankie for whom nothing is too much bother: he is attentive and gracious, and if there is anything that we request, "Hakuna Matata..." he says, slowly with a relaxed Flemish accent, "...no worries!"
My good man, I like the cut of your gib!
As we unloaded the bags and bikes, I spotted something out of the corner of my eye dancing across the unevenly fallow field: a bleached furry bullet. I turned my head fully to confirm what I think I have seen, but... there is nothing there? I wait a split second longer, and sure enough it remerges from behind a rutted mound of soil - the White Rabbit.
"Can anyone else see that white rabbit?" I nervously check.
"Yeah," replies one of crew, "Apparently it's a wild rabbit that's become tame. It lives in the gardens, you can feed it; if you can catch it!"
"Ok good." The relief that I was not seeing things was obviously unmistakable, judging by the sniggers and mickey taking I received from the rest of my travelling companions. Idiots.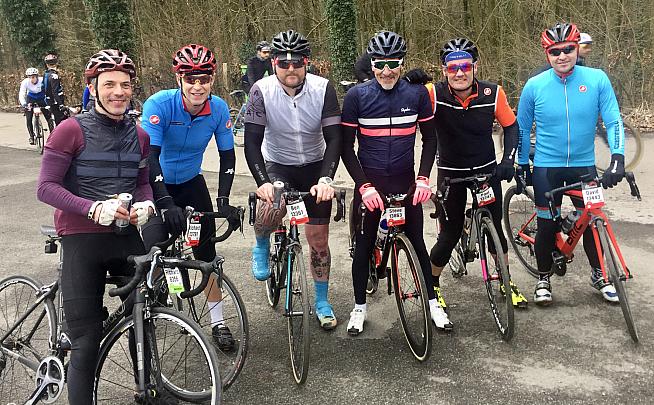 As we settled into the Hakuna Matata B&B, we realised we'd chanced on a fantastic base to explore the fabled cobbled climbs of the area and cafés/pubs of the centre of Gerrardsbergen. We sat down in the open plan dining/kitchen room with open 'honesty' beer fridge, and chatted to Franky as he prepared us some of his famous 'Belgian Stew'. At this point we checked in case it may contain the fabled 'Pot-Belge', but unfortunately not.
The breakfasts were ample, varied and certainly enough to get you going on a fresh spring morning. The bike store was secure and large enough for a mini peloton of cobble-ready bikes. The beer and wine, all local, was neverending and fantastic value.
Franky is not only a good host but a world-ranked 'Braai' cook; unfortunately we did not get to experience his skills due to the inclement weather, but he is a ranked ninja in the South African BBQ technique.
It is not only plebs that vacation at Frankys; pro cyclists from Wanty Group Gobert are regular patrons throughout the year. In fact, Kiwi pro-rider Dion Smith had stayed the night before we arrived.
On the morning of the Ronde I drew back the curtains and purveyed the murky scene. The white rabbit - my new spirit animal - shot across the farmer's ploughed field and into the garden, where it stopped and looked right into my eyes (well from about 50ft, and only with one eye because obviously they are on the side of their heads...look you just needed to be there. We shared a moment, man...). Today was going to be a good day.
What did this omen mean? Had we finally found Wonderland; a stone's throw from the Bosberg and a stone's catapult to the Muur. Lovely blonde and dark Belgian beer in an unlocked fridge, surrounded by fellow Lycra loonies and shiny carbon fibre loveliness. Yes indeed, we may have gone down the rabbit hole; taken the red pill.
The final confirmation that we were amongst the enlightened few was when Frankie pulled out a picture of himself and Nicky Terpstra who had also stayed at Hakuna Matata on one of his many recce rides, with further evidence in the form of his autograph on the celebrity board. Riders from Quickstep, Vaconsoleil, Rock Racing and all manner of semi-pro teams have stayed in the past.
But Terpstra's tag was an omen of undoubted significance. His form was off the chart: surely he couldn't beat the outright favourites to win Flanders 2018?!?
I can guarantee that we will all be back at Hakuna Matata, hopefully as soon as Flanders 2019 if Mrs Wife endorses my entry...
Thanks to Franky & team at the B&B Hakuna Matata for their hospitality over the Flanders weekend. See you again!
For more information and bookings, visit bbhakunamatata.com/home.
0 Comments