Ashmei is a name I first heard mentioned on YouTube, via Francis Cade's channel a while back (Iif you've not heard of it, it's well worth a look). They are a British brand based in Hertfordshire offering premium cycling and running kit.
While Ashmei have a variety of jerseys and jackets in the range, when it comes to shorts they've so far stuck with a single model: the Bib Short. The brand's strapline is "outperforming the best" and the shorts come in at a pretty hefty £235. So, clearly, the message is that these are the best that Ashmei can come up with and they aren't going to waste time trying to sell you inferior offerings.
In any event, after destroying my own go-to shorts in an early-season race tumble, I was keen to find out how Ashmei's offering stacked up against the competition.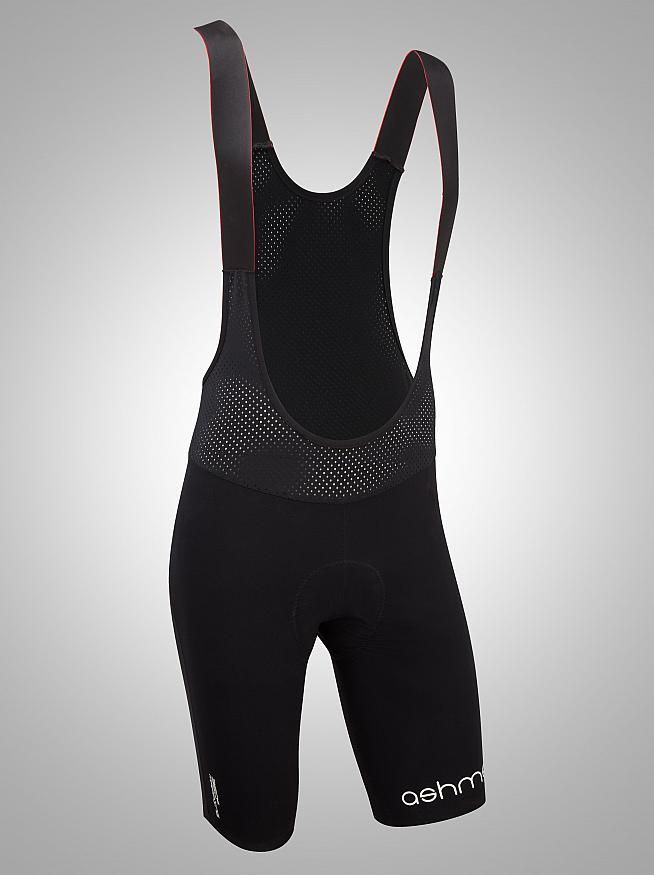 Sizing is a bit of a pet peeve for me when it comes to bib-shorts. I'm 5'11 and have a 28" waist. According to Ashmei's size guide, I should go for a size 'S'. However, experience (painfully tight shoulder straps) has told me not to buy bib shorts on waist size so I ignored the size guide: I went for a size 'M' instead which is for a "30-32".
This was based on the assumption the length of the shorts would be suited to someone of my height, and it was the right choice. Some companies give a height guide for their shorts - Ashmei should join them.
Ashmei's v.3 shorts are unlike any bib shorts I've tried before. The material is a stretchy fabric that feels a little bit like soft-shell (as you can see in the creases in one of the pictures). Despite going up a size the shorts felt very tight around the thighs. I'd read the reviews on the website and was assured this was normal and they'd loosen up with use.
After several rides and washes, they don't feel as tight any more but are still very snug. Although there's no grippers on the inside there's been no trouble keeping knee/leg warmers in place. I like the minimalist detailing and am happy to report there's nothing to suggest the lettering is likely to come off. The stitching and overall finish is excellent, as you'd expect at the price. They also came in a nice bag.
Now on to the heart of any cycling shorts, the chamois. Ashmei have selected a pad that's relatively minimal for the most part - but it's a lot thicker around the sit bones area. The padding roughly follows the outlined area you can see in the photo.
It's claimed the pad doesn't absorb moisture, and that is indeed the case. Moisture sits on top of it, which is odd when it's still there (albeit in very small amounts) but I think it's better than it being absorbed because you can at least get rid of it if you have the opportunity at a café stop. It also means your chamois cream should stay in situ longer.
On the whole I'm a fan of the pad. If you're doing a multi-day event you can give the shorts a quick rinse, let them air and they'll be good to go the next day.
The overall cut and feel of the shorts is good, and the close fit ensures they cling aerodynamically to the contours of the body. They rustle a bit when you walk in them which is initially disconcerting, but fortunately they're noise-free on the bike when the material is stretched fully.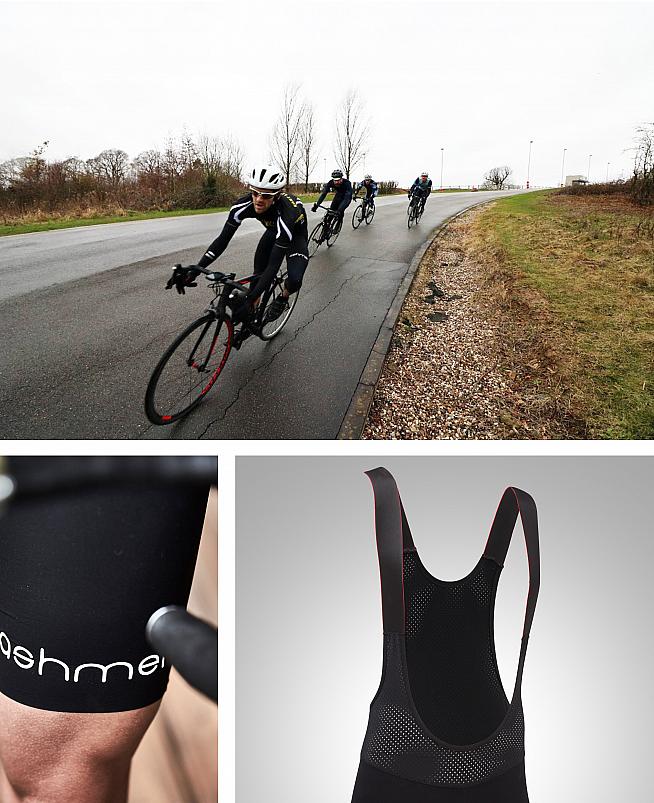 I received these shorts in January around the time the snow arrived, and conditions since then mean that I can't comment on how they feel when it's hot and things get really clammy.
How they feel when it's below 5C with icy winds, I can definitely comment on. In regular bib shorts I've felt the cold before when the wind picks up. No such problem with the Ashmei shorts, they definitely keep the worst of the wind off. When there was rain it seemed to run off the shorts nicely.
I mainly tested the shorts in races and in use I forgot all about them. Despite the bitterly cold weather, you're still going to get a bit sweat in certain areas during a race. The shorts stayed comfortable and I feel there's just the right amount of padding - I don't like anything too bulky, and these shorts have the right balance with just that extra bit of padding at the back.
As mentioned above, the legs feature a laser-cut hem rather than the usual silicone gripper. Stuart, the founder of Ashmei, explains the thinking behind this:
"We chose the woven microfibre over a traditional knit, in order to bolster the stretch content. The issue with knitted structures is the volume of stretch that you can engineer into the fabric. This is why regular bibs have a gripper band to hold the hem in place, but if this doesn't fit 100% perfectly it either allows air to billow up the legs or acts as a tourniquet that can make your thigh muscle fatigue faster."
Well that's the theory, and it certainly seems to work in practice.
In fact it's hard to find fault with any aspect of the shorts; Ashmei have clearly invested significant R&D into the design. You could perhaps make a case for part-perforating the straps; they're very comfortable due to their width and the material used, but might get a little sweaty on a really hot day (a guess, since I never encountered anything about 7 degrees).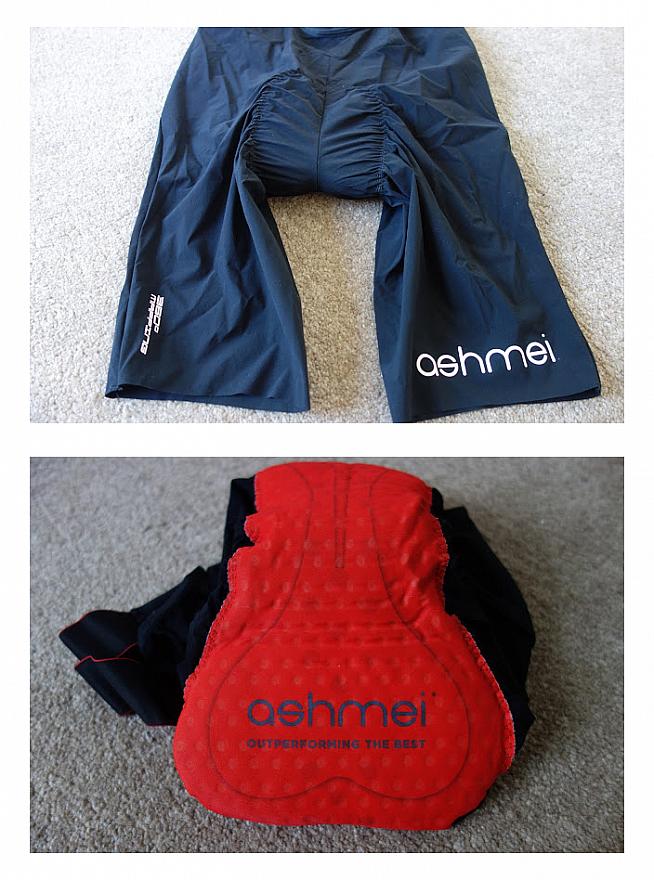 The longest ride I managed was just over three hours at a pretty high pace. The sun even made a fleeting appearance so I was able to work up a fair sweat and, again, no issues to report. When there's something wrong with a pair of shorts they tend to let you know; so it's good to be able to put them on and then forget about them. I never felt like I was shifting around on a horrible damp pad, which is a sensation I've encountered with other shorts.
More racing (in the cold and rain) followed and the shorts again were doing their job without me thinking about them. I have been prone in the past to some saddle sore, but no problems to report after any rides. If I get the chance to do another 6-7 hour ride in the Alps these are definitely shorts I'd be reaching for since they have excellent sweat management properties and are nice and comfortable.
In conclusion, while there's no doubt that £235 is a lot of money for a pair of cycling shorts, Ashmei have produced a class-leading product here. These bib shorts score highly for comfort, but what sets them apart is the waterproofness of the pad.
The result is a pair of bib shorts that is not only race-worthy, but with a hygienic and easy to clean pad that makes them a great choice for longer sportives or multi-day rides.
Ashmei Bib Shorts, £235 from ashmei.com
0 Comments