Yes, it may at first glance look like a thermos flask with integrated straw - but this is RideAir: a refillable, portable air canister that lets cyclists inflate bicycle tyres at the push of a button.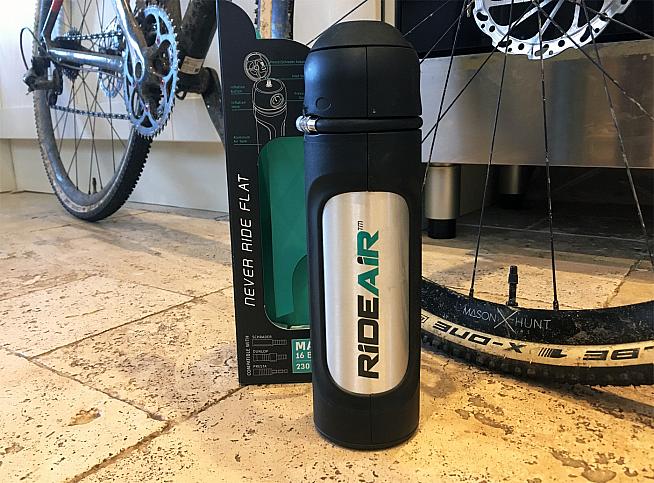 RideAir is very simple to use: you simply fill it with air by attaching your standard pump to a nozzle on the top, and it's then ready to inflate your tyres via the attached hose. The compressed air is released at the push of a button, and a full can should be enough to inflate two road or cyclocross tyres.
The hose is compatible with both presta and schrader valves (i.e. road and mountain bikes) and coils neatly into a slot at the top of the canister when not in use.
The RideAir is designed to fit into a standard bottle cage, like a CO2 canister on steroids. But, unlike a lot of CO2 cartridges, it's reusable so you don't need to add it your mental or literal landfill. It weighs less than a full bidon at 450g, and feels well made with a brushed aluminium body enclosed in sturdy back plastic casin. And, if you get a puncture, the RideAir will definitely save time over pumping up a tyre.
Even so, it's heavier than a mini pump and I suspect many weight (and image) conscious roadies will be reluctant to sacrifice a water bottle to carry this on their bike.
But that doesn't matter, because the RideAir has an ace up its sleeve: it's a godsend for cyclists running tubeless tyres.
Anyone who's tried tubeless will probably be familiar with the frustration of trying to seat a tyre for the first time, and ending up red-facedom pumping and with hands and floor covered in latex sealant. Or is that just me?
Early adopters to tubeless may recall the old 'ghetto method' of gerry-rigging a pressurised container out of a plastic soft drinks bottle. Your ears may even still be ringing from the bang when the bottle exploded under pressure.
The RideAir operates on the same principle, but properly executed with less risk of tinnitus.
Having recently dipped a toe into tubeless for the first time on my cyclocross bike, I found the RideAir to be a massive time saver. I'd managed to seat one tyre successfully using a track pump, but no amount of frantic pumping worked with the second.
In desperation - and pretty much ready to write off tubeless as a waste of time - I loaded up the RideAir. Sure enough, a quick blast and the tyre popped into place instantly. I almost kissed it.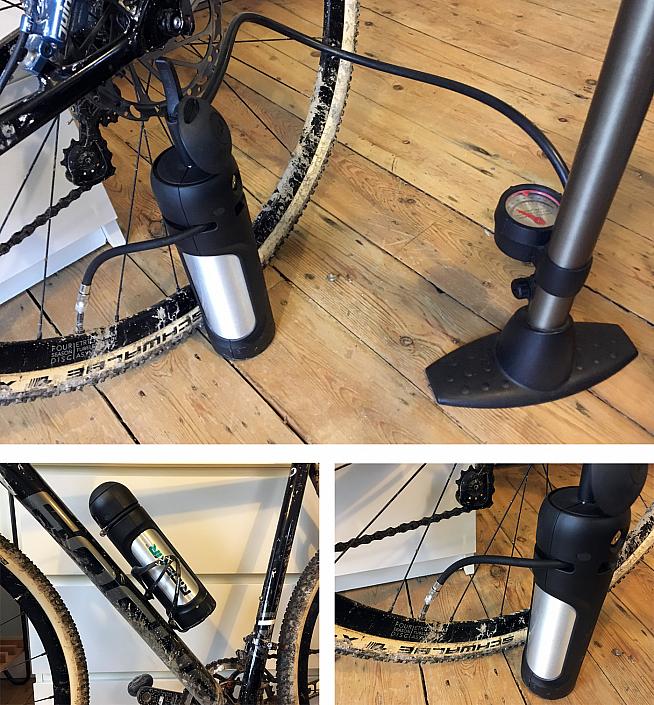 For this purpose alone, the RideAir is well worth the asking price. If you already run tubeless, you'll know what I'm talking about.
Downsides? Nothing to mention really; if they could have make it look like a standard bidon I would actually consider carrying one on my bike, but that's just vanity.
On a more practical note, the RideAir holds 230psi of air but my track pump only goes up to 160psi so I can't fill it to its full capacity. For home use though, this isn't a problem; even at 160psi there's enough to inflate a 35c 'cross tyre.
Bottom line, if you're running tubeless tyres the RideAir is a no-brainer. Add one to your arsenal; it'll keep your tyres full and your swear jar empty.
RideAir is priced £59.99 and is distributed in the UK by Cooke Components: www.cookecomponents.co.uk
0 Comments