There aren't too many road cyclists without a little bit of 'streaky bacon' scarring to remind them of their crashes. And anyone who has come off knows that the knees and the elbows are the first to feel the concrete.
Personally, my left elbow's been through so much that it's looking more like a gammon joint. So when Le Col released the HC winter jacket with Kevlar elbows - the material used to make bulletproof vests - it struck me as the best idea in the world.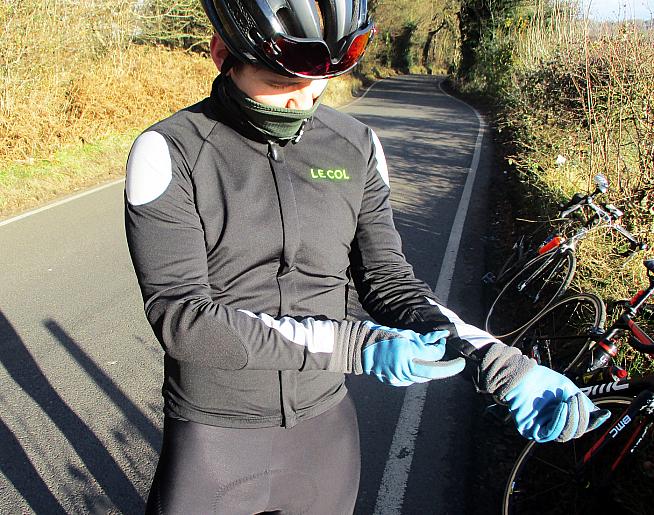 There's actually a lot more to the HC jacket than the Kevlar USP. The Schoeller-Dynamic fabric is thermal and windproof. Experience tells us that this boast means different things from different brands. Le Col says it is appropriate in anything from -10C to 12C degrees.
After testing the jacket, I can simply say it means that the temperature has to drop pretty low before you'll feel the cold. I wore it with no jersey underneath at 6C degrees one morning and still got a sweat on during short and punchy climbs. At 2C degrees, I wore it with just a base layer underneath and the only thing that got cold were my toes.
Luckily my club ride was cancelled when it hit -2C, and I imagine yours would be too, so the long and short of it is that this jersey could handle anything the British winter is likely to throw at you.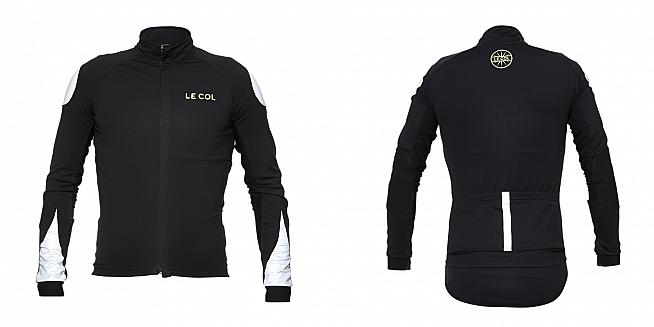 Wearing a jacket with just a base layer is becoming increasingly common, and this is reflected in the appearance of this jacket. Le Col probably describe it best, saying "it fits like a jersey but protects like a jacket". And from the photos, you can clearly see it looks like a jersey too.
What sets the HC jacket apart is how protective it is in the cold. But what you'll notice in less extreme conditions is its breathability, which is particularly important for British cyclists riding the beautiful and varied terrain of Old Blighty. Most of us will be hard pressed to find a mountain, so climbs are usually short and frequent, interspersed with flats and descents. I'm aware this describes every ride, ever - but it is different from some routes in France, where you can spend four hours climbing and enjoy the long descent, cooled by the wind as the sun starts to cook, or in Belgium, where you can (allegedly) ride for days on flats.
You can dress for such reliable terrain. But at home, I often find myself holding a base layer, short-sleeve jersey and a winter jacket in my arms, stuck in a practical if not moral quandary. This Le Col jersey breathes as you climb so you'll sweat but you won't swelter, and the windproof panel on the front protects you on the descents. It should serve you well, whatever the weather. It will even see you through early spring, although it's a little too heavy duty for the summer. It's one to put away in April - but you may need it again by September.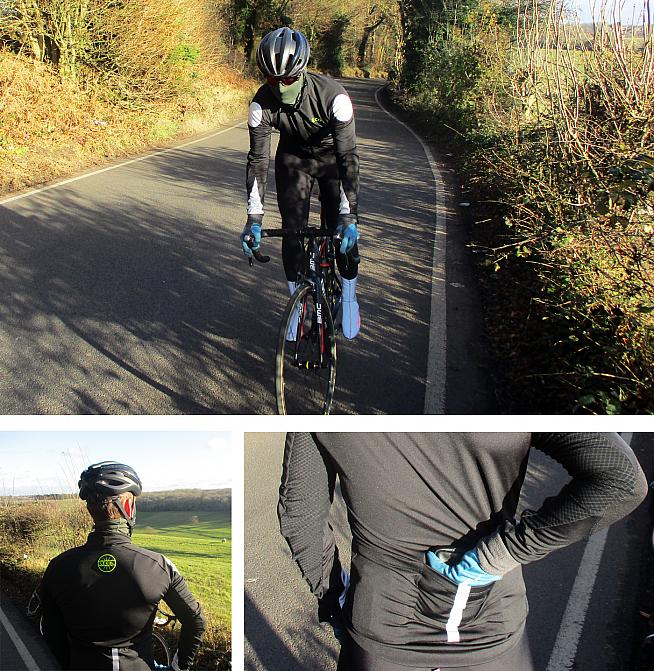 Now for the style element, as important for many of us as performance. The brand's founder, Yanto Barker, is a former Team GB rider who co-hosted the Tour of Britain on ITV and is not ashamed to admit that he aims the brand at an elite market.
"Over the last 20 years, cycling has started to appeal to a much more affluent sort of person," he told me.
That is reflected in both the styling of the jacket - subtle, classy - and the price, at £300. In appearance it is quite plain with discreet branding on the chest and the back of the neck. The logos are in a luminous yellow, which subtly matches the Specialized Torch shoes I recently bought (a fortunate coincidence). Matching yellow socks would be a stylish move if your shoes are black and you're willing to be bold.
For commuters, there are reflective strips on the back and forearms, with panels on the shoulders too. These face forward, so you'll be visible from in front and behind. The placing is apparently specifically designed so that drivers can tell you are a cyclist from the shape the panels make.
Other technical features include handy zips on the cuffs so they won't pull the sleeves of your base layer up to your elbows as you pull it on, and there's a tail flap for a little extra length at the back when it rains. A fourth pocket on the inside protects your valuables from the rain (although, a word of warning, not from your sweat).
The HC is in many ways the perfect all-round winter jacket. It's breathable, so protects you in the cold but you won't suffer too much when you go hard. The styling is classic, so it will match the rest of your cycling gear. It has great technical features, reflective panels and zips on the sleeves. The only drawback may be the £300 price tag, but the brand is geared at the people with cash to spare who want to literally wear prestige on their sleeve.
However, if that's just a fraction too much, you can currently get a 10% discount by signing up to Le Col's mailing list. They have also been known to run promotions - last year they ran a Strava challenge and handed £50 vouchers to those who completed it.
But even if you shell out the whole £300 and it makes you wince at the time, you'll not be disappointed in the investment because it does everything asked of it and more. The performance matches and even exceeds that of some better-known brands.
The only question now is how long will it be before we see Le Col on a World Tour team jersey?
Le Col HC Jacket, £300 at lecol.cc
0 Comments