I have odd feet.
I don't mean I have an odd number, or that I have something odd instead of feet. I don't have two left feet either. I'm a reluctant dancer, but when pushed (or drunk, or both) I can trot out a half-decent waltz with Mrs Lul.
But my feet are an odd shape. This is partly due to my age, but mostly because I spent nearly a decade doing martial arts, barefoot, on cold concrete and parquet floors in church halls, community centres, sports courts and schools. The amount of accumulated muck seems to have bonded with areas of my feet to form calluses that are not only alien shaped, but apparently made from a substance tougher than diamond.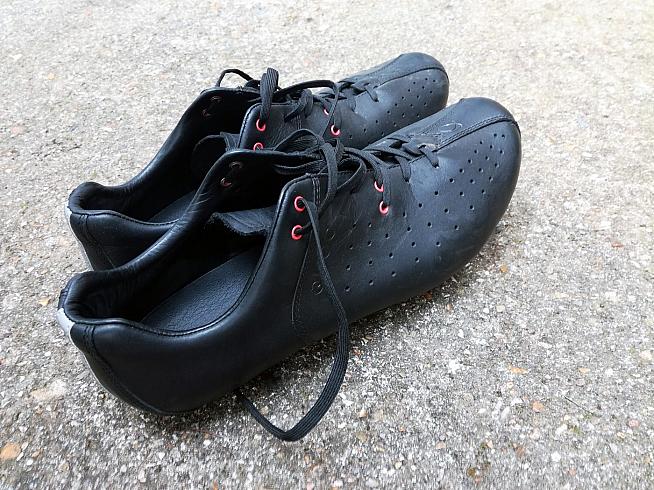 This makes shoes difficult. Socks wear out in odd places and, most significantly, the pressure on the humanoid part of my foot can cause excruciating pain. I have spent the last seven years trying to find a pair of cycling shoes that both fit and don't need me to take medicinally dangerous amounts of anti-inflammatories to counter the discomfort.
Shoes with Velcro and ratchet closures have come and gone, and I had almost given up hope and started to scour the internet for surgeons who could fit cleat mounts to my bones, when I hit upon Boa closures. Cycle Shoe Nirvana seemed to have been discovered, but to get a shoe that didn't push all of the wrong bunions, I had to go up a couple of sizes and was never really happy walking around like Sideshow Bob.
Lace-up shoes, I was told, was the answer. Good old-fashioned laces? Like grown-ups use? I imagined shoes that either cost more than the GDP of a small alpine principality, made with unicorn hide and sewn together with strands of platinum, or something resembling 1930s football boots, replete with hobnails and laces that tied around and around the sole.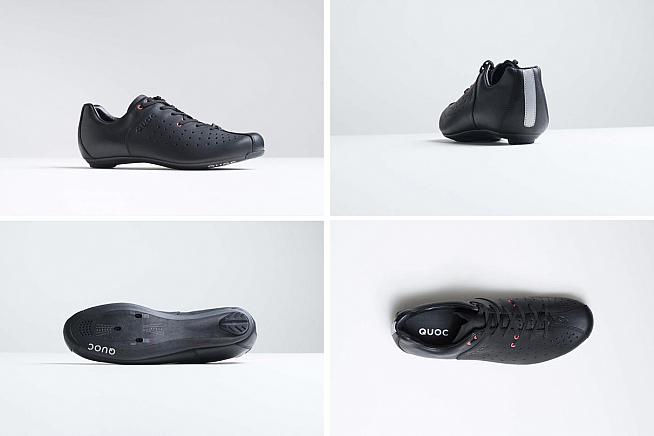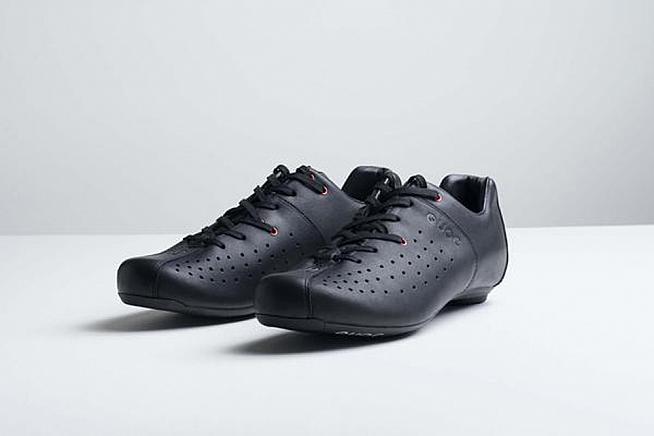 Thankfully, the Night Leather road shoes from Quoc Pham are neither of these. Quoc's first venture into road cycling shoes has been worth the wait: the Nights look stunning in black, with tiny accents of pink on two of the lace eyelets and a subtle 3M reflective band down the heel.
For those with a slightly more modest budget and less modest wardrobe, they also come in white and pink options with synthetic uppers. These versions are made of a lighter, reinforced microfibre material. Both types look stunningly retro.
The Night Leathers I've been testing are made of premium leather and they aren't, by modern standards, all that featherweight at a claimed 336g per shoe in size 43. They are, however, incredibly well tailored (cobblered?); straight from the box they ooze quality and, dare I say, durability - the heel pads are replaceable, too.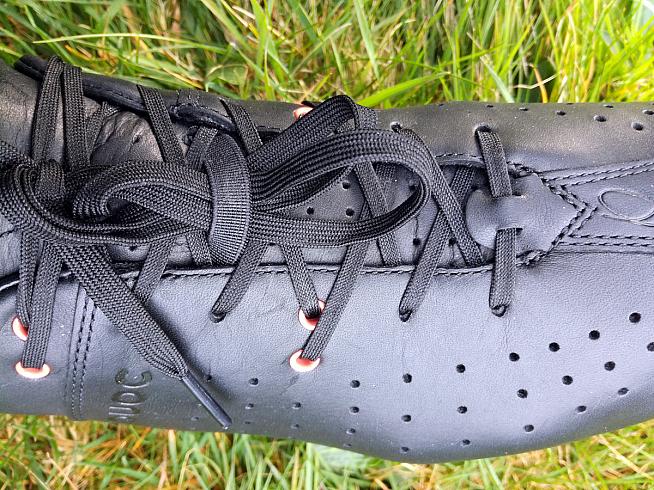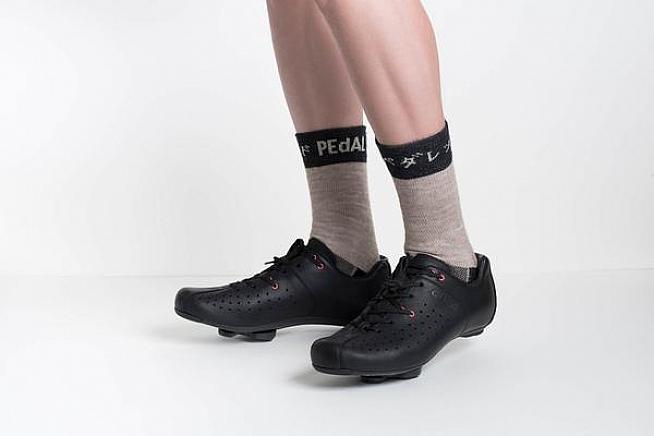 Like a fine pair of Oxfords (not brogues), the first time you slip them on, they hug the feet quite tightly and the sizing is spot on. I did panic slightly to start with, but then remembered to adjust the lacing to let my feet breathe a bit. Satisfied that I had the lacing right, using Quoc's patented Lock-Lace system, I took them for their first outing on the Cycling Weekly South Downs Spring Sportive.
They say you should never judge a man until you've walked a mile in his shoes - you should also not judge a pair of shoes until you've cycled 50km in them. I would never have attempted a long ride on a brand-new leather saddle (Matt Lamy, are you listening?), and I definitely should have spent some time breaking the Nights in. I should have also checked my cleat alignment.
Those first couple of hours were disappointing, but it wasn't the fault of the shoes. My feet were hot and swollen and complaining about being pushed in the wrong direction. I prised the shoes off at the feed station, loosened the laces right off and tackled my Look cleats with a multi-tool. Twenty minutes later, having tweaked the fit from top to bottom, my feet no longer belonged to the Ugly Sisters and I was ready to have a ball.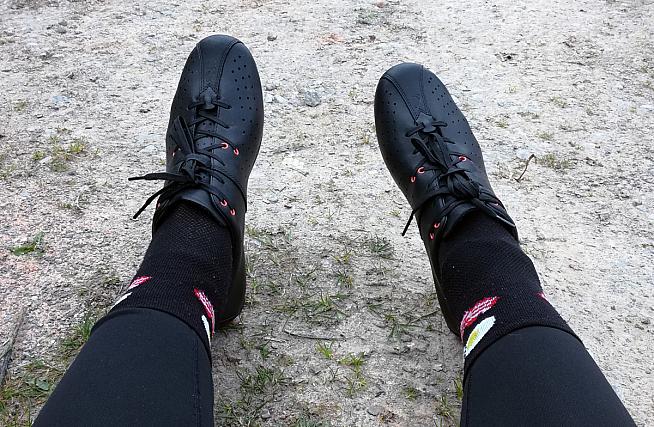 Back on the road, the shoes had begun to soften and mould themselves to my mutant feet and I began to feel less discomfort and more power transfer. The carbon composite soles are stiff enough to be a delight when powering out of the saddle up short climbs, but just compliant enough to move with the uppers.
It's rare these days to finish a ride without feeling like I'd been smacked on the balls of my feet with a spatula for four hours - but these Nights, on this maiden voyage, had gone from torturer to pedicurist in a few short hours.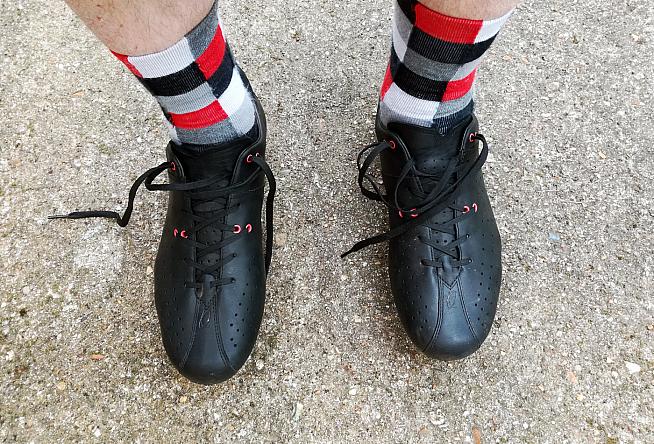 Over the next few outings, it has taken less and less time to adjust the fit and I'm learning that 'tight' isn't necessarily 'good' - the Lock-Lace lets me set the feel of the shoe, and not rely on some researcher's idea of what a good fit is.
Even if a chiropodist should take an angle-grinder and a blowtorch to my problems at a future date, I'm confident that these wonderful shoes will have the capacity to adapt. In the meantime, I may still have odd feet - but I've got very pretty shoes.
Quoc Night - Black Leather, £239 from quocpham.com
0 Comments