Modern society undoubtedly exposes us to more colossal irritants than any rational, decent and reverent human being should be forced to cope with: Pokémon Go, the continued survival of X Factor, Katie Hopkins, e-cigarettes, slow or non-existent Wi-Fi in my home when I pay for unlimited coverage.
I understand all of these are 'first world problems', or to give them their full title '#1stworldproblems'. Everything in 2016 has to, by law, be preceded by a hashtag or be a portmanteau or include some sort of 'office speak/marketing cliché'. These nuances of the 21st century world get right on my thrupenny bits. Please allow me to incentivise this article further by taking a holistic cradle-to-grave approach with a view to ensuring all my ducks are in a row... (shudder).
The only good thing about hashtags is that they have now replaced that godawful practice of physically adding quotation marks in conversation:
"Oh yes, I've heard our Janice is very (raise both hands up to head level with index and forefingers flexing, raise eyebrows, head at a slight jaunty angle and emphasise the next word in a Frankie Howard style) "popular" with the sailors!"
In 2016 this would be expressed as:
"Oh yes, I've heard our Janice is very popular with the sailors! #tart"
Poor Janice, and all because she had one too many crème de menthes that New Year's Eve at the Hartlepool Marina Working Men's Club. Still, both contrivances are equally horrible and nauseating, with the user attempting to be hilarious in some sort of ironic, camp, comedic, crowd-pleasing way.
For those uneducated amongst you who are still wondering if Portmanteau is a sleepy undiscovered Cornish fishing village, it may well be; but in this instance I am referring to the bastardisation of two words into one: Brexit (AAAAAARGHHHH!), Brangelina (Oh please no! Ed: At time of publication this is technically no more - Hurrah!), Celebutante (shoot me now!). This out of the three insults to humanity offends me the most. It's like nails down a blackboard, sand between your buttocks, or Davina McCall. Celebutante is defined as someone who is famous for being famous. Somewhat of a paradox and massive irony then, when most of these celebutantes are as unappealing, snivelling and cringe-worthy as their portmanteau title.
Marketing clichés are without doubt the lowest of the low usage of any language.
"OK guys gather round. We are going to think outside the box for this one and workshop it..."
"Let's not boil the ocean with this one...."; "Can we touch base about this offline next Tuesday?"
GIVE ME STRENGTH! The only marketing jargon that is acceptable, as far as I am concerned, is "marginal gains". Maybe this is because it was coined by the all-knowing, all-seeing chosen one of British Cycling and Sky, Sir David of Brailsford - or maybe it is actually something that all cyclists can relate to, no matter what level you are at?
New bar tape = marginal gain; by virtue of reduced drag, which by its very nature will increase your power output and we all know that more watts are good.
New water bidon = marginal gain; by virtue of improved aesthetics of the bike resulting in increased morale which by some quirk of science equals increased watts
New sunglasses = marginal gain; iridium lenses sharpen up the road enabling you to avoid those ruddy potholes resulting in no lack of forward momentum or sketchy avoidance techniques which equals increased watts.
With this in mind I have recently researched three separate cycling assists to gain not only a marginal gain, but what I'm hoping will be a significant gain.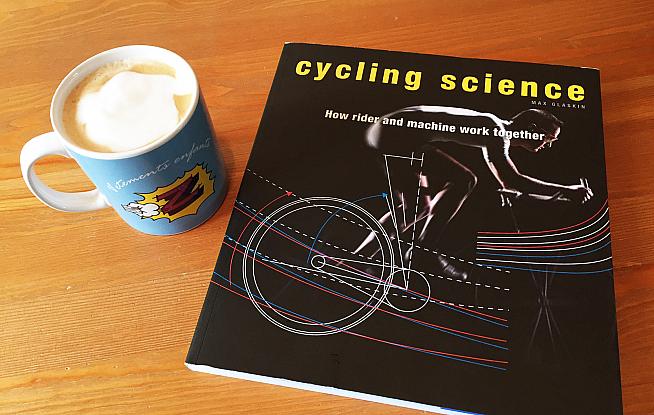 1. "Cycling Science" - the textbook approach to improving performance
'Cycling Science: How rider and machine work together' by Max Glaskin is a good looking book which, the blurb promises, 'takes readers through a wide variety of topics, from tyre rolling resistance and the difference between yield strength and ultimate strength; to the importance of aerodynamics and the impact that shaved legs have on speed.'
That it does. But before you take a deep sigh and roll your eyes at yet another complicated scientific textbook, just pause. This is not like other sports science books, which bamboozle you with complicated VO2 max graphs and highlight goals, which, to be honest, are out of the reach of all but the elite athletes.
'Cycling Science' sets its stall out in easy to understand chapters. Each topic within that chapter is then discussed over a double page spread, often phrased as answers to the sort of question you might well have found yourself asking - for example, "Should I buy lighter wheels?"
Treatment of each question is short and to the point, but with little loss or dilution of essential detail. There is just the right amount of narrative and scientific fact to explain the subject, with beautifully drawn diagrams to illustrate. For people like myself who massively struggled with physics, possibly due to the outdated Victorian textbooks I was subjected to at school, it is a godsend. In one illustration Glaskin highlights the benefit of using just one single front deep section wheel on a two-hour training ride; a saving of 30,000 joules of precious energy - marginal gain.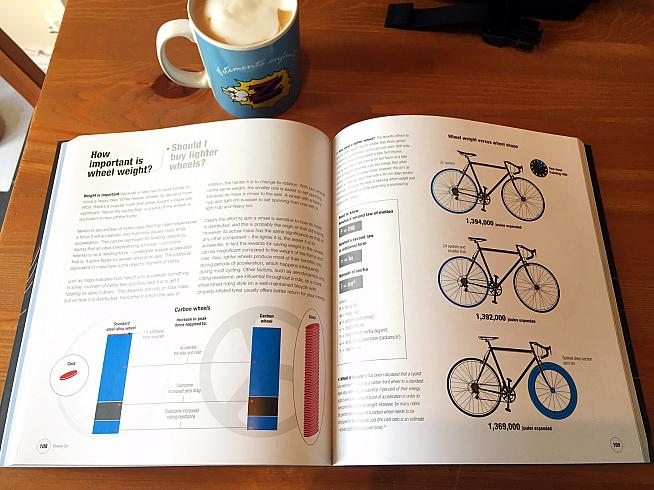 I don't think 'Cycling Science' is meant to be a cover to cover bedtime page turner; rather a reference bible to those questions discussed on a club run that nobody can give you a definitive answer to:
- Why do we still use oily chains?
- What's so special about carbon frames?
- What part does my tyre play in moving me forward?
- What difference does an aero frame make?
I think 'Cycling Science' would make an excellent addition to any cyclist's book shelf. It is by no means an idiot's guide to cycling science, but its accessible approach explains concepts and technicalities well enough for this idiot to make an informed decision about his holistic cycling existence.
'Cycling Science: How Rider and Machine Work Together' by Max Glaskin, £16.99 - www.quartoknows.com
2. Dress to impress: the Rapha Pro Team Aerosuit
Clothing and marginal gains go hand in hand, as evidenced by Team GB and their magic outfits in Rio recently.
So you have bought an outrageous aero carbon fibre steed, forked out for some sexy deep section wheels and accompanying smooth acting groupset. You then sit astride your magnificent beast in some threadbare, ill-fitting bib shorts and a baggy flapping jersey.
Shame on you. But do not worry, the answer is here. Ladies and gentlemen I give you the 'Aerosuit'. Bear with. The aerosuit or skinsuit was once the unique uniform of the time-triallist; not anymore. A plethora of cycling clothing companies now offer all manner of aerosuits to flatter all disciplines. Castelli, Assos, Ale, Nalini, Etxeondo, Zoot, etc. In my opinion however, nobody does an aerosuit better than Rapha.
The Rapha Pro Team Aerosuit is a serious bit of kit. It exudes Rapha cool and design, from its direct-print silicone leg gripper to the 'Aero-optimised textured sleeves' (proven to be quicker). Rapha is good at marketing.
As far as I can work out the skinsuit is the same as worn by Team Sky and they've done pretty well recently; there's even pocket space for those pesky TUE chits (controversial!).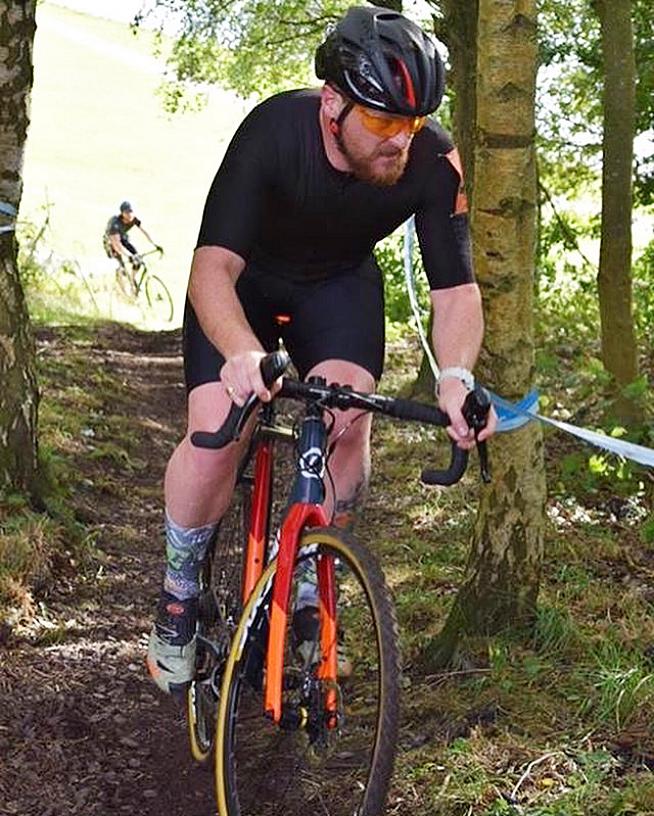 As with all aerosuits the Pro Team has an aggressive fit and is, shall we say, tight. Nothing is left to the imagination in a skinsuit. A nice feature of this kit is the two-way Vislon zip, which allows you to unlock 'up the way' to easily relieve yourself when nature calls. Rapha state that the zip has a lock to prevent the suit opening while riding. If it does then it did not click in on my suit on one early ride - either that, or the current tyre roll I'm carrying facilitated a belly escape which to any passer-by probably looked like I'd split the suit open!
I have been very impressed with the Pro Team Aerosuit; and don't underestimate the morale-boosting quality of looking and feeling good on a bike, whatever your Garmin says. The aerosuit is user friendly for day-to-day riding, complete with three rear pockets, a two-way zip, reflective stripes, etc; I can see more and more riders choosing them instead of the traditional bib shorts and jersey combination. They are good both in summer and winter and for racing in all disciplines. Add a gilet, and arm and leg warmers, and you are set for any spring/summer or autumn ride. Marginal gain city.
Rapha Pro Team Aerosuit, £230 - www.rapha.cc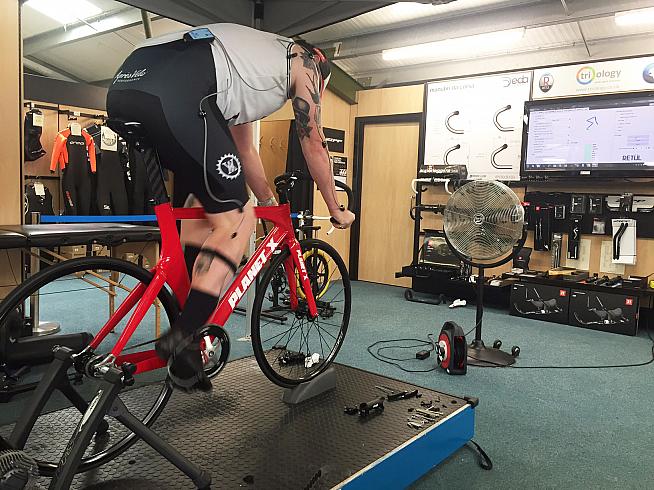 3. Measured to perfection: Retul Bike Fit
My final foray into reaching cycling immortality and probably a lucrative Team Sky contract was in the form of a Retul Bike Fit at Tri-ology in Ellerton on Swale, Richmond.
Now there are bike fits and there are bike fits, just as there are indie bands and then there are The Stone Roses. Retul is the gold standard for bike fitting and used by most elite and pro level teams. A number of bike fittings use a 'jig' resembling a bike to get the individual on and then measure, measure and measure again to identify the ideal bike size and geometry. With the Retul, not only do they have the jig but more commonly they get your own bike within the 3D motion capture system to fine tune and optimise position.
There are a variety of levels of Retul fitting for the individual, with group fittings offered also with pricing to match. It starts with a questionnaire to get a better understanding of the rider, problems and goals.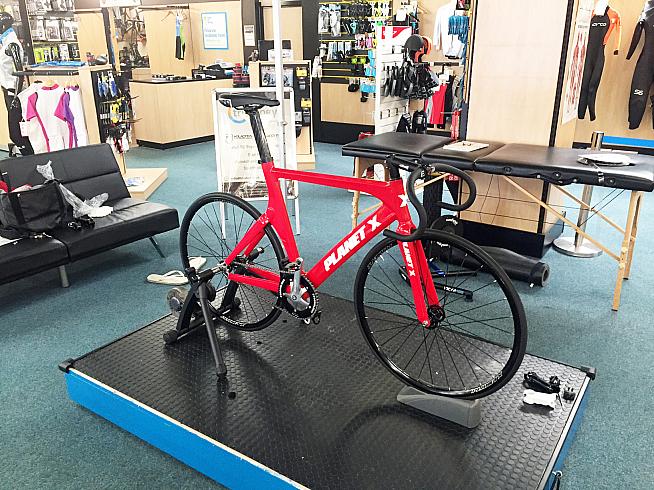 I was subjected to a flexibility assessment and lower limb anatomy check which was both thorough and enlightening - I have possibly the shortest hamstrings known to man, and the tightest hip flexors ever tested - marginal loss! My lower back seems to be fused, with little movement either rotational or in extension and I appear to be shrinking.
Once on the bike, cleat and foot position was checked and then the magic black dots of digital knowing were placed on the 8 key points of a rider's anatomy.
What followed was a series of pedalling efforts, tweaking, check data; pedalling efforts, major changing of position, check data; pedalling efforts, etc. The quiet confidence of Andy Sedgewick, proprietor of Tri-ology and a qualified Retul bike fitter, was reassuring as he did not try to blind me with science or overly complicated reasoning. Each time he went through the numbers and identified which aspect he was specifically trying to improve.
In my case, Andy felt I was ultimately too crouched which was preventing me using my hips/backside to generate power. By increasing the angle at my hips and then reducing the reach at the bars allowed me to put down more watts and use the biggest muscles more effectively.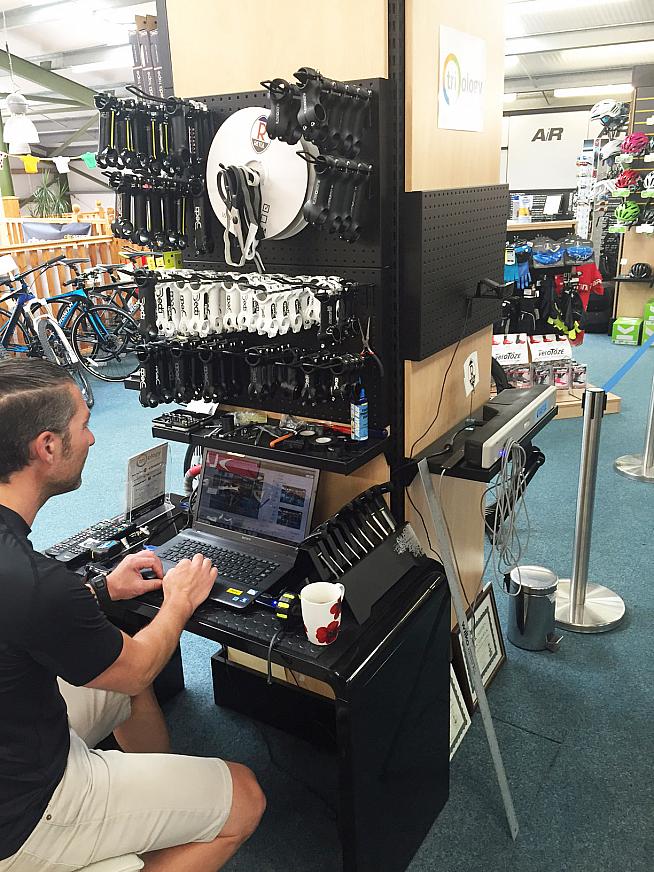 Once Andy was happy (and ultimately so was I) he produced 'The Zin'. What's a Zin? Initially I was concerned it might require an internal core temperature test, but I was relieved when all Andy needed to do was some external probing of the bike. This is to measure and record the final geometry of the bike, which is then fed into a detailed report for the rider and can be then be replicated on all future bike purchases.
Did it work? Well I have to say it did, which isn't surprising after all. The eagle-eyed amongst you may have noticed from the pictures that I had my bike fitting done on my track bike. When I first got my track bike I basically slammed everything, on the premise "the lower the better" for more aero!
Wrong, wrong, wrong, and it was evident from riding as I was getting a painful back and also felt almost squashed on the bike. Watching the L'ympics highlighted that slammed was not the answer, with most GB riders sporting inverted stems - usually something of a style faux pas in cycling.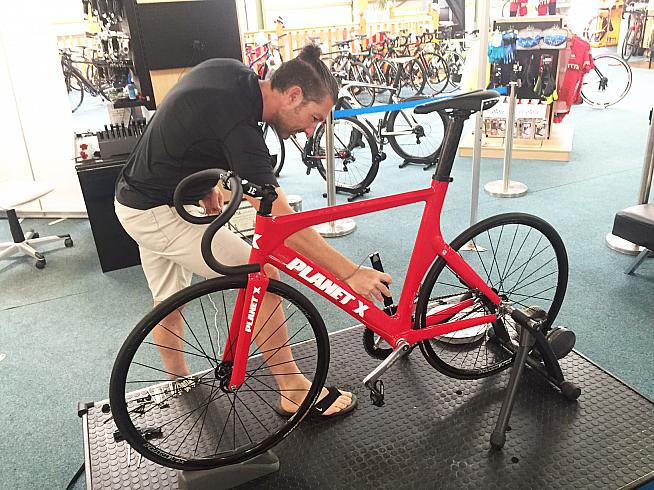 With my rejigged setup the difference was marked on the track and my bad back all but disappeared; I also split the bunch to bits in both the scratch race and points race. My new position afforded more power to be put down without losing technique. All in all, a big marginal gain.
Retul bike fit, from £150 at Tri-ology - www.tri-ology.co.uk
The take-home message
So what have I learnt from my foray into marginal gains? Well there's definitely more to fitting a bike than making sure you can touch the floor with your tiptoes while sat on the seat!
Science is encroaching more and more into both amateur racing and recreational cycling, and offering both huge and marginal gains to all riders. Simply choosing wheels specific to the terrain, clothing specific to the environment, or a bike fit and position that works with your body shape and dynamics, can all play a massive role in giving you that slight advantage over your rival.
Finally, I think an often overlooked marginal gain is probably waist size and body weight. You can have as much carbon fibre, aero helmet and ceramic bearings as you like, but when you are pushing 16 stone the biggest advantage would be to reduce the ballast!
0 Comments