What a three weeks we have just witnessed. Sagan completely dominating the points competition in his own inimitable style; Froome handing out an exemplary lesson in how to successfully wear the yellow jumper; and the Tour de France 2016 being renamed the Tour d'Anglais with standout performances from Cav, Yates, Cummings, McLay, the 'F-Dog' and Team Sky.
Overshadowing all these accomplishments, however, and perhaps the most exciting and lofty success was a mention for yours truly on the Eurosport channel on the final stage just before the race entered Paris. I had sent several suggestions to Carlton, Sean and Jon for songs to accompany either the entire peloton or an individual rider (it was part of a competition and not the stalking social media ravings of a madman). My submission of 'Kelly Watch the Stars' by French dream pop band Air, for the eternal hard man of cycling Sean Kelly, was given a commendation and honorary mention - pretty much as good as winning on the Champs Elysees really. Other suggestions I submitted included:
'Running up the Hill' - Kate Bush (especially for Froome on Ventoux)
'Monkey Man' - The Specials (for Andre Griepel)
'Werewolves of London' - Warren Zevon (specially for Fabio Aru - as the chorus goes 'Aruuuuuuuuuu, werewolves of London!' - massive apologies there for the tenuous and shabby link)
'I AM The One and Only' - Chesney Hawkes (for the last year in the pro peloton for IAM Cycling)
Chesney Hawkes...what a young fella-me-lad he was. His 1991 hit propelled his blonde floppy locks and mole-ridden top lip to superstardom and divided opinion massively. He was every teeny bopper's dream and every serious muso's worst corporate nightmare. This strong segregation of opinion is a staple of modern life and accompanies all aspects of our reality. From music to art; and from food to fashion; what one person deems as cool another person will consider as abysmal.
The same applies to cycling of course, and cycling kit in particular. Marco Cipollini is a prime example; over the years has taken his eccentric taste in style to otherworldly levels. Who could forget the anatomically accurate full-length muscle skinsuit of the 2001 Giro, or the tiger and zebra kit of the Acqua Sapone team of 2002.
AG2R La Mondiale's brown, yes that's right, brown lycra shorts and in more recent times the eccentric, soon to be ex-team boss of Tinkoff-Saxo, Oleg Tinkov has brought out a range of 'training kit' available to all. Its first incarnation saw the design go down the 'camo' route; in 2016 the design is made up of a series of black and white geometric shapes with highlights of fluoro yellow and has been given the moniker, 'La Datcha'. It is certainly eye-catching, and in a world of black, black with white stripe, black with red stripe, black with blue stripe, it is unique, bold and will definitely turn heads and split opinion.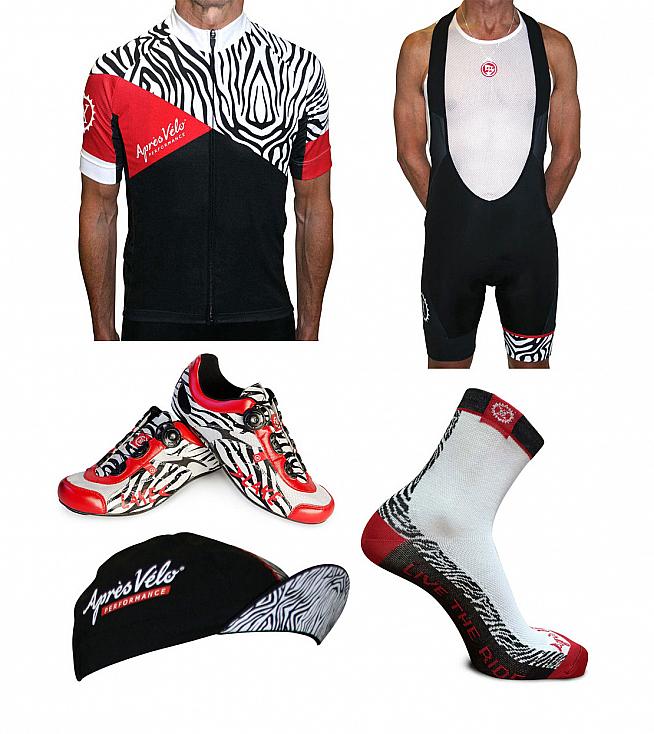 Apres Velo, my favourite antipodean bicyclette clothing emporium, have entered into the spirit of this head-turning and disharmony with their newly launched and limited edition 'high performance' Zeal range. The range includes some outrageously designed shoes from Lake. The Zeal Riding Shoe is a limited edition model of the Lake CX331, priced at a hefty £225. The shoe features a 100% carbon fibre sole, heat mouldable heel counter, kangaroo leather (what else!?!) and the ever-reliable Boa closure system. To be fair this is all standard to Lake, but it's the Zeal finish that sets it apart.
Apres Velo's team principal, road captain, directeur sportif and self-proclaimed 'Big Cog' Leonard Greis explains all:
"The zebra design was inspired by my African heritage coupled with a desire to create something that was totally unique, striking and timeless." Tick, tick and tick.
"I decided to name the shoe 'Zeal', which not only refers to a group of zebras but is also a noun for great passion, energy and enthusiasm. The design of our limited edition shoe and supporting range embraces this fervour, fire and fondness."
He's not wrong. The horizontal lines of the block colours are met in complete contrast by the Zebra stripe pattern forming a juxtapose where order and conformity meets chaos and nature. As with all Apres Velo kit it is made in Italy to a very high standard, with the tailoring and quality being excellent. No need to go up several sizes just to get a good fit, like certain other cycling clothing manufacturers. From head to toe every item in the Zeal range complements each other and comes to together to create an energetic combination of pattern and colours.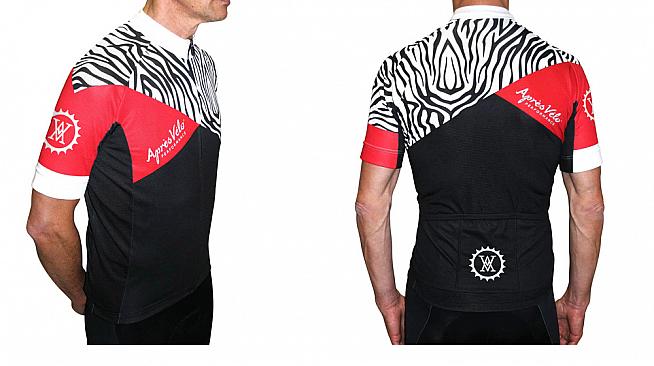 The Zeal jersey has your standard full-length front zip and triple pocket collection. It has a figure-hugging 'race cut' and gel gripper waistband.
My only gripe is the length of the sleeve; I am a fan of the shorter jersey sleeve, but I appreciate that with the kit being in Apres Velo's performance range, and with marginal gains being the ultimate aim, a longer sleeve aids aerodynamics and saves those all-important watts.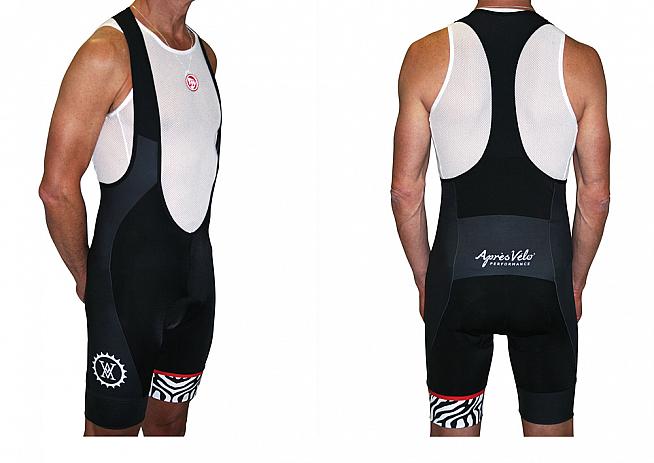 The Zeal bib shorts (or 'knicks' as AV call them) are a regular cut but feature some subtle features to help them stand out. Priced £79.95, they boast an 'antibacterial carbon gel premium chamois' which gives improved comfort, support and moisture wicking to look after those hard-to-reach clammy crevices. With multiple panels for a superior contoured fit, my favourite detail is the double hemmed band on the legs which gives a decent compression fit and ensures those hard worked for tan lines remain pristine and sharp.
Accessories include overshoes, socks and a sweet looking casquette. The socks are of a premium length and the reverse side of the cap's peak features the Zeal design for that retro look. The overshoes are of aero design and offer protection against dust, dirt and partial protection in the cold and wet summer climate!
All in all, the kit comes together nicely for a smart, matching aesthetic. Each piece in the range is available individually, but for those looking to go 'full kit' a Zeal High Performance Bundle is on offer for £280, representing a healthy discount on the cost of each separate item.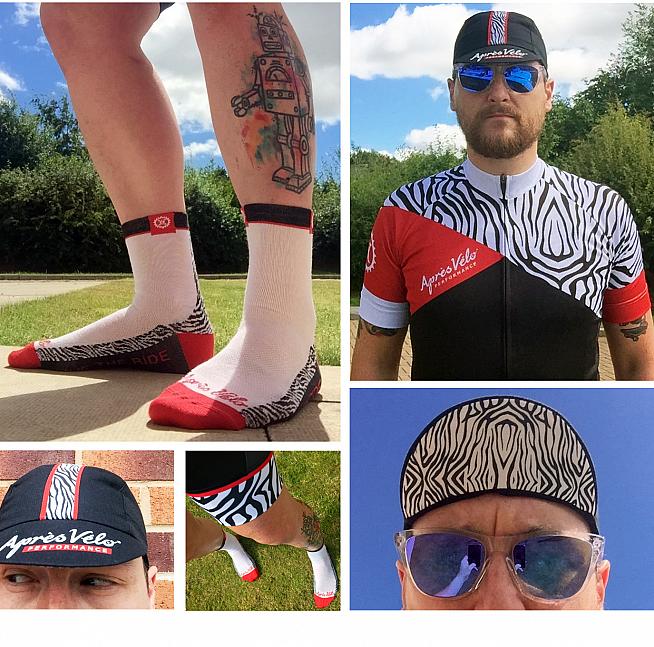 Now I've seen 'Madagascar' and 'The Lion King' so I know that zebras like to hang around watering holes (as do many cyclists). And, like all things that hang around watering holes (Harold Bishop, Todd Landers, Jim Robinson...for any golden era Neighbours fans out there) they have a limited life expectancy and existence; as does the Zeal range, which is sure to fly out of the store.
With Apres Velo launching its high performance range, Zeal is but a taster of things to come so make sure you don't miss out and get online now. To sweeten the deal those kind types at Apres Velo have given all Sportive.com readers a special code of "SPORTIV10" to pop into the discount code box at checkout for an even better deal.
I am certain Cippo would approve of the Zeal range, and without doubt he represented passion, energy and enthusiasm within the cycling fraternity. So get yourself out there and earn your stripes before they become extinct...
The Zeal range from Apres Velo is available at www.apresvelo.com
0 Comments