I have tried the Rapha's Women's Winter Jersey on a few short (less than 40km)  training rides so far. The jersey is my first Rapha garment and, yes, as I've read many times, it's really top quality and comfortable. But my gut feelings are that this jersey won't keep me too warm during the peak chilly time of winter... unless I pair it up with some more (usual) winter layers.
After my first few rides, here are my first impressions:
Material (great, but not enough for a cold winter ride)
As one of the review's on the Rapha website mentions: "It's soft and fleecy without being sweaty". Having never owned a Rapha jersey before, when I first wore the Women's Winter Jersey I didn't expect for it to be so soft in the inside, sporty on the outside, and overall light.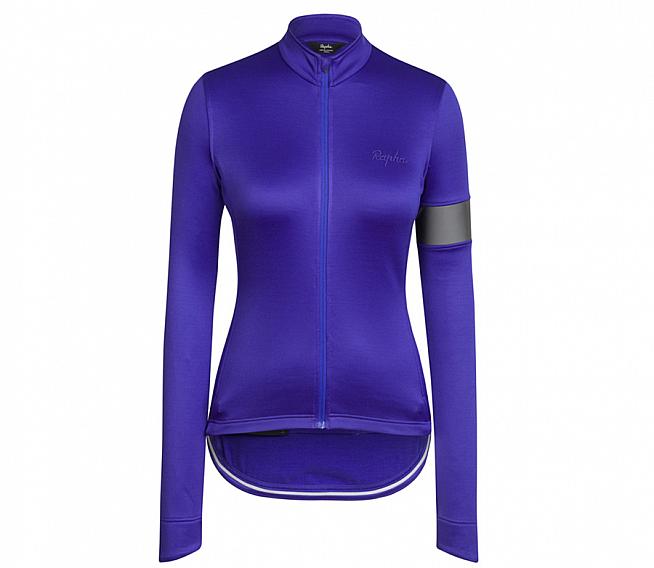 As Rapha explains very well, the combination between sportswear and comfortable clothing is achieved by the use of Sportwool: "A breathable and insulating merino blend, it functions well in a wide range of temperatures, while remaining odour-free." As a matter of fact the fabric is 71% polyester, 25% wool, and 4% elastane.
Can we call November a winter month? Not quite sure, especially given the mild temperatures that we are experiencing this year: we still floating around 10ºC, hence my "winter review" is presenting a very hard challenge already!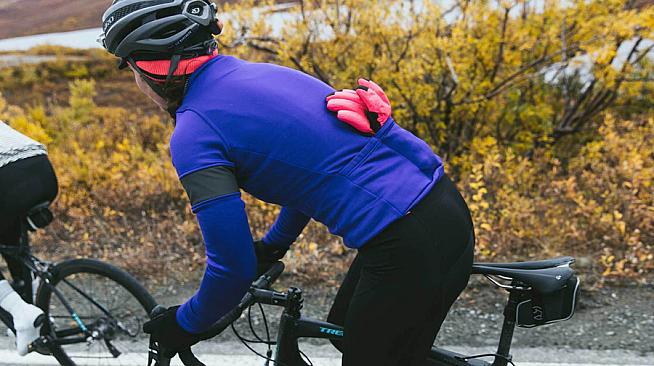 Living in the south of England, I haven't had the chance yet to wear the jersey in cold/freezing conditions. What I can say is that during the sporadic cooler mornings (windy, but still not lower than 7ºC) the jersey works as an extremely comfortable and breathable jacket; even after the initial warm-up miles you don't feel like you're building up sweat. This is so important for me, as the last thing I would want is to spend the core part of my rides being overly sweaty and toasty hot!
Nevertheless, when the temperature begins to fall closer to zero, I doubt that the Rapha Women's Winter Jersey will be sufficient. It feels too light, the wind comes through my sleeves already (this could be easily addressed with a long-sleeve baselayer though), and the jersey by itself won't be enough to get you through cold winter rides. What I appreciate though is that, if you spend time reading through Rapha's description, they are actually advising the same: "This jersey is ideal on top of a base layer for off-season training rides, or with a windproof shell for tough winter cycling."
Colours (just two)
The jersey comes in only two colours: raspberry and the blue version tested, each with a reflective armstripe.
The reflective armstripe is a very nice touch from Rapha, I have to admit. In good light conditions, you only see a dark grey armstripe, so it's not too eye-catching when the sun is out. But as soon as it gets dark and cars' lights are pointing at you, the armstripe comes very much to life. Very nice!
My only comment would be: if you manufacture a jersey for the UK market why (why Rapha? Why?) is the armstripe on the left sleeve?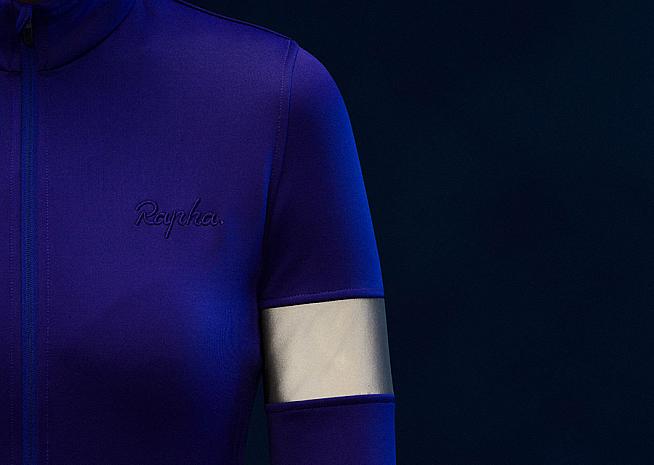 Sizing (alright!)
The Women's Winter Jersey is available in sizes from XXS to XL. I'm usually a size 10 and, according to Rapha's size conversions table, I took a size S jersey. I usually don't need to go lower than this, but I have to say that I expected for the winter jersey to be tighter: I mean, "cycling tight".
I was probably expecting the jersey to be on the tight side, it being a winter cycling jersey for cold rides; but perhaps it's been cut a little looser to allow for a substantial baselayer to be worn underneath.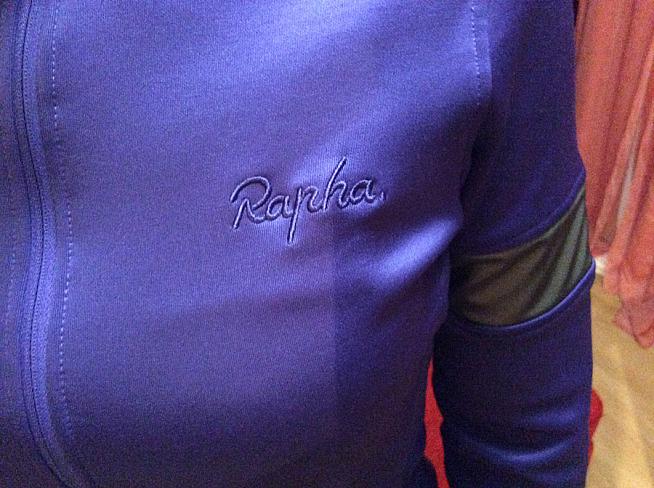 I also had in mind that a women's jersey should be following a little more the shape of a woman's body. While the cut is women-specific, on my figure it was, as I have said, a little loose. My only other winter jersey (not Rapha) is much closer fitting, and that way, I am sure that in the cold winter days the wind/cold has not a chance to come up through the sleeves or the bottom of the jersey.
Personally I believe that the less fitted cut of Rapha's winter jersey, would be more ideal for a commuting or pleasurable type of ride than for hard training. But then again, this could be personal taste!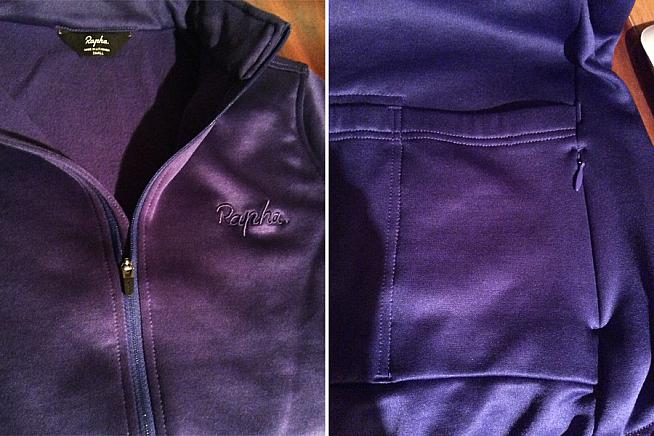 Features (the good ones)
I'm not going to spend too much time going over the obvious points again, e.g. "The quality of the finishing is marvellous!": cyclists have been saying the same stuff about Rapha for (what it feels like) centuries.
Let's say that I mainly agree and let me skip instead to the main points, more relevant to a cycling jersey:
● Long sleeves. I love this. The sleeves are long enough so that you can stick them just inside your winter gloves and avoid any wind coming up your sleeves
● Three generously proportioned pockets at the back, plus a concealed zip; nicely done!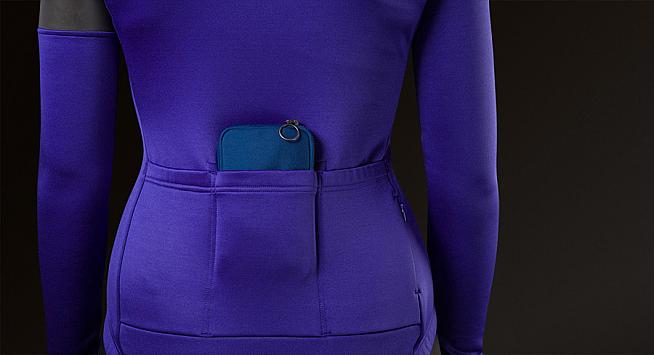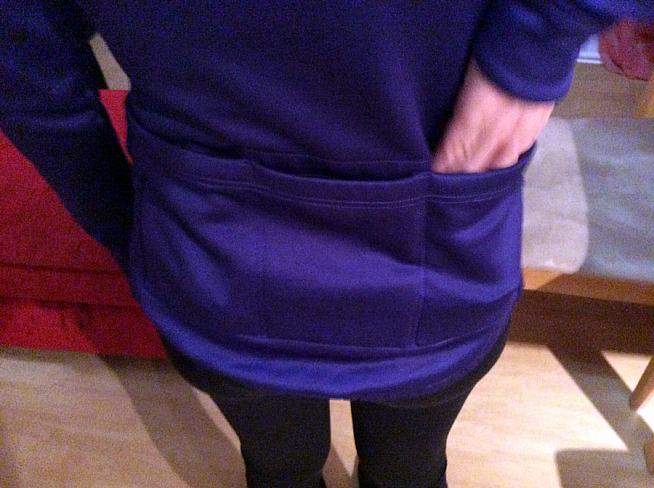 ● The full-length zip moves smoothly, easily manageable with your gloves on, hence easy. Plus the zip guard prevents chaffing
● You can make the bottom of the jacket tighter thanks to the pull cord on both your left and right side: this way you will prevent the cold from hitting you from the waist up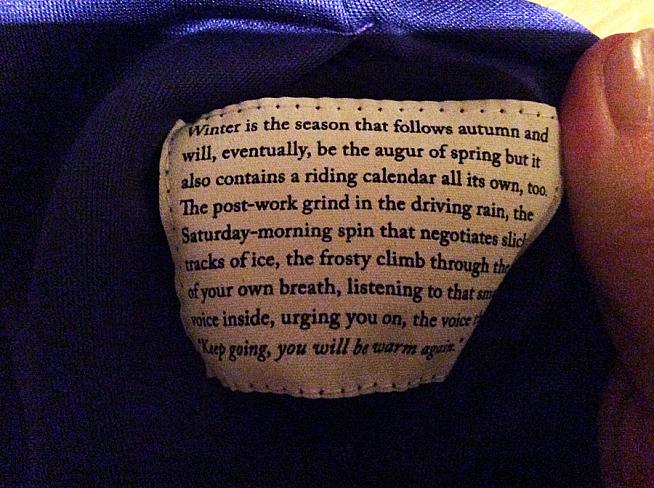 I'm hoping to go out for a few rides in the upcoming weeks; should the temperature turn to something more properly resembling winter conditions I will try my best to update this review so that it's more useful and realistic to the actual purpose of the Rapha's Women's Winter Jersey.
In the meantime, feel free to comment should you have any additional questions on the jersey!
Rapha Women's Winter Jersey, £140 from www.rapha.cc.
0 Comments