I have to say that I've never really considered 'Belgian bootees' before now, so testing the new Prendas Cordura Oversocks was a bit of an experiment for me. I've seen plenty of other cyclists out and about with them on, but always wondered what their point was. Winter overshoes I'm more than familiar with, and I'm never without them once the temperature falls. I've even stretched to a pair of toe caps, but only as an extra layer of insulation for winter. So these oversocks were going to have to win me over.
Looking at the Prendas oversocks straight out of the packet, they are not particularly overwhelming in terms of their substance. They look and feel like a pair of slightly rough socks, and my first effort at stretching them over my cleats gave me a bit of a fright as I was sure they would snag and rip like a sock might do. They're tougher than they look though, and they went on nicely. They were easy to adjust too as I was wrestling them into the correct position for my shoes.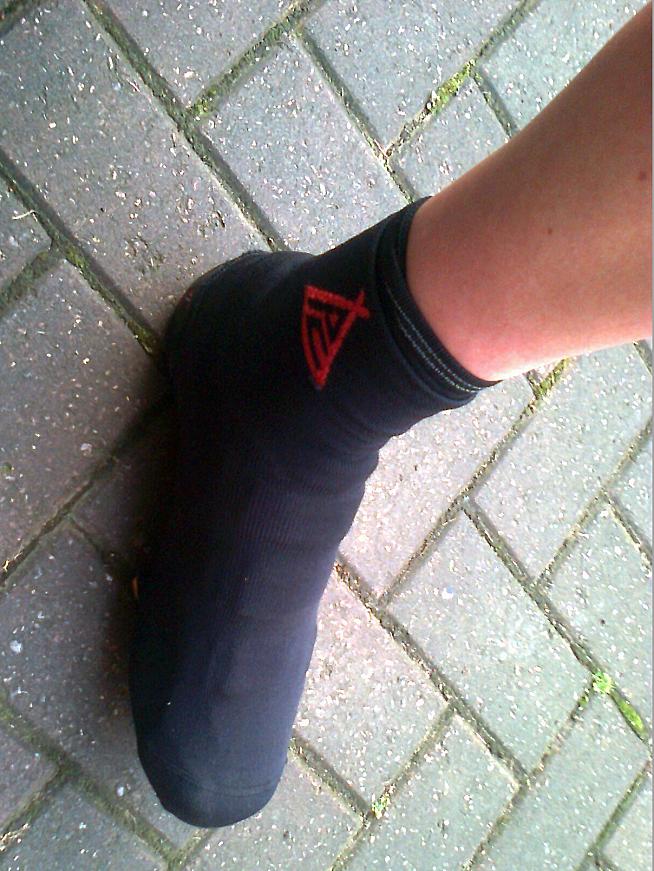 Where fit is concerned, I found the cuff on the ankle sat a little low on the leg and my standard-length sports socks peeked over the top a little. I ended up rolling down my sock cuff slightly to keep the lines looking clean.
The design - if you can call it that - is either subtle or underwhelming, depending on your taste. Decoration stretches to just a single Prendas logo in red on the ankle cuff, on otherwise plain - or 'stealth' black material. Not too exciting, particularly as I always think the Prendas logo looks a bit like the Youth Hostel Association's!
Aesthetics aside, the cordura oversocks turned out to be easy to use and didn't particularly get in the way of removing my shoes. They rolled down easily enough to get to the straps, and tugging them back into place was a piece of cake. Their slightly slack elasticity made this simple rather than fiddly.
All of this is academic though compared to how they perform on the road. Well, it hasn't been the most ideal of weather to test these out in given the soaring temperatures we've had this summer. These are really designed for cooler conditions, but thankfully my early morning commute gave me plenty of these to try them in - and I was pleasantly surprised. They won't keep your toes particularly snug, but they keep enough wind off to make a noticeable difference. Similarly, when the heat got up they didn't leave me with sweaty feet and were breathable enough that I could keep them on all day without any worry.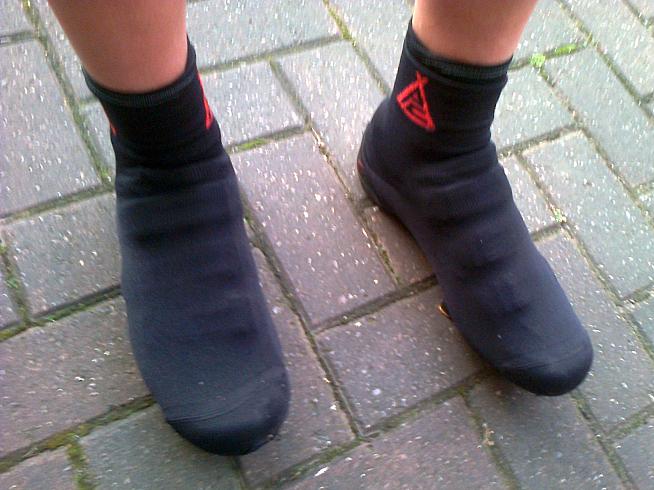 How about the aero benefits? Not top of my priority list, given I like the all day, long distance rides rather than a race, but I've noticed of late that my descending has got a lot faster. I've been hitting higher speeds than usual on places like Holme Moss, an average increase of about 5-8 mph. Can I attribute this to Prendas? Probably not, but it's a nice enough thought that eight quid's worth of socks could have such an impact.
So is cordura a sufficiently hard wearing fabric for this sort of kit? I've shredded plenty of winter overshoes by now, so I wasn't expecting great longevity from these. But, after 6 weeks of use, they are still looking pretty good. My commute can involve a lot of stop start at times so they've had their fair share of tarmac contact, and apart from a few stray threads on the sole and a few scuff marks on the front they're looking more than presentable.
Can I endorse these as an addition to your cycling wardrobe? Well, probably yes. They've become a part of my kit without any real fuss and I'm not in a rush to get rid of them. That said, if they were stripped off tomorrow I'm not sure I'd be particularly gutted unless it was a cold, early start. Their a bit plain for my taste: a more interesting design would appeal, but in terms of what oversocks are meant to do these tick all the right boxes and for a fairly small outlay.
0 Comments