Once we get out of winter and past those occasional cold spring days where wind and rain combine to freeze your fingers off, short fingered gloves are pretty much standard issue for cyclists. So when the summer weather is firmly upon us, what do we need from such a pair?
With the temperature into the 20s, as it has been so often this year, and the daylight typically lasting longer than my legs, I'd want my gloves to keep my hands nicely protected from friction on the bars, give me a big chunk of sweat wipe material to mop my brow, yet have sufficiently breathable material to keep them ventilated.
So how do Prendas' new mitts cope with these demands?
Firstly, the shape struck me as a little different for a cycling glove. The cuff extends beyond the palm and up the wrist slightly with an extra flap of padding, which also doubles as a handy tab to pull them on with. There's no doubt that padding is the main strength of these gloves. The heel of the palm benefits from two generous chunks of shock-absorbing silicon to cushion the hardest working part of your hands, which I couldn't help squeezing like a roll of bubble wrap for quite a while. Initially, I was somewhat suspicious of their volume as they seemed destined to compress to hard lumps over time, but I was pleasantly surprised with their longevity.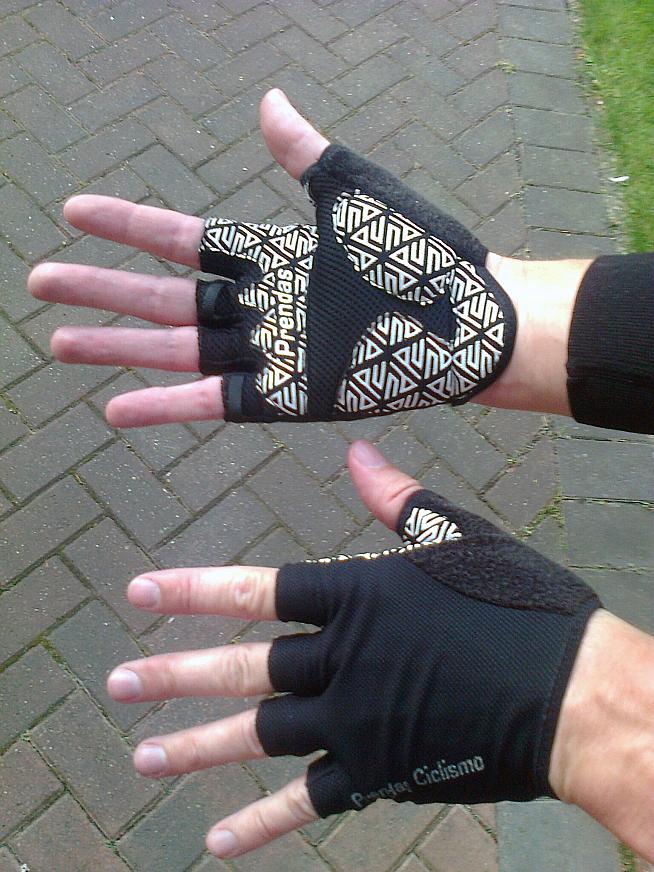 Although primarily black, the looks may not be to everyone's taste given the slightly garish pattern on the palm, but this rubbery material comes into its own in the wet with no loss of grip at all. On the down side, with the padding and the grippy coating covering most of the palm there is little room for the remaining Airtech fabric to wick away sweat.
Secondly, the fit relies on an overall elasticity rather than a Velcro closing tab. Being more of a fan of the tighter grip the latter offers, I was unsure of how I would get on with this, as the gloves did not feel quite as much of a "second skin" as I prefer. The lack of a closing tab however meant that the sweat wipe is increased in size compared to more conventional gloves. Also, I found that almost the whole of the back of the glove could be used as a wipe, as the absence of any Velcro patches meant you were less likely to scratch your face off by accident.
My first road test was on a hot day, and the gloves tended to move around a little more than I'm used to on the palm, especially when riding out of the saddle.Here the padding came into its own, leaving me with not even a trace of friction or hotspots.
The lack of wicking material on the palm meant sweat did tend to build up on the inside of the gloves and left them a bit damp after a day's riding. The sweat pad was excellent and soaked up plenty of fluid over and over again. British summers being what they are, there was inevitably some rain and the grips remained reliable with no drop off in comfort despite getting a bit wet, hence my lack of concern over the wicking.
To really test the Prenda's credentials I used them for a 15 hour, 200 mile trip from home down to Sheringham on the north Norfolk coast, via the Lincolnshire seaside resorts of Mablethorpe and Skegness. The day was hot from mid morning onwards and by the time I reached the end I'd sweated so much I was covered in salt residues. My legs were dead, but my hands were fine!
Post ride the gloves were very easy to take off using the robust finger pulls, despite the moisture build up. As hard as you pulled on them they never felt like you might be testing them too far. This was much appreciated when I needed to splash some water on my face while out on a ride, as they were easy off and easy on again.
The Prenda New Generation Mitts are on sale for £30 in the UK, which puts them firmly at the higher end of the market and I'd say they deserve that place. They wash and dry out easily and have kept me impressed since the first use. That said, if you're out for a short ride on a hot day you might prefer a lighter, less padded glove that will let a little more sweat wick out of them.
0 Comments