"I'm riding today because the Dragon is known as being a really tough ride," said one rider I chatted to, who told me they had travelled to South Wales all the way from Kent to ride the 2023 Dragon Ride Gran Fondo.
The Dragon Ride is one of those bucket-list sportives that attracts cyclists from across the UK and beyond. Described by some as the toughest cycling sportive in the UK, it offers a choice of routes set amid the beautiful Bannau Brycheiniog National Park.
With each route packing a double fistful of Brecon climbs, it's more than enough challenge for any one cyclist to tackle.
Still, a problem shared is a problem halved, right? So I decided to ride it on a tandem.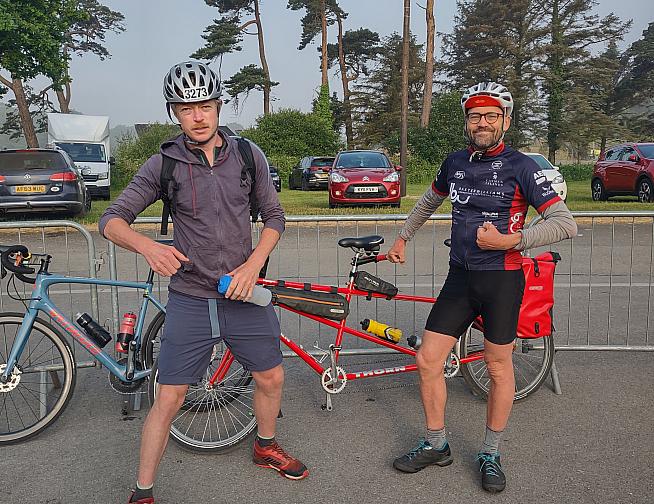 The legendary Dragon
The Dragon Ride has been going on for 19 years now. It starts and finishes in Margam Park, close to Port Talbot in South Wales - it's quite a venue to start and finish from, with acres of parkland offering a welcome day's diversion for any family and friends who come along.
There are four routes on offer - the shortest is 100km, and the longest, the Devil, is 296km. We had opted for the second longest, the 213km Gran Fondo.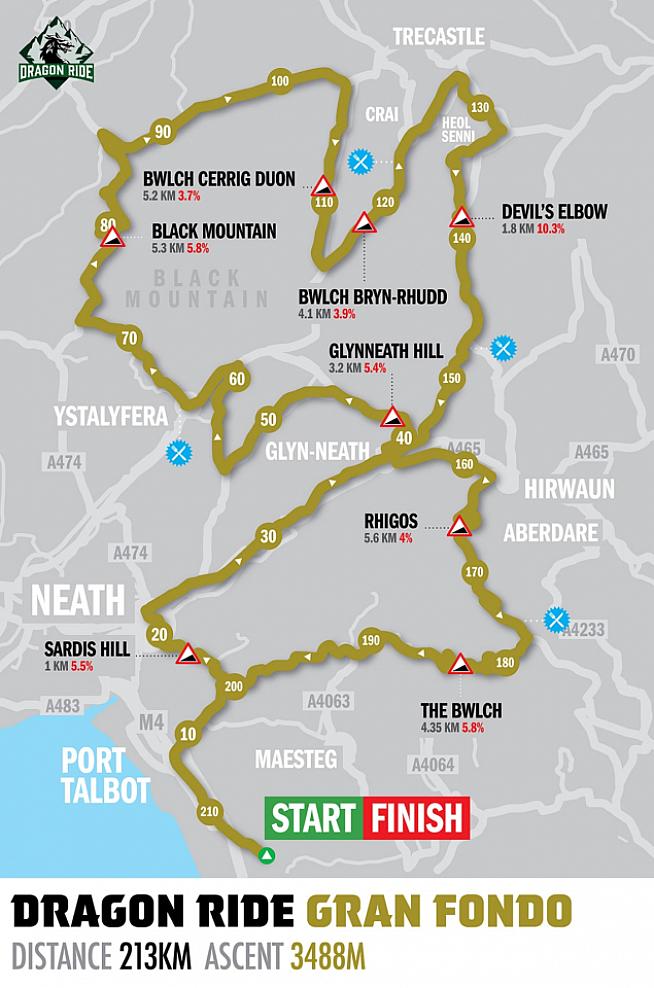 The ride circles up into the Brecon Beacons, taking in some incredible vistas that riders pay in blood, sweat, and tears to enjoy! The climbs are legendary: Black Mountain, Devil's Elbow, Rhigos, and Bwlch.
The gradients (the Devil's Elbow at 17%) or the climb lengths (multiple 5km long climbs) justify the ride's gruelling reputation. But the Dragon still sells out each and every year, as riders come to test their mettle against the beast.
Pre-ride information
After registering, an event pack containing useful information about the area and the ride is posted to riders.
The pack also includes entry numbers for helmet, bike, and the all-important chip for timing the ride - including the only timed climb going up the Devil's Elbow.
An illustrated top tube sticker helps riders know where the climbs are, including length and average gradient, and where the feed stops are. Uber useful and looks mega cool!
On-day pre-ride experience (including parking)
Margam Park is an impressive venue with an overabundance of parking. Plus, there were loads of volunteers helping to direct traffic. I didn't drive and park this time, but I saw no squabbles and experienced none last time I rode the Dragon and parked.
The start zone - the organisers call it the event village - is set up to cater for loads of cyclists experiencing pre-ride nerves and excitement and weary legs and dehydration at the end.
My friend and I camped the night before the ride in Margam Park. It's not allowed, which we discovered at 4:40 am when a park warden drove up to our campsite and leaned on the horn. I had a quick chat with him and asked him the time. He looked at his phone and replied, "Twenty to five".
I commented that it was very early for him to be awake and at work. His reply is the only reason for including this story; he replied verbatim, "Dedication to the badge."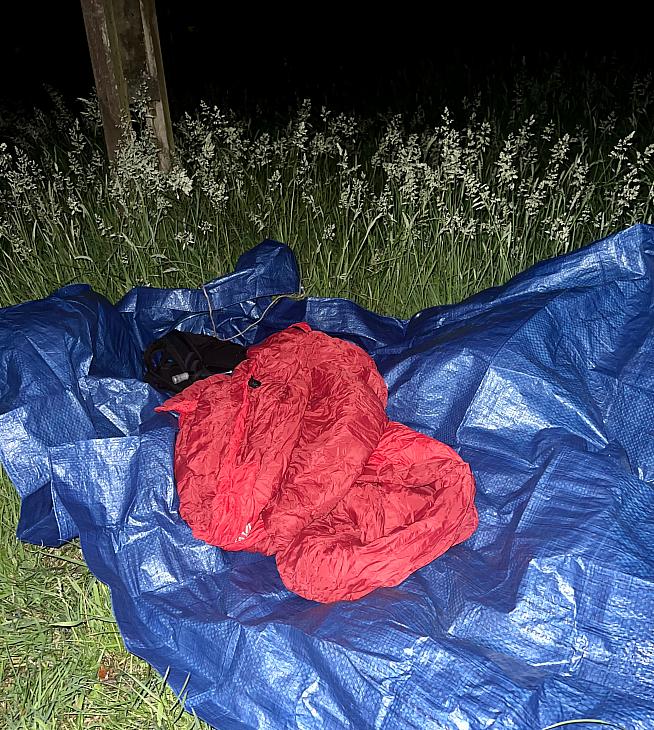 As it was clear there would be consequences for hanging around, we made sure the area was left as we found it and made our way to the event village.
According to a few event photographers and volunteers we spoke to at the end of the ride, we were the only tandem riders. We may in that case have been the fastest tandem riders at the Dragon Ride in 2023 - although also the slowest!
Route
The Gran Fondo route is a sizeable challenge with no less than eight categorised climbs and 3488 metres of climbing through the 213km (132 miles) ride.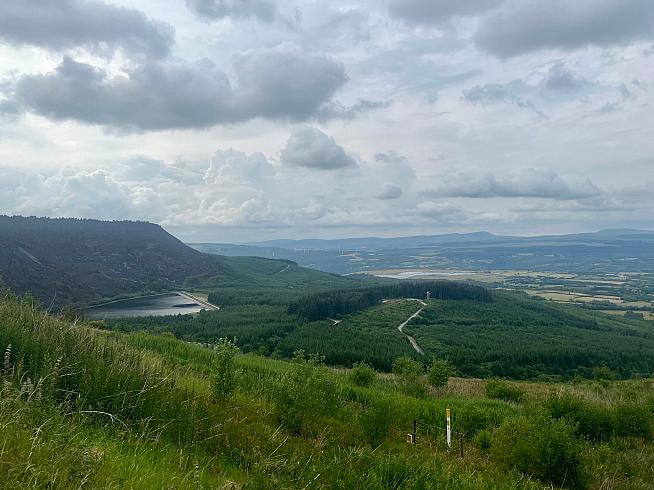 Route signage was up there with the best I've experienced. I don't ride with a computer, and I don't like pulling out the phone to look at a map. Plus, with thousands of riders, it'd be chaotic (even more chaotic) not having adequate signage easily visible everywhere.
There were volunteers at many turns and places which could be confusing. Over the entirety of the Grand Fondo, we didn't look at a map and never deviated from the route.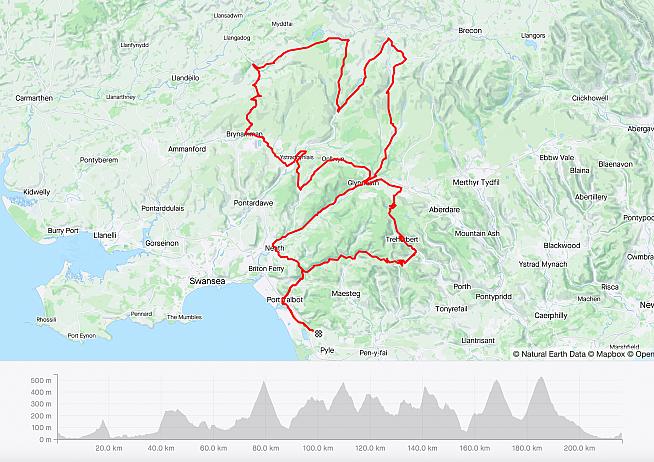 Feed the Dragon
Refuelling and staying dehydrated is ever so important. And for the first time since the dawn of time, Wales has been hot this year. You can feel the sun sizzle and the sweat rush from the pores.
Event organisers, The Human Race, had massive water tanks easily accessible at the start/finish point and all feed stops. And, whether riders refilled themselves or volunteer-manned, everyone moved through bottle filling fast. Even if a rider was looking at smashing the route and collecting all the KOMS on offer, there was no reason not to spare a millisecond for a bottle refill - and it was needed.
On the Grand Fondo there were four feed stations. The first is around the 60km mark, the second is just over halfway, the third at around 145km, and the final at around the 165km mark. It's smart planning to have feed stations more heavily concentrated on the end as riders get more and more dehydrated and energy empty.
Since my first Dragon Ride, I've been haunted by the dreamy memories of steamed or boiled potatoes in a little olive oil and rosemary. Feed stop one had them in abundance! All with the usual feed stop finds - gels, bars, jelly babies, bananas. The third feed station had all manner of wraps - chicken and plum, veggie, beef and something (I forget what the something was). And croissants that were still hot!
I told my co-tandemer that usually, so far into a ride, I generally feel a bit crap from all the sugar and start dreaming of brushing my teeth. The real food at the feed stops meant I felt fine through the ride, and I could focus on the ride ahead rather than fantasising about reaching for my toothbrush!
An epic atmosphere
Thousands of cyclists came out to participate in the Dragon Ride, as they do each year. And, having a chance to chat with riders, it was clear the event draws riders from all over with all sorts of experience. One lad from Guildford has only been cycling for two years. Another chap has Everested in his home county of Mayo in Ireland, done a 500km in a day ride, and has a few other notches on his palmares.
One lady I spoke to was riding the Dragon to overcome her fear of descending! And seeing the colourful wave of cyclists, new and old, experienced and uninitiated, was great.
Riding on a tandem was awesome. We had panniers on the back with layers, camping kit, and food. On flats and descents, a tandem is unmatchable - the wheels float, and the peripheral vision is filled with cyclists looking in disbelief as they get dropped by a tandem!
Then you hit a hill, and all momentum stops. Yes, we were passed by those riders previously shaking their heads in disbelief. But, many smiled and cheered us on, "Go on, lads" and "Legends". If I had two million pounds for every time I heard someone call us legends, I'd be a multi-millionaire!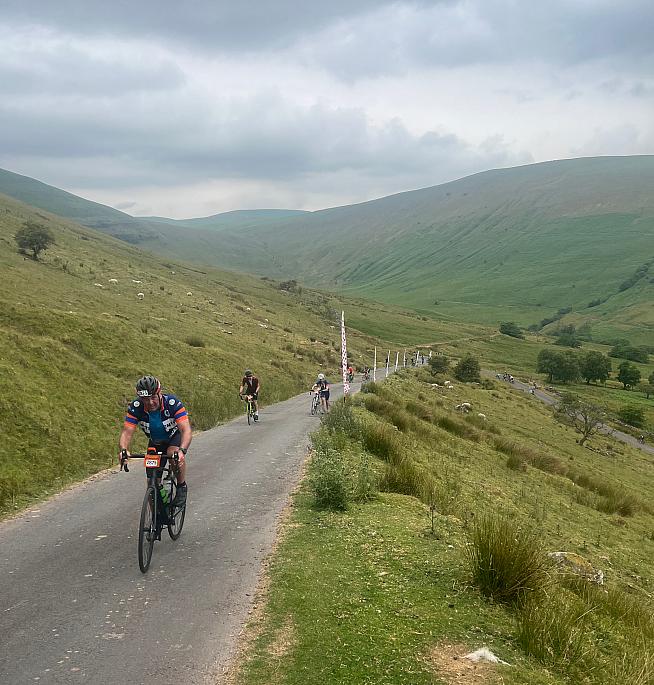 Many familiar with the ride will know about some of the bigger, categorised hills and want to know how we got on while riding the tandem. Truthfully, ploddingly. But we cycled seven out of eight categorised climbs.
When it came to the 17% switchback on the Devil's Elbow (and the only timed climb), we knew our limitations and sensibly just walked it - no shame in that.
Is it a good idea to ride the Dragon on a tandem?
Riding the Dragon Ride on a tandem is officially allowed, so long as both riders have entered. So, if you're thinking of doing the Dragon Ride on a tandem, here are a few tips for a 200km ride with someone you had better get along with or have loads of patience for.
We swapped out the bike's flat pedals and rode with clip-in MTB pedals. This meant we had stiffer soles to take the pressure of all those hours pushing pedals. Clipping in and out with MTB cleats is way easier than road SPD. The other advantage was that we could walk around normally.
I was captaining on the front - semi in control of breaking, gears, and direction. I found the twist gear shifters really ate into my hands. I should have put gloves on sooner than I did.
I wore regular shorts on the ride. I should have worn a pair of bib shorts. We didn't work out the trick to riding out of the saddle, so we just spun for hours sitting. My poor bum!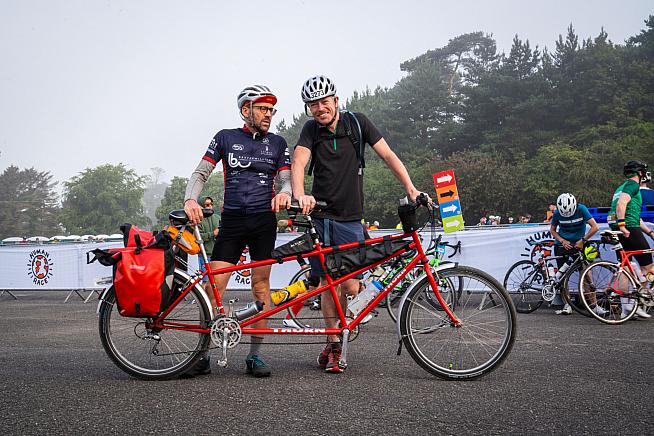 I had a flare-up of tendonitis along my Achilles, too. The first time it happened, I went to the doctor, who explained it was because of excess strain. I had been riding lots then and rode 250 miles in two days, fully loaded with bags. The distance would have been fine, but the added weight was too much. Same again with the tandem. So, train for it and build your legs up to the challenge!
I rode with a water bladder on my back. Reaching for a bottle on the tandem was difficult - the bottle cages are low down on the frame, and reaching down would cause massive bike wobbles. My friend worked out a complicated system and series of vocal signals to warn of his plans to drink. I decanted bottle after bottle into the bladder whenever we stopped and had no issues.
My final tip is to oil the chains and bring some oil during the ride. About halfway through the ride, the tell-tale squeaks of a dry chain became audible and got louder and more frequent.
We were riding home the next day when, going up a hill, the chain snapped! I hadn't thought to bring a chain link. So the final adventure of the weekend was pushing the tandem together until we could get a rescue!
To sum up
The Dragon Ride is billed as a tough ride. It is a tough ride. But it's a ride accessible to all skill and nerve levels!
As far as route and road surface quality, you're not going to get much better than the Dragon Ride. And organisers, The Human Race, ensure food and hydration are on hand and plenty of volunteers to point you towards the next hill!
Now that you know what to expect, jump on the bike, find your local long-slog hill climb, and do repeats, and you'll be ready for 2024's Devil.
See you there! Whether it's on the tandem will only be decided a handful of days beforehand...
The Dragon Ride will return on Sunday 23 June 2024. A limited number of earlybird entries are now on sale.
Find out more and enter at www.dragonride.co.uk.
0 Comments