That's right, we're in Spaghetti Western country where Clint Eastwood and Lee Van Cleef strutted their stuff back in the sixties. Roll on to 2023 and four Brits, three Canadians and a tour guide strut their stuff on the inaugural Vamos Gravel Tour.
The tour is a six-day guided ride, which starts and finishes in the Sierra Nevada National Park in Andalusia in the south of Spain. The route takes you up and down mountains on challenging gravel paths, with the occasional stretches on smooth tarmac, and if that wasn't enough, includes some sandy beach sections on the south coast.
Our hosts, Vamos Cycling, move our luggage between each night's accommodation. We just ride, which is easier said than done.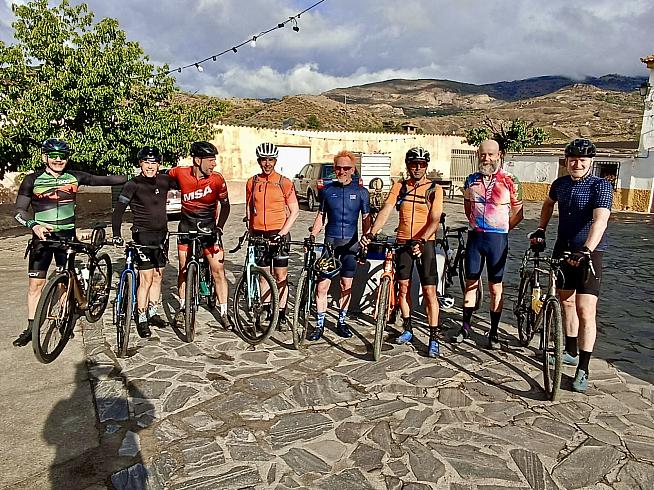 Stage One: Cádiar to La Callahora
(53 miles, 2000m climbing, 5hrs)
The day started in sunshine, as we smiled, laughed and posed for pictures, oblivious to the fate the Sierra Nevada mountains had in store for us.
The gentle roll-out of Cádiar, with its smooth tarmac and gentle slope, soon gave way to steep gradients up to 15% and then, our first sight of gravel. The gravel tour had truly started as we waved goodbye to the tarmac, unaware that we would not feel it under our tyres again for several hours.
Although black clouds were amassing halfway up this epic 11-mile climb, it was warm on the lower slopes as jerseys were unzipped, arm warmers removed, and jerseys stowed.
After four miles of climbing, the clouds were reached, and the temperatures dipped. Jerseys were zipped up, arm warmers added, and rain jackets slipped on.
The first summit was reached some two hours after leaving Cádiar, but it wasn't all downhill from here. Numerous shorter climbs came and went as the route traversed the national park west to east, while descending and ascending either side of the 2,000-metre mark.
Nature, in its infinite wisdom, decided that the terrain, gradient and altitude was not enough for us, as temperatures dropped further, and hail fell from the sky. The first few pellets were just a mild distraction, but things took a turn for the worse when the wind picked up, delivering a brutal hailstorm, as solid white blocks pummelled faces, hands and bare legs during a steep descent.
My fingers were like ice lollies, my legs turned the same colour as my blue shoes and my shivering was relentless. My only option was to dismount. We regrouped and huddled under some rocks, desperately trying to warm our frozen bodies waiting for the hailstorm to subside.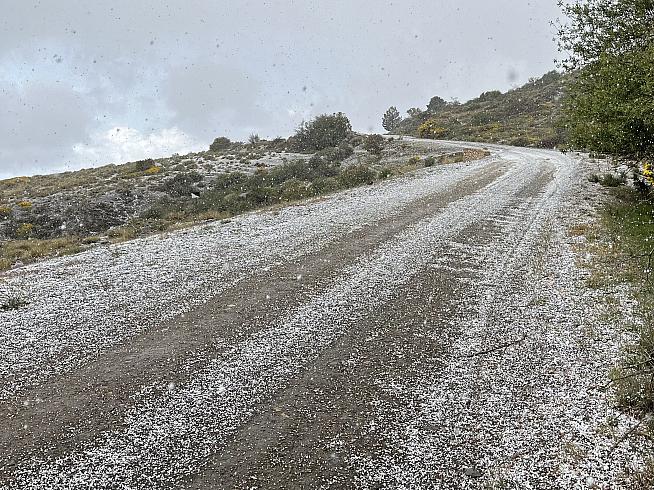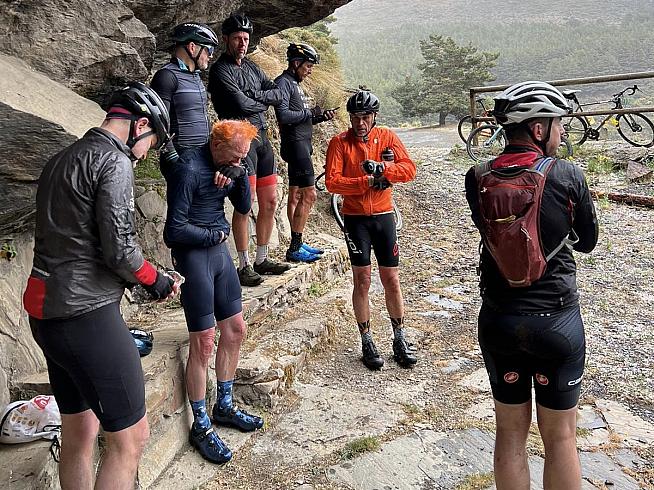 Ten minutes passed, and a glimmer of sunshine peaked through the clouds to provide a modicum of warmth, sufficient to encourage a remount. I was still shivering and had lost feeling in my fingers, as my gear changes became guesses and my braking less assured.
Just when I thought it couldn't get any worse, nature delivered another cruel blow. It started snowing. Yes, snow in Spain, in May. Not just a flurry, but a downpour of the white stuff. Fingerless gloves, cycling shorts and light rain jackets are no defence against these conditions.
Cold, fatigued and exhausted, the next couple of hours were a blur, as I focussed on finding a rhythm until we reached the warmth of the Vamos minibus, which was waiting at the first available juncture.
The rendezvous, where the gravel ceased and tarmac was re-introduced, gave us an opportunity to warm up, before turning our attention to the finish line, almost 1,000 metres below in La Calahorra. The remaining eight miles allowed us to drop down smooth winding roads at speeds we could only dream about a few hours ago, when we were crawling like snails up today's countless gravel inclines.
Time to recover tonight, refocus and then get ready for stage two tomorrow.
Stage Two: La Callahora to Gor
(56 miles, 1500m climbing, 4hrs)
Today was in complete contrast to yesterday. There was less climbing, more tarmac, absolutely no snow and the sun was out most of the day, presenting us with temperatures up to 32C.
The early part of the route was in the valley between La Calahorra and Charches, where the train scenes were shot for Sergio Leone's classic 'The Good, the Bad and the Ugly'. We're hoping for the former, having experienced the latter two yesterday.
The gravel and climbs are less brutal than yesterday, and jackets are only required for the windy descents, as we reach our accommodation in Gor by lunchtime.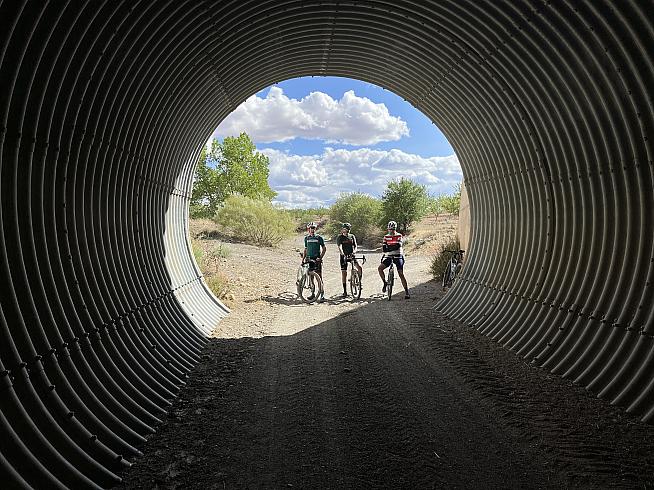 It would have been easy to take the afternoon off, but when you have a bike and the sun is out, the additional ride out to the Gorafe desert is always going to get my vote.
The phrase "bite off more than one can chew" springs to mind on the way out, but is promptly forgotten as the views over Gorafe in the canyon below are a spectacular distraction.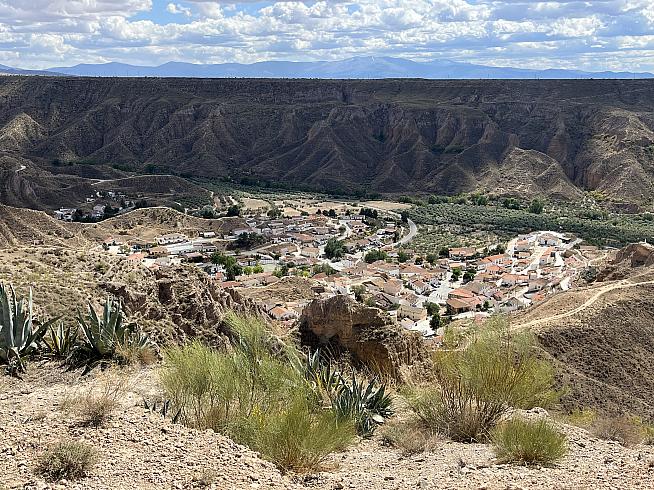 With temperatures down to one degree yesterday and up in the thirties today, I really have no idea what tomorrow will bring.
Stage Three: Gor to Gérgal
(56 miles, 1800m climbing, 4.5 hours)
After two days of intense riding in temperatures ranging from freezing to early thirties, my body gave me an overnight reminder that I'm only human. As soon as I got into bed, one my adductors cramped, followed by one of my hamstrings. When I got back into bed my calf followed suit. This continued through most of the night. I ended up drinking a litre of tap water to mitigate the symptoms but ended up feeling nauseous. Oh yes, and the bathroom flooded.
So, I was all set for day three.
To keep with the theme of the last few days, it was straight up the first climb from the off, slogging up the 10-mile mix of tarmac and gravel to around 2,000 metres. We pretty much stayed at this altitude for the remainder of the day, apart for the occasional drop, followed by the inevitable climb back up.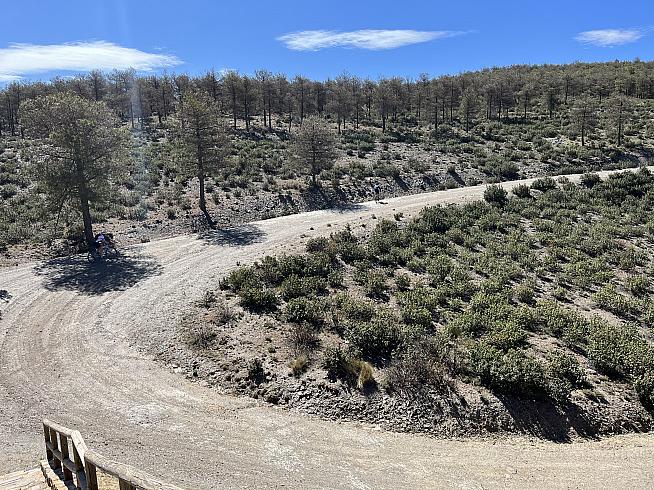 It was so remote up there, no coffee shops or shopping malls, but after the last two days, we needed some motivation to reach each summit. Our tour guide, Gary, opened his box of tricks to reveal sugary treats as our efforts were rewarded. That's not the only indulgence of the day, as our hostess, Sarah, arrived in the minibus to not only provide shelter from the wind, but to brandish some well-earned slabs of cake.
Fully replenished, it was time to tackle the last climb of the day: the four-mile ascent to the observatories at the top of Calar Alto (2,168m). The tarmac climb was used as a summit finish of the 2017 edition of the Vuelta a España, but we had the added delight of a 14-mile traffic-free tarmac descent of sweeping bends, down to tonight's accommodation in Gérgal, which was all demolished in under half an hour.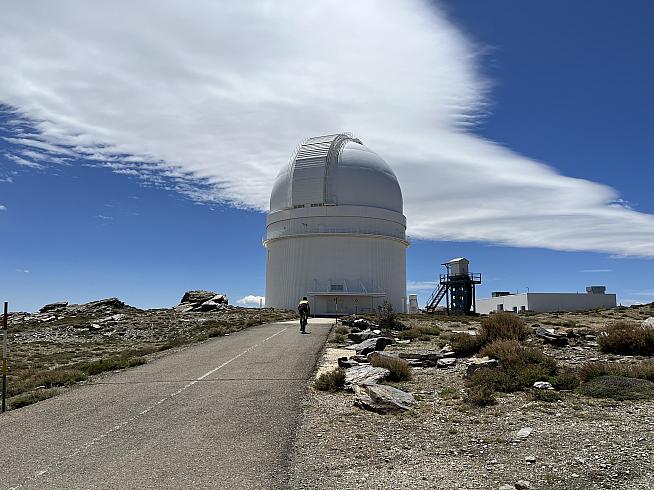 A glorious end to another brutal day, the usual helping of gravel and climbing, but today lots of sunshine and not a snowflake in sight.
Stage Four: Gérgal to Retamar
(68 miles, 800m climbing, 4.5 hours)
At last, some Spanish weather, the sun had its sombrero on all day and blessed us with a 30C average. The holiday part of this tour started for real, as we dropped down to the south coast. This was the longest stage, but the easiest, with a day full of long stretches of tarmac, sandy beaches and coffee stops. There was some gravel of course (it is a gravel tour after all).
The morning kicked off with some technical rocky paths. followed by long stretches of fast rolling gravel through the Tabernas Desert, and finished on the sandy beaches of Almería, as we reached sea level for the first time on this tour.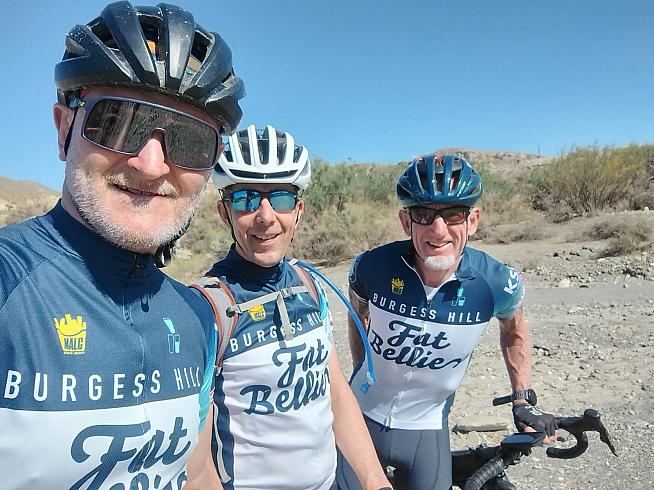 The afternoon session, where the mercury rose to 34-degrees, was a loop out to San José which included the climb up to Faro de Cabo de Gata. At a mile-and-a-half long, it ascends 165m from sea level to the lighthouse. The tranquillity of the Mediterranean below is in complete contrast to the battle going on between rider and the twin onslaught of rocky path and double-digit gradient.
The route back to the hotel flips the hardcore rock-like-gravel of the last few days, to the other extreme as we encounter stretches of the finest gravel known to mankind, aka sand. It's the type of sand that tries to steer for you, as your attempt to wrestle back control. This didn't always work for me... well at least it was a soft landing.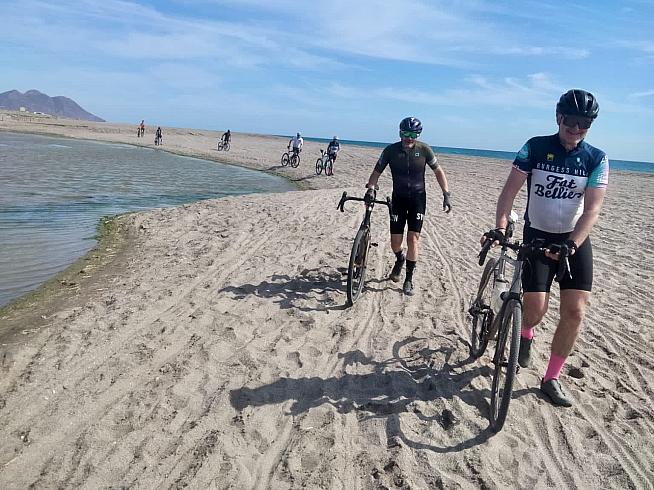 A fun day today. The brutality will no doubt reappear tomorrow as we head back up to the mountains.
Stage Five: Retamar to Canjáyar
(50 miles, 1800m climbing, 4.5 hours)
Yesterday I casually mentioned 'brutal', when anticipating today's ride. Big understatement! Here's some better words: savage, excruciating, barbaric.
Sadly, Gary J had to pull out of today's ride with stomach problems. Ten miles into the ride Gary (our tour guide) followed suit. Riders were dropping like Garys.
The first business of the day started on the lower slopes of the climb out of Almería, where the road surface was smooth and the gradient shallow. But then the barbarity began, as gravel gave way to stones, and the stones gave way to rock... for nine-and-a-half excruciatingly long miles.
The fixed rock that juts out of the trail constantly forces you into the endless stream of loose rocks. Large enough to fill a fist, they force you to slide left, slide right and back again. This is mountain goat territory, four hoofed legs, one in each corner makes sense. Two wheels, and rider desperately trying to balance while riding uphill, makes no sense at all.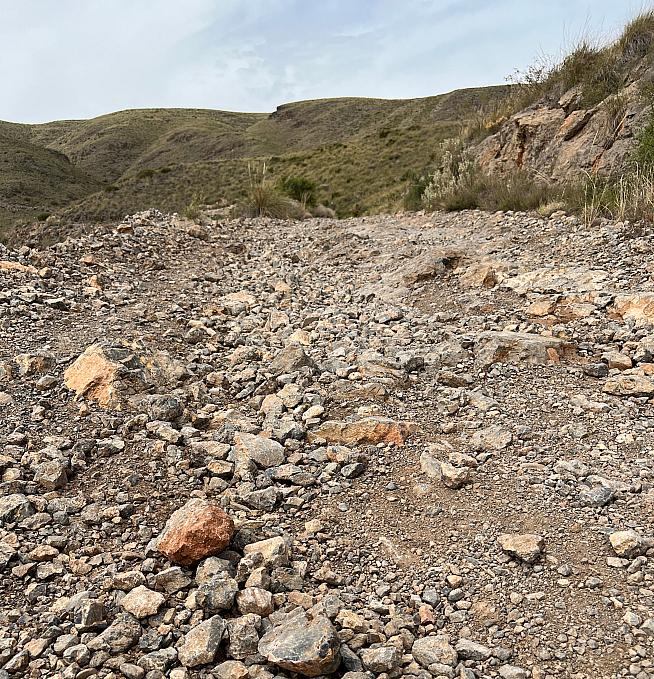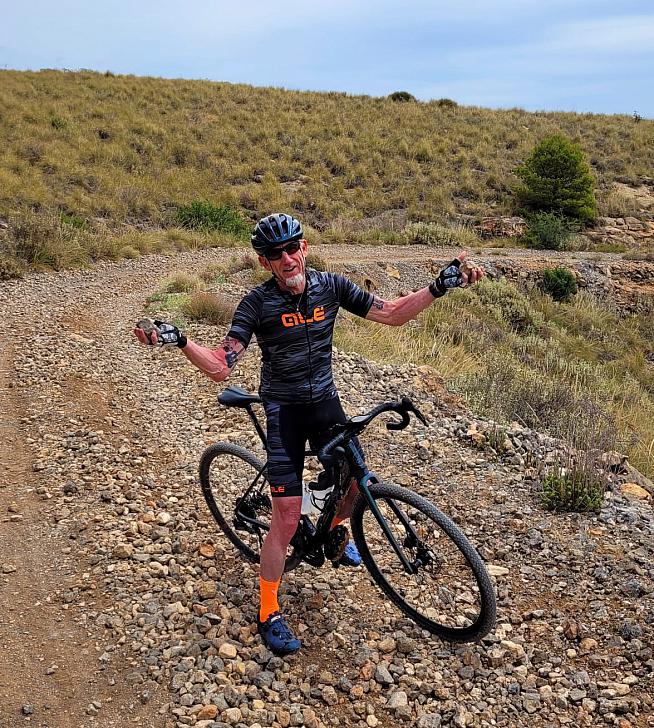 My usual dexterity on a bike deserted me, I was fighting a losing battle with the loose rocks, which knocked me sideways and off my bike repeatedly.
After a two-hour slog I finally approached the summit. Tour guide Gary was there to greet me, and on cue, I fell off for the umpteenth time. I was so relieved to complete a climb, which I found harder than my ordeals up Ventoux and The Tourmalet, that I promptly dismounted and kissed the tarmac.
Fortunately, the lion's share of today's remaining 30-mile struggle was fought out on tarmac. There was still some climbing to do, but quite a few levels down on the brutality scale.
Tomorrow is the sixth and final stage. One more day of gravel, one more day of gruelling gradients and one more day of (I'm sure) a few surprises along the way.
Stage Six: Canjáyar to Cádiar
(38 miles, 1500m climbing, 3.25 hours)
The last day finally arrived, and everything ached: legs, arms, neck, shoulders. The list was endless, but spirits were high with the end in sight. It may have been the shortest route of the tour, but loaded with 12 climbs, it wasn't the easiest.
Everything was calm for most of the day, with more tarmac than gravel, all the early climbs were gobbled up as my climbing legs were miraculously re-instated (after going all MIA on me somewhere in the clouds of stage one). My second wind continued as summit after summit was consumed with ease.
However, this tour has a reputation to live up to... and it delivered on the last climb. The seven-miler out of Ugíjar started off calmly enough, as we gently wound our way up the tarmac hairpins of the mountain. Then it all happened, the gravel made a comeback, the gradient kicked up to double-digits and then rose to over 15%.
My granny gear got a good workout, as I rose out the saddle and toiled up the steep sections. As a finale, it was a tough climb but with breath-taking views down into the valley, it was a rewarding way to finish.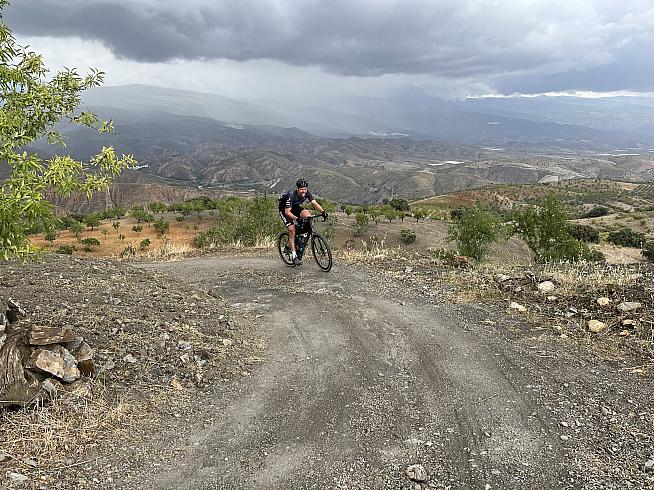 But wait, the tour was not finished with us yet. A rainstorm was dispatched to the summit, promptly followed by a thunderstorm, as we descended the other side. The last few miles became a mad dash down some steep gravel paths, a short stretch of tarmac and a ford, as we all sprinted back into Cádiar.
The finished line beckoned and the crowd (Sarah and Gary J) roared as we completed the final few metres of our heroic 321-mile journey.
We had mountains, deserts, gravel paths, rocky paths, sand, steep climbs, long climbs, hail, snow, sunshine, wind, rain and a thunderstorm. We climbed almost 10,000 metres, ridden for over 26 hours in six epic days. I think I'm going to lie down now.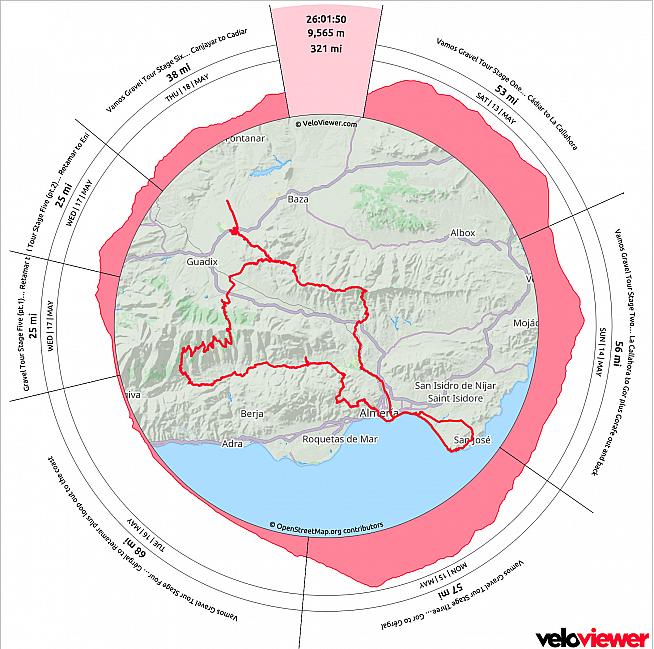 Vamos Cycling
Vamos Cycling are a husband-and-wife team where your tour guide, Gary, designs the routes, then guides and supports you each day. Sarah, meanwhile, transports your bags to each day's destination, and where road access permits, meets you enroute to provide food, water and on some days, welcome shelter from the elements.
Both are fluent Spanish speakers, which is a blessing for those of us whose vocabulary only extends to hola, gracias and cerveza.
Accommodation is all pre-booked, and (in most cases) breakfast and evening meals are included. The trip costs £750 and as well as all the above, includes airport transfers.
Find out more at www.vamoscycling.com.
El Elenco
Vamos Cycling ... Gary and Sarah
The Canadians... Michel, Richard and Simon
The Brits... Gary, Ian, Steve and myself
0 Comments