Now in its second year, the King's Cup Gravel Championships is the ultimate gravel cycling festival in the UK.
Starting with some thrilling racing and ending the weekend with a Gravel Fondo, there is something for everyone. Which is ideal, because riders come from everywhere.
Some of you might recall that I rode in last year's inaugural masters grade championships and mischievously ended up in the official finishers photograph.
It was a bit of a last-minute thing so I didn't get time to prepare a bike and ended up riding a heavy hybrid commuter. I was happy to come in mid field (29th), but I promised myself I'd come back next year with a proper bike and do better.
Well I did get back, travelling to this year's Championships with my cycling amigos Alex and Will, and this time I had the perfect equipment for the job...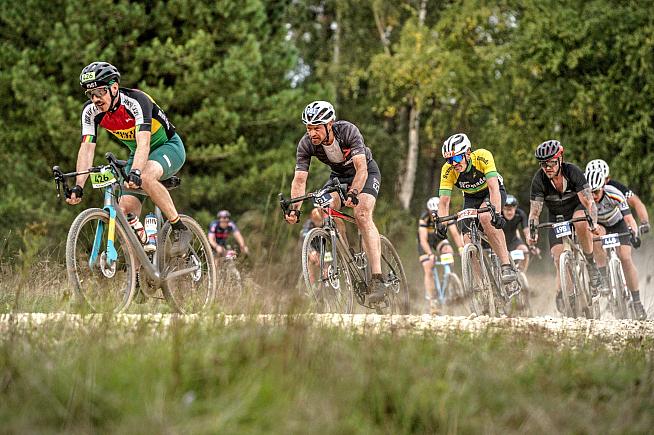 The format for racing was altered quite a bit for 2022. The race was split into three with the Men and Women classes each getting the course to themselves this year, while all the masters age groups finished the day's racing off with even more outrageously fast and furious gravel. The course was a bit shorter, down to just over 15km, but with an extra lap so working out to much the same distance.
There's plenty of challenging gravel with large rocks and flint, technical turns and grassy sprints which is exactly how we get off the start line. The starting pens were much wider than last year which seemed like a fair way to get off the line. The spread of riders was just enough for everyone to get through the first corner safely.
The course itself was a little less technical too. Less sand, less twisting and turning through the woods, and more super fast gravel stretches with plenty of opportunity for overtaking and formation of large bunches. There's only one very small climb that you'd hardly notice at first, but definitely slowed me up on my final lap.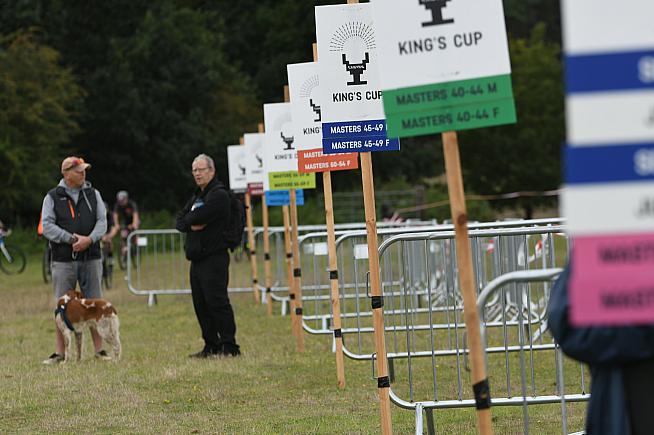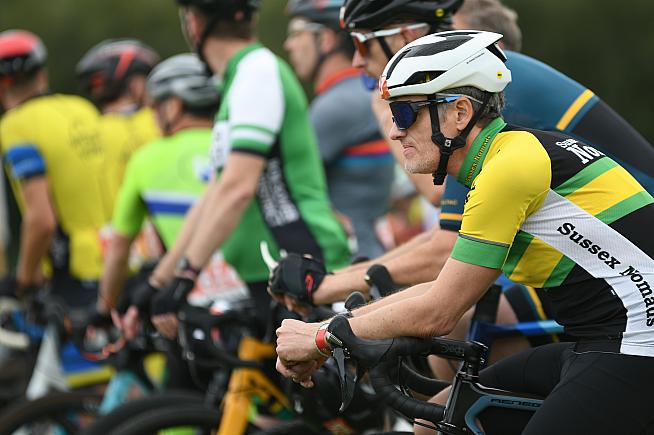 The course all makes for super exciting racing, the thrill of bumping shoulder to shoulder amidst the rising dust is almost overwhelming for me. I dared not take my hands off the drops for the first two laps through fear of losing control. Just surviving the argy bargy of the first quarter lap is a joyous achievement.
I managed to broadly hold a reasonable pace for the first few laps with some cunning drafting but even my best lap time was two minutes off the leader in my age category. With a full time of 2:08:26 I would have placed 69th in the men's open race. I'm actually really pleased with the idea that I wouldn't be last! However, to put that into perspective, the leader rode an extra lap in 2:12:45 which is an incredibly fast average of 35kph compared with my 29kph.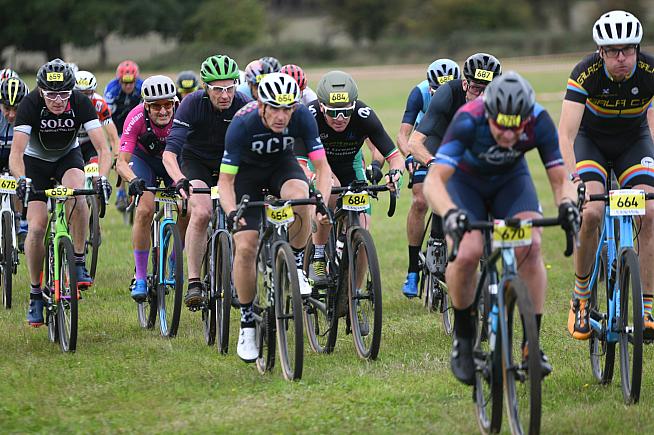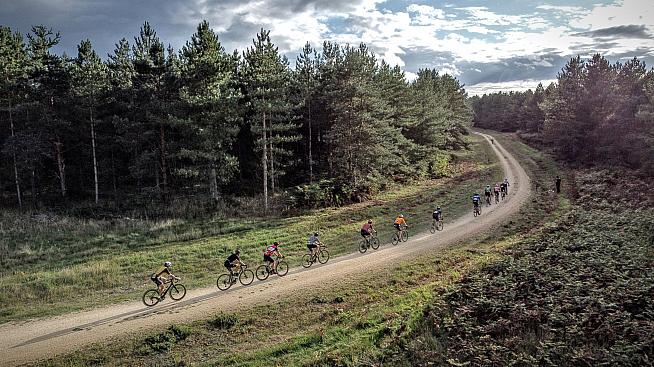 My race finishes and I note my friends think I've punctured, but alas, the last lap was not an easy one for me and at 35 minutes, my longest by some margin. I had decided to go sans hydration and it was a mistake, I really needed a drink on this final lap, my throat was dry from the dust.
But no excuses, the pace was too much for me; even if I'd have gulped a litre of rocket fuel I wouldn't have stayed on the bunch. If I could have held my pace for this final lap I would have cleanly placed 16th and if I had gotten my fueling strategy right then...
In the end I placed 26th in my age group, barely fulfilling my promise. I can't blame my bike this year, but just like last year, I can say I loved every single moment of it. And there is a silly part of me that has already promised myself to come back again next year and do better.
My friends and I were delighted to watch some top tier riders and inspirational amateurs such as Ethel Brokenshire - winner of the Women's age graded 65-69 group, who proudly declared that she wouldn't take off her winners jersey for a week and then went on to beat all three of us in the Gravel Fondo the next day!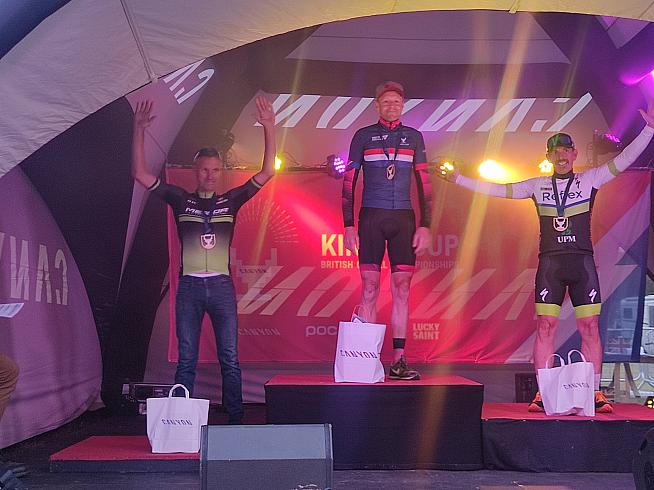 The race competitors are a varied bunch coming from all disciplines. Riders are drawn to gravel racing for its fantastic combination of being off grid, the thrilling speeds and the fantastic camaraderie of this fast-evolving sport. But this year does feel as though the gravel discipline has further defined itself distinctly and uniquely apart from other forms of racing.
Skills in all disciplines are useful including road, track, cross, MTB and even BMX racing. These skills are transferable in different ways but it's the combination that makes gravel racing so unique. Competitors need to manage their energy carefully so drafting is important, as is leaping your bike over a hole or carrying speed through tight bends and sandpits or even pumping the giant dried up puddle holes where the four-wheel-drive enthusiasts have been.
Judging the right rut is another skill unique to gravel that separates it from other racing; pick the right rut and you can easily take a few places over someone who's managed to find a rut that gets messy. Changing ruts can be costly so you need to use all your spidey senses and pick wisely.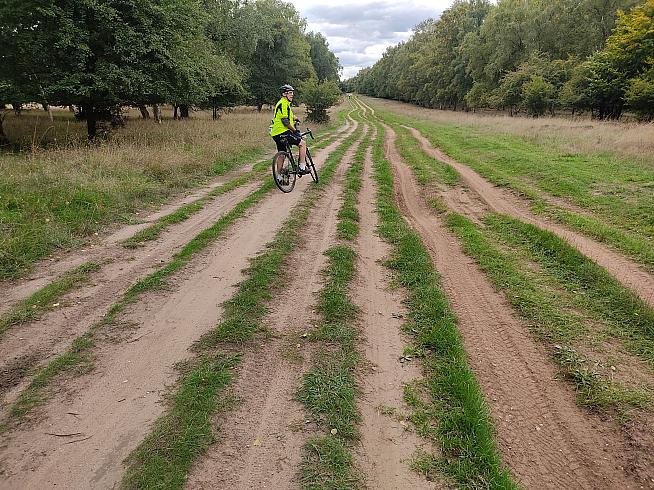 The organisers clearly listened to the riders' feedback from last year and made this year's course even better.
I, for one, hope to see the King's Cup continue to grow and attract talent from all over the sport of cycling. It's not just a festival for gravel riders, it's a festival of loving life open to anyone who fancies fooling about on a bike for a weekend in the woods.
Family fun in the dark
With barely an hour's rest from the race, my friends and I saddled up to join the night ride. This is a fun family ride illuminated by glow sticks and good humour, and a great "recovery ride" way to end one of those days on bikes that make you glad to be alive.
It's a social ride of about 10 flat kilometres taking in some of the race course, though you'd hardly know it as it's too dark to see or care much about where you are. You're on a bike, you're under the stars and surrounded by like minded people of all ages. It's a lovely way to get to know fellow festival goers a bit better and relish in your shared joy for pushing pedals.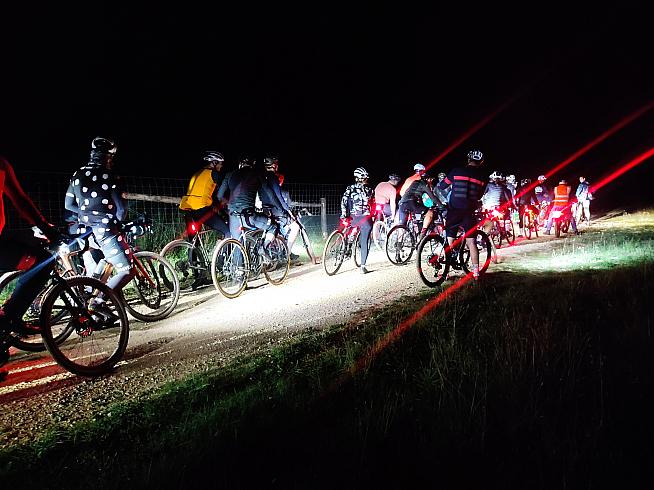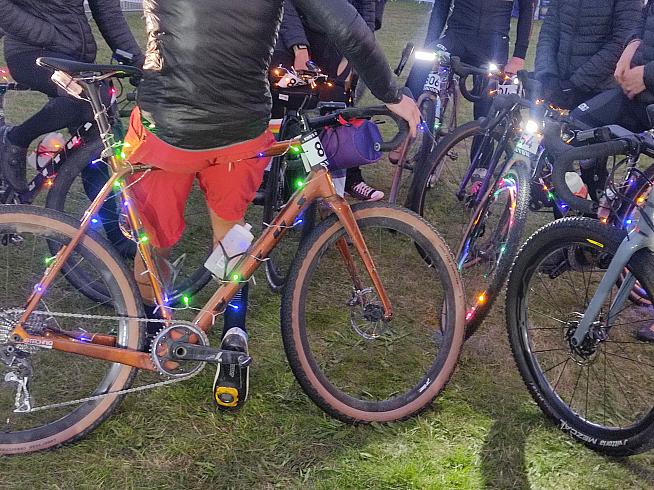 Back at base, we shared a laugh over a burger and beer while the live band played everything from Metallica to A-ha.
The organisers have got a lot more right with the village this year as well, it's neatly connected to the finish straight and encircled with interesting displays from the likes of edgy clothing brand Angry Pablo to an impressive display of Canyon bikes.
There's also some really decent coffee and food vans distributing essential sustenance and plenty of space to pitch up and enjoy a good bit of enthusiastic conversation about exaggerated efforts from the day.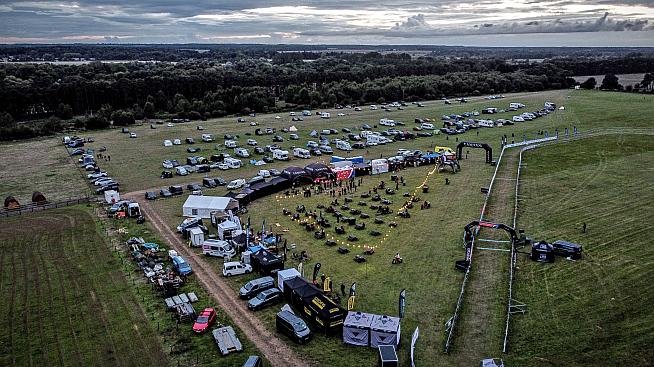 We retired early to the tents we'd brought and the rain stayed away mostly. Tomorrow, we had more biking business to do.
Sunday: Gravel Fondo
The 100km Gravel Fondo started at 10am and we would be first off the blocks. The route is 50% gravel and 50% road, it's well sign posted and marshalled and we've got timing chips to add a bit of competitive spirit to the ride.
We follow the trail through woods, through 4WD bogs and sand pits, through grassland, over ditches, and down long Strade Bianche style gravel stretches. The Norfolk/Suffolk borders is known for its flat landscape, there's only a few undulations culminating in about 575 metres of climbing. There's no long racey downhill stretches but the consistent effort is surprisingly pleasant.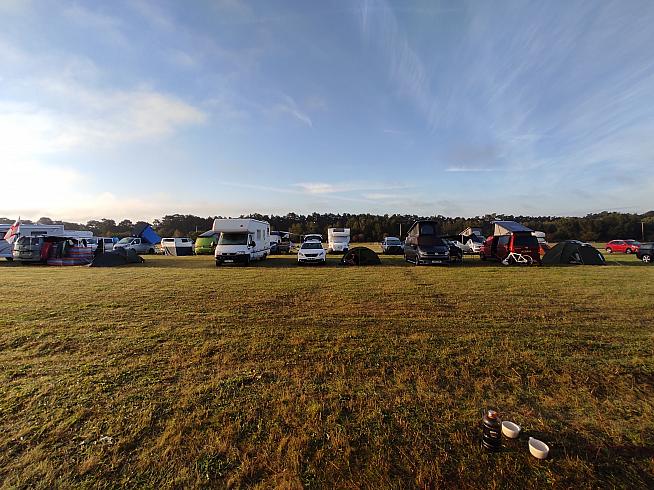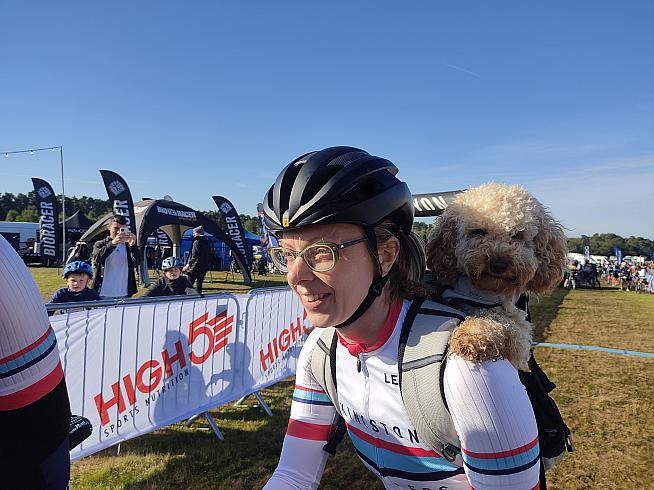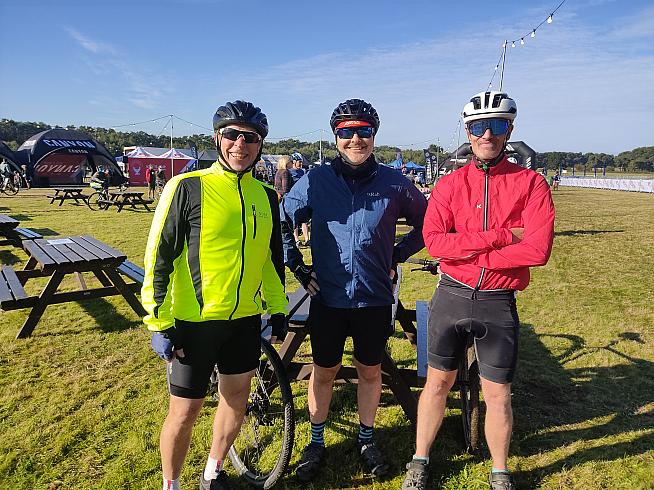 Alex led the way for the first 30km with Will and I struggling behind him to the first feed stop where we regrouped. Will and I swapped bikes to see what each other's ride is like. Will likes the upgrade and sticks with my lightweight carbon Jamis Renegade for the next 40km. I'm happy enough on his stiff, alloy framed Norco Threshold, while Alex continues on his custom self-built steel framed Fearless machine with flat bars. All of these bikes are perfectly suitable gravel bikes.
We hit some tarmac that's peaceful and relatively car-free and head north east to Harling Woods. We pass pig farms, onion and corn fields and crops that we don't even recognise. Alex pays for the hasty start and begins to struggle and then our only puncture. Alex limps into the final feed station where he gives up the will and hops in the broom wagon home. Will and I continue through some delightful trails around Harling Woods before the route takes us back to Kings Forrest via similarly peaceful back roads.
This is the thing about gravel riding, it requires an attention level greater than riding on the road; you're constantly noticing the changing riding surfaces and compensating for them. Riders are brought closer to nature as a result of having to constantly think about it. The opportunity to drift off into your own thoughts is limited and this connects you with the environment on a level that's harder to find when you're on the roads and need to think about traffic and this distracts you from the surroundings.
There's also a 40km ride (200m of climbing) leaving at the same time as the Gravel Fondo and aimed at beginners. This ride had one feed stop and stayed in Kings Forest. It would be ideal for pretty much any level of rider. There's plenty of varied surfaces to challenge yourself on and the distance would be enough to give you a great sense of achievement.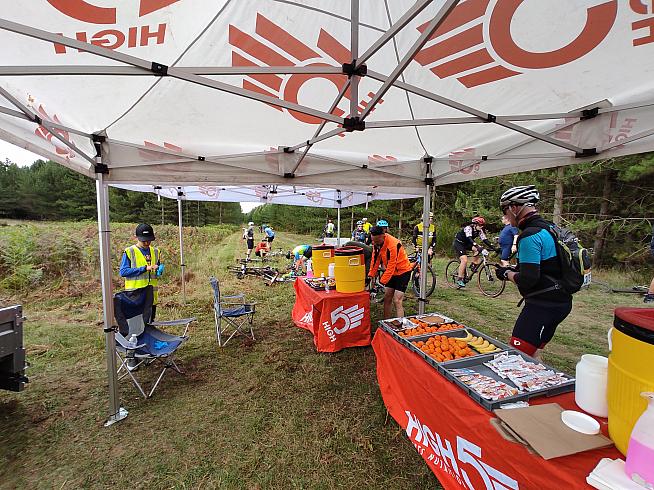 One final bit of praise should go to the event photographers, Sportograf. These guys have done an amazing job of capturing the experience, better than anything I've ever seen before!
Will and I finish our ride and collect our environmentally friendly medals. Neither Will or I are strangers to 100km+ rides but today, we were both feeling it.
It's been a great weekend, we're all a little worn out and ready to pack up our tents and head home with awesome memories that will last until next year's King's Cup thanks to the excellent event organisation and location.
Despite my broken promise, the King's Cup definitely gets three thumbs up from us!
0 Comments