My secret weapon in preparing for my first sportive of 2022 was to do what the pros do - early season training in Spain.
Six days in warmer climates a week before Beyond Events' Somerset Sportive would make up for the lack of winter training and kick-start the summer...right?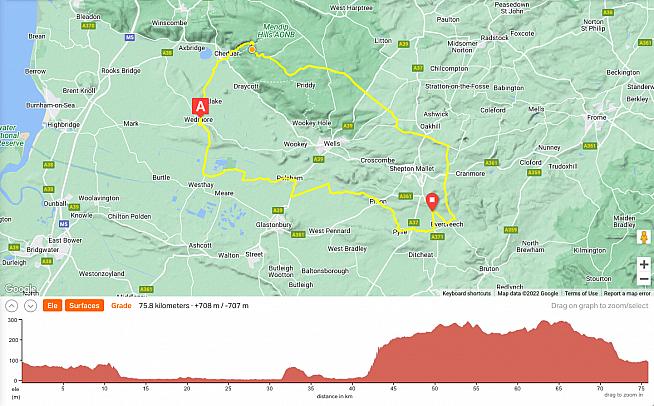 Unlike the pros, I had put on seven kilos during the pandemic, while childcare duties meant my cycling was limited to a ten mile round trip from work twice a week (although there was a big hill on the way in).
My mother-in-law owns a small apartment in Murcia, Spain which no one had been to since September 2019. (We were due to go in summer 2020 but my son's passport arrived a week late from the beleaguered Passport Office.) So I was sent as the solo advance guard to see what sort of state things were in, tidy up and roll out the red carpet in advance of the owner and her husband arriving a couple of days later.
I decided to mix business with pleasure and take my bike for at least a couple of days cycling. I flew out from Bristol to Alicante on Ryanair and back on Easyjet. £60 to take the bike with the former and only £40 with the latter. No problem either way with the bike.
After sprucing up the apartment and reassembling the bike I went on a 30 mile pipe opener around the Costa Calida close to La Manga. Largely flat although there was one hill out near my base in La Union. The hill was known locally as the Green Mile because there was a separate green cycle lane which was part of the Euro Velo Route 8 which runs the length of the Mediterranean. Weather was dry, cloudy, 15 degrees. So far so good.
My plan was for an ascent of the main mountain in Murcia, the Espuna, later in the week. It has been included in the Vuelta on occasion and apparently Mr Valverde lives nearby and uses it as a training ride. I've driven up it several times on family holidays but was keen to try it on the bike.
I was due to fly home on the Friday and I'd hoped to squeeze in the Espuna on Thursday amongst some other commitments so I went for one more short local ride on the Wednesday. Unfortunately, this was when my bad luck started and then gradually accumulated scuppering any smooth sportive preparation.
About an hour into the ride I ended up with my first flat tyre in several years. I changed it ok although I couldn't find the source of the problem at all despite running my finger all round the tyre. Back on the bike I ascended the Green Mile once more but as I coasted downhill the other side I suffered a second flat tyre. Probably my own fault in not finding the source of the original problem and it striking again.
I stopped again, this time by one of La Manga's golf courses. I take two spare inner tubes and CO2 canisters on each ride so I'm usually quite smug in being prepared. However, I was now down to the last tube and canister so the pressure was on to get it right. To add to the growing sense of impending doom the heavens chose that moment to open and the rain in Spain was falling mainly on my head as I tried to get back on the road.
This time I found the offending piece of small sharp plastic, wedged into the tyre. Everything was on track until the Co2 cannister emptied into the tube too strongly and popped the tyre out of its rim. The only way I could get it back in was by deflating the tyre again until it would pop back. So I was soaking, the rear tyre was barely inflated and I was still several miles from home.
I got back on the bike and cycled a mile or two out of the saddle in the deluge to the nearest garage. Again my luck was out as the valve on the garage's tyre gauge wasn't compatible with my tyre. In the confusion I ended up totally deflating my tyre.
Plan B was then invoked as I phoned my support team (mother-in-law and her husband) to drive out to me with my bike pump so I could get things back to normal and get home. They were a ten minute drive and I was able to shelter in the garage to await their arrival. Unfortunately, they forgot to bring their mobile phones so ended up driving around for 45 minutes, unable to find me and with no means of contact.
Eventually we did meet up. I pumped up the tyre and cycled five miles home in a thunderstorm. I went down with a cold the next day and all my cycling gear was saturated and took a couple of days to dry out. I never made it to the Espuna, let alone up it.
I flew home as planned on the Saturday and on the Sunday morning I pulled lower muscles in my back just picking up an item on the bathroom floor. The sportive was a week later and I was now walking like a man double my 51 years of age.
I saw the physio on the Thursday, three days before the ride anticipating that I'd probably be signed off sick for the ride. Not a chance. "Go ahead give it a go. You might be a bit stiff afterwards." So it was back on!
My friend who was due to do the event as well backed out the day before citing logistics. He had thought the start was at the North Somerset Showground (10 minute drive away) but he suddenly realised it was at the bigger Bath and West Showground (60 minute drive). Parking on site opened at 7am with registration from 7.30-8.45am. You could start any time from 7.30-9.00am which was the start cut-off time.
I received a comprehensive email from Beyond Events which covered everything one could need to know about the day. An identical event was run by the same team the previous day on the Saturday. The Long route was 102 miles with 1271 metres of climbing. The middle route 83 miles with 1145 metres of climbing and the Short route that I was signed up for was 46 miles with 708 metres of climbing.
My satnav took me into the wrong entrance of the Showground but a short about-turn later I was quickly back on track and guided into parking by a marshall and distinctive florescent signs. Things looked pretty organised but relaxed, and to be honest it was one of the easier starts to a sportive I have had apart from my own equipment malfunction.
I guessed that most riders had set off before me as there was no queue for anything. I hadn't left myself much time before the 9am cut off but I readied my bike, clicked on the Garmin and tightened my shoe straps... which then snapped off in my hand.
Never had that experience before so I had no spare shoes.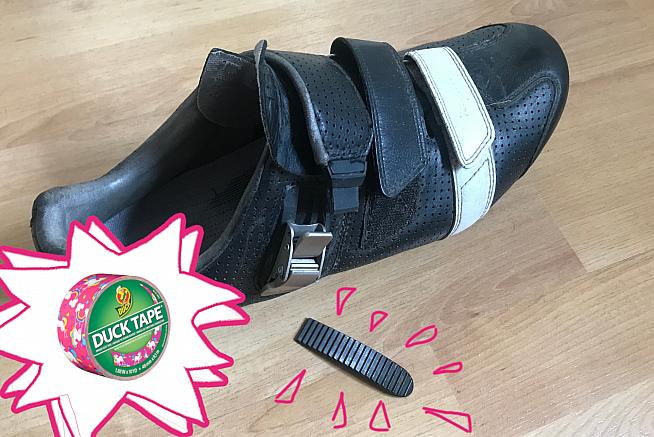 I went to the registration tent where one of the ladies said her husband was immediately outside the entrance and she suggested I flag him down and get him to gaffer tape my shoe as a temporary fix. I registered, listened to the short safety briefing and was off with five minutes to spare.
After a couple of hundred metres I found the aforementioned husband enroute and accosted him for the gaffer tape. Turned out to be a pattern of unicorns and rainbows in bubblegum pink but it did the job to great effect.
I thought the first half of the route was really well thought out and a pleasure to ride. Quiet country lanes, a few little ramps in the early miles and then some pan flat roads around the Somerset Levels. It really gave an opportunity to get into a rhythm and clock up the miles and my back wasn't feeling too bad either. It did feel like there was something not great about my brakes but I couldn't quite work out what it was
Wedmore Village Hall was the one food station round about the half point on the short route. The medium route had two stops and three for the long route.
Wedmore is a lovely village and probably the most expensive place to live in the area so I was expecting something not too shabby and it didn't disappoint. The facilities were set up inside with toilets and a couple of people making tea and coffee on request. There was energy drink and water, jelly beans, crisps, bananas, cake and several more choices.
I ate my fill and then took my bike over to the mobile event mechanic. Turned out my front brake wasn't doing anything at all in terms of stopping the bike. Luckily the back one was ok so I eased back on and set off once more.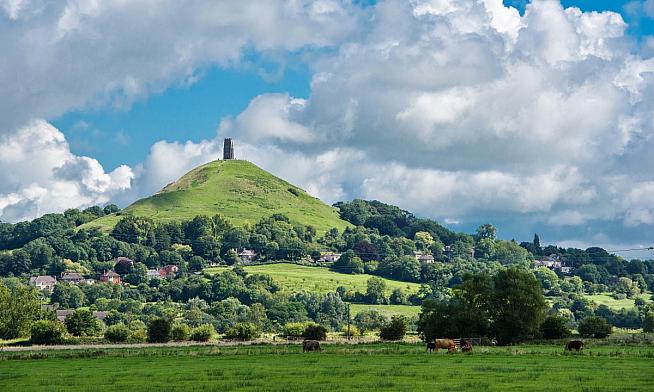 The route soon led to the tourist trap of Cheddar Gorge and the signature climb of the day. It is more of a sustained slog than a full on climb with only a couple of short challenging steep corners right near the bottom. Scenery is great but there can often be lots of vehicles going up and down the gorge.
Once at the top there are several potential options for routes and this one kept going straight on. This was my least favourite part of the ride, firstly because my back was stiffening up but also because it incorporated a number of fast straight "A" roads with cars whizzing along at speed. It would have been more fun and relaxing to dive down some side roads to get back to base.
Once across the finish line I was handed my medal and a water bottle. There were some refreshment places to buy a drink and some food but I headed off back home, once I'd extracted the gaffer tape from the shoe.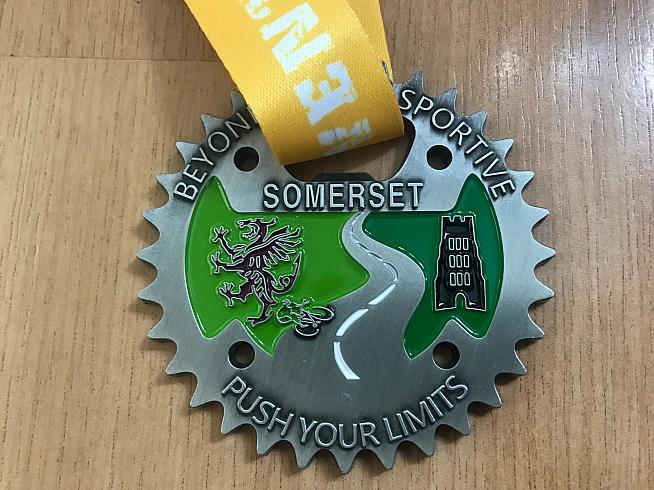 After sitting in the same position in the car for the drive back I was moving like a 100 year old man when I arrived. Much worse than anything experienced on the ride itself.
To me it was the perfect event for the first sustained ride of the year. A little bit of climbing, but not too much or too hard, a real confidence booster.
Beyond Events were well organised but relaxed at the same time which really added to my enjoyment of the event. They organise other events, and not just sportives, around the country as well so definitely worth looking up online to see if anything catches the eye.
The next Beyond Somerset Sportive is on 22/23 April 2023.
Check out the full Beyond Events calendar at www.beyondevents.org.uk.
0 Comments