The Kings Cup Gravel Festival, originally scheduled for last autumn, finally took place on the weekend of the 18th-19th September 2021.
The event promised an unusual mixture of top-level gravel racing in the UCI-approved UK National Masters Gravel Championships, as well as a more relaxed sportive on the same course and same day, all in the grounds of the beautiful Kings Forest in Suffolk.
Myself and Peter went along for the weekend to try out both events, curious to see whether such a race format could attract riders from the MTB, cyclocross and crit racing scenes, and satisfy the different needs of racers and sportive riders...
Arriving late to a party has always been de rigeur, so although the campsite at the Kings Cup Gravel Festival opened at noon on the Saturday, I had no problem when Peter told me he wouldn't be able to drive us there until the late afternoon.
Besides, arriving at sunset meant we could still pitch our tents before it got too dark, and have time to tag along with the night-time guided 'Glow-Ride' through the forest and along the course we'd both be riding the next day.
Fate, however, had other plans for us...
On the short ride between our tent and the registration area Peter's car key fell out of his pocket and got lost in the short grass.
Disaster? Well, with all my riding gear - helmet, shoes and kit - still locked away inside Pete's car it looked like my weekend could be over before it had begun. With no AA membership to help, and no prospect of nipping home for the spare set of keys, we had no choice but to set off on one of those slow, methodical, fingertip searches of the field that you tragically see on the news when someone has gone missing.
We searched as the sun set and into the twilight gloom for the best part of an hour. With 'Fools Gold' blaring out the PA system, the Glow-Ride weaved its way into the forest, whilst we swept our phone torches across the grass faintly hoping to spot a reflected glimmer from the key. When the Glow-Riders returned, having ridden half the course, I gave up the search - leaving Peter to make one last desperate sweep of the field before he too said he'd give up and take a look again at dawn the next day.
Normally, the prospect of not being able to take part in such a ride would have been a bit of a disaster for me. Not as bad as it was for a friend who travelled to France for a sportive in Picardie one year, only for his pedal to break on the start-line, but still, an utterly miserable way to waste a weekend.
But this year has been far from normal so I was somewhat relieved. Suffering with alternating bouts of sciatica and lockdown ennui has meant that I've barely ridden my bike this year, and certainly not at any decent pace. My strength and stamina have nose-dived so much that where I once would have gladly signed up to 'have-a-go' with the back markers in the Champs Race, I was now pretty fearful of the real prospect of blowing up halfway round a slower paced sportive.
Now, with the car key lost, I had an oven-ready excuse for not riding. Besides, as Peter's kit was all in his tent, and he was racing in the Championship Race, I knew I'd still have enough material for a write-up. So, when Peter reappeared with a Cheshire-cat grin on his face dangling the now-found key in his hand, I had a job mustering up an appropriate level of joy. "Yay! Let's do this."
A night-time course reconnaissance ride was hastily arranged. We discovered that the course was dry, flat and not too technical. The forest was criss-crossed with hard-packed wide gravel 'fire roads', sandy soiled rutted pathways and firm grassy tracks that were linked up in a series of right angled turns. Even in the dark we could spin along safely at speeds close to 20mph on the fast straights with just a few deep ruts or wheel drifts on the sandy sections forcing us to slow down and be more cautious.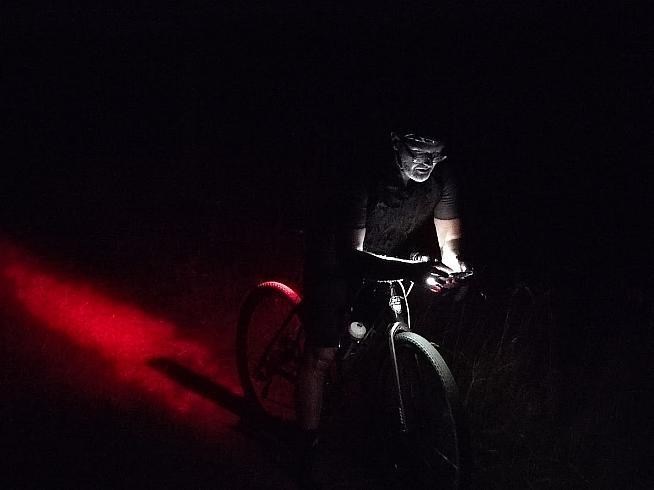 It's fair to say that the night ride settled my nerves. Even a slight accident back at the festival base (where I managed to ride head first into a bench after prematurely turning off my lights), the 'Severe Weather Warning' for Sunday that had popped up on my phone, and my coffin-sized bike-packing tent couldn't stop me from sleeping soundly, dreaming of tackling the course the next day with a throng of riders around me.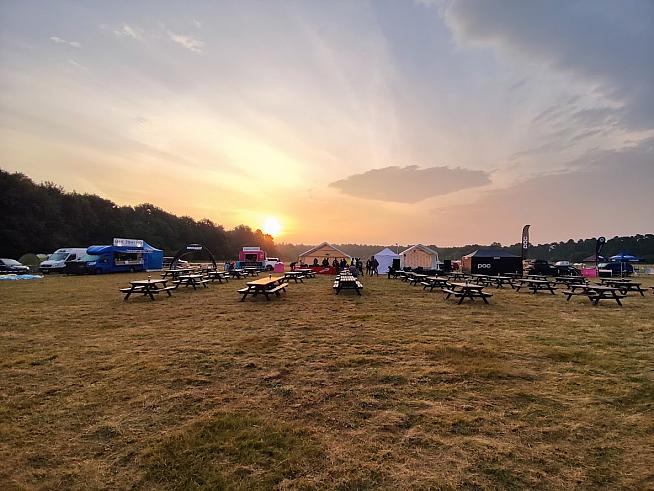 If glorious rides are accompanied by glorious weather, dawn suggested we had a treat in store.
Here's how the day unfolded in the words of the Championship racers and the sportive riders...
Festival Faces - The Racers
To say that the National Championship races had attracted a mixed-bag of talent was an understatement. Being the first time these championships had ever been held meant that anyone who fancied their chances, and was quick enough to sign up could have a go.
In future years, there might be a qualifying process to get into these champs, just as there is for pretty much all other National Jersey races, but with Gravel racing being so new in the U.K. the organisers took their chances and opened up the entries to anybody and everybody.
As you'll see, the organisers cast their net far and wide, and brought together riders from a range of disciplines: professional and amateur mountain-bikers, cyclo-cross racers, crit and road racers as well as triathletes and long-distance endurance racers. National, World and Olympic Champions lined up alongside bike-packers and club riders. No one was quite sure how the races were going to pan out and which kind of riders would have the advantage. The first ever British National Gravel Championships would break new ground and throw up a few surprises, as you'd expect from a race into unknown territory.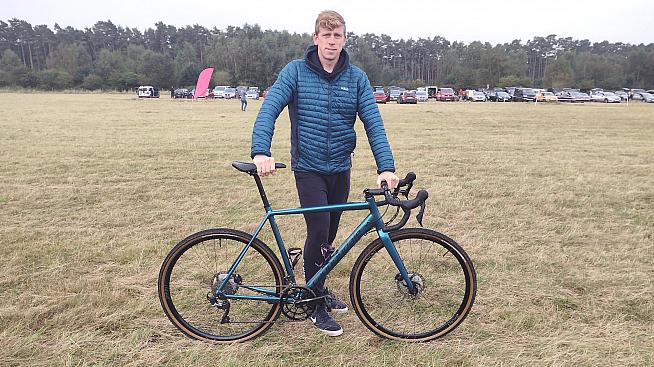 Racer #147: Thomas Smith
Team: Ex Machina
Bike: Cannondale CAAD-X SE
Finishing Position: 33rd Mens 19-34
"After riding the course yesterday afternoon I decided to put my road pedals on. The course is fast, not too technical and there's nowhere where you need to unclip. It looks like it's going to be more like a crit than cyclocross race."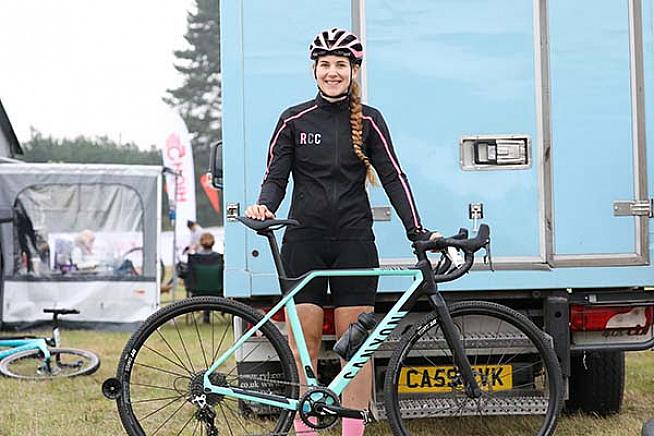 Racer #13: Cassandra Mackintosh
Team: Rapha Cycling Club
Bike: Canyon Inflite CF SL
Finishing Position: 9th Womens 19-34
"I've got some experience of racing on gravel as I've just completed Dirty Reiver. I'm not too worried by the technical sections as I've recently started racing XC (Cross Country MTB) so I'm feeling a lot more 'tekkerz'. I usually race in the cyclocross national series so I'm gonna treat it as one looong CX race."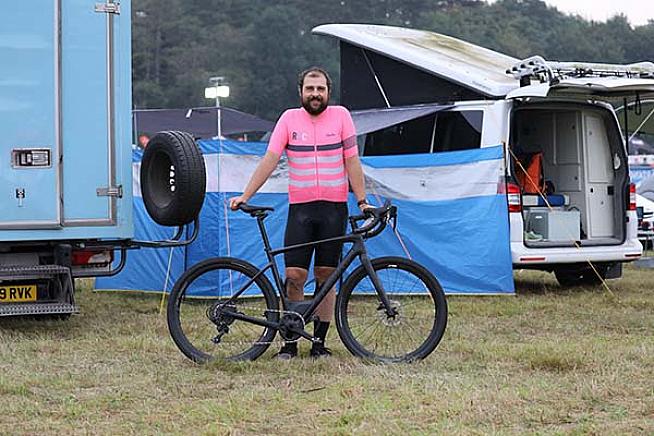 Racer #109: Mark Smith
Team: Rapha Cycling Club
Bike: Specialized Diverge
Finishing Position: 69th Mens 19-34
"I'm here because I love gravel... I enjoy the peacefulness of it and finding new routes. I'm finding riding on the road less and less appealing nowadays. There's nothing more appealing than taking a left hand turn and exploring a bridleway I've never been down before."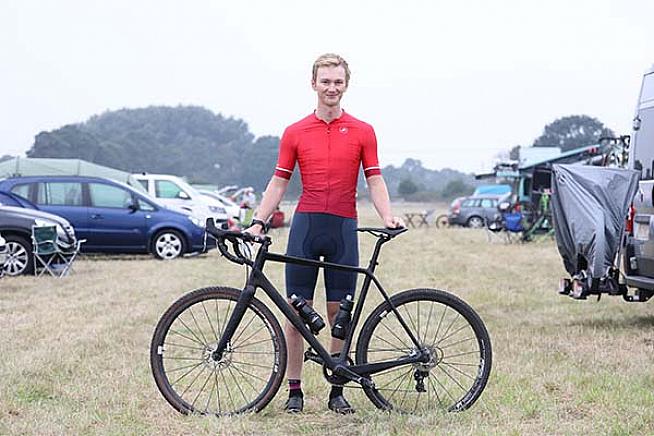 Racer #136: Michael Morris
Notable results: Grinduro 2021 - Senior Men 7th
Bike: 'Carbonda' (Chinese open-mold frame)
Finishing Position: 42nd Mens 19-34
"I started off as a mountain biker and then got into road racing. How did I do so well at Grinduro? I just pedalled really hard! I'm looking forward to seeing how I get on today."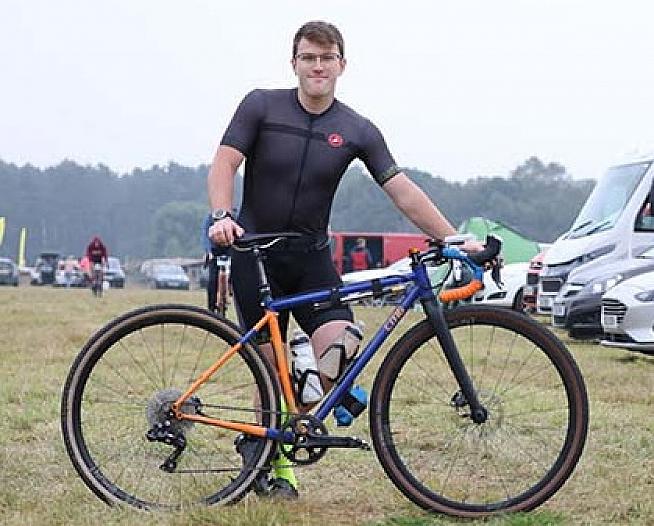 Racer #138: Chris McGovern
Team: CMG Bicycles
Palmares: Grinduro 2021 - 1st Singlespeed Mens 16+ category
Bike: Home Made Frame - 'CMG Breakaway Bike'
Finishing Position: 43rd Mens 19-34
"I built this bike myself using Ritchey lugs. Today should be a lot of fun compared to Grinduro. Be nice to have some gears."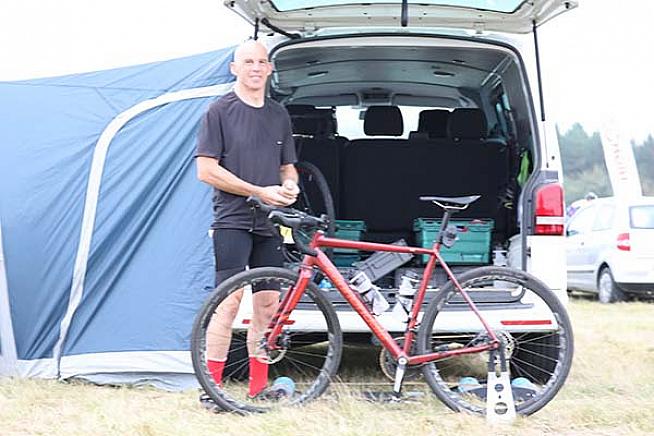 Racer #477: Mike Lawrence
Team: HKR XC Team / PACK
Bike: Cannondale CAAD-X
Finishing Position: 15th Mens 55-59
"I'm originally a mountain bike cross-country and marathon rider. The trails on this course are a little wide. I prefer singletrack - but to be honest I'm just excited to be racing ANYTHING after the impact Covid has had on the racing calendar."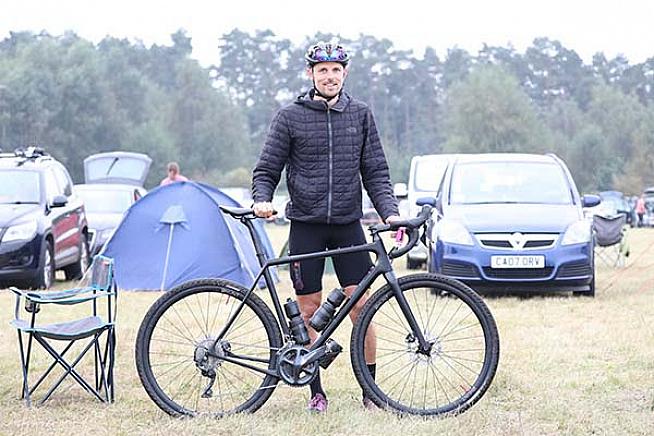 Racer #161: Tim Wilkey
Team: Das Rad Club
Bike: OPEN
Finishing Position: 14th Mens 35-39
"I started off riding mountain bikes. Riding longer distances got me into bike-packing. I love the idea of doing longer racing on wider paths that allow more overtaking and drafting than you'd usually get on an off-road course."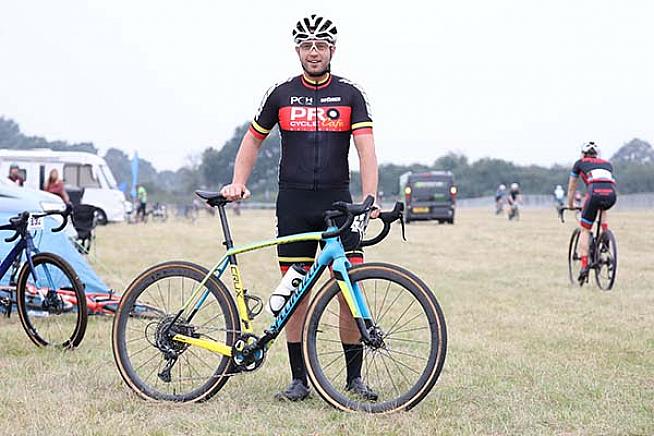 Racer #115: Toby Parnell
Team: Pro Cycle Hire
Bike: Specialized Crux
Finishing Position: 41st Mens 19-34
"I'm another mountain bike rider who got into road riding. I entered this as I thought it'd be a soft way to start to get fit again. There's loads of drafting opportunities on the course that might suit road racers who are used to sheltering in the bunch, but I think the mountain bikers should have the overall advantage in the race."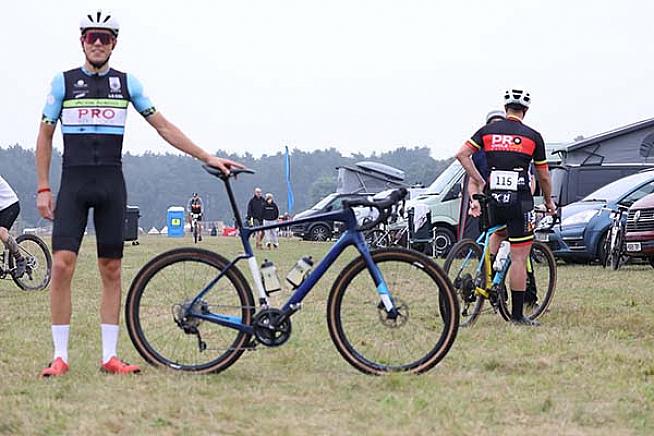 Racer #132: Ben Keneally
Team: Zero BC
Bike: Ribble CGR SL
Finishing Position: 56th Mens 19-34
"I started out as a triathlete, but have got into road racing. I'm hoping that the stamina needed for Iron-Man will help me go well on this course."
The race was split into different age and gender categories. All races were three laps of the 23km course, except for the racers in the 60+ age categories who raced over 2 laps.
"Staggered start times kept the racers from each category apart at the start, but inevitably faster racers from one group would catch up with the slower riders for the categories that had started earlier.
"Despite there being a pit area where racers could stash a spare bike, the length of the circuit meant that unlike in cyclo-cross, if you suffered a mechanical on the course you were likely to be a long way from help."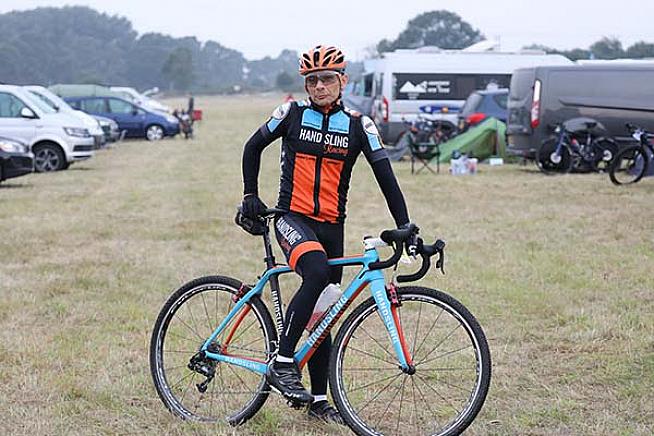 Racer #475: Paul Horta-Hopkins
Team: Handsling racing
Bike: Handsling CX-C
Finishing Position: 9th Mens 55-59
"I usually do cyclocross but thought I'd give this a go. I'm racing on a five-year-old bike that still has cantilevers on. They should be fine - the course is nice and dry."
Comments after the race: "It was a good and fast course. The organisers got the right mixture of speed and technical difficulty.
"My big mistake in the race was to latch onto a group of riders who turned out to be some of the best in the 60+ category. On the second lap when they started attacking each other I just had to cling on desperately. Then they stopped after they crossed the finish line for their second and final lap whilst I still had one more to go. I blew up, but made it round."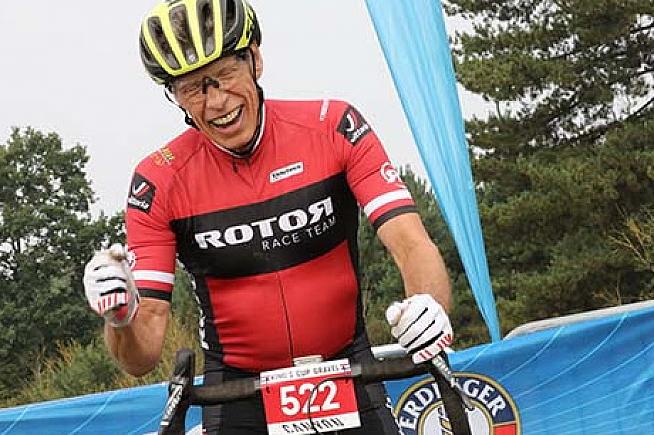 Racer #522: Nigel Herrod
Team: Rotor
Finishing Position: 1st in the Mens 65+
"I've been runner up in mountain bike championship races before, but this is my first ever national champs win!
"I'm bloody delighted! A group of us worked as a team and just kept pushing and pushing the pace. It ended up feeling more like a TT than a mountain bike race."
L-R: Tony Carter (3rd Mens 65-69), David McMullen (1st Mens 70+), Andrew Roberts (2nd Mens 65-69)
Racer #552: David Mcmullen
Team: Cotswold Veldrijden
Notable results: Multiple National Masters and Worlds CX Champion
Finishing Position: 1st in the Mens 70+
"I've been the cyclocross National Champion for 14 years... or is it 15? Something like that... and World Cyclocross Champ for the last seven years, so I hoped to do well today. It ended up being more painful than a cyclocross race."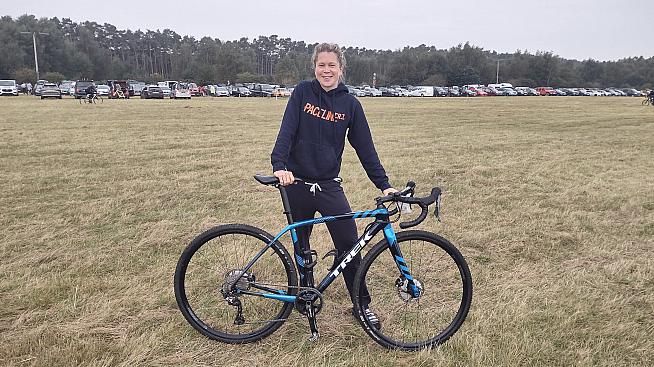 Racer #157: Helen Ralston
Team: Paceline RT
Bike: Trek Boone 6
Notable results: 2021 British Masters Circuit Champion
Finishing Position: 1st in the Womens 35-39
Peter and I camped next to Helen and her partner. Modest about her achievements at masters level, she did eventually let on that she quite fancied the idea of adding the first ever National Gravel Champion's Jersey to her collection. I caught up with her (metaphorically) straight after she crossed the finish line...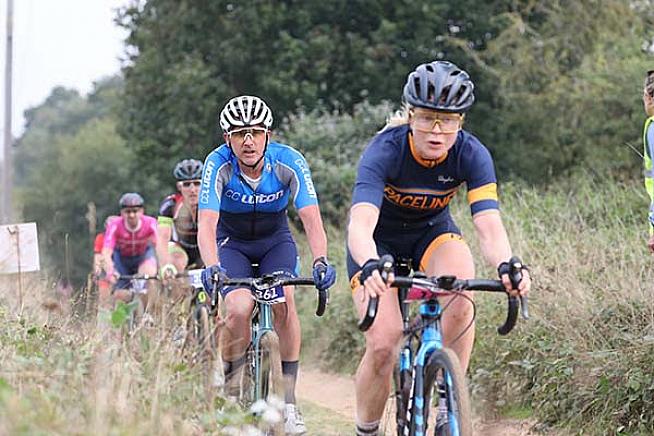 "Are my tyres flat? I think I've just done two laps on a flat back tyre!" (A quick check revealed the tyre was fine.)
"I went off hard with a group. We worked well together before I decided to make a break for it on the fast rutted sandy descent near the end of the first lap. I rode the last two laps on my own - basically a 30 mile TT to victory!"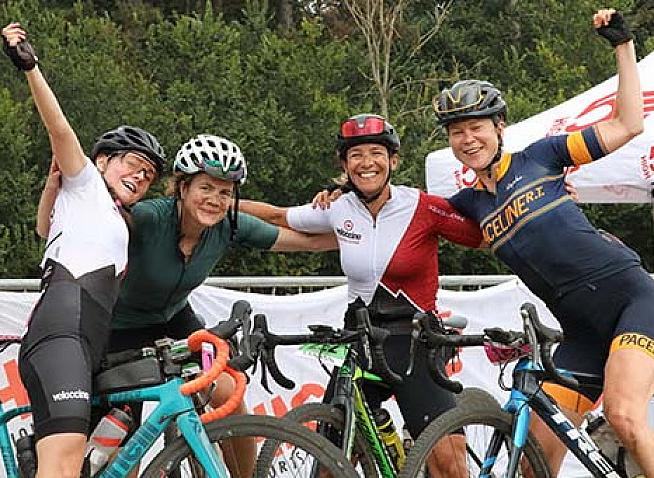 L-R Gemma Felsted (2nd Women 35-39), Laura Massey (1st Women 40-44), Lillie Swan (2nd Women 40-44) & Helen Ralston (1st Women 35-39)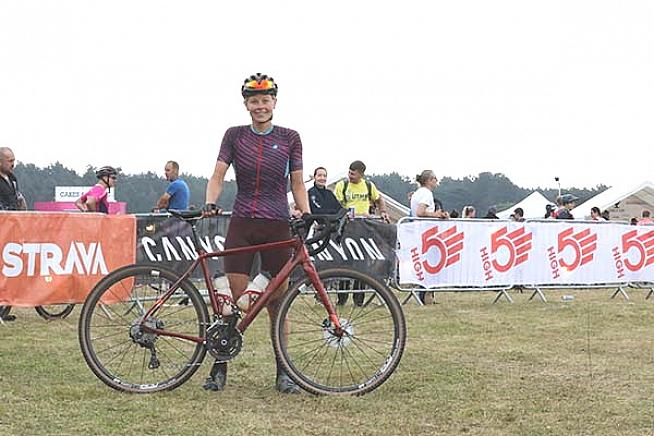 Racer #3: Bethan Male
Team: Neighbourhood Brighton Cycling
Finishing Position: 10th Womens 19-34
"Originally a triathlete and an ultra-runner, I started road racing recently. "I've spent some time riding on the South Downs this year so technically this course was easy. I want to 'go-long' eventually and have a go at longer endurance gravel races."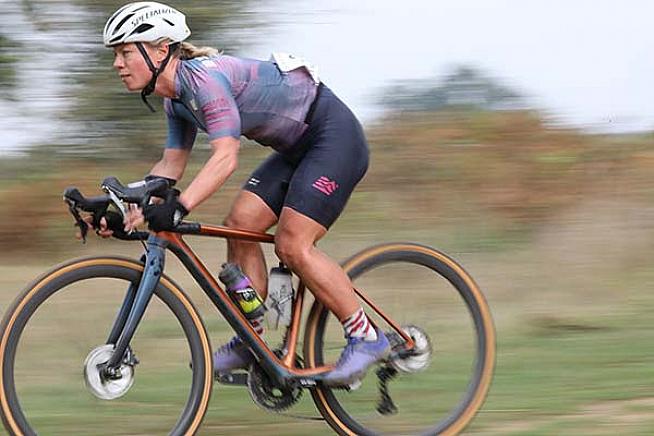 Racer #24: Ruth Astle
Notable Results: Kona 2019 1st AG; Ironman Florida 2019 4th Professional
Finishing Position: 1st Womens 19-34
"The straight flat gravelly bits were perfect for me. I knew I'd struggle on the more technical bits, but I learned today that I can ride on sand!
"I've got no urge to go swimming or running today, but will go for a swim tomorrow - that's how I recover!"
Racer #60: Alex Paton
Team: GCN
Bike: Canyon Grail
Notable Results: 2018 Tour of Britain Sprints Jersey Winner
Finishing Position: 8th Mens 19-34
"It started hard just like a CX race, but the long open sections and the length of the race made it very different. I haven't raced properly for a few years, and I'm not planning on coming out of retirement after today!"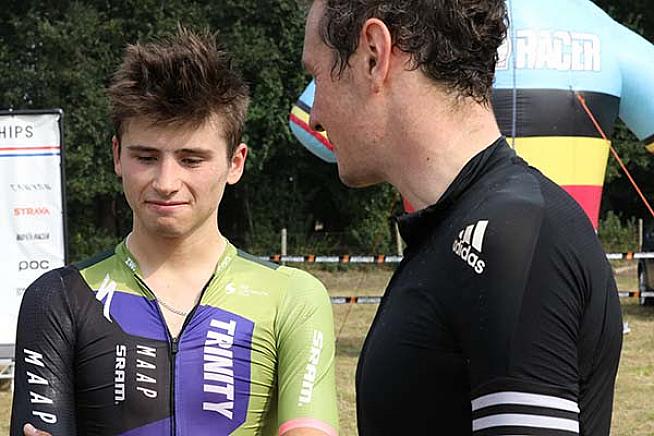 Racer #40: Cameron Mason
Team: Trinity racing
Notable Results: 2020 National Cyclo-cross Championships 3rd ; 2021 European Under-23 Cyclo-cross Championships 3rd
Finishing Position: 3rd Mens 19-34 Race / 2nd Mens 19-34 National Jersey Race
"I led out the sprint at about 50kph - stayed left on the fence to force the other riders out wide around me, but was forced out wide by some lapped riders ahead... I wish there'd been separate lanes at the end to keep the lapped riders away from the race leaders. It was a fast race - like an off-road Belgian Kermesse!"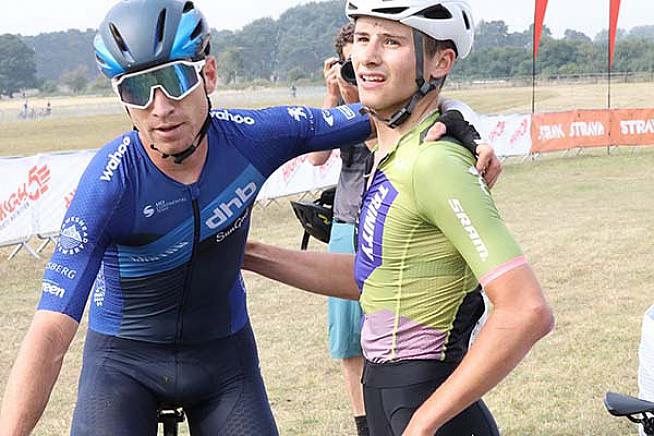 Racer #35: Ryen Christensen - NZL
Team: Canyon DHB Sungod
Notable Results: 1st 2017 NZL National Under 23 Cyclo-cross Championships; 3rd 2021 NZL National Road Racing Championships; 2nd 2021 Grinduro
Finishing Position: 1st Mens 19-34 Race
"Everyone went out fast. I was driving it hard into the tricky corners to help open a gap. Three of us got a gap... I planned to go late in the sprint as there was a headwind finish. Cameron went wide past two lapped riders and I came under him and caught his handlebars. We both got caught up but I managed to cross the line first. I got the line honours on the day even if as a Kiwi I can't be the National Champ."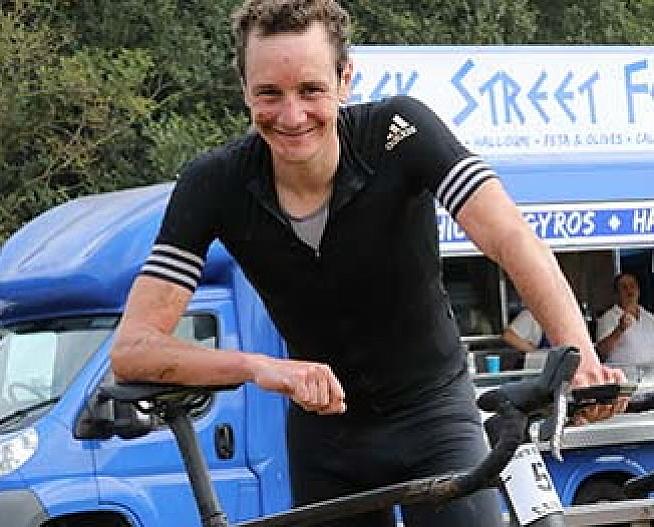 Racer #52: Alistair Brownlee
Team: Scott UK
Notable Results: 2x Olympic Triathlon Champion (2012 & 2016); 2x ITU Elite World Champion (2009 & 2011); 4x European Elite Triathlon Champion (2010, 2011, 2014 & 2019)
Finishing Position: 2nd Mens 19-34 Race / 1st Mens 19-34 National Jersey Race
Double Olympic Gold Medallist Alistair Brownlee is a big fan of gravel biking. Forced to miss the Tokyo Olympics with a bad ankle, he's had some rare free time to indulge his passion, and show unsurprisingly that he's no slouch on the gravel.
The Kings Cup Festival was his third consecutive weekend racing, having taken part in the 725km Badlands endurance race in Spain two weeks ago, where he finished 7th, and the Dukes Weekender Gravel Enduro race in Aberfoyle last weekend, where he was runner-up.
"I crashed in the first few hundred metres after another rider clipped me. This meant I had to work my way through the pack to get into the front group. I ended up in the group of three leaders with Cameron and Ryan.
The Kiwi knew he couldn't win the jersey so he didn't have to work as hard as me and Cameron to keep the chasers away. I kept trying to attack in the last 10km as I wasn't confident of beating the other two in a sprint, but the pace was too high to make anything stick.
Luckily I avoided the tangle at the end as I'm not a fast enough sprinter... This is a great event they've put on today and there's definitely a future in this kind of racing. I've spent my lifetime as a professional athlete and it's so nice to be able to enter the races I want to do rather than the ones I have to do."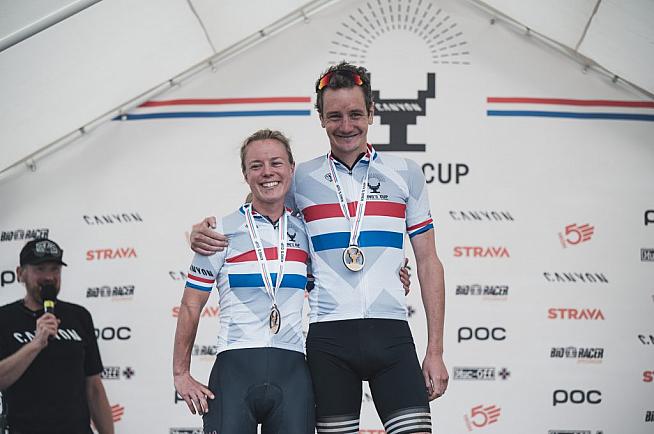 When the dust settled on a great day's racing it was no surprise really that the top positions were filled by some supremely talented riders who had mastered their chosen disciplines at the highest level.
The length of the course, and its long, flat and hard straights meant that riders who were used to sustained efforts in the saddle, like triathletes or road racers, had the advantage over those riders who favoured short hard efforts and used technical skills to win races, like MTBers, cyclocross and crit racers.
But none of this explains how Pete managed to get himself into the finish line photo, seemingly battling it out with Alistair Brownlee and Ryan Christensen for a podium place...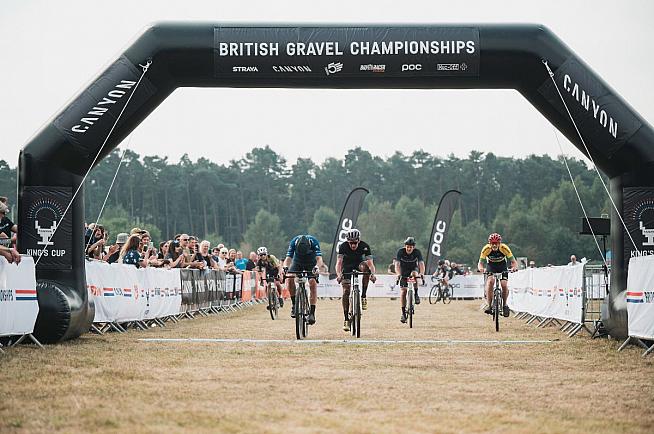 Coming up soon is part 2 of our Gravel Champs report, where you can find out how Pete brought a balloon to a knife-fight and rubbed shoulders - almost literally - with the stars, whilst Alex had a whale of a time in the sportive.
0 Comments