The past weekend saw the first edition of Glorious Gravel Salisbury Plains sportive. I headed along at the last minute - together with Andy - to try out the course in a part of the country I've not cycled in before.
If you had to sum it up in one word you could do worse than glorious.
Veterans of so-called gravel sportives in the UK - or, in olden days, the Evans RideIt Sportive Cross series - will be well aware that gravel is typically a proxy for mud, bridleways, ploughed fields, effectively "anything not tarmac". It can make the going tough on a parcours often better suited to a hardtail MTB.
Well, not here: Salisbury Plain is a Ministry of Defence training ground, a vast, largely open chalk plateau crisscrossed with undulating gravel roads in excellent condition. The broad, sweeping roads make for fast progress but, this being the UK, there's still plenty of variety by way of muddy singletrack and up-close encounters of the super, natural kind.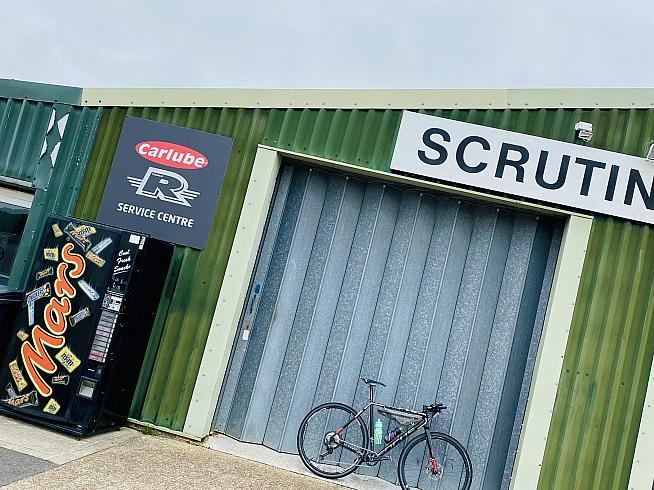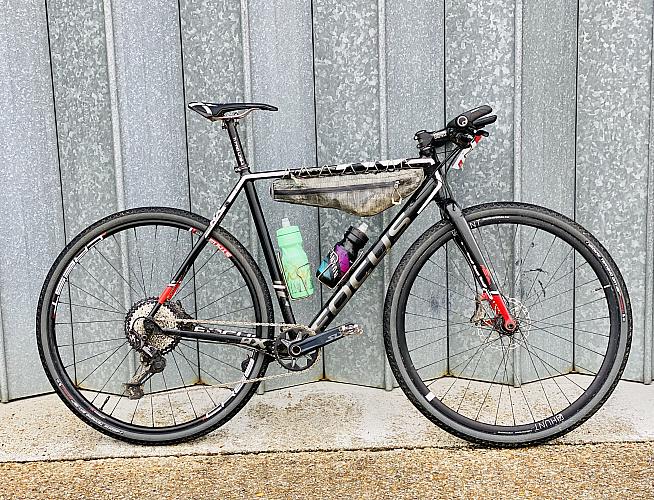 I left Brighton around 6:30am and turned up at event HQ, Thruxton Circuit just shy of two hours later. Andy was already there, number pinned on and champing at the bit.
Although most riders had set out earlier in staggered groups, the place was busy with late starters making last-minute preparations. I collected my rider number from organiser Phil - great to finally put a face (albeit masked) to the name! - and we rolled out beneath the inflatable arch.
Almost immediately we turned onto a narrow ribbon of muddy single track in a tunnel of leafy greens. Riders strung into single file, feathering brakes as we tried to pick the "racing rut" while remaining upright. The trail led between fields screened by rampantly overgrown hedgerows then through a small wood. Already, just a mile in, we were passing various riders stopped with mechanicals or unclipping to take a breath and compose themselves.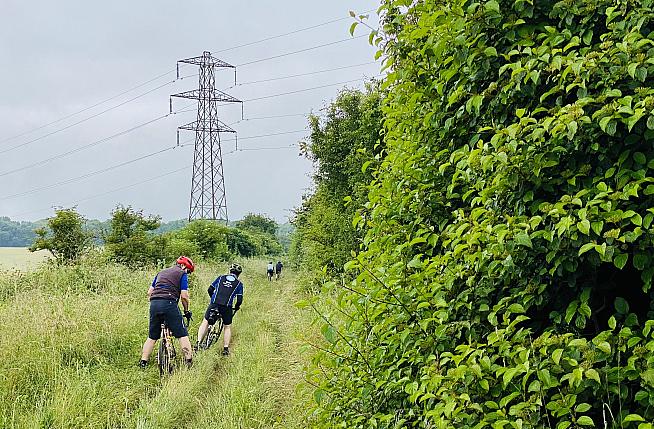 It was a relief to hit tarmac again as we rolled through the village of Shipton Bellinger and a chance to ride alongside Andy and catch upon a year's worth of news.
The route headed north and soon we were on MoD land, tangled in the spider's web of gravel tracks that cross-cross Salisbury Plain. Signs on the verge warned against straying off the track - unexploded debris, tanks crossing, there be dragoons - but the only threat to the peace was a posse of lads on dirt bikes who roared past at a junction.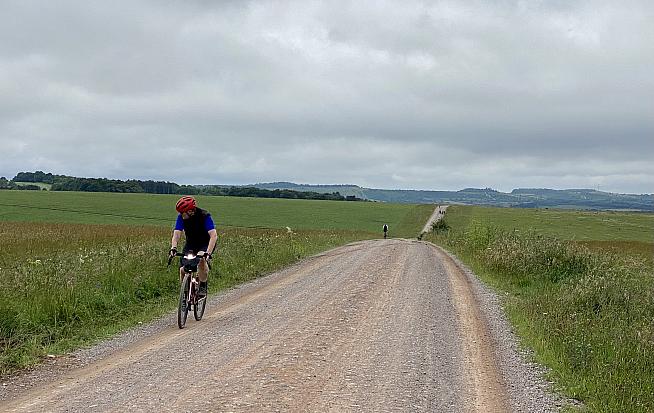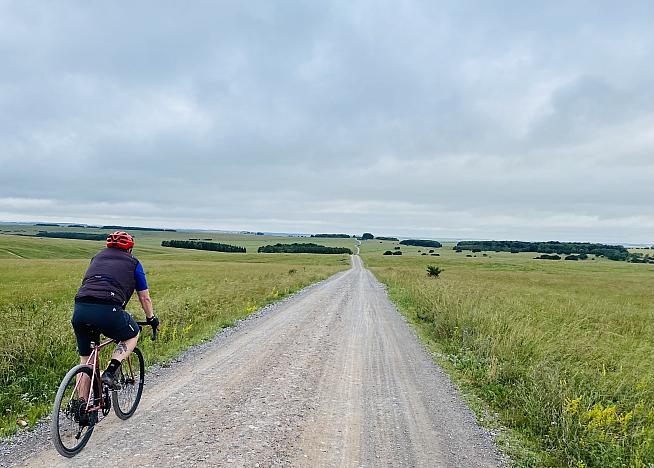 Under heavy skies the ribbons of gravel stretching to the horizon called to mind Strade Bianche but before we could get too carried away with daydreams of Tuscany the first feed stop arrived.
Just 20km in - too soon for a second breakfast? But it'd be rude not to take a look... A nice selection of waffles, banana halves and bars from Outdoor Provisions were well worth the stop. Quick top up of water and we were off.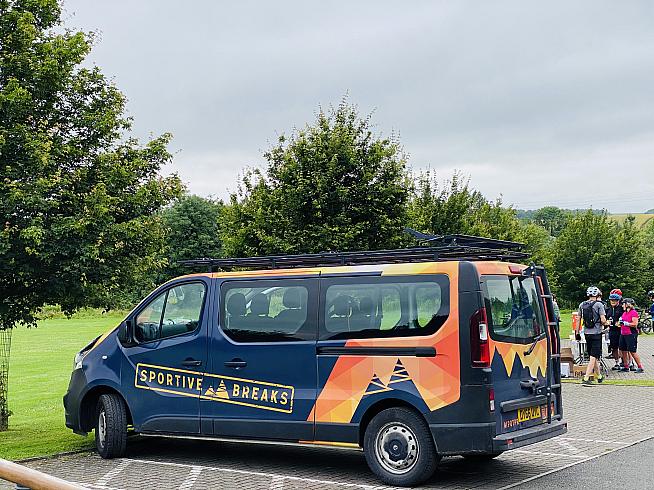 The course meandered through some quaint country villages - all thatched cottages, pristine gardens and tempting hand-written signs offering honey, eggs, elderflower cordial for sale. A road sign announcing we were entering Compton provoked a raised eyebrow.
"The only drive-by you'd get here is a drive-by tutting," observed Andy as we crossed the river Avon and warily headed for the notorious west side - West Chisenbury, that is.
A few minutes later we were skirting down the side of a farmyard and back onto the rapid gravel highways of the Plain. The course split was approaching. It was time to part ways, Andy disappearing in cloud of dust on the medium route, while I turned right for a bonus 40km on the long route.
Thirty seconds later I considered following him, confronted with a rutted muddy track dotted with murky puddles of rainwater. My tactic for this sort of terrain is not the most elegant, but if you unclip one foot and scoot yourself along you can usually avoid the ignominy of tumbling into a ditch.
I didn't manage to avoid that fate entirely (more on that in a moment) but no regrets on taking the long option. It really was a stunning course.
The highlight was shortly after the second feed station with a climb of Orams Hill. This is a beaut of a climb from the south, about 1.5km at 8% average on a decently paved surface. Compared to most off-road climbs - and certainly the sort of ramps you'll encounter on the South Downs Way - it's a relatively easy one.
There's a gate near the top (happily left open on the day) and a chance to meet and greet some cattle before the descent, which by contrast is another rut-fest, just a narrow lane of packed mud along the edge of a wheatfield (maybe not wheat, but some kind of grain crop).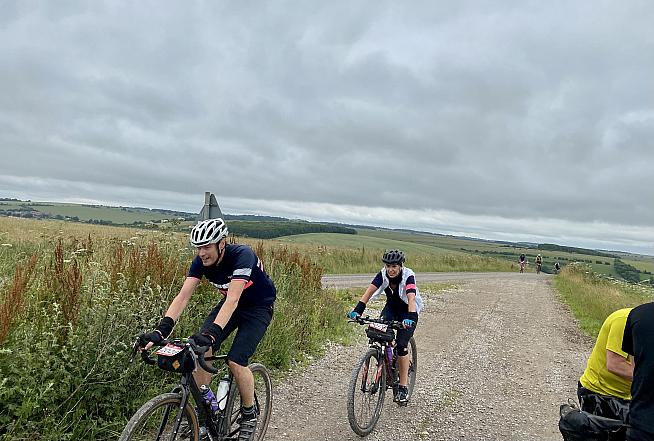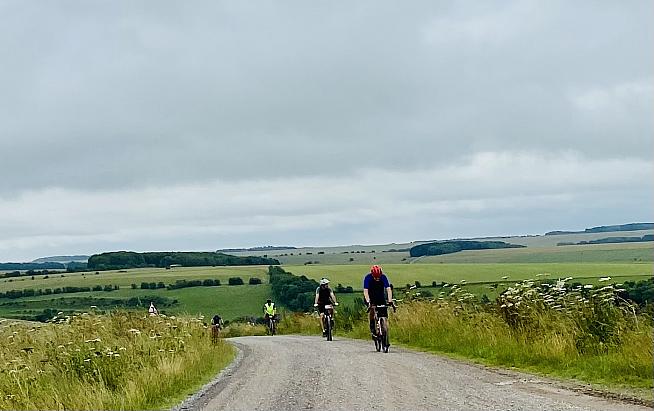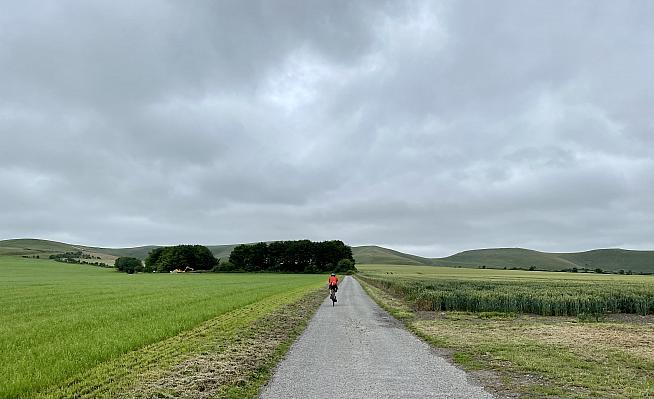 Speaking of the South Downs Way, Orams Hill - and a fair bit of the eastern section of the sportive course - is part of the "new" King Alfred's Way off-road cycling trail promoted by Cycling UK.
A 350km loop taking in grassy plains, neolithic mounds and ancient drovers trails, the King Alfred's Way connects with the South Downs Way at Winchester. If the short section we rode yesterday is any indicator, the KAW is well worth adding to the itinerary for any keen off-road touring cyclists.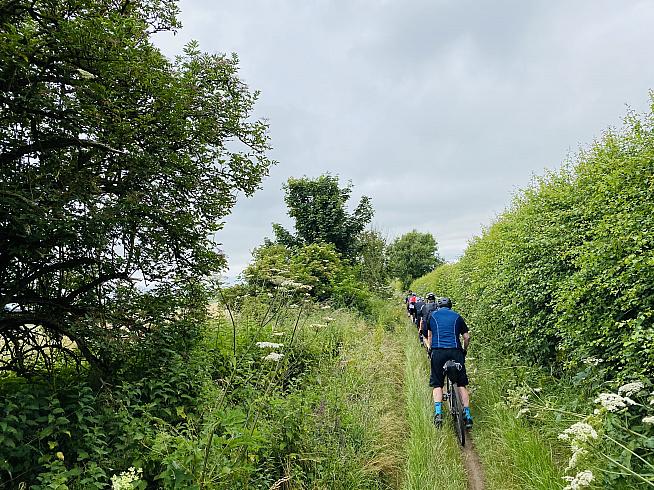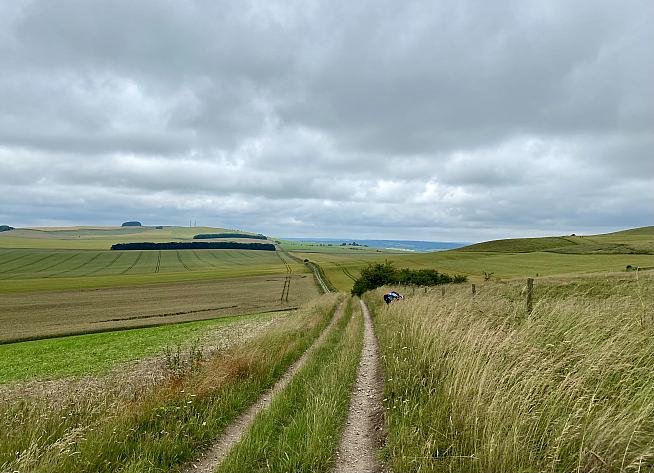 Orams Hill was the highest point of the course at 279m, and the next few km were probably the highlight of the route as the course swept west from Beckhampton (just a stone's throw from Avebury) along a ridge with distant views over the green rolling countryside of Wiltshire.
The going here was more technical, or at least agricultural, than on Salisbury Plain and a fair bit slower. I'd fallen in with a small group and we picked our way along deeply rutted tracks with tall grass ridges in the centre. One section had ruts so deep that it was a struggle not to hit the pedals either side; I had a couple of nervy strikes, taking a whack to the Achilles when my shoe unclipped, and so did a couple of the others judging by the colourful exclamations from behind.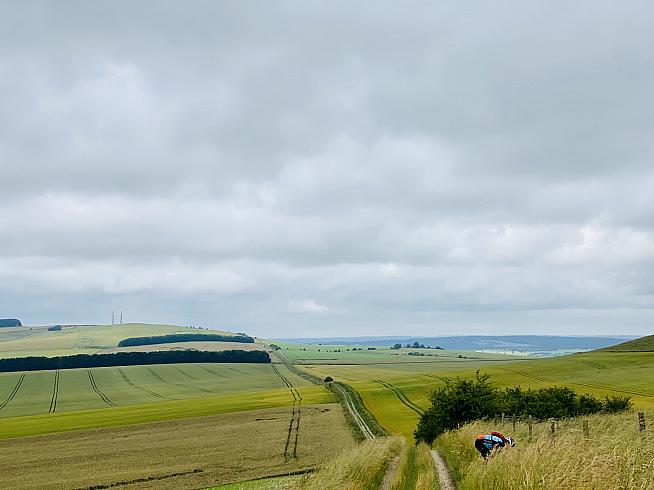 Being literally stuck in a rut, overtaking was difficult to impossible in parts. This made for some sketchy moments when riding in a group, but that fall I mentioned was entirely my own fault.
It happened on a long, gradual climb along a narrow strip of overgrown mud. It was early afternoon now and, surrounded by tall hedges rampant in July glory, the heat was oppressive as our small group of maybe seven riders winched our way up.
The already leisurely pace seemed to slow until it was a struggle to maintain momentum and keep the front wheel straight on the greasy clay. So, when the bridleway briefly widened and a second rut appeared - an overtaking lane! - I decided to make my move.
I surged into the left lane, and made a burst past the two riders in front. Just as I attempted to cross the central ridge back into the right-hand rut, the bike vanished from beneath me and in a split second I found myself lying in a heap with bike on top of me - to the loud amusement of the riders behind.
To be fair, it was a classic case of instant karma for an impatient upstart.
Pride bruised, I saddled up and fell in behind the lead rider who, it turned out, had been the cause of our slow pace. Puffing and blowing, he slowed still more until at last he dismounted and looked behind him with an air of surprise to see anyone there.
"Oh! Would you like past?"
Over the noise of his own engine overheating, he'd been oblivious to the trail of patient (me excepted) riders behind.
We filed past him, and I put in a dig to break free from the group who'd witnessed my inglorious tumble. At the summit I found we were back on the Salisbury Plains, just a mile or so further on the same track where the course had split some two hours earlier.
The next section was a solid hour back on the hero gravel. Progress was rapid here and my average speed was nudging back over 20kph by the time the third feed stop arrived just 17km from the finish.
I was certainly glad to see it, and by the looks of the mud-spattered cyclists slumped on the grassy banks around the stalls so were plenty of others. The inspired selection of treats - from cans of coke to savoury cheese, ham and pickle rolls - combined with friendly staff and music hit the spot.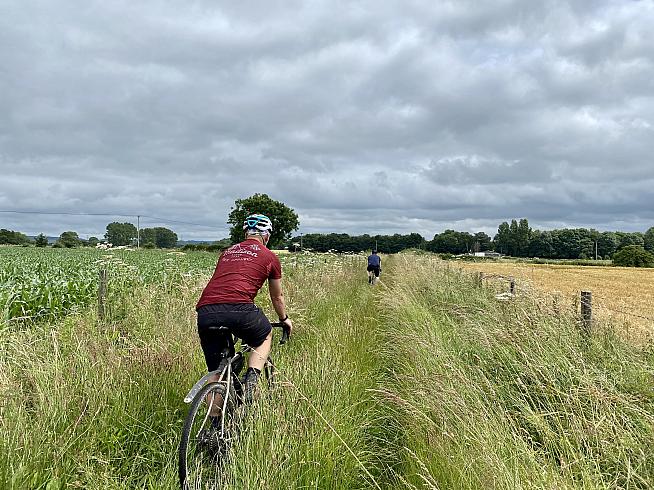 From the third feed, the route retraced the same way back to HQ as we'd come out at the start. But after a late safety check we'd been cautioned at the start (and again at the third feed) that it might be advisable to follow the road back to HQ rather than retrace our way through the muddy and heavily rutted singletrack.
By this point I was all in favour, and when I arrived at the junction I found some riders sailing right, down the road while a couple of others instead followed the arrows straight ahead as per the original route.
"If you dodge it you haven't done it!" grinned one of the riders pulled up at the roadside. "We'd only be cheating ourselves," I agreed, lying through my teeth, and set off onto the path of peril.
As it turned out, the path of peril that had seemed so daunting on the way out was a piece of cake on the way back. I guess we were by now battle-hardened gravel veterans, or maybe it was just the pull of the cold beer awaiting at the finish. Either way, after a quick spin up a muddy forest climb, followed by a haphazard crash along the jungle trail, I emerged (bars festooned with swags of greenery) on the main road in sight of the finish.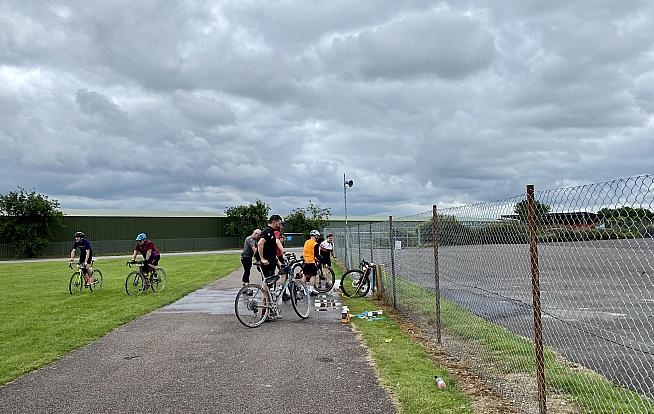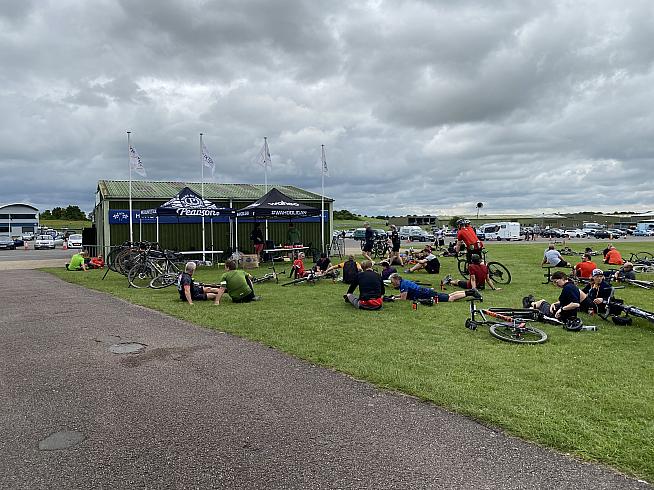 Andy was long gone by the time I rolled under the finish arch, having completed the medium course at a fair lick. I collected a complimentary beer from the friendly chaps at Stone Henge Ales, then a cursory glance around the ground for my bank card (which I'd lost earlier in the day while getting my phone out to take a photo).
A burger van was doing brisk trade. The grass by the car park was dotted with riders stretching legs and chatting, and a couple of fastidious gravelleurs were even hosing down their bikes at a wash station.
With a football match to get back to, I decided against a Salisbury hosedown and loaded a very filthy bike onto the back of the Sportivemobile for the drive home.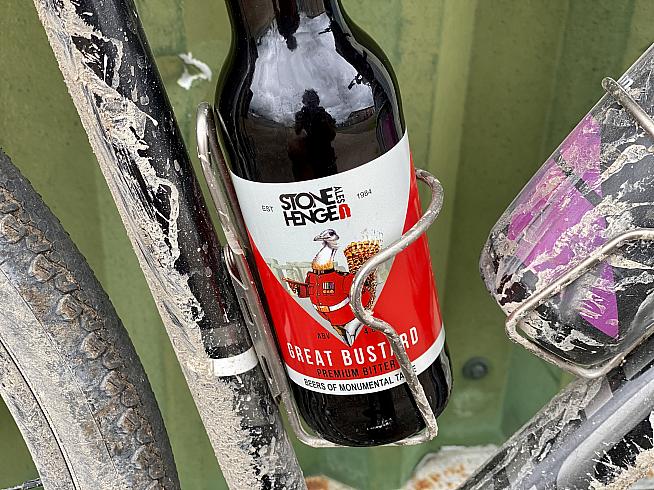 Top bins
Verdict on the Salisbury Plains Summer Epic?
To put it in soccering terms, the Glorious Gravel team have smashed it top bins with this one. The ratio of gravel; mud; tarmac is just about perfect with fast swoopy sections, sketchy technical bits and some really lovely scenery to distract from all the mud, grit and nettles getting hurled at your bicycle and face.
And unlike say, the South Downs with its savage gradients, the course here is 100% rideable even for gravel newbies - at least in dryish conditions.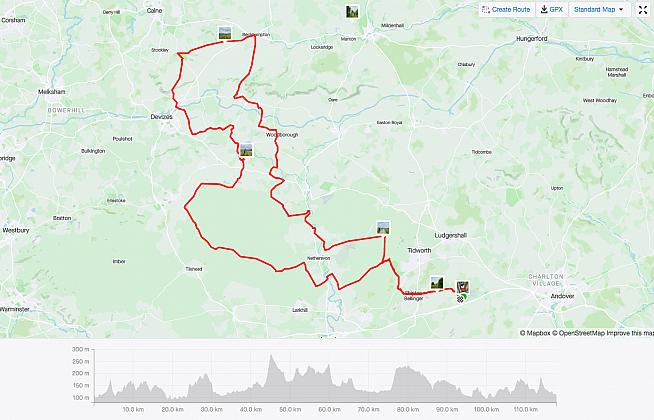 The Glorious Gravel team have been running cycling trips as Sportive Breaks to the biggest UK and European sportives - La Marmotte, Maratona, Etape du Tour, Flanders etc - for years now and have clearly been paying attention to what cyclists want on a day out. Details are attended to with an air of polished professionalism, pre-event info is well done and detailed, feed stations are excellent (if oddly located on this occasion; 20km is probably slightly too soon for a stop, and 17km from the finish slightly too late).
And while there's no medal, it's not like we'd been to war. A free beer on the other hand, was gratefully received.
Signage was good throughout. I only got lost once just outside Chirton when I missed a turn (unsigned) and headed across a field of long grass, followed shortly after by a couple of other equally befuddled riders. Since it was a very pleasant field of grass, I don't think we minded the few extra minutes it cost.
Although we did have to dodge a massive pile of "unexploded ordnance" of the horsey variety hidden among the long grass... Maybe we deserved that medal after all.
Try it for yourself
There are three more Glorious Gravel events left for 2021 and we'd highly recommend checking them out. Gravel bikes can be hired on the day and you can even borrow a Wahoo Roam, preloaded with the course, for the day.
Check out the full programme of rides at www.gloriousgravel.com.
0 Comments