Ever since being on holiday in southern Tuscany in 2017 and writing about my tribute ride to Marco Pantani, I've had an itch that needs to be scratched.
As I said in that report, Marco Pantani was a flawed genius, destined to burn brightly, then fade away to the glowing embers of a name chalked on a thousand hills. I'd experienced some of the terrain he operated in, but I wanted to know more about the man, his upbringing and ultimately his demise.
Most of this has been provided by Matt Rendell's incredible book, The Death of Marco Pantani; but I increasingly felt a desire to ride in the area where he was born and grew up, namely Cesenatico, on the Adriatic Coast in Italy.
I wanted to experience the same hills that shaped his early development and know, with complete certainty, that his wheels and mine had rolled on the same tarmac.
I wanted to see his home town, and find out whether his memory is a blessing or a stain on its reputation.
And so, as my flight touched down in Bologna two days before the Gran Fondo Marco Pantani, I knew that insight, if not answers, would soon be found.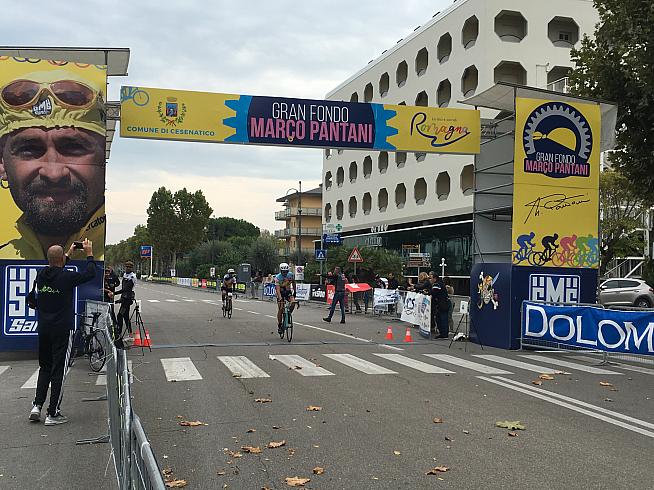 >>> In Pantani's shadow: Chasing the legend in Poggio Murela >>>
After spending more time in a car hire queue than actually flying to Bologna, a set of keys were finally handed over and the journey could continue. Cesenatico is just an hour's drive from Bologna, but, even at 11.30pm, the traffic was still very heavy and unpredictable. It's not that some drivers forget to use their indicators, it's more a case than no cars seem to be fitted with them!
Cesenatico seems to be completely asleep by the time we pull up outside the Hotel Lungomare and check in with the night porter. I'm tired, hungry, maybe even a little a bit stressed, but this evaporates in a heartbeat as I drive round to the car park and spot the team buses of Movistar and Team Ineos!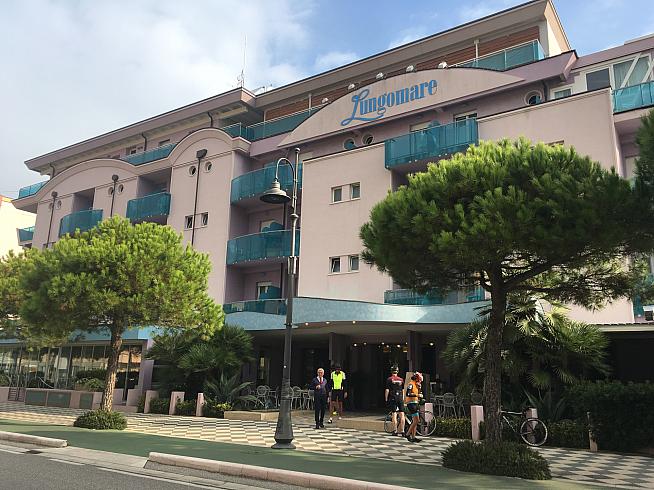 Hotel Lungomare - home to the stars
Even though I knew that the Hotel Lungomare is used by professional teams, seeing the two buses side by side brings out the excited child in me. As soon as I've helped take bags to my room, I'm back outside trying to take a cheeky photograph before some previously hidden security guy comes along and tells me off.
It all stays quiet though as I bag my pictures - no gruff voice, no barking dogs, just the silence of night time and my thumping heart to keep me company. Cesenatico is truly asleep, which is no doubt one of the reasons why Movistar and Team Ineos are here. Yes, their guys will be racing in the Memorial Marco Pantani in the morning, but the Hotel Lungomare has seen them before and will see them again. It is a place where they are normal chaps for a few hours before the cameras start clicking, fans start cheering, horns start blaring and the team's Directeur Sportif starts everything else.
I suspect that the normality that it provides is something that those in the public eye value very highly but, despite that thought in mind, I can't help wondering if there's an A-list cycling superstar nearby. Even the excitement of wondering if Egan Bernal is on the other side of my bedroom wall isn't enough to compete with the rhythmic, soothing, soporific sounds of shallow waves breaking less than 50m away on the beach. I know the waves keep coming but, very quickly, I'm unaware of their relentless actions.
Saturday morning dawns bright and sunny as it usually does in Cesenatico. As I glance from my hotel balcony the presence of Movistar and Team Ineos lorries in the car par confirms I wasn't dreaming!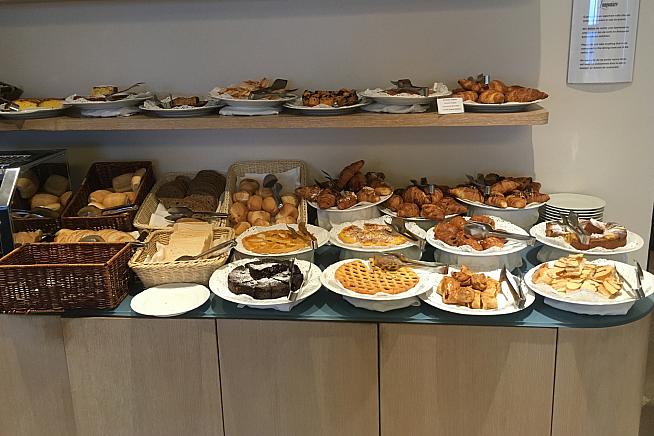 A few minutes later, I'm staring in complete at admiration at a wall of cakes. My wife counts at least 18 different cakes are available this morning, as well as the more traditional ham, eggs, cheese, coffee, fruit, yoghurt and cooked foods. I've never experienced such a quality breakfast buffet before - it is simply in a league of its own.
With plate full (of cakes) and jaw returned to the closed position, it becomes apparent to me that amid the plentiful seating, two complete rows of tables have been reserved for Movistar and Team Ineos riders. They're not tucked away at the corner, but instead occupy prime position for a quick grab on the bountiful buffet.
Just as I am thinking this is a great idea, a couple of soigneurs walk in, carrying a big portable electric pot. Boxes of muesli and cartons of food also trickle in - this is clearly being prepared outside in the team trucks, no doubt to exact recipes and according to the principles of marginal gains. My contribution to marginal gains that morning is to have one cake less than I had planned - oh well, we all have to make sacrifices!
A few guys amble in and take their places on the reserved tables, with scarcely a glance from the other guests. If it wasn't for the branded clothing and the fact that they all look like they weigh about the same as my right leg, no one would know they are professional cyclists. I try to identify some of the riders from a distance but my gaze is met, I believe, by Gianni Moscon. Somewhat embarrassed I look away, fighting my boyhood instinct to walk over and ask for signatures on a table napkin. No one else goes to the reserved tables, so I begrudgingly accept that the Hotel Lungomare is a place to observe yet completely respect privacy.
Five courses of breakfast later, it's time to head off to speak to Lorenzo regarding my hire bike. It suddenly occurs to me that my pedals are in my room, so I detour past reception and almost directly into the path of Egan Bernal. He's in a world of his own, as unobtrusive as any other guest and looks completely relaxed as he heads towards the breakfast buffet.
For the second time in less than an hour, I'm having to remind myself to return my jaw to the closed position. How I wish I had dared to stop and ask this young, unassuming, brilliant cyclist to sign something, anything. I've no doubt that he would have done so, but I've also no doubt that I would have stepped over an invisible line.
Still glowing from just being close to the youngest Tour de France General Classification winner since 1909, I walk into Lorenzo's Lair to claim my steed for two days, a Pinarello Prince. There's room for 130 bikes in this secure bunker, with every bike allocated to a hook number and a lock. There's simply no way you can get bikes mixed up, if you hang your bike on the assigned hook!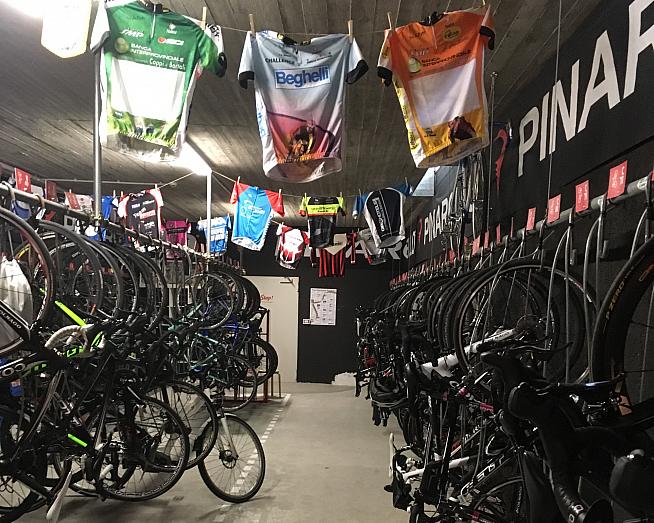 The best security feature though is definitely the requirement to 'buzz' reception on the intercom, who then confirm your identity and room number before automatically releasing the door. Yes, it becomes a bit of a chore for the 10th time of asking, but when the alternative is a 'chancer' walking in, I'm more than willing to accept a few seconds of delay.
With saddle height fettled after a few laps in the side street, I set off for a 4km ride to the Marco Pantani Gran Fondo event village on the seafront to sign on for the ride and collect my goody bag.
The process is remarkably straight forward, troubled only by the loudness of Mr Announcer and his blasting music. It's so loud that all I can do is point to my allocated number, point to my name and utter, 'Si - Lungo'.
Mind you, that's all I would have been able to do even if it was deathly quiet. As anyone who has ridden a sportive will know, there are goody bags and there are proper goody bags. This bag was definitely in the latter category, containing a quality gilet, socks, buff, bottle and a gel, as well as the obligatory marketing materials.
Safely back in the hotel, my plan to ride my own, pre-prepared, 30-mile loop as warmup for Sunday's Gran Fondo seem reasonable enough until I spot the daily list of rides close to reception. I've already missed the selection of 9.30am departures, but there is one that still intrigues me. It's the 'Special Tour to see the passage of the Memorial Pantani on Montevecchio'.
That's it then, decision made; just time for another coffee - and one of those cakes that had somehow found itself stashed in my bedroom!
Route recce
In glorious 25C sunshine and under the watchful gaze of a very bearded, very tanned, very seen-it-all guide, the Pantani Passage Peloton snakes off through Cesenatico towards Cesena across almost pan flat terrain at 18mph average speed.
As soon as we've broken out of the tourist area, it quickly becomes apparent that road surface maintenance is not the highest priority for the area's Regional Council - the Legislative Assembly of Emilia-Romagna. The surface is, in places, quite horrendous causing a lot of hand waving and gesturing to alert the riders behind, but I've experienced similar conditions in other parts of Italy. I'm not being critical of Italian funding priorities but merely pointing out a fact to be aware of, especially if you are considering taking your own bike.
Almost imperceptibly, the road creeps upwards Cesena, San Carlo and Borello where, some 20 miles from the hotel, we're only 200 feet higher up! It all changes just outside of Borello though as we turn off the SP138 on to the SP75.
This little gem of a climb known as the Cima Pantani (or Montevecchio climb) is, anecdotally, one of Pantani's favourites and it is easy to understand why. It twists and turns over its 4.5km (@7%) length, starting off with a long section of 9-10% gradient to get you warmed up. Ramps of 15% in the central section boost the average gradient to over 10% for almost 2km before it levels off to a more gravity-friendly level and finally flattens out for the last 200m or so.
For the record, I chug up it in 22m 29s @ 230W, which prevents all but two of our group from overtaking me.
It's easy to imagine Pantani honing his acceleration skills on this hill, in order to satisfy his desire to get the climbing over with. While we may all think of Pantani as a genius climber, his own relationship with hills was much darker. He is often cited as saying that he accelerated so violently not because he was happy to do so, but because he hated climbing and just wanted to get it over with.
There's logic in there, for sure, but for the rest of us mortals being friends with mountains is probably a better strategy!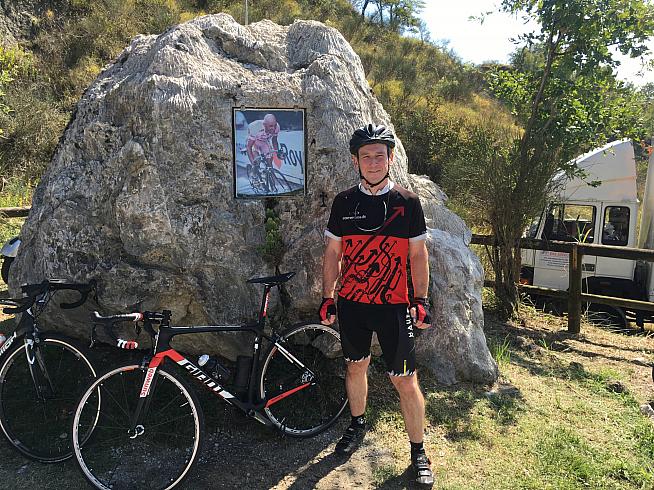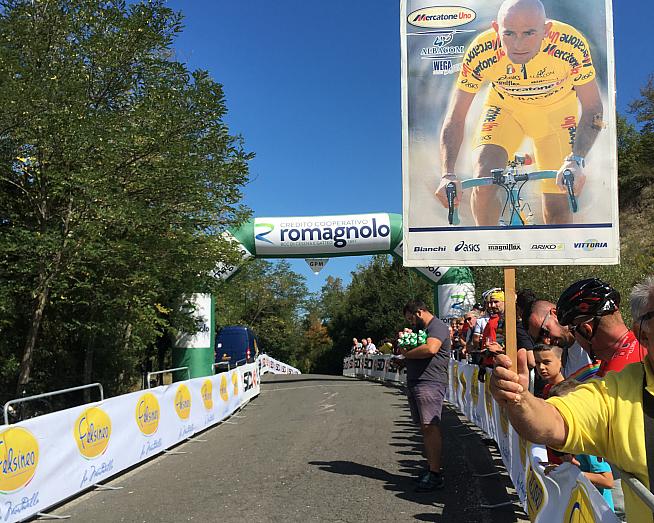 Senor Seen-it-all-before guide informs us that we'll be saying at the top of the Cima Pantani for an hour or so. Initially, I think this is a bad idea in the hottest part of the day but it soon becomes clear that I have to stay put as the professionals are racing up it. Whispers circulate they are just 10 minutes away, so I grab my vantage point and stay put, waiting for the exhilarating rush of pro riders zipping by. It doesn't disappoint!
With the road now clear, it's time to head off back to the Hotel Lungomare and the post-ride pasta buffet. Most of the route is downhill so we achieve a good speed over the 20-mile return journey, and I'm soon tucking in to a veritable feast of pasta, salad, chicken pieces and fruit. If only all cyclist friendly hotels were as friendly as this, I think to myself.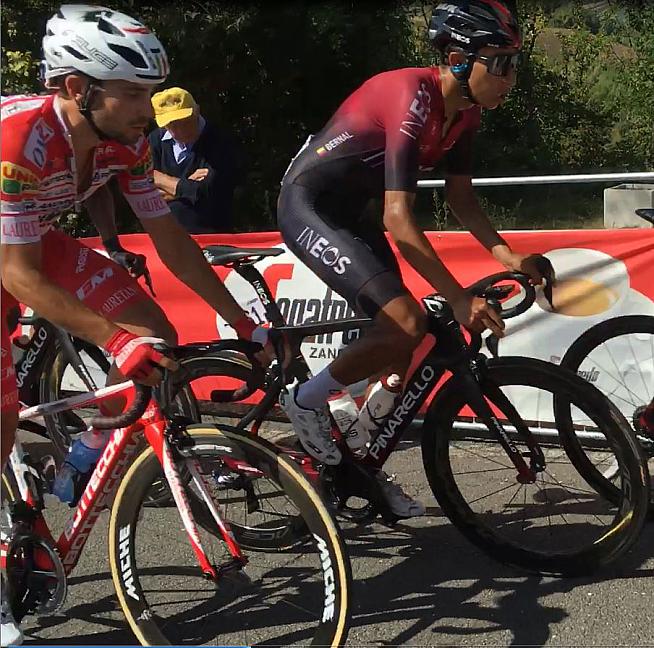 The weather forecast for the next two days is not what you'd expect in mid-September, in Italy, so my wife and I make the most of the remaining sunshine with a stroll on the beach. It's hard to imagine that thunderstorms are predicted for Monday with heavy rain to start from Sunday afternoon. However, at least I will have completed most of the Gran Fondo before the rain starts - or, rather, that's what I thought would happen!
Before then, there's the subject of pre-ride dinner to mention and there is just one word for it - Wow!
We're on the 'Super Half-Board' cyclist package, so evening dinner is included as a buffet. This is not your average buffet though - it's simply superb. Every night, there are at least four hot dishes, mountains of assorted pasta, glorious gnocchi, sublime salads and dressings, fruit & veg and desserts to die for.
Pace yourself, as we did, and it's easy to have a 5 or 6 course dinner with just your drinks to make a hole in your wallet. The service from staff was exemplary - fast, efficient and pleasant without giving any sense of encroachment on your personal space. Whenever a dish was emptied on the buffet table, it was replaced very quickly - but don't get me wrong, this is not 'just' a buffet for cyclists. This is a high-end dining experience with some of the best food my wife and I have had, outside of very specialist restaurants.
The Hotel Lungomare has seemingly recognised that cyclists often travel with a partner and they need to be just as happy for a visitor to return. This buffet goes a long way to achieving that objective.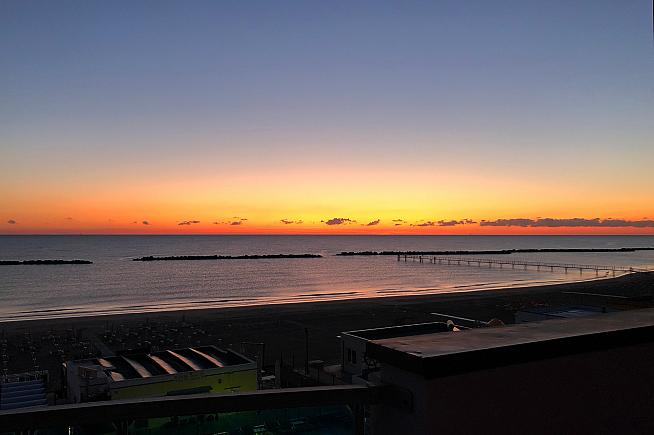 Race day: Gran fondo Marco Pantani
The next day dawns unrecognisable from its predecessor; there's no warmth or glow in the sky but, instead, the rain starts to fall as soon as my cleated feet step in to the car park. It's not heavy rain but, even so, it's at least 7 hours ahead of the weather schedule. I can't help but feel a little demotivated as the early morning skies are heavy and dark, with no discernible breaks in the cloud patterns.
At least I had a ride in the sunshine yesterday, my inner voice of positivity whispers. By 7.20am I'm already waiting for the start horn, already layered up in jersey and rain jacket, already cold and already a bit fed up.
Glancing around, I see that everyone else is in the same situation but there is still that buzz of chatter and excitement from the throng that swells to 500 riders. 'Get over it, it can't rain all day,' I remind myself, then have to laugh at my knowledge that it actually can...
>>> Irish classic: Andy takes on the Wicklow 200 sportive >>>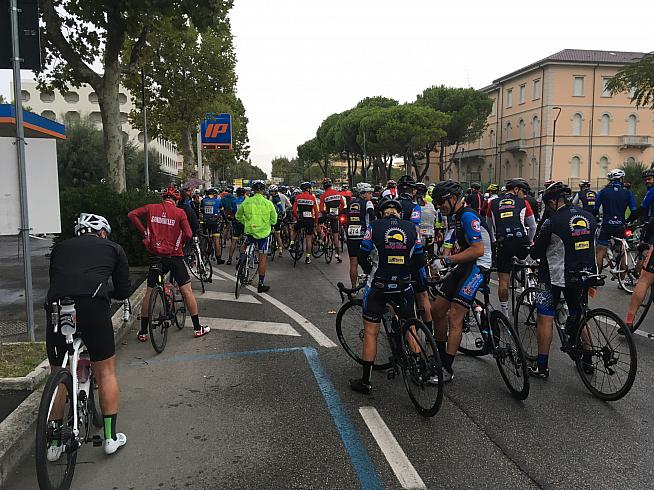 The black humour of my British upbringing fortifies my mental attitude and soon there's the unmistakeable sounds of cleats clicking into pedals - we're off!
The first 20km really is a bit of a chore in the wet, chilly conditions as we process out of the built-up areas across flat terrain towards Pantani's playground. My Garmin reads 11C and there's horrible spray from the riders in front to contend with, so concentration is vital at this stage to avoid any inadvertent wheel touching.
Fortunately, the pace of the various mini pelotons is quite high which means I don't have to worry about getting cold, just yet. As often happens in these events though, the little pelotons splinter as soon as the gradient kicks up - and today is no exception, as I suddenly find myself dropping some of the other riders. I'm not doing any sort of Pantani-esque accelerating, but merely engaging the steady torque that my years of riding enable me to produce for long(ish) periods of time.
We start to climb from Madonna dell'Ulivo, rising more than 300m over the next 14km, a big chunk of which is achieved by ascending the Cima Pantani from the side I descended yesterday. Gradients are manageable without recourse to my bottom (32T) gear, which is partly due to the early stage of the ride and partly due to the series of false flats that give the chance to recover breath.
With just a nod to Pantani's stone memorial at the summit, I then descend for 4km before starting to reclaim all of that lost altitude with interest. On the way down, it gets so cold that I stop to don my gilet on top of my showerproof jacket. The extra layer of insulation comes as blessed relief from the chill and drizzle. It's not heavy rain by any means but, 90 minutes after departure, it does seem to be in for the day.
Appropriately dressed, the next 18km consists of two distinct upwards phases, ultimately resulting in a summit of the Ciola climb that tops out at 582m above sea level. Phase 1 is a steady 9km slight rise from Borello to Linaro, but then it accedes to the brute known as Ciola (Cat2) which takes you skyward for 382m over its 6km length.
The average gradient of ~6% belies the fact that the first 3km averages 8% with ramps easily over 10%, a fact that becomes more impressive as I recall the senior rider grinding out the hill on his vintage Colnago equipped with 53/39 chainset. No modern-day 'spinning' for that chap, but he seems cheerful enough as we exchange pleasantries.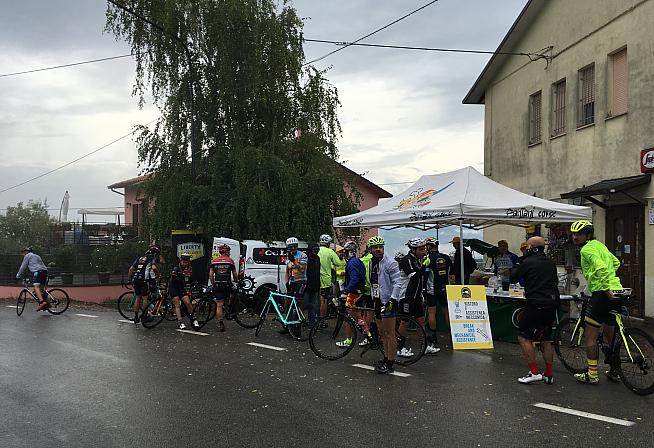 After about three and a quarter hours (60km) in to the ride and having summitted the Ciola, I thankfully reach the second feed-station of the day, close to Mercato-Saraceno. Interestingly, both feed-stations so far seem to be in much more logical positions than the bottom-of-a-climb location that is favoured on many a UK sportive. UK events organisers, please take note, we don't want a belly full of food at the bottom of a climb!
It's still grim, grey and with drizzle in the air as I look around for a photo opportunity before realising that it's right next to the food stand. There's a house, painted pink which, on a better day, would have wonderful views over the semi mountainous terrain. Pantani in pink, house in pink, is it a coincidence? I guess I'll never know!
Shortly after the feed-station, I'm faced with a dilemma - should I stay on the 'Lungo' (152km) route or swallow my pride and swap to the 'Medio' distance (112km). The weather is showing little sign of change at this stage, so I stick my hand out to the marshall and turn left instead of right.
Almost at the same moment, I feel the first shaft of sunlight fight its way through the clouds and for a moment or two I consider changing my mind. The thought is just as fleeting as the sunlight so I put my head down and try to crank up some watts on an 8km flat stretch before (re)climbing to the Pantani memorial stone.
With its unmistakable sound blasting out a warning to get out of the way, an ambulance rushes by at a speed that concerns me for I know there are other riders ahead. Sure enough, it seems that another rider has had the same idea to put some power down and has lost control on the slippery surface near a bend. A cyclist with a Marco Pantani bib number is standing near the ambulance so I nod and he acknowledges. My sense is that he's concerned but not, well, really, really concerned, leading me to trust that his mate is just a bit banged up and bruised. (Note - I later see an injured rider with paramedics in the hotel. He's bandaged around one knee but otherwise OK.)
Then, as if the cycling gods have finally had enough of their rainy day's entertainment, it brightens up as I reach the Marco Pantani memorial again. It's all relative of course, my definition of brightening up in this context is to remove my rain jacket but keep my gilet and arm-warmers on, indicating a temperature rise of at least 3C! As I said, it's all relative!
One thing that strikes me that is less subjective is how different the memorial is today, compared to when the summit was crested by the pros on yesterday's recce. Like two sides of Pantani's personality, the two days are unrecognisable - linked only by the large lump of stone adorned with his photograph. I stop and savour a few moments, disturbed only by the heavy breathing of the passing sportive entrants.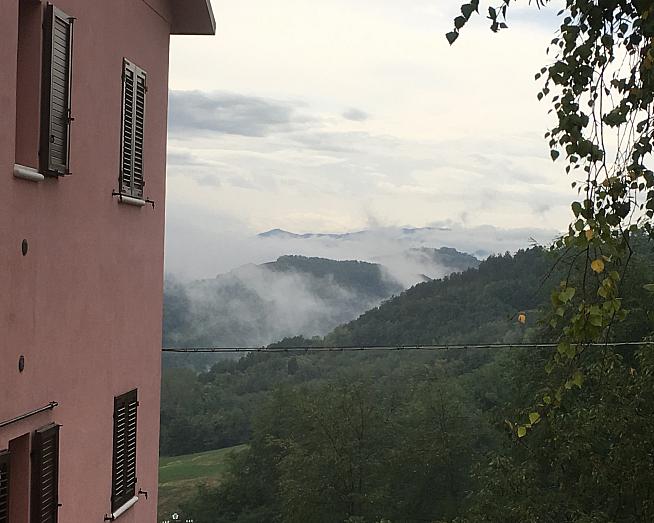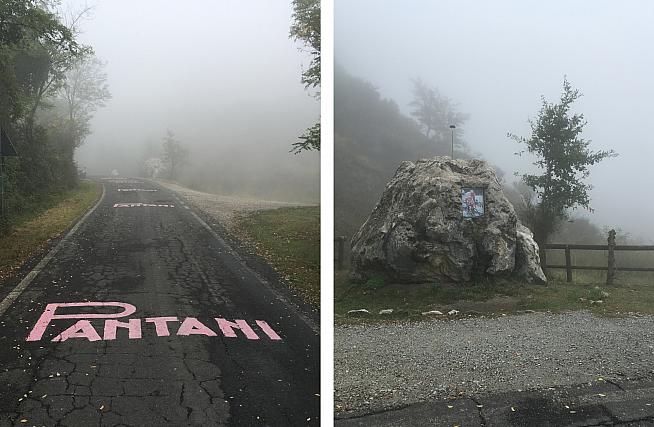 As a side note, I returned to the memorial on the day after the Gran Fondo, experiencing yet another personality to the place. It was cold, very misty and completely deserted, so much so that the hairs on the back of my neck were standing up. I'm not superstitious in any shape or form, but in those few moments alone, I felt that I was not really alone.
Safe in the knowledge that the last climb of the day is over, I relax anticipating the run-in to the finish line and pasta party. There's one last sting in the tail though, as the wind has strengthened significantly and is now blowing directly into my face from the sea.
I'm concentrating on keeping pace with a couple of guys 100m or so ahead of me, tapping out about 35km/hr, when an absolute blur of bikes, bodies, breathing and outright speed comes hurtling by. Judging by the naming on their jerseys, I've just been overtaken by a young team from the Fausto Coppi Corse cycling development group!
I marvel at their speed and don't even bother to try to suck on to a wheel, there's just no point! If they're good enough to ride for a team associated with Fausto Coppi's name, then it was enough to be on the same road at the same time!
Finally, after 5 hours of elapsed time, I'm closing in on the finish line battling the headwind all the way. Mr Announcer, with his music, is back again but he's busy chatting away to an Italian rider and I slip across the finish line largely unnoticed. I don't mind at all though - I've achieved my objective to find insight, if not answers, into the world of Marco Pantani.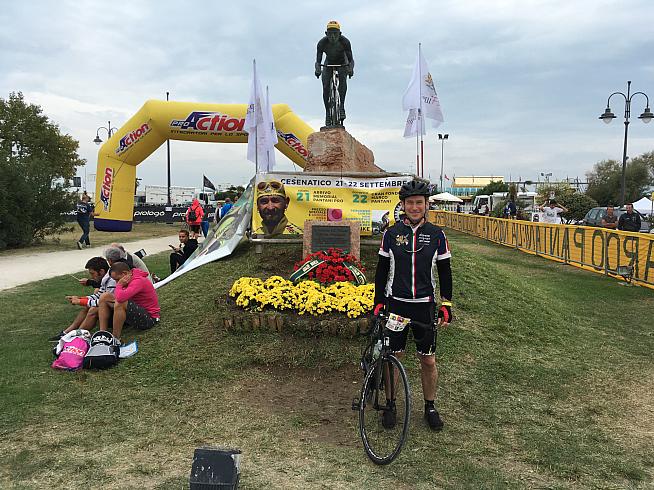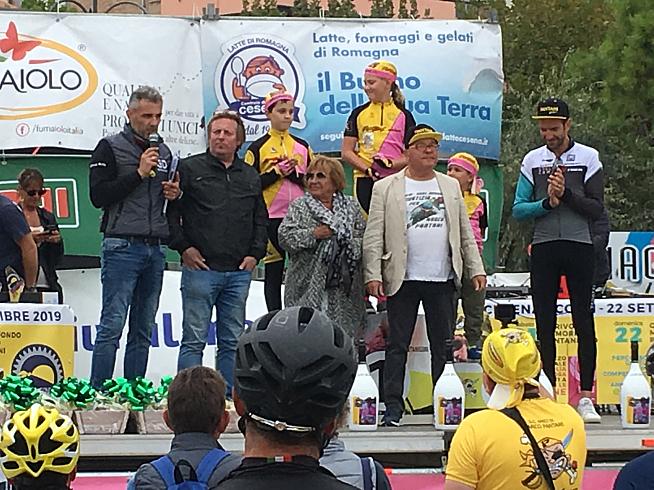 One thing that I was particularly interested to know was how well is Pantani's name appreciated in the area. Of course, the mere existence of the Gran Fondo is a great big clue to the answer but it goes beyond that; way beyond, as it transpires.
Pantani's family, including his mother, are present at the finish line, speaking to the participants, partners and passers-by. I don't understand too much of the conversation, but it's clear that she appreciates the audience and they appreciate her presence.
There's nothing more to be said about how Pantani's legacy is received in Cesenatico, is there?
And finally:
If you want help to get fit enough for your next sportive challenge, then please contact the author, Andy Tomkins, who is a professional cycling coach. See www.sportivecyclecoaching.co.uk or email Andy on [email protected].
Andy rode the Gran Fondo Marco Pantani (gfmarcopantani.com/en) and stayed at the Hotel Lungomare in Cesenatico: www.hlungomare.com/en-GB
If you'd like to stay at the Hotel Lungomare and benefit from a discounted rate, then please make contact with the author to find out more details and receive your discount code.
0 Comments