"How on earth can this route be quicker?" I fume, angrily, as I stop at yet another set of traffic lights.
It's 6pm on Wednesday evening. The M25 is in chaos and my Sat Nav has told me it can save 30 minutes on my journey if I do what I am told. Without too much hesitation and 45 minutes earlier, I had left the motorway at the Heathrow turn, safe in the knowledge that I still had plenty of time to get to Gatwick for my flight to Stavanger.
"Come on, come on, how many more flippin' lights can there be?" I ask my Sat Nav, but there's no reply. That confident time-saving promise has evaporated in the evening rush hour, and I now fear that I am going to be in a big rush through the airport, or even not make it at all.
"Stupid, stupid, stupid Sat Nag." Well actually, the words were a lot stronger than that, as you might imagine. Spartacusalot, my regular companion on my biking adventures, is having a whale of time, encouraging me to cuss, a lot, with most of the letters of the alphabet. Poorplanicus, the god of inept bike planners, pours oil on the fire as he torments me with barbed comments that I should have set off earlier.
Then, suddenly, I see it - a sign saying that the M25 is just a couple of miles away. My torturous detour is now a thing of the past as I can finally pick up speed. It doesn't last long though, there's a 50mph average speed check all the way to Gatwick! Finally, after 3.5 hours, I'm at the long stay car park, manhandling my bike box out of the car. (Subtle plug - check out www.sportive.com/cycling- reviews for a review of the Scicon case that I was using.)
This is not the best start to a three-day biking adventure in Norway, I muse, let alone one devised by the renowned Haute Route organisation. It's going to be two days of challenging climbing designed to pile on the hurt, in a race-oriented format, followed by a hilly time trial on Day 3. The standout climbs from Haute Route's rider handbook seem to be the Lysebotn and Heia, both of which have a distinct sting in their weaponry.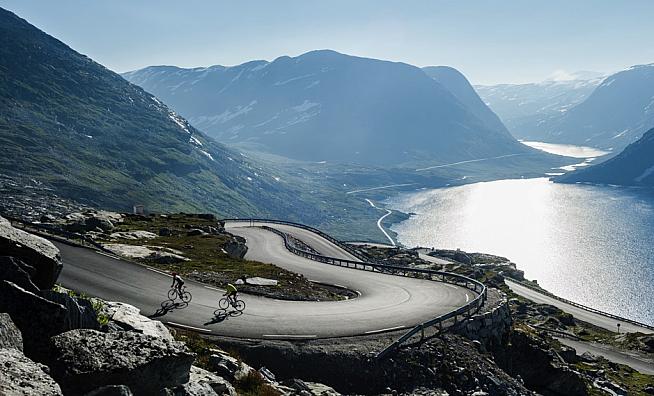 The climb to Heia, on Day 1, will actually start from 300m below sea level in the Ryfast tunnel, which is something that my traffic affected, foggy brain, can't really compute. The Day 2 climb of Lysebotn, which does start above ground but only just, is known as Norway's Alpe d'Huez - and for good reason too. It has 27 hairpin bends, six more than its French counterpart, on its 9km march to 881m altitude at an average gradient of close to 10%. Fun awaits, for sure!
Before the hill fest can begin, however, there's the short inconvenience of having to fly to Stavanger, Norway. Fortunately, as far as I was concerned, Norwegian Airlines were one of the first to ground their Boeing 737 Max aeroplanes, flying on which was something that had concerned me when I had first booked my flights. As a slight digression, because it has dropped out of the news lately, there's a very interesting piece on what the airlines are doing with their mothballed flying tubes on the Forbes website.
I wouldn't say that I love flying; I fall in to the bracket of cabin fodder who regard it as a means to an end, unless, like today, your ears are already blocked up. As the pilot stomped on his accelerator pedal, or whatever they use to hurtle towards the no going back speed known as V1, the pain in my left ear started to increase dramatically. Damn, it was painful!
Stavanger Sola Airport has almost closed up by the time we land around 12.30am, some 45 minutes behind schedule. It's clear that there are a number of Haute Route participants on the flight, as we're all soon huddled together in the baggage area wondering where the bike cases will appear from.
A rumour starts that they've been left near the Duty-Free shop and, sure enough, there they all are including my Scicon. I mentioned the time of arrival because we're already too late to get the last Flybussen in to the city, so there is some trepidation as we all push, tow, drag, fight and encourage our bike boxes outside to the taxi rank.
Well, what a surprise - there's a handy taxi, the size of a small lorry, waiting outside and the driver says his booked fare hasn't arrived. Not really believing our luck, five riders and five bike boxes pile in to the 'taxi', while Laura chances her arm to negotiate a discount. The driver, who probably can't believe his own luck either, accepts the lowered price and we're off into the night.
Twelve hours later, after a morning of scoff, registration, faff, fettle, scoff, photographs, more faff and hunt-the-track-pump, there's a bunch of riders eagerly waiting for the 'Ambassador's Ride'. This is a great extra, social ride organised by Haute Route to enable folks to get acquainted on the day before the official programme commences.
On this occasion, the organisers have decided that the route will be a recce ride for the Day 3 time-trial, just so we know what to expect. It is eye opening, indeed! There are several short, sharp, thigh-bustingly steep ramp sections on the course, including a 25% wall that leads to the finish area, but the views at the top are spectacular!
With moods that I imagine varied from doom to bewilderment, pleasure to pain, the gaggle of riders returns to Haute Route HQ at the Clarion Hotel and every one of us begins our own unique, trusted, process of preparation. Part of that process, however, is to attend the mandatory rider briefing session where we are treated to a free beer and a healthy dose of reality regarding the Day 1 route.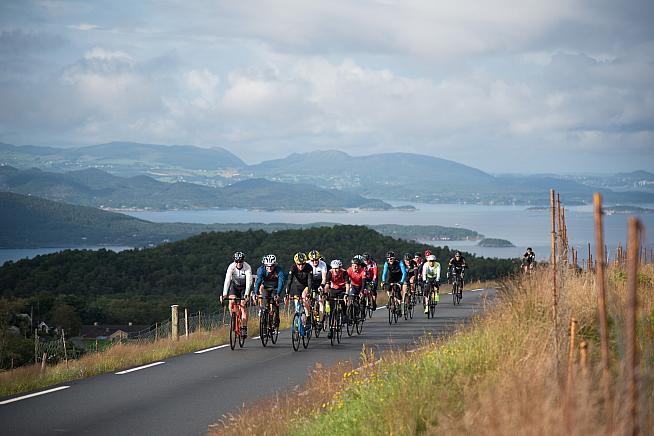 I already know that we're starting in the Ryfast tunnel at 300m below sea level and now it becomes clear how this is possible. The longest and deepest undersea road tunnel in the world, costing over 5 billion Krone to build, is not yet open for our four-wheeled cousins to utilise. Haute Route, by starting this event at the lowest point of the tunnel, will be creating a world record that can't be beaten.
Well, to be more accurate, it's a record that can't be beaten until someone decides to dig a longer, deeper tunnel and starts a bike ride from it... hmm, China perhaps? Nevertheless, it's still quite satisfying to think that I'm going to be part of a world record setting group, even if I am twiddling along at the back!
Suitably briefed, I turn my thoughts to my rumbling tummy and head off to wander around Stavanger in search of inspiration and carbs. What else could be better than a spicy Burrito, even if it did cost me 250Kr (~£23) for the privilege?
6.00am the next day and the hotel is already buzzing with cyclists, some in casual clothing, some already in full lycra, some wide awake and some in full mastery of the 1000-yard stare. Conversation ripples around the breakfast area reserved for Haute Route participants - it's a real buzz of anticipation, mixed in with the smell of 200 cups of coffee and just a little bit of fish. It is Norway, after all, so there's the usual breakfast fare nestling alongside traditional local cuisine. After a standoff between myself and a plate of kippers, I decide to stick to the more familiar, stomach friendly, items laid out in front me.
During the briefing, we'd been warned that the neutralised convoy by bike to the start line would depart at 7:00am, not 7:01am, so by 6:50am there's already a group loitering outside the event HQ. Fortunately, the weather is holding up as per the forecast and, to everyone's collective relief, it's nothing like the horrendous conditions experienced in 2018. Poorplanicus must have reached an agreement with Freyr, the Norse god of peace, fertility, rain and sunshine, I think to myself.
A countdown starts, 10, 9, 8,7.... and the motorbike outriders look slightly puzzled out so I check my watch. It's only 6:59am. So much for accuracy of the 7:00am start time - I could have had a whole extra 30s in bed!
Standing around, or rather pedalling around the entrance to a 14km undersea tunnel is a rather strange experience as no one really knows what to expect. According to a tunnel engineer at the rider briefing, the air temperature remains constant all year at 12C so I've decided to stash my gilet in a pocket in the logic that I can hit the burners, relatively speaking, at the official start timing point. It all seems reasonable enough as we cascade into the tunnel and begin the neutralised 7km, 7% descent to 300m below sea level under the guidance of the pace car.
The tunnel engineer who had proffered the 12C advice at the rider briefing was clearly not a cyclist for he had forgotten to mention wind-chill. Mind you, none of the riders at the briefing, including myself, thought to ask him about it either so the engineer is clearly exonerated!
It is somewhat odd to mention wind-chill in context of a subterranean environment but wind-chill is merely the loss of heat caused by movement of a heat source through a cooler medium. In other words, I started to get cold very quickly.
Although we had been advised not to stop in the tunnel, I simply had to in order to don my gilet and arm-warmers to combat the shivering that had set in. Fortunately for me, the designated 'Lanterne Rouge' pulled alongside and checked I was OK. I nodded, motioned for him to continue, then was really pleased to have an excuse to accelerate and catch up, generating some much needed heat in the process. Lesson learned, take nothing for granted in Norway!
As much as I'd like to be poetic about the 4km rise back to the sea level, I cannot. It's a tunnel all said and done, with long stretches of straight road in front of you and little to distract from it in the glare of artificial light. Inevitably, riders such as I towards the back found their rhythm, grinding out the gradient accompanied either by pockets of other riders or just the thoughts in their heads. I was in my own world, completely.
Eventually, the realisation dawns that there is natural light ahead - the tunnel exit is close by. It was such a magical moment to leave the realms of Trolls - they are mentioned everywhere in Norway except the Ryfast Tunnel - and be bathed once again in natural light.
The moment was made even better by a few tunnel workmen standing around, cheering riders as they exited the lower world. I made a mental note that Norway has now joined my list of countries where I've been spontaneously cheered and encouraged by onlookers, who could have chosen to ignore me. For the record, if you are interested, the other two are France and Sweden.
A lady called Brigitte pulls alongside me at the bottom of the Cat 3, 6km, 7% climb up Heia to 300m making the total elevation gain over 600m from the tunnel's lowest point. It's a chance encounter, one that I think will be brief as Brigitte dances on her pedals and pulls ahead. I take little notice, just admire the views but then I realise that my diesel engine has brought me alongside Brigitte again so we start to chat a little more.
It turns out that she is one of those amazing people that can choose any one of about six languages to speak in! What a wonderful skill to have - so admirable, so utterly unachievable to most folks born as a native English speaker. 25 minutes to the top of Heia passes in no time at all and we both agree that Heia wasn't as bad as we were expecting.
Brigitte and I are soon riding along the edge of a lake called Tysdalsvatnet. It's about 7.5km long and quite stunning in that imposing Norwegian manner which makes me feel so irrelevant in nature's scheme of things. The stark beauty is made even more obvious by the lack of cars that follow the road's sinuous, shoreline-hugging route as the majority of them choose the 'convenience' of the Svotunnelen. As far as I am concerned, it's their loss my gain on this day of absurdly beautiful scenery and weather that is more appropriate to Nice or Girona.
After a brief respite at a well-stocked feed station, it's not long before we're on the Cat 4, 3km, 5% climb of Målandsdalen, which peaks at 207m above sea level. It takes us about 11 minutes to complete the climb which Strava deems good enough for me to be almost exactly halfway up (or down?) the leaderboard.
More importantly, I will be able to get bragging rights for being faster than the ex-professional racer, David Millar. Sure, it was probably a family holiday when David rode it and he may have even been pushing another rider up the hill, but neither of those items will be in my version of the story!
It was also whilst on the Målandsdalen that I met a Haute Route rider named Linda, whom I promised I would mention in this report. It was such fun to ride with you, Linda and you'll know what I am going to write next!
Linda's turn of speed for 20s after an energy gel is second only to a 100m sprinter. It may only last for 20s but it is a very impressive 20s! Her geographical awareness can also only be described as 'spatial'. For those of you thinking that spatial means very big, it could also mean 'not very spatial'! When we later returned by the same road along the edge of lake Tysdalsvatnet, Linda remarked how wonderful the scenery was. We had only seen it a few hours before on the same road! Linda, thank you for your company!
The third climb of the day is soon looming, this time it's the Cat 3, 7km, 5% ascent up Krågåsen which for some reason is known as Flathetland in the corresponding Strava segment. It turns out that David Millar has also been up this one too and, in case you are wondering, he was 477th out of 742 at the time of writing compared to my 362nd! The gap between us has actually widened!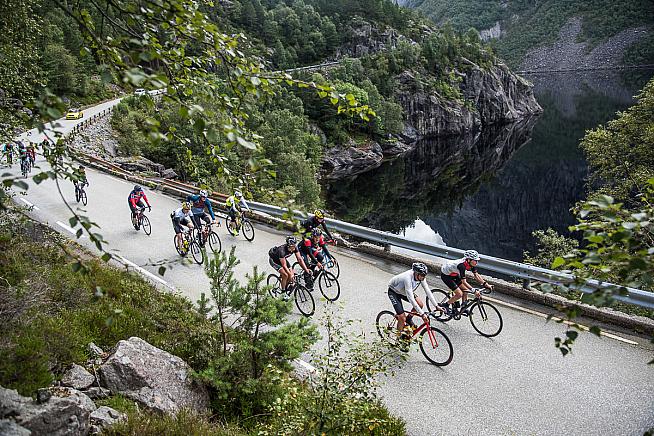 The descent from Krågåsen takes us to the northern part of the day's ride, where we turn off the 'major' Route 13 on to the scenic Fv631 just south of Hjelmeland. The scenery as we track alongside the edge of the Fisterfjorden towards Fister, then the Årdalsfjorden towards Årdal, varies from spectacular to stunning to disbelieving. It can easily be summarised as jaw droppingly beautiful.
The Haute Route organisers soon have us climbing again, this time back up the Målandsdalen before retracing the route alongside lake Tysdalsvatnet. I'm on my own at this point so I choose a point at the side of the road and stop. It seems pointless to try to pace myself along the road when there is this beauty all around me, so I let the scenery backdrop come to the fore and fill my senses. It is so quiet, so peaceful, so perfect that I really didn't want to start pedalling again.
I remind myself that my bike isn't going to ride itself to the finish, so I hop back on and start twiddling again. There are just a couple of climbs left - Meltveit (Cat 4, 1.6km, 9%) and Kyrkjebakken - the latter seeming to be the most interesting on the route card as Haute Route have chosen to neutralise race timing on the descent. That can only mean one thing - it will be steep, sketchy, roughly surfaced and on narrow roads. It was as expected, but to Haute Route's credit, very well marshalled.
As much as I enjoy the final couple of climbs, the last 10km from the bottom of Kyrkjebakken to the finish at Jørpeland was a bit of a let-down. I'm riding into increasingly built up areas, which isn't a problem in itself, except for the fact that Haute Route entrants are also riding the opposite way. Those that have already finished are pedalling back to the ferry port, 13km away at Tau, in order to return to Stavanger!
There is a little bit of 'needs must' in the organisation of any biking event, but the decision to finish at Jørpeland, then return to Tau, when we'd ridden through Tau earlier to get to the Kyrkjebakken climb does seem strange.
Perhaps, in future editions, the Kyrkjebakken will be excluded in favour of a better rider experience, i.e. without a 13km transition and without the need to neutralise a descent. My own experience of the transition wasn't helped by an irate road user who decided to overtake our small peloton of eight riders, then slow down deliberately so he could accelerate rapidly again. The effect of this behaviour, of course, was to leave a great big plume of diesel smoke for us to choke on. Nice one, whoever you were.
Once on board the ferry, however, any minor feelings of annoyance were soon blown out by the sea winds. Although the wind reminds me about my painful blocked ear, I put it to one side as it's such a beautiful day for sailing. In fact, some locals tell me that it's the type of day that happens about three times in a year! I feel very, very lucky to have experienced Norway in such wonderful, forgiving conditions.
Bring on Day 2, I think to myself as I walk in to the very welcome post-ride pasta party at Haute Route HQ.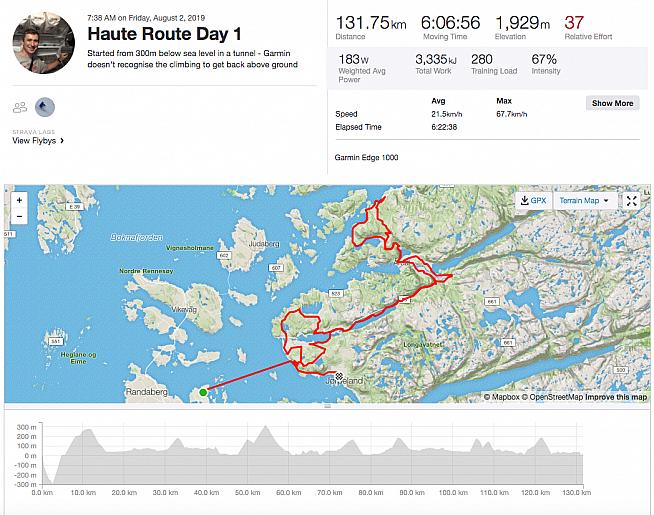 And finally:
If you want help to get fit enough for your challenge rides, then please contact the author, Andy Tomkins, who is a professional cycling coach. See www.sportivecyclecoaching.co.uk or email Andy on [email protected]
If you liked this report and found it fun/interesting to read, then please email the editor, [email protected], telling him where you want Andy to go next. He's quite keen to return to Norway but would settle for an event in the Nice / Monaco region!
0 Comments