There's a poster on my office wall that gets changed once per year, usually towards the beginning of June, when the 'Official 20xx Tour de France Race Guide' hits the newsagents' shelves. It was no different this year, my low excitement threshold making it quite the event as I tried to remove last year's Blu-Tac from my wall without gouging a new hole.
Mission accomplished, I scanned through the 21 stages then found myself returning to Stage 6, Mulhouse - La Planche des Belles Filles. Half a memory of Chris Froome racing, sorry supporting, Sir Bradley Wiggins up it on his way to victory in the 2012 Tour de France came back to me as I absentmindedly tried to find an excuse to see at least one stage.
Mulhouse doesn't look too far from Calais, I thought, not really believing that I would be able to get there.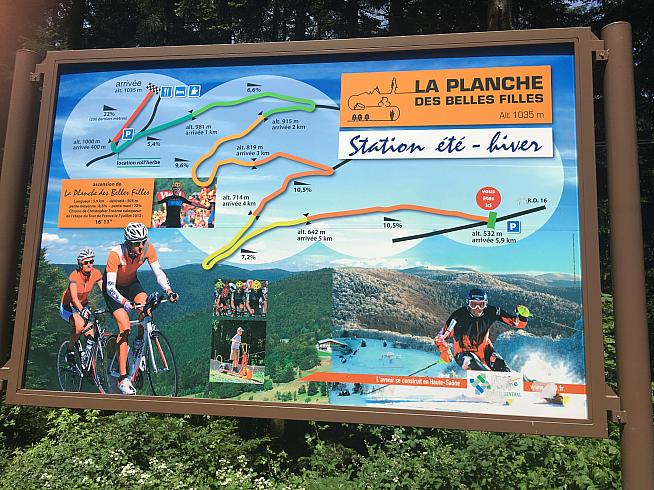 Oh, what a name La Planche des Belles Filles is. For me, there's something intriguing about a mountain that has a phrase for a name, rather than a single word. Sure, the famous cols - Tourmalet, Galibier, Peyresourde - are all better-known Tour de France monsters ('col' meaning a pass between two mountains); but they are still just names, not phrases.
What does La Planche des Belles Filles actually mean, I asked myself, frantically trying to recall enough schoolboy French to make some sense of the name.
It turns out that Google Translate is not always your friend: 'The Beautiful Girls Board' didn't exactly give me a newfound sense of understanding, so I dug a little deeper.
The most likely meaning for the name, it seems, is that it stems from a simple description of the area, lieu peuplé de belles fahys - literally, 'a place inhabited with nice beech trees'. Such descriptions morphing into village names is a common process in the UK, so it sounds plausible enough.
However, there is always a local 'legend' alternative, and La Planche des Belles Filles is no different.
In this folk etymology, the mountain was named after events of the Thirty Years War of the 17th Century, when young ladies from the nearby town of Plancher-les-Mines fled in to the Vosges mountains to escape marauding Swedish mercenaries. Rather than face the prospect of assault or murder, legend has it that they decided to jump into a lake below the summit. One of the soldiers then engraved an epitaph on a wooden board (planche) with the words for the 'beautiful girls'.
There may not be too much truth in this version of the mountain's naming history but, as I was to find out later, events of World War II would result in a very real connection of the area to invading forces.
Three weeks later and all thoughts about the historical reasons for the name have been banished from my profusely sweating head. Instead, my thoughts are dictated by positive incantations to help me reach the next 'Moyenne de la pente' road sign, rather than wondering why I am fighting nature's incessant grip of gravity. Before that, however...
A heatwave that is breaking temperature records across France and Italy is getting stronger every day, and I've just driven up from the southern end of Tuscany in the middle of it. You can find out why that journey was taking place at the link below:
>>> Tuscan treat: Andy finds a majestic medieval base for exploring Tuscany by bike >>>
Finally, after 12 hours on the road, I pull into the car park of my overnight hotel in Le Ménil, switch the engine off to let it cool down and wait, then wait, and wait. The cooling fan keeps on running for an interminable age, but for some reason I seem unable to leave until it has switched off. Eventually, she has cooled down enough, poor car!
A few moments later, my efforts to appear polite to the receptionist and make some attempt to communicate en Francais result in me two-stepping to the third floor, following in her wake as she enthusiastically explains everything I need to know. Well, I think that is what she was saying!
More importantly, I've soon flung the windows wide open, downed a bottle of water and rummaged around in my suitcase for the morning's lycra. An on-the-go bowl of finest French salad is all that is in the way between my head and the pillow. The contest is brief because all of a sudden, my watch alarm is telling me that it is 7am! Time to get up and face the music of my plan to ride La Planche des Belles Filles.
With croissants, bread, cheese, ham and coffee quickly scoffed, a couple of hard-boiled eggs stashed in my rear pocket 'just in case', and liberal splashing of Factor 30 everywhere that the sun can (and can't) reach, I step out of the hotel.
I think to myself that if it were any hotter, I'd probably catch fire so I'm glad there's a handy tree for shade to prep my Trek Madone 4.5 for the day's fun. The sensation of walking out of the hotel can only be likened to the effect of opening the door of your oven, on Christmas Day, taking the full force of the gas mark 8 roasting your turkey.
My Trek Madone, now ride ready, has been through a lot but always serves me well, even if the only original part is the frame - everything else has been replaced or upgraded over the years. For Sportive.com readers of a certain age that grew up with Only Fools and Horses on TV, she's the biking equivalent of Trigger's Broom.
Faffing complete, it's a gentle roll down the valley on the D486 towards Le Thillot for a few miles, absentlymindedly absorbing the views. While it may not possess grandeur on the scale of the Alps or Pyrenees, the 'Medium Mountains' of the Vosges area still lure me in. The warmth, the backdrop, the smell of grass being cut - it's all a heady cocktail of sensations. But all too soon the rising road reminds me I'm on to the first few climbing metres of my planned 1800m total ascent.
Col des Croix has the honour of being the provider of those innocent first few metres, then the next 150m as well, over the 3km ascent to an altitude of 678m. The all-seeing Strava calculates Col des Croix is a 7%, Cat 3 climb, but there's something about this climb that just makes it seem, well, pleasant.
Perhaps it was the trees providing shade, perhaps the power of my breakfast, who knows exactly. The point is not for me to explain why it felt so pleasant, just to convey that it did and hope you have the same experience if you follow this route.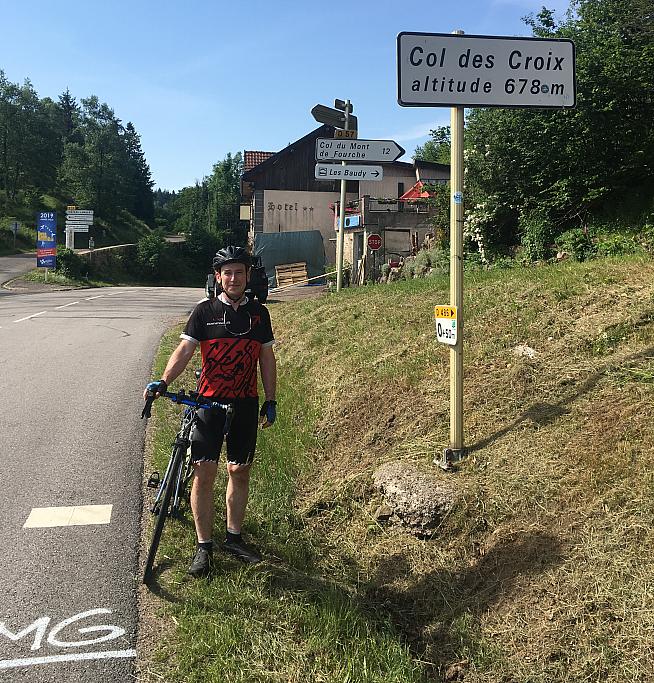 For the next 15 miles of my route, there's little to do except breathe and take a photograph or two as it's all downhill to Belonchamp. Half of my hard-won elevation gain is lost over that distance, so I know that the cyclist's rule of 'What goes down must go up (a lot more)' will soon be applied.
Fortunately, I have time to overtake a full Tour de France peloton of official jersey wearers at Servance before gravity returns. In their defence, though, they are made out of wood!
Still chuckling at my own joke, I've barely gone another 400m before having to take a photograph of another humorous sign. My poor old Trek has never been photographed underneath a Pyle Metal sign before - it's turning into an interesting ride already!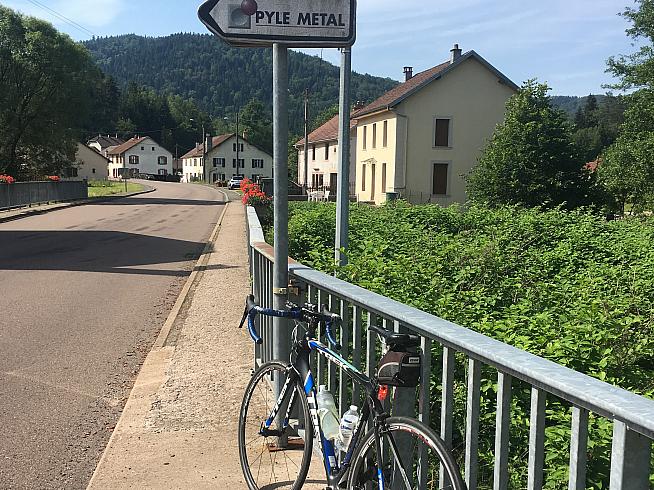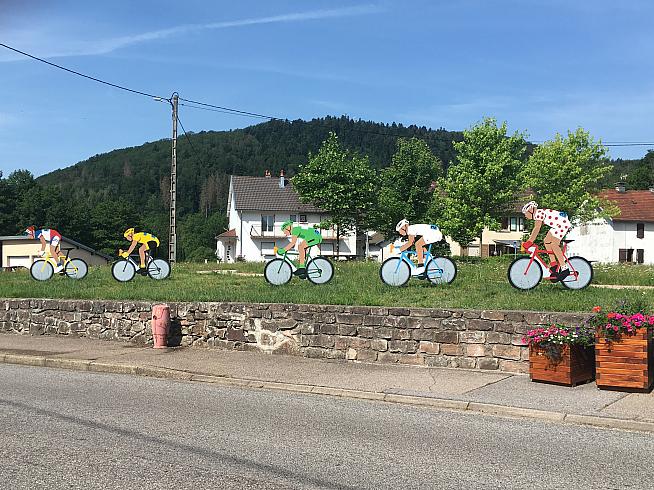 The left turn out of Belonchamp marks the beginning of a 16-mile climb, punctuated with one short descent, that will ultimately finish 750m higher at the top of La Planche des Belles Filles (1035m altitude). There's a 2.5km Cat 4 climb at 4% towards Le Magny at the bottom of this section, but I'm in tourist steady twiddle mode, so it's hardly a problem.
At Fresse, I meet another peloton heading up the hill. This time they're on foot and 2,000 years too late - it can only be Asterix the Gaul and his friends!
Just when I think that the day can't get any stranger, I meet the one person that you wouldn't expect to meet in France. It is none other than Lance Armstrong, with Jan Ullrich a few hundred metres behind him. Another photograph just has to be taken - this is just too good to miss.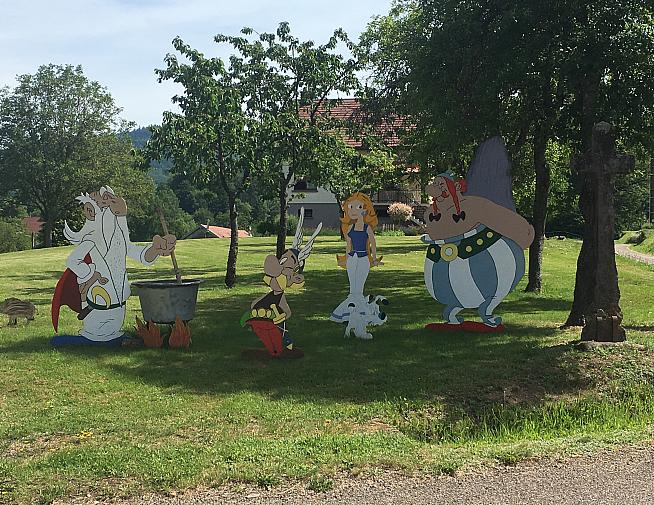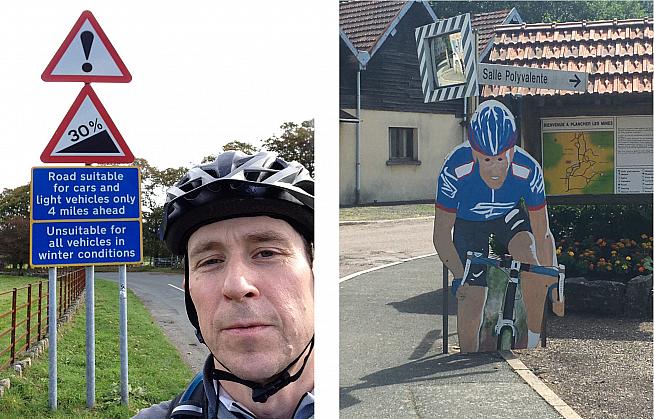 All of a sudden, my humour evaporates as quickly as the water from my bidon in the now 35C temperatures. I've just reached the right turn that marks the start of the dead-end road to the summit of La Planche des Belle Filles. The first km is a 10% wall of tarmac revealing itself without any inhibition in front of me, leaving me no choice but to hunt out the bottom 28-tooth cog.
I find it easily enough, then spy a group of stationary cycle tourists about 500m from me - they become my mental target for the first ramp. There's no doubt it's a slog, but I am rewarded with a few cheers of 'Allez, allez, allez' and 'Bon courage' as I race past them at a rocket-like 5mph!
Kilometre two is more understanding of human needs, being a mere 7.2%, but the temperature is less forgiving. The unmistakeable sting of sweat rolling into my eyes makes me wince and question my own sanity for a few seconds, before my regular mental companion, Spartacusalot, gives me the words to motivate myself.
What he doesn't know, however, is that Km #2 is the pleasant middle child between Km #1 and Km #3.
Km #1 is brash and in your face, Km #2 is a little timid of his siblings, and Km #3 thinks he knows everything! He's supposed to average 10.5%, but he's going to throw a couple of 13.5% ramps at you just to let you know who's boss.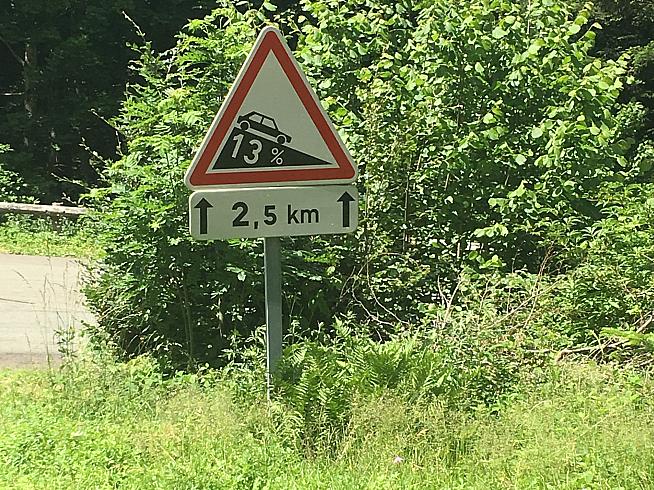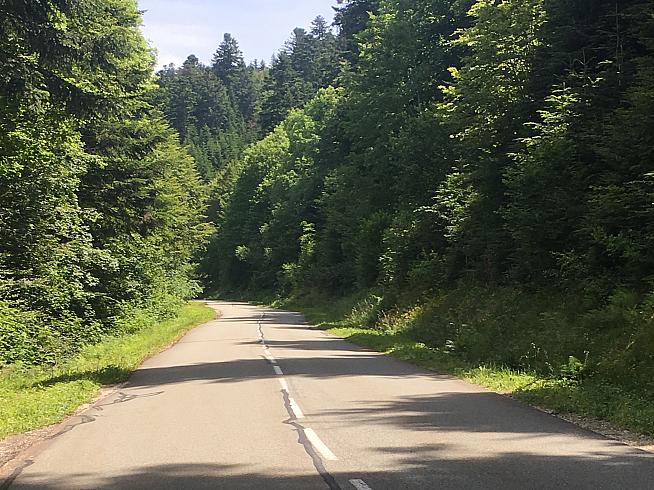 Lying in wait is Km #4, which averages 9.6% and continues to pile on the hurt. By now, it is so hot that I feel my wheels, moving slowly already, sometimes seem that they are being grabbed by an unseen force. At first I think it is my imagination but then I realise the tarmac is melting in places.
Not since the days of a brutally hot L'etape du Tour in 2005 have I experienced riding uphill in temperatures such as this.
Finally, La Planche des Belles Filles exhibits a gentler side, as Km #5 and Km #6 slacken off to 6.6% and 5.4% respectively. It's a brute of a climb to this point on the hill, where the café would be open in winter time for adventures of a different kind.
I circle the obviously closed café nonetheless, hoping that by some miracle the locked-looking doors are actually open and I will be able to swallow a complete Magnum ice-cream in one go.
Unfortunately the doors are firmly sealed off, so I ride around to find some shade before muscling in at a picnic table occupied by a couple of hikers. The two ladies are pleasant enough to the sweaty, red-faced Englishman that sits opposite them, but they don't stay for much longer. Hmm, I wonder if I was the reason for that.
Before their departure, however, they point even further skywards and ask 'Sommet?' with that 'You must be bonkers' undertone that every col bagger recognises.
I nod a half-hearted 'Oui', then my mind races to the conveniently forgotten news item, namely that La Planche des Belles Filles would be extended this year for the Tour de France, bringing a final 200m ramp of 25%. Spartacusalot, be quiet!
Sure enough, I suddenly become aware of parked up construction vehicles, diggers and road-rollers just 100m away. Then, as if previously hidden by the sweat in my eyes, I notice a group of workmen wearing bright orange high-viz clothing taking their lunch in the dappled shade of trees.
Oh, and there's a barrier across the road under construction. 'Phew,' my inner wimp says, 'You can't go up there!'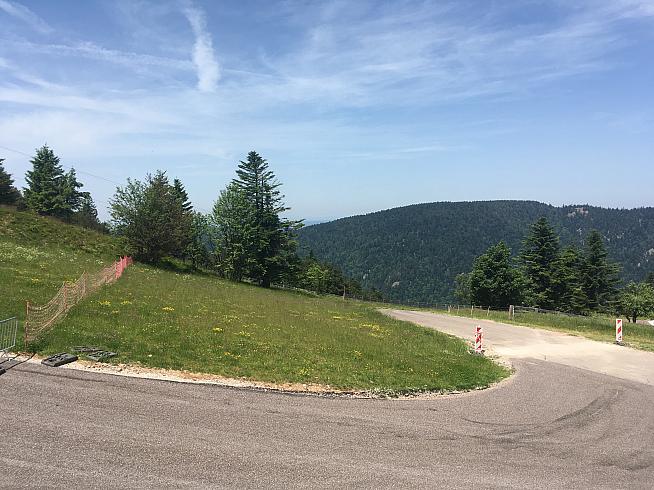 Despite knowing that I shouldn't cross the barrier, I ignore Mr Wimp and cycle furtively towards it, then stop and look around. Deftly, Trigger's Broom is lifted over the barrier and I'm scampering over a mound of earth to reach it. Somehow it feels wrong to be flaunting the barrier, but I embrace my inner Frenchness and the laissez-faire attitude to rules that comes with it.
Hoping that no one is looking, I remount on a gradient that must be at least 15% and try to pedal towards the lip of the 50m section. It's impossible - the surface is loose gravel, not yet bothered by the road rollers or the napping workmen. Worse, the bitumen has melted into a sticky soup.
I have no choice but to dismount and push my bike up the grassy verge to the top of this ramp. Any hope of not being spotted has vanished but, fortunately, the anticipated shouts of 'Monsieur...?' fail to arrive at my eardrums.
With just a couple of weeks before Thomas, Pinot, Alaphillipe and the like race up to the summit, I can't help thinking about the work that is still needed. After the bitumen/gravel soup, there's a section of tarmac before the surface deteriorates into a sand-covered 200m stretch that would befit a cyclo-cross course.
It's not deep sand, but it tugs at my wheels and it's on a gradient of around 7%. I daren't concentrate on anything apart from moving forwards, trying to reach the next proper road surface.
Be careful what you wish for, though. The next proper road surface is concrete, rather than tarmac, so your tyres can get extra grip... on the 200m, 25% ramp to the finish.
It is tough, very, very tough, surpassed in my experiences of handle bar chewing difficulty only by the Lake District's 30% Honister Pass. I zigzag across the road, lowering the gradient slightly, while gradually rising at 7kph and close to 400W towards the summit before finally cresting it.
There's no one there, not a sound to be heard except for the wind, birds and me, wheezing for breath. My, how different it will be in a couple of weeks' time I think.
Being alone on top of La Planche des Belles Filles is a magical few minutes for me. I sit at a picnic table, just absorbing the cleanness of the air and the tranquillity of the surroundings. It's still extremely hot, so after a few minutes, I walk towards a copse of trees for some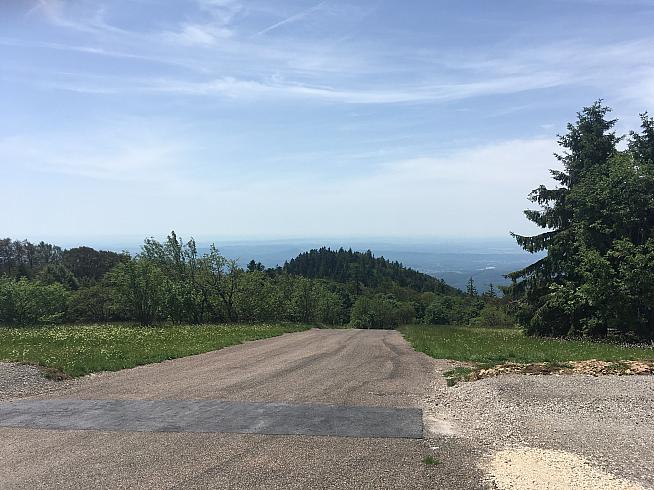 shade then spot a stone memorial nearby. As if fate has converged here, a lone walker approaches the memorial at the same time as I do. It quickly transpires that his command of English is better than my demolition of French, so he explains that the memorial is in memory of Gaston Alexis Wurtz, a French resistance fighter killed in action at that very location on 17th September, 1944.
My memories of pain riding up La Planche des Belles Filles suddenly seem pointless and selfish, compared to the sufferings endured by, as Theresa May described during the D-Day commemorations, the best generation ever. Gaston, and all those like you, we thank you.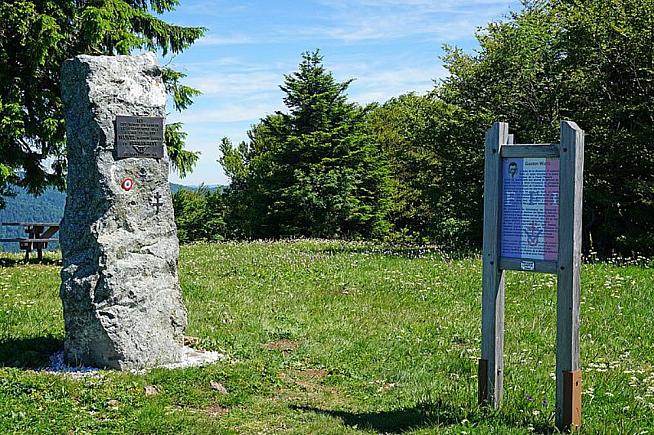 After bidding goodbye to Gaston, I hop back on my bike to begin the 7km, 600m descent to the beginning of my climb up the Col du Ballon de Servance. At 1152m, this gem is actually 117m higher than La Planche des Belles Filles. It's not quite as brutal but it is almost 10km in length (from the turn off to La Planche des Belles Filles) and has a very nasty section of 11% between kms 6 and 7.
The saving grace for me on this furnace of a day is that Col du Ballon de Servance is mostly tree-lined, giving much respite from the baking sun. La Planche des Belles Filles is also quite wooded, but the roads of my last col of the day are much narrower, giving so much more sense of being 'in' the environment. It is a beauty of a climb, though that should not be mistaken for easy!
It takes me just over an hour to rise to the top and swig through most of my remaining water. It's a bit of a risk to glug my water rations, but I know that 13 of the remaining 16km will be downhill and then just a slight drag back up the D486 to my hotel.
The descent is a blast with mostly sweeping bends to take at close to full speed. Scattered along the way, there are eight surprise 90-degree turns trying to catch me out as I think about getting to the hotel. Fortunately, cars are few and far between until I hit the D486 - even then, the traffic is nothing like the volume in the UK.
Then that's it - another ride over, with three more cols added to my collection. It's been a ride full of surprises and unexpected encounters. For sure, I will be going back!
And finally...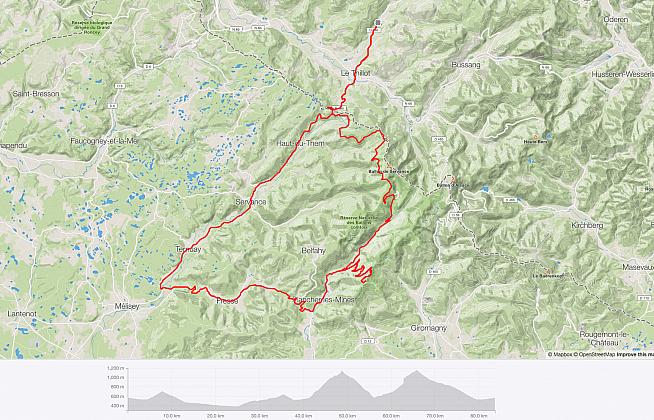 If you'd like to do this ride yourself, you can find the GPX file at ridewithgps.com/routes/30317928.
If you want help to get fit enough for your challenge rides, then please contact the author, Andy Tomkins, who is a professional cycling coach. See www.sportivecyclecoaching.co.uk or email Andy on [email protected]
If you enjoyed this report and found it fun/interesting to read, then please email the editor, [email protected], telling him that Andy should be paid his weight in cakes for every article. That's a lot of cakes, by the way!
0 Comments